Apple has launched the Apple Watch Ultra, which includes a new striking appearance and a plethora of functions designed for endurance, exploration, and adventure. The Apple Watch Ultra has a 49mm titanium casing with a flat sapphire front crystal, revealing the largest and brightest Apple Watch display to date. A customized Action button provides quick access to a variety of essential functions. The Apple Watch Ultra offers the longest battery life of any Apple Watch, lasting up to 36 hours under typical conditions.  A new low-power level, perfect for multi-day adventures, may further prolong battery life to up to 60 hours. The Wayfinder watch face is optimized for the bigger Apple Watch Ultra display and contains a compass incorporated into the dial, as well as a capacity for up to eight complications. Apple Watch Ultra also includes three new bands: Trail Loop, Alpine Loop, and Ocean Band, each with a distinct design that ensures a secure and comfortable fit for every journey.
Bigger, Brighter, and Stronger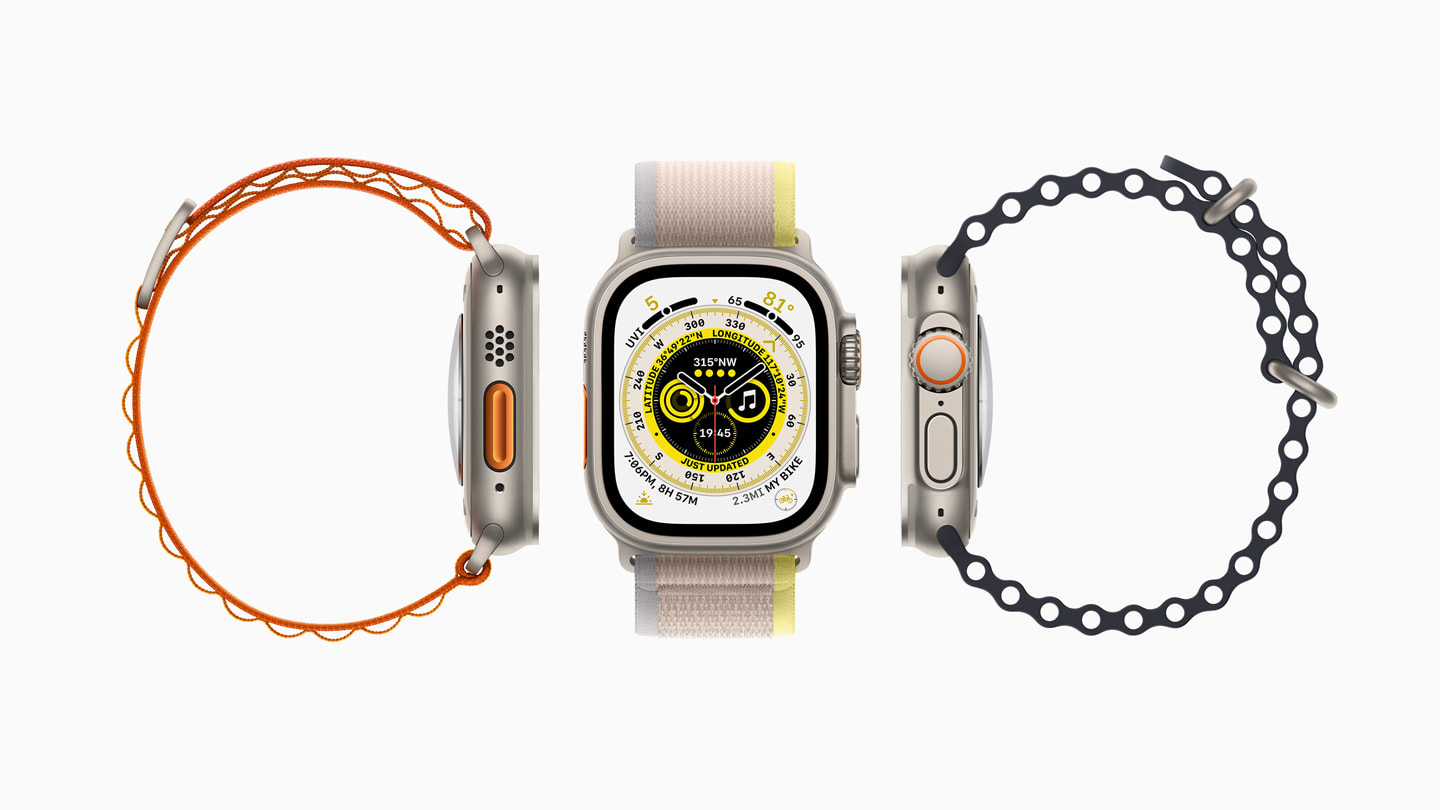 The Apple Watch Ultra is made of aerospace-grade titanium and offers the ideal blend of weight, durability, and corrosion resistance. The shell lifts to protect the Retina display, which is up to 2000 nits brighter than any other Apple Watch display to date. The new Action button in high-contrast international orange may be readily configured to provide quick access to features such as Workouts, Compass Waypoints, Backtrack, and more.
The Apple Watch Ultra boasts three built-in microphones that considerably increase voice call sound quality in all settings. An adaptive beamforming technology captures speech while decreasing ambient background noise, resulting in exceptional clarity. Apple Watch Ultra features powerful wind noise-reduction technologies, including machine learning, in demanding windy situations to offer clear and understandable audio for calls.
New Bands Designed for the Great Outdoors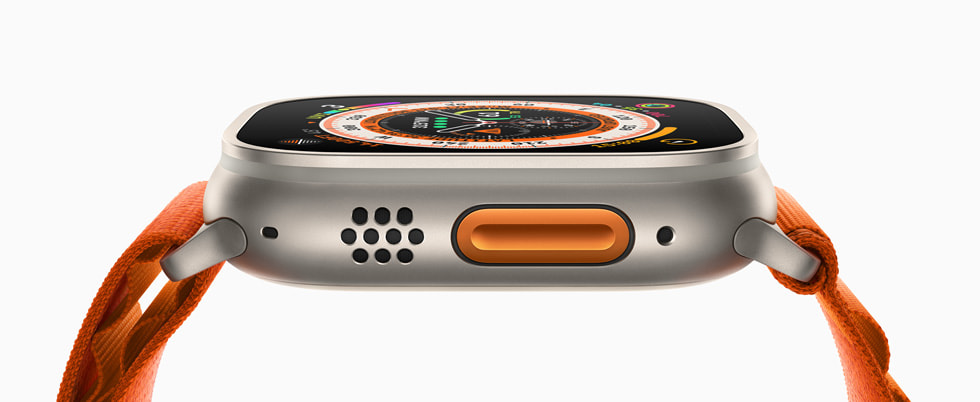 The Trail Loop band is the thinnest Apple Watch band to date, designed primarily for endurance athletes and runners. The lightweight woven cloth is soft and flexible, enabling it to tighten to the perfect fit, and the handy tab allows for fast and simple adjustment.
The Alpine Loop band was designed with adventurers in mind, with two interwoven layers manufactured from one continuous weaving technique that removes the need for sewing. The top loops, which are interlaced with high-strength yarn, allow for adjustment and secure attachment of the titanium G-hook fastener.
With a titanium buckle and accompanying spring-loaded loop, the Ocean Band is particularly intended for extreme water activities and leisure diving. It is made of a flexible fluor elastomer that stretches and uses tubular design for a secure fit. The Ocean Band also includes an extra-long tail that may be worn comfortably over a wetsuit.
Endurance Sports and Elite Athletes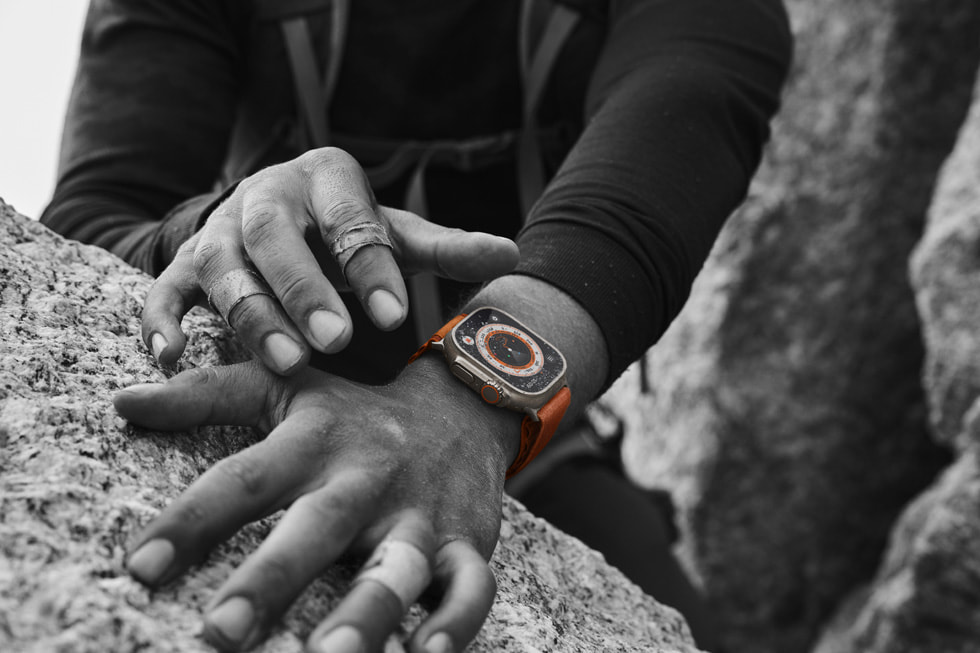 The Apple Watch Ultra is a fantastic tool for endurance athletes or anyone who want to push themselves to their limits. The accuracy dual-frequency GPS includes both L1 and the most recent frequency, L5, as well as new locating algorithms, for the first time in an Apple Watch. Apple Watch Ultra is the most exact GPS of any Apple Watch to date, allowing users to practise and compete with the most precise distance, pace, and route data.
The Apple Watch Ultra is powered by watchOS 9, which contains new sophisticated running measures such as Stride Length, Ground Contact Time, Vertical Oscillation, and Running Power to assess performance. New Workout Views, such as Segments, Splits, and Elevation, deliver vital information at a glance, and the Apple Watch Ultra is the only Apple Watch that can show six metrics at once, due to the bigger display. Heart Rate Zones, Custom Workouts, Pacer, and Race Route, which will be available later this year, allow users to take their training to the next level. The new Multisport exercise incorporates autodetection to simply transition between programmes for triathlons, duathlons, or activities with any sequence of swimming, biking, or running. The Apple Watch Ultra has adequate battery life for most people to finish a long-course triathlon, which includes a 2.4-mile swim, a 112-mile cycle ride, and a 26.2-mile marathon.
The Action button may start exercises instantaneously and send users to the next interval of a Custom Program or leg of a Multisport workout. It may also be used to designate segments, which complements the new Track running experience, which automatically predicts pace and distance for runners on a track.
Explorers
The Apple Watch Ultra, with its larger, brighter display and durable build, is the ideal technological tool for adventurers and explorers in a variety of conditions, from the mundane to the extraordinary. In watchOS 9, the entirely revamped Compass app displays more detailed information and three separate viewpoints. The software offers a new hybrid view that shows both an analogue compass dial and a digital view at the same time. When you turn the Digital Crown, you'll see an extra view with latitude, longitude, elevation, and inclination, as well as an orienteering view with Compass Waypoints and Backtrack.
Compass Waypoints are a fast and easy method to mark a place or point of interest in the app. When you press the Action button or hit the Compass Waypoint symbol, a waypoint is dropped that may be changed by pressing the icon that appears. The Compass Waypoint complication constantly updates in real time with both the direction and the distance of the waypoint.
Backtrack utilises GPS data to generate a route that shows where the user has been, which is essential if they get confused or lost and require assistance retracing their steps. When off the grid, it may also switch on automatically in the background. With a single push of the Action button, users may swiftly drop a Compass Waypoint or start or view a Backtrack. An 86-decibel siren is meant for emergencies and may assist call attention to a site if people get lost or wounded. The characteristic sound signature includes two different alternating rhythms that might loop for many hours. The first pattern indicates trouble, while the second replicates the well-known SOS pattern. Battery life may be increased to up to 60 hours for multi-day hiking journeys by utilising Low Power Mode with an extra low-power option that limits the frequency of GPS and heart rate readings.
The on-wrist working temperature was developed to aid in exploration of the most severe and inaccessible places, ranging from -4° F (-20° C) in the Alps to 131° F (55° C) in the desert. The Apple Watch Ultra has been certified to the necessary sections of MIL-STD-810H, a military standard that is common among rugged equipment makers. Low Pressure (Altitude), High Temperature, Low Temperature, Temperature Shock, Fluid Contamination, Rain, Humidity, Immersion, Sand and Dust, Freeze/Thaw, Ice/Freezing Rain, Shock, Vibration, and other tests are performed. When utilising the Wayfinder face in the evening, turning the Digital Crown turns the interface red for enhanced visibility in the dark.
Ocean and Water Sports Enthusiasts
The Apple Watch Ultra is built for water sports, such as kitesurfing and wakeboarding, as well as recreational scuba diving to 40 metres with the new Oceanic+ app. Apple Watch Ultra is WR100 certified to handle these aquatic experiences. The Apple Watch Ultra is also certified to EN 13319, an internationally known standard for diving gear like as depth gauges, which are used by recreational divers all over the globe.
Apple Watch Ultra has a Depth app with an elegant user interface that makes use of a new depth gauge. The Depth app shows time, current depth, water temperature, duration under water, and maximum depth achieved at a glance. Users may configure the Action button to start the Depth app immediately.
The new Oceanic+ software, developed in collaboration with Huish Outdoors, is a competent dive computer that converts the Apple Watch Ultra into a capable dive computer. The software, which will be available on the App Store later this autumn, has dive planning, easy-to-read dive data, visual and tactile alarms, a no-decompression limit, ascending rate, and safety stop instructions. Oceanic+ also includes a customised user profile, current and local diving conditions reports, and a dive logbook that can be shared with family and friends and instantly syncs to iPhone.
Additional Features
Apple Watch Ultra includes all of the connectivity, activity, and health features that have helped Apple Watch become the world's best-selling smartwatch — from heart rate monitoring and the ECG and Blood Oxygen apps to Activity rings and Mindfulness, as well as additional health, safety, and navigation features.
The Apple Watch Ultra has revolutionary new temperature sensing capabilities that provide further information about women's health. The two-sensor architecture eliminates bias from both the outside world and the body itself. Users may acquire retroactive ovulation estimations using the additional capabilities, which can be useful for family planning. 6 Temperature sensing also allows for more accurate period forecasts for menstruating users. 7 Cycle Tracking users on iOS 16 and watchOS 9 will now get a notice if their registered cycle history reveals a probable divergence, which may be an indication of underlying health concerns.
With Collision Detection, Apple Watch can detect a serious automobile crash using two new motion sensors and a sophisticated sensor-fusion algorithm. When the Apple Watch senses a serious vehicle accident, it will check in with the user and contact 911 if they are unresponsive after a 10-second countdown. The user's device location is sent to emergency responders and is also shared with emergency contacts.
Availability
Apple Watch Ultra is available to order today, with availability beginning Friday, September 23.