Apple Watch Series 8 and the new Apple Watch SE were unveiled today by Apple, bringing innovative technology and performance, as well as vital safety advancements, to the two best-selling smartwatches. Apple Watch Series 8 retains Apple Watch's popular design, featuring a big, Always-On Retina display and a robust crack-resistant front crystal. Apple Watch Series 8 adds temperature sensor capabilities, retroactive ovulation estimations, Crash Detection, and international roaming to its best-in-class health and safety features including the ECG app and fall detection. The new Apple Watch SE offers the core Apple Watch experience, including Activity tracking, high and low heart rate notifications, and Emergency SOS, as well as the new Crash Detection feature and a completely redesigned back case that matches the three classic case finishes, all for a lower price of $249. (US). Both models run watchOS 9, which includes new and more configurable watch faces including Lunar and Metropolitan, an improved Workout app, sleep phases, a first-of-its-kind AFib History feature, and an all-new Medications app.
Wrist Temperature Sensing for Women's Health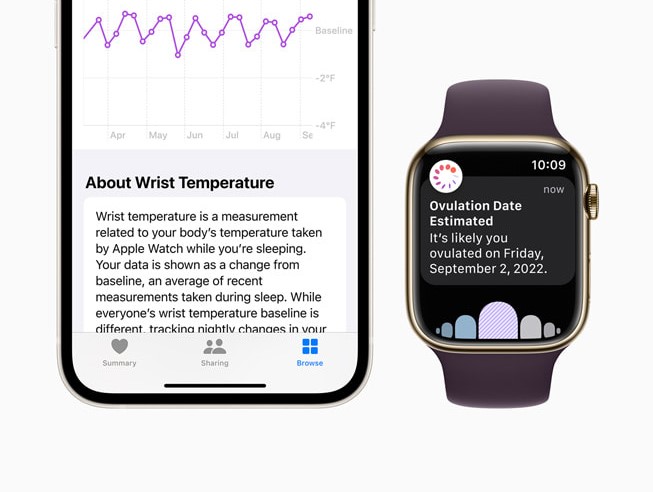 The menstrual cycle is an essential indicator of health, and many doctors see it as a significant symptom. Apple Watch Series 8 has unique new temperature-sensing capabilities that provide women with additional insights into their health and are created with the same privacy safeguards as all other health data.
The Apple Watch Series 8 has a two-sensor architecture to reduce bias from the outside world, with one sensor on the back of the watch, closest to the skin, and another immediately beneath the display.
Wrist temperature at night might be an excellent predictor of total body temperature. The sensors on the Apple Watch Series 8 record changes in wrist temperature as little as 0.1° C every five seconds when sleeping. Users may view nightly changes in baseline temperature in the Health app, which can be caused by activity, jet lag, or even disease.
Users may acquire retroactive ovulation estimations using the new temperature-sensing features in Apple Watch Series 8. Knowing when ovulation has happened may be useful for family planning, and the Apple Watch Series 8 makes it simple and accessible by displaying these estimations in the Health app. Temperature monitoring also allows for more accurate period estimates.
Furthermore, with iOS 16 and watchOS 9, all Cycle Tracking users will now get a message if their documented cycle history reveals a probable deviation, such as irregular, infrequent, or lengthy periods, and persistent spotting, all of which might be signs of underlying health concerns.
Crash Detection 
Apple created an improved sensor-fusion algorithm to allow Crash Detection on Apple Watch, which now boasts the largest dynamic range accelerometer in any wearable. Data from these new motion sensors were gathered at professional crash test facilities using popular passenger vehicles in simulated real-world collisions, including head-on, rear-end, side-impact, and rollovers, to construct the algorithm. Collision Detection employs the barometer, GPS, and microphone on the iPhone as inputs, in addition to motion data, to identify distinctive patterns that might indicate whether a catastrophic crash has occurred.
When the Apple Watch senses a serious vehicle accident, it will check in with the user and contact 911 if they are unresponsive after a 10-second countdown. The user's device location is sent to emergency responders and shared with the user's emergency contacts. Crash Detection on Apple Watch and iPhone work together smoothly to provide people support quickly. When a major automobile collision is detected, the emergency services call interface appears on Apple Watch since it is likely to be closer to the user, but the call is sent via iPhone if it is in range for the best possible connection.
Low Power Mode
To keep users connected for even longer, a new Low Power Mode for Apple Watch Series 8 with iPhone present may prolong battery life to up to 36 hours. This new mode disables or restricts some sensors and capabilities, such as the Always-On Retina display, exercise autostart, heart health alerts, and others, for a limited time.
Apple Watch SE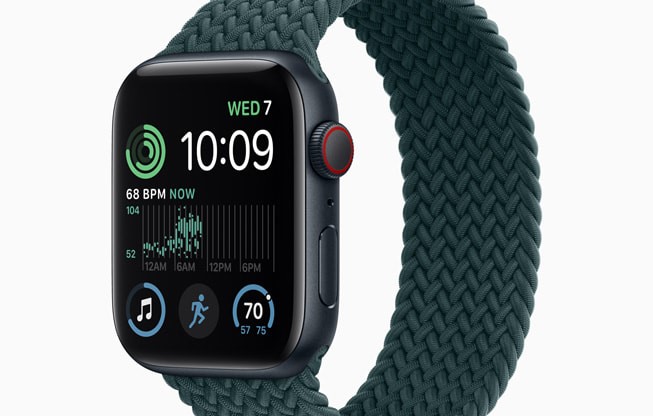 The new Apple Watch SE offers sophisticated capabilities at a new low price, making it an excellent choice for people to begin their Apple Watch experience, use with Family Setup, or give to loved ones. The S8 SiP sophisticated dual-core processor, which is also included in the Apple Watch Series 8 and Apple Watch Ultra, is 20 percent quicker than the previous generation, and it also has Crash Detection and worldwide roaming.
The Apple Watch SE retains the same case design, but with a revised matching rear cover constructed of a nylon composite material that makes it lighter than before. With watchOS 9, Apple Watch SE owners may enjoy the new Compass app, as well as additional health and wellness capabilities. Apple Watch SE comes in 40mm and 44mm aluminium casings with midnight, starlight, and silver finishes and is compatible with all bands.
Availability
Apple Watch Series 8 and Apple Watch SE are available to order today, with availability beginning Friday, September 16.