Apple unveiled the iPhone 14 Pro and iPhone 14 Pro Max today, the most sophisticated Pro range ever, with the Dynamic Island – a new design that delivers an intuitive way to enjoy iPhone — and the Always-On display. iPhone 14 Pro delivers a new class of pro camera system, powered by A16 Bionic, the fastest processor ever in a smartphone, with the first-ever 48MP Main camera on the iPhone having a quad-pixel sensor, and Photonic Engine, an upgraded picture pipeline that substantially enhances low-light images. With capabilities like Emergency SOS via satellite and Crash Detection, these breakthrough developments make iPhone even more important for daily chores, creative pursuits, and now even emergency circumstances.
A Stunning Design and the Most Advanced Display on a Smartphone
The iPhone 14 Pro and iPhone 14 Pro Max are available in four striking colors and have a superb surgical-grade stainless steel and textured matte glass design. Both versions, available in 6.1-inch and 6.7-inch sizes, include a new Super Retina XDR display with ProMotion, which includes the Always-On display for the first time on iPhone, enabled by a new 1Hz refresh rate and other power-efficient technologies. This makes the new Lock Screen even more helpful, allowing you to see the clock, widgets, and Live Activities at a glance. The sophisticated display also has the same peak HDR brightness as the Pro Display XDR, as well as the greatest outdoor peak brightness in a smartphone: up to 2000 nits, which is twice as bright as the iPhone 13 Pro.
The iPhone 14 Pro and iPhone 14 Pro Max also continue to provide industry-leading durability characteristics with the Ceramic Shield front cover – harder than any smartphone glass — and are water and dust resistant, protecting them from typical spills and mishaps.
Dynamic Island: An Interactive User Experience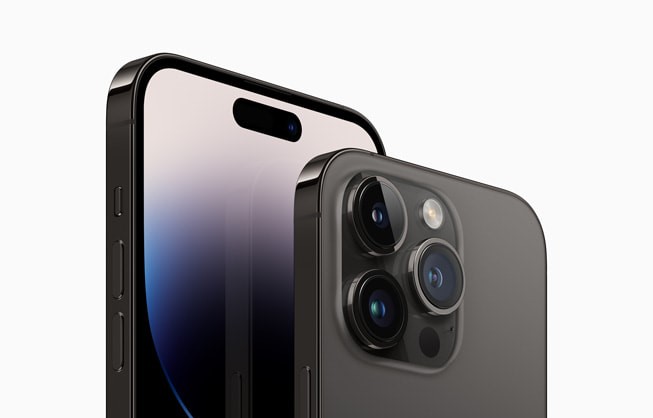 The Dynamic Island introduces new ways to connect with the iPhone, with a design that blurs the distinction between hardware and software, adjusting in real time to display crucial alerts, notifications, and activities. The TrueDepth camera has been updated to take up less display space with the introduction of the Dynamic Island. The Dynamic Island remains active without interfering with the information on the screen, allowing users to access controls with a simple tap-and-hold. Continuous background activities like as Maps, Music, or a timer stay visible and engaging, and third-party applications in iOS 16 that give information such as sports scores and ride-sharing with Live Activities may benefit from the Dynamic Island.
A New Class of Pro Camera System
The pro camera system on the iPhone 14 Pro and iPhone 14 Pro Max pushes the limits of what is possible in a smartphone, allowing any user — casual or professional — to produce the greatest photographs and video.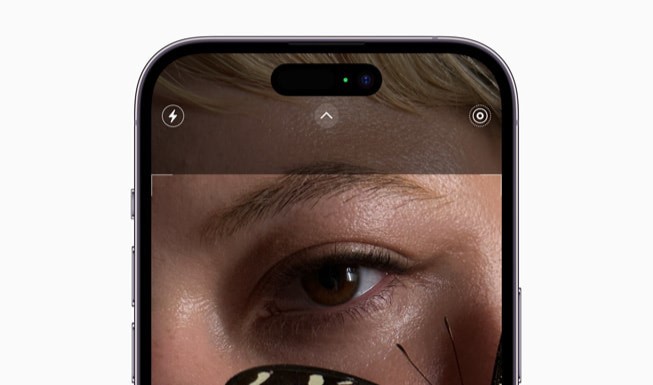 With Photonic Engine, the iPhone 14 Pro pushes computational photography even further, providing a massive leap for mid- to low-light performance in photos across all cameras: up to 2x on the Main camera, up to 3x on the Ultra Wide camera, up to 2x on the Telephoto camera, and up to 2x on the TrueDepth camera. Photonic Engine achieves this remarkable improvement in quality by using Deep Fusion early in the image process to give exceptional detail, preserve delicate textures, provide richer colour, and retain more information in a photograph.
The Pro series has a new 48MP Main camera with a quad-pixel sensor that adjusts to the shot being taken for the first time, as well as second-generation sensor-shift optical image stabilisation. The quad-pixel sensor combines every four pixels into one huge quad pixel equal to 2.44 m for most images, giving in incredible low-light capture while retaining photo size at a practical 12MP. The quad-pixel sensor also allows for a 2x Telephoto mode, which employs the sensor's centre 12 megapixels for full-resolution photographs and 4K recordings with no digital zoom. This provides optical quality at a familiar focal length, making it ideal for functions such as Portrait mode. The quad-pixel sensor also assists professional processes by optimising for detail in ProRAW. And, thanks to a new machine learning model created particularly for the quad-pixel sensor, iPhone now shoots ProRAW at 48MP with incredible clarity, allowing new creative processes for professionals.
Additional pro camera system upgrades and features include:
A new 12MP Ultra Wide camera with 1.4 µm pixels, which delivers sharper images with more detail, improving already powerful macro photography capabilities.
An improved Telephoto camera that offers 3x optical zoom.
A new front TrueDepth camera with an ƒ/1.9 aperture that enables better low-light performance for photos and video. Using autofocus for the first time, it can focus even faster in low light and capture group shots from farther away.
A new Adaptive True Tone flash that has been completely redesigned with an array of nine LEDs that change pattern based on the chosen focal length.
Powerful computational photography benefits like Night mode, Smart HDR 4, Portrait mode with Portrait Lighting, Night mode Portrait photos, Photographic Styles to personalize the look of every photo, and Apple ProRAW.
A new Action mode for incredibly smooth-looking video that adjusts to significant shakes, motion, and vibrations, even when video is being captured in the middle of the action.
Cinematic mode, now available in 4K at 30 fps and 4K at 24 fps.
Pro-level workflows for video, including ProRes and end-to-end Dolby Vision HDR.
Crash Detection and Emergency SOS via Satellite
The iPhone 14 series as a whole provides ground-breaking safety features that can give emergency help when it counts most. Collision Detection on iPhone can now identify a serious automobile crash and immediately summon emergency services when a user is unconscious or unable to access their iPhone, thanks to a new dual-core accelerometer capable of detecting G-force values of up to 256Gs and a new high dynamic range gyroscope. These capabilities expand on existing components such as the barometer, which can now detect changes in cabin pressure, the GPS for extra input for speed variations, and the microphone4, which can distinguish loud sounds characteristic of serious automobile accidents. Even improved accuracy is provided by advanced Apple-designed motion algorithms trained on over a million hours of real-world driving and collision record data. Crash Detection, when paired with Apple Watch, effortlessly harnesses the unique strengths of both devices to swiftly get people aid. When a catastrophic accident is detected, the emergency services call interface appears on Apple Watch since it is closer to the user, but the call is sent via iPhone if it is in range for the best available connection.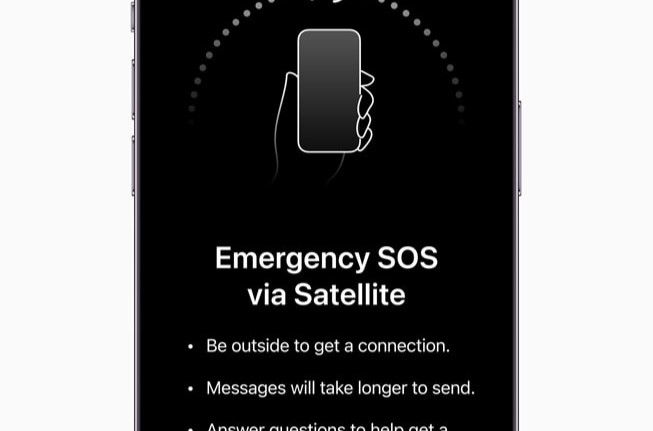 The iPhone 14 series also has Satellite Emergency SOS, which combines bespoke components closely linked with software to enable antennas to connect directly to a satellite, allowing communicating with emergency services while outside of cellular or Wi-Fi coverage. Satellites are moving targets with limited bandwidth, and communications might take minutes to arrive. Because every second matters, iPhone front-loads a few critical questions to evaluate the user's position and tells them where to aim their phone to connect to a satellite using Emergency SOS via satellite. The first inquiry and subsequent communications are then sent to centres manned by Apple trained professionals who may contact Apple on the user's behalf. While there is no cellular or Wi-Fi connection, users may manually communicate their position with Find My via satellite, offering a feeling of security when trekking or camping off the grid. Emergency SOS via satellite will be accessible to consumers in the United States and Canada in November, and it will be free for the first two years.
A16 Bionic: The Fastest Chip in a Smartphone
The A16 Bionic technology in the iPhone 14 Pro and iPhone 14 Pro Max is years ahead of the competition, enabling unmatched experiences such as Dynamic Island, delivering all-day battery life7, and outstanding computational photography capabilities. The new 6-core CPU is up to 40% quicker than the competition and effortlessly performs demanding applications, thanks to two high-performance cores and four high-efficiency cores. The A16 Bionic has an enhanced 5-core GPU with 50% greater memory bandwidth — ideal for graphics-intensive games and applications — as well as a powerful 16-core Neural Engine capable of roughly 17 trillion operations per second. Using Apple's best-in-class fusion architecture to combine performance and energy efficiency, the chip outperforms the competition while using a fraction of the power.
A16 Bionic is the engine that drives the pro camera system's outstanding computational photography capabilities. To support the new camera technology and conduct up to 4 trillion operations each shot, the CPU, GPU, Neural Engine, and image signal processor operate in unison.
Powerful Cellular Capabilities and 5G
iPhone users can keep in contact, share, and enjoy content with faster downloads and uploads, improved streaming, and real-time communication with 5G. 8 Support for 5G on iPhone is currently available from over 250 carrier partners in over 70 countries, with enhanced support for independent networks. eSIM enables consumers to connect to or rapidly transfer their current plans digitally, is a more secure alternative to a physical SIM card, and allows users to utilise several cellular plans on a single device. For US versions, the iPhone 14 Pro and iPhone 14 Pro Max eliminate the SIM tray, allowing consumers to set up their handset more quickly and simply.
Apple Fitness+ for All iPhone Users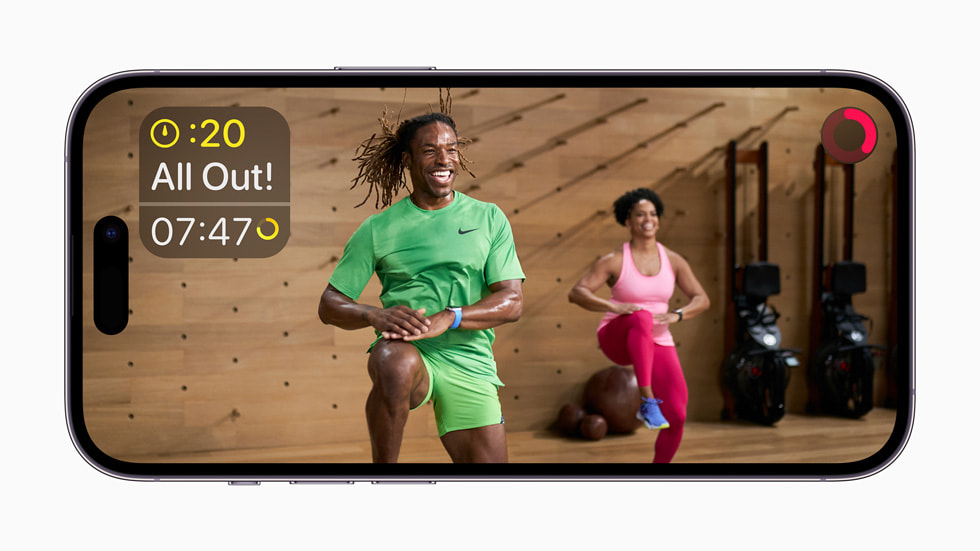 Later this autumn, for the first time, Apple Fitness+ will be accessible to all iPhone users in the 21 countries where it is available, even if they do not own an Apple Watch. The full programme, which includes over 3,000 studio-style exercises and meditations guided by a diverse and inclusive staff of trainers, will be available to iPhone users. Users of Fitness+ will get on-screen trainer assistance and interval pacing, and estimated calories burnt will be utilised to advance on their Move ring. Fitness+ will be completely linked with the Fitness app that will be available with iOS 16 and will be placed in the centre tab, where users will be able to stay encouraged to finish their Move ring via prizes, activity sharing, and other means. Signing up requires just an iPhone, and users may then enjoy Fitness+ on iPhone, iPad, and Apple TV.
Availability
The iPhone 14 Pro and 14 Pro Max will be available in four stunning new colors: deep purple, silver, gold, and pitch black. Pre-orders commence on Friday, September 9, and deliveries begin on Friday, September 16.