Language models driven by AI are getting easier for the typical user to utilise as their capabilities advance. The ChatGPT model, a sizable language model trained by OpenAI based on the GPT-3.5 architecture, is one example of this type. Although ChatGPT's full potential is unquestionably impressive, many users might be shocked to learn that there are actually a number of ways to use the technology for nothing. We'll look at three ways to exploit ChatGPT's GPT-4 capabilities without investing any money in this blog article. These suggestions will enable you to explore the potential of ChatGPT without going over budget, whether you're a student, researcher, or simply have an interest in AI technology. So let's get started and learn how you can utilise ChatGPT's GPT-4 for nothing at all!
Number 1. Microsoft Bing runs on GPT-4 by default
Microsoft is one of the biggest investors of OpenAI, the company behind the ChatGPT language model. This gives Microsoft direct access to ChatGPT, which has allowed them to bring GPT-4 support to Bing search engine before OpenAI announced the upgrade. As a result, Bing users can enjoy the benefits of GPT-4, such as more accurate search results, without having to pay a penny.
To experience the power of GPT-4 on Bing, all you have to do is visit Bing.com to start chatting. While it is not necessary to sign in to your Microsoft account, you may be prompted to do so. This is because Microsoft also needs to make money from GPT-4 access, and personalized ads are one way to do that. However, you can still enjoy the benefits of GPT-4 without logging in, and you will still be able to use the search engine just like you normally would.
Number 2. Use the Merlin Browser extension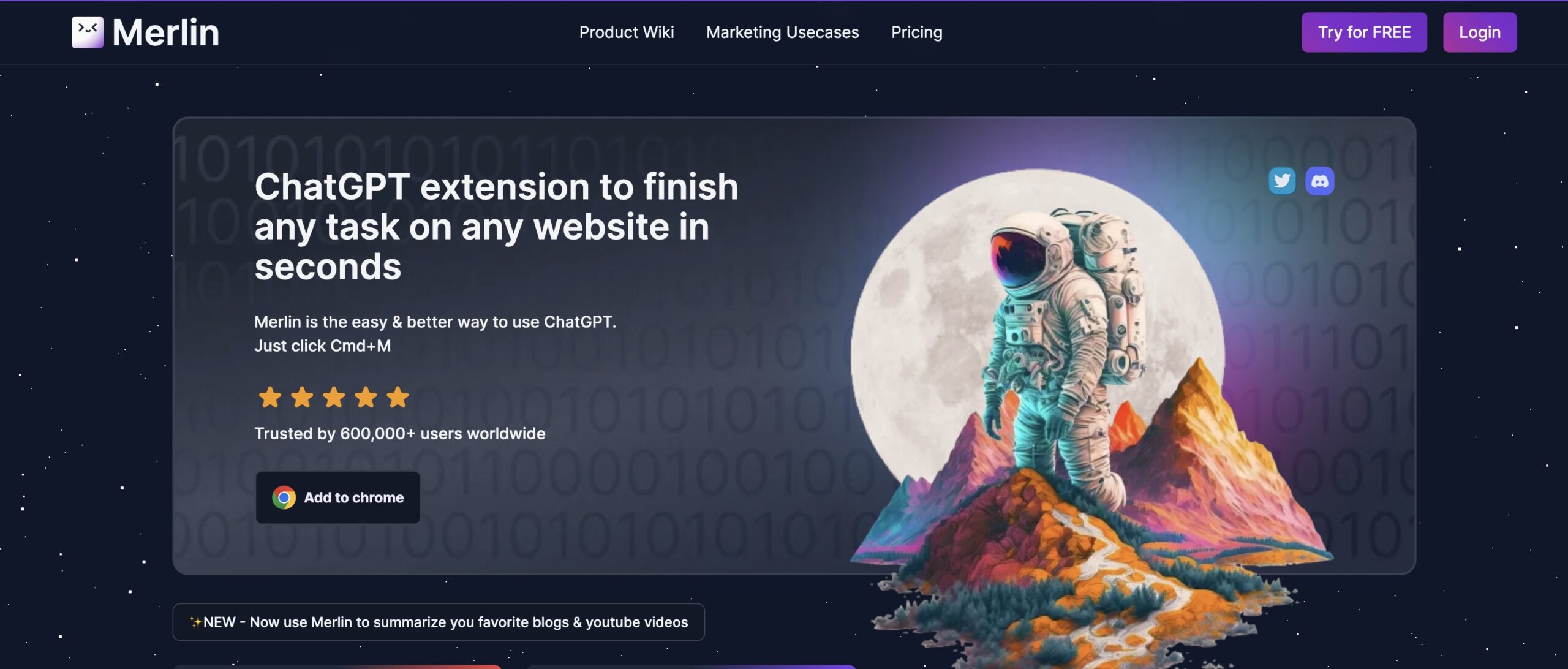 As GPT-4 is one of the most advanced language models to date, many people are eager to try it out for themselves. One way to access GPT-4 for free is by using browser extensions like Merlin. These extensions offer a convenient way to interact with ChatGPT to perform various tasks, such as summarizing text and videos, writing emails, and more.
However, it's essential to be cautious when installing any third-party software on your computer, as there is a risk of installing ChatGPT-based malware that could compromise your system's security. Therefore, it's crucial to ensure that you download and install genuine applications from reputable sources.
Keep in mind that while browser extensions like Merlin do offer a way to access GPT-4 for free, you may not get access to the full GPT-4 experience available directly from OpenAI. This is because these tools are typically based on earlier versions of ChatGPT or have limited access to the latest model. It's important to understand the limitations of these tools before using them, and to exercise caution to protect your computer and data.
Number 3. Using Ora

If you're looking for a free alternative to access GPT-4, Ora is definitely worth considering. Signing up for an account is simple and can be done with either an Ora account or by using your Google account. Once you're in, you'll have access to GPT-4 prompts with just a few keystrokes.
However, as with any free service, there may be some drawbacks. DigitalTrends warns that the service can sometimes be busy, which could result in being downgraded to GPT-3 for your ChatGPT experience. Keep in mind that while GPT-3 is still an impressive language model, it may not offer the same capabilities as GPT-4.
If you're not ready to shell out for ChatGPT Plus, you'll have to accept these compromises. Nonetheless, Ora remains a great option to try out GPT-4 for free and see what it can do.