Zoom, as predicted, intends to compete with Microsoft 365 and Google Workspace in areas other than group video conferences and chats. At its Zoomtopia conference, the business introduced a slew of new platform capabilities, including two critical ones for productivity: email and calendars. Third-party email and calendar services may be linked to Zoom and accessed through the desktop client. According to the firm, this may save you time since you won't have to move between applications or look for the proper tab in your browser.
Those on the Zoom One Pro or Zoom Standard Pro plans will be able to create email accounts via the platform, and certain plans will allow users to utilise custom domains. You'll receive up to 100GB of storage space for free. The main selling point is that communications transferred directly between Zoom Mail Service customers (those who utilise Zoom's email hosting services) would be encrypted from beginning to finish. You will also be able to send external emails with expiration dates and access-restricted links.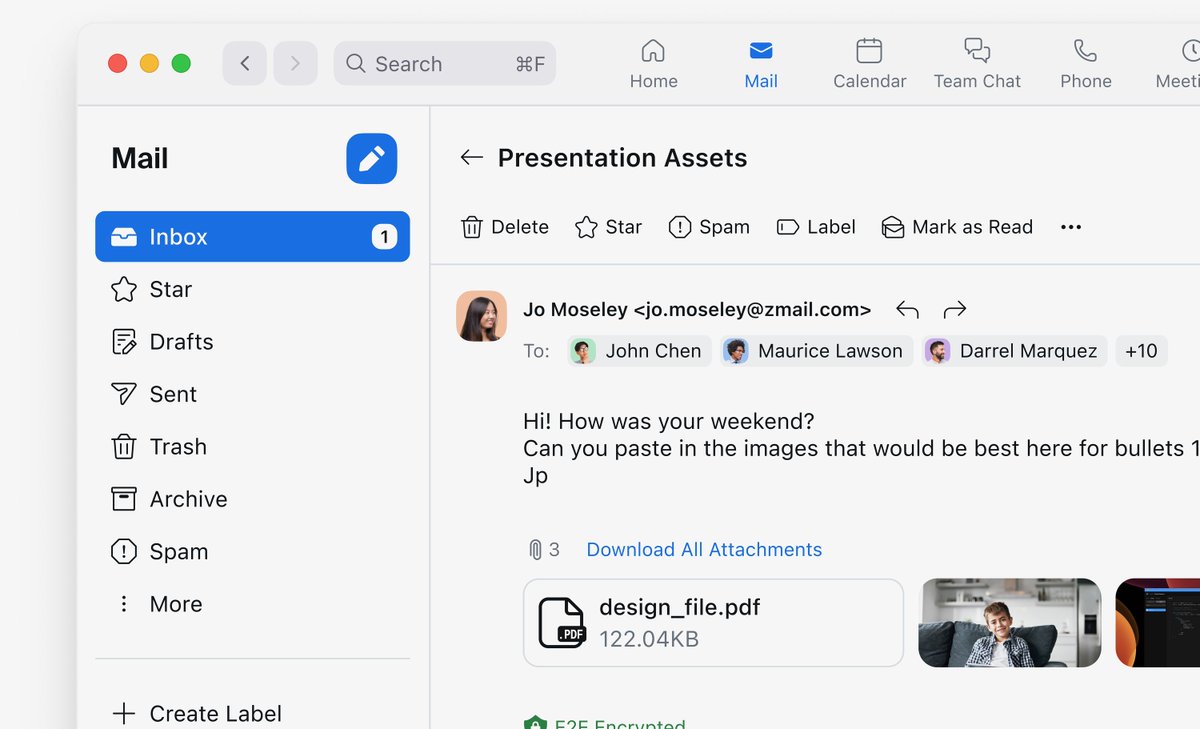 In Zoom Calendar, you'll be able to see who of your contacts has joined a meeting, and you'll be able to arrange Zoom voice and video conversations in the app. Zoom's own calendar tool will allow users to arrange appointments.
Zoom Spots are a feature that will be available in 2023. According to the startup, this is a virtual coworking environment where coworkers may remain better engaged throughout the workday via video-first chats. While the firm didn't divulge much about Zoom Spots in its blog post, there might be a disadvantage since the feature could allow supervisors to keep a closer check on what their staff are doing.
Businesses will soon be able to use Zoom Virtual Agent, a conversational AI and chatbot developed to assist consumers with problem resolution. This tool is expected to be ready in early 2023. A means for developers to earn money from the Zoom Apps Marketplace is also in the works, as is a virtual coach to assist vendors refine their presentations.
Regarding Zoom's basic functionalities, a feature that integrates team conversations with in-meeting discussions is on the way. To keep things moving, you'll be able to take the discussion from one to the other and back again. In addition, the business plans to provide translation capabilities for team discussions in 2023. You'll be able to plan a chat message to send at a later time in the near future.
Zoom Phone is going to the web, which could be useful for a lot of people. ChromeOS will also include a progressive web app. Meanwhile, users will be able to respond to missed calls with a one-click chat message. There will be a method for people in Zoom Rooms to join a Google Meet room and vice versa.
Last but not least, Zoom announced a slew of meeting-related changes. The Smart Recordings tool use artificial intelligence to produce summaries, next actions, and chapters from recorded meetings, making them more consumable and assisting you in getting to the section you're searching for. There will be meeting templates that may automatically setup the appropriate settings, as well as a means to record videos with narration and screensharing and transmit them to colleagues. You'll also have additional avatar choices, including the opportunity to utilize a Meta avatar.