If you're serious about gaming, you know that having the right gear can make all the difference in your performance. One key element of any gamer's setup is their mouse, and with so many options on the market, it can be hard to know which one to choose. That's why we've gathered a team of experts to test out the latest and greatest gaming mice and bring you our top picks for 2023.
Number 1. Razer Basilisk V3

The Razer Basilisk V3 is a high-performance gaming mouse with an exceptional feature set. This mouse offers a sturdy build quality with a matte finish and a comfortable design that caters to all grip types, except the smallest of hands, for a reasonable price range of $50 to $70. Its long-lasting optical switches ensure longevity, and its large, quiet main buttons are ideal for extended use.
Customization is the name of the game with the Basilisk V3, which has 11 programmable buttons. The side buttons are easily accessible and designed to prevent accidental clicks, and the sensitivity clutch button allows you to switch to a lower DPI for improved accuracy. Although the thumb wheel is loud and clumsy, it can tilt left and right and has a toggle for ratcheted scrolling or free-spinning mode.
The Basilisk V3 is on the heavier side, weighing around 100 grammes, but its PTFE feet ensure smooth and seamless movement. The Razer Focus+ sensor is accurate and efficient, making it suitable for most gamers except those who play competitive FPS. Although only available for Windows, Razer's Synapse software allows for simple customization of profiles, DPI settings, macros, and RGB effects.
If you prefer an ambidextrous mouse with comparable features, the Razer Viper 8KHz is a great option at the same price. It is only 70g in weight and has two programmable buttons on both sides. Another interesting option is Logitech's G502 X, which is slightly lighter at 84g and has more side buttons, but has a slightly more awkward fit and a worse-off cable.
Number 2. Razer DeathAdder V3 Pro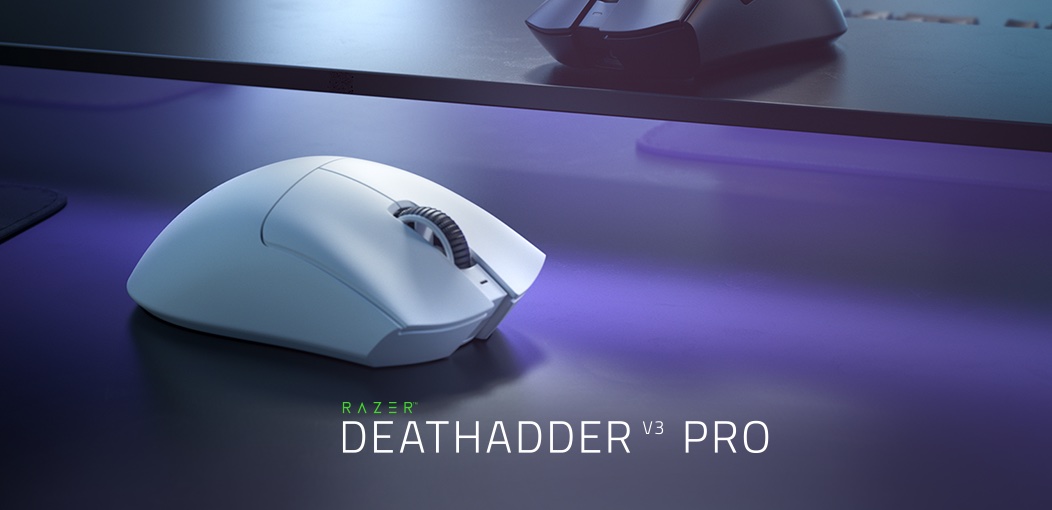 The Razer DeathAdder V3 Pro is the ultimate gaming mouse for serious gamers willing to spend a little extra money. The mouse has a wireless design and weighs only 63g, making it highly responsive and comfortable for long gaming sessions. The gently curved shape accommodates most grip types, and the two side buttons are easy to reach. The scroll wheel is soft and quiet, and the main buttons have a satisfying tactile feel to them.
The optical switches and Focus Pro 30K sensor on the DeathAdder V3 Pro make it one of the fastest and most accurate mice we've tested, especially for competitive players who play twitchy FPS games. It has a 90-hour battery life per charge and comes with a highly flexible USB-C cable, making it easy to charge even while on the go.
While the DeathAdder V3 Pro costs more than other gaming mice, it prioritises essential features over extras like RGB lighting and Bluetooth. The DPI switcher is located on the bottom of the mouse, which is inconvenient, and there is no built-in storage compartment for the USB dongle. These concessions, however, make the mouse lighter and easier to flick, allowing for more precise movements.
The Razer Viper V2 Pro is an excellent ambidextrous option with a flatter design that is suitable for small hands and lefties. For those who don't like the Razer aesthetic, the Logitech G Pro Superlight is a close second, but it has a lower battery life rating of 70 hours and charges via microUSB rather than USB-C. Overall, the DeathAdder V3 Pro is an excellent choice for serious gamers who value speed and accuracy in their gaming.
Number 3. Logitech G203 Lightsync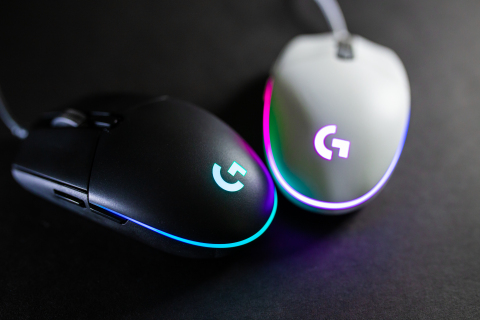 The Logitech G203 Lightsync offers a competitive option for budget-conscious gamers, with a sleek design that accommodates fingertip or claw grips and a variety of stylish colours such as lilac and blue. While the mouse's small and flat design may not be ideal for palm-grippers with larger hands, it compensates with its light weight of 85g and sturdy build quality. In addition, the G203 has two customizable buttons on the right side and a DPI cycle button on top for added functionality. The RGB lighting around the device's bottom improves the gaming experience, and the accompanying G Hub software allows for simple configuration of settings on both Windows and macOS. While there is no onboard memory on the G203, its consistent and responsive Logitech Mercury sensor ensures smooth gameplay, and the set of PTFE feet ensures a smooth glide. Although it is not the best choice for competitive games such as Counter-Strike, it is more than capable of handling most games.
The Logitech G305 Lightspeed provides the same build quality and shape as the G203, but with a more advanced sensor for improved accuracy. The G305 also has a battery life of up to 250 hours, though it requires an AA battery, which increases its weight to just over 100g.
Number 4. Logitech G600
The Logitech G600 is a solid choice for an MMO gaming mouse. While it was released in 2012, it is considered outdated because it has mechanical switches and a laser sensor (the Avago S9808) that is less precise than newer optical sensors. It weighs 133g and has a wide body, which may not be suitable for those with small hands or who prefer fingertip grips. Its cable isn't very flexible, and its scroll wheel and main buttons are mediocre.
The G600, on the other hand, has a sloped shape that is comfortable for those with large and average hands, particularly those who use a palm grip. Its scroll wheel can also be tilted left and right.
What distinguishes the G600 is its ability to provide players with quick access to a variety of in-game commands. It has 12 customizable side buttons that are angled in a way that distinguishes them without forcing the player to look down all the time. These buttons are easily accessible, made even more so by the addition of a third click button located under the ring finger, which when pressed, brings up an entire second set of commands. This means that players can use just one hand to access up to 24 different inputs. This feature is a godsend in MMOs where juggling multiple hotbars' worth of commands is required. Players in games like Final Fantasy XIV can easily navigate their "rotations" without having to contort their fingers around the keyboard.
Despite its low price of around $35, the G600 outperforms other MMO mice on the market in terms of functionality. While there are more expensive options, the G600's impressive features and value make it a dependable choice for MMO gaming.