In today's rapidly evolving digital landscape, temporary email services have emerged as invaluable tools for online communication. Whether you're signing up for social media platforms, accessing website content, installing applications, or shopping online, the use of temporary email addresses has become an essential strategy. By providing automatically generated email addresses for a limited duration, these services shield your real email address from spam and potential threats, ensuring privacy and security.
To address the challenges of unwanted messages and protect your personal information, we have curated a list of the top five temporary email services available in 2023. Our comprehensive evaluation will examine their features, usability, reliability, and additional functionalities, enabling you to make an informed decision when selecting a temporary email service that meets your specific requirements. Whether you prioritize privacy, seek a seamless experience, or aim to declutter your inbox, these services offer practical solutions to enhance your online security and convenience.
1. Proton Mail

Proton Mail offers a range of pricing plans, meticulously designed to accommodate diverse needs. The Free plan, tailored for individual users, provides a limited storage capacity of 500 MB, along with 20 labels and restricted message-sending capabilities. While users can receive emails at the @pm.me domain, the ability to send messages from this domain is not available. For enhanced features, the Proton Mail Plus plan, priced at $5 per month or $48 per year, grants users 5 GB of storage, the option to use a custom domain, additional addresses and labels, support for IMAP email clients, as well as custom filters and an autoresponder.
Small businesses can benefit from the Proton Mail Professional plan, priced at $8 per user per month or $75 per user per year, which offers unlimited users, emails, and labels, 5 GB of storage per user, and additional addresses. Lastly, the Proton Mail Visionary plan, priced at $30 per month, presents an ideal solution for up to six users, providing 20 GB of storage, 10 custom domains, and 50 additional addresses. Furthermore, users can enjoy a 20% discount by bundling Proton Mail with Proton VPN, the company's renowned virtual private network service.
To enhance privacy and user experience, Proton Mail offers an array of features. With end-to-end encryption securing emails and contact data, users can employ autoresponders, create custom spam filters, manage multiple email addresses, and even send self-destructing emails. Proton Mail Bridge, an application, encrypts all emails as they enter and leave the user's computer, enabling the use of preferred email clients while ensuring encryption.
The user interface of Proton Mail boasts a modern and intuitive design. The dashboard offers customizable layouts, conversation grouping, and theme options, allowing users to personalize their experience. Efficient email organization is facilitated through folder and label functionalities, while custom filters enable automated email management. Mobile apps for both Android and iOS platforms ensure seamless accessibility.
Proton Mail provides three levels of support, corresponding to different subscription plans. Free users receive limited support, whereas Plus users enjoy standard support. Premium users, on the other hand, benefit from priority support. The comprehensive online knowledge base is a valuable resource, offering detailed guides, videos, and a convenient search function to quickly address user inquiries.
Security remains a top priority for Proton Mail. The implementation of end-to-end encryption and zero-access encryption guarantees that emails are consistently protected during transit and storage on the company's servers. Additionally, Proton Mail's IT infrastructure resides deep underground, ensuring physical security, while the open-source nature of its code allows for rapid identification and resolution of security vulnerabilities. Proton Mail also supports PGP encryption and offers two-factor authentication for an added layer of account protection.
2. Internxt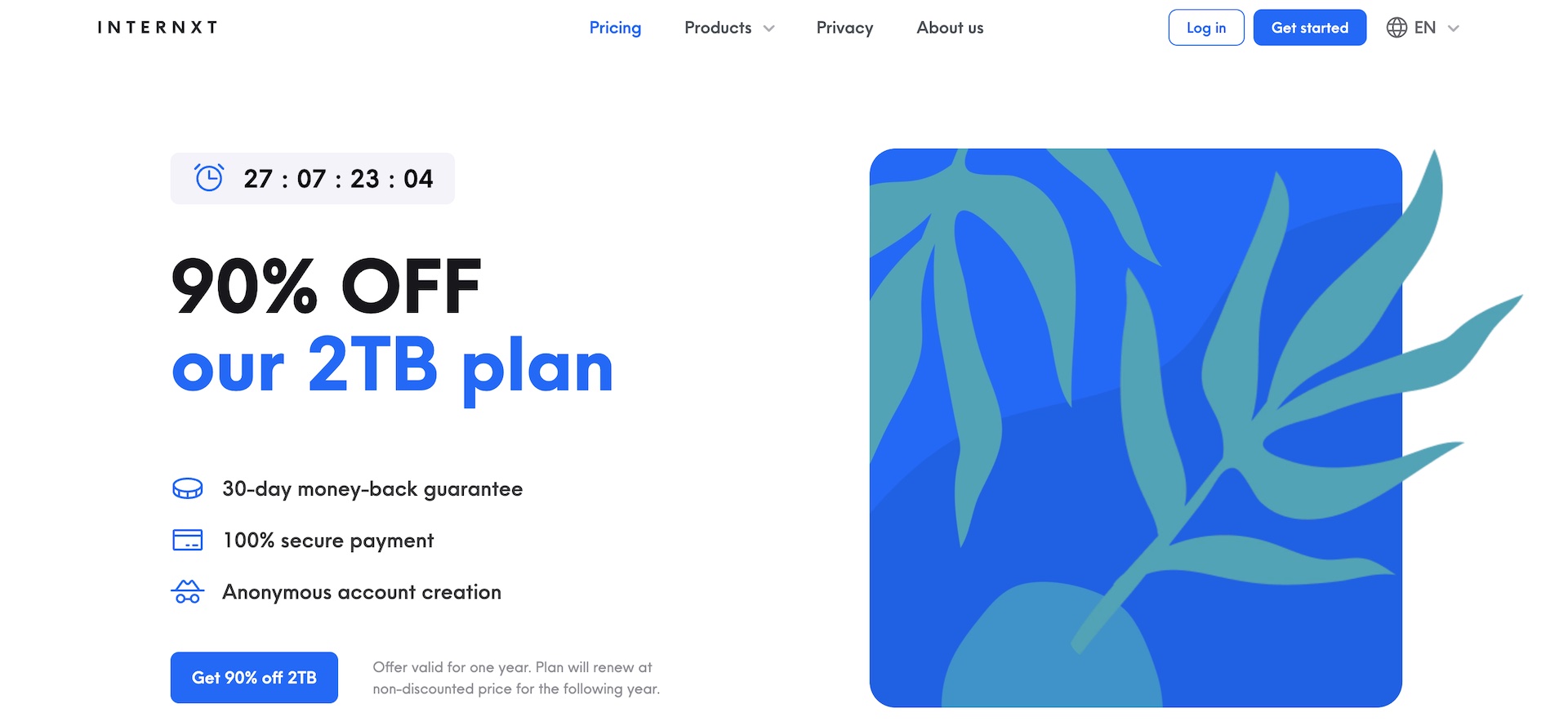 When it comes to managing media and prioritizing privacy, Internxt stands out as a top choice among temporary email services. Offering a range of features, Internxt ensures anonymity, simplicity, and security, making it an ideal solution for users seeking temporary and random email addresses without compromising personal information.
Internxt's disposable email account generator is the latest addition to their privacy toolkit, providing users with free, anonymous, and temporary email addresses that do not store any personal data. The address is generated conveniently in the toolbar located at the top of the main page, while incoming messages are seamlessly displayed in the temporary inbox below. These messages are retained as long as you continue using your temporary email address. However, it's important to note that both the email address and inbox will expire after 3 hours of inactivity.
Beyond temporary email services, Internxt offers a suite of secure, private, and encrypted cloud storage solutions. Internxt Drive empowers users to securely back up and share files while maintaining complete privacy. With military-grade encryption and file sharing capabilities, you retain exclusive control over your files, safeguarding them against data collection and intrusive advertising companies. Additionally, Internxt Photos provides a safe space to preserve and share cherished memories, while Internxt Send facilitates the quick and confidential encryption and transfer of large files such as documents, photos, or videos.
Internxt's commitment to privacy and security sets it apart in the market. By leveraging their services, users can confidently manage media and sensitive information, knowing that their data remains protected and confidential.
3. 10 Minute Mail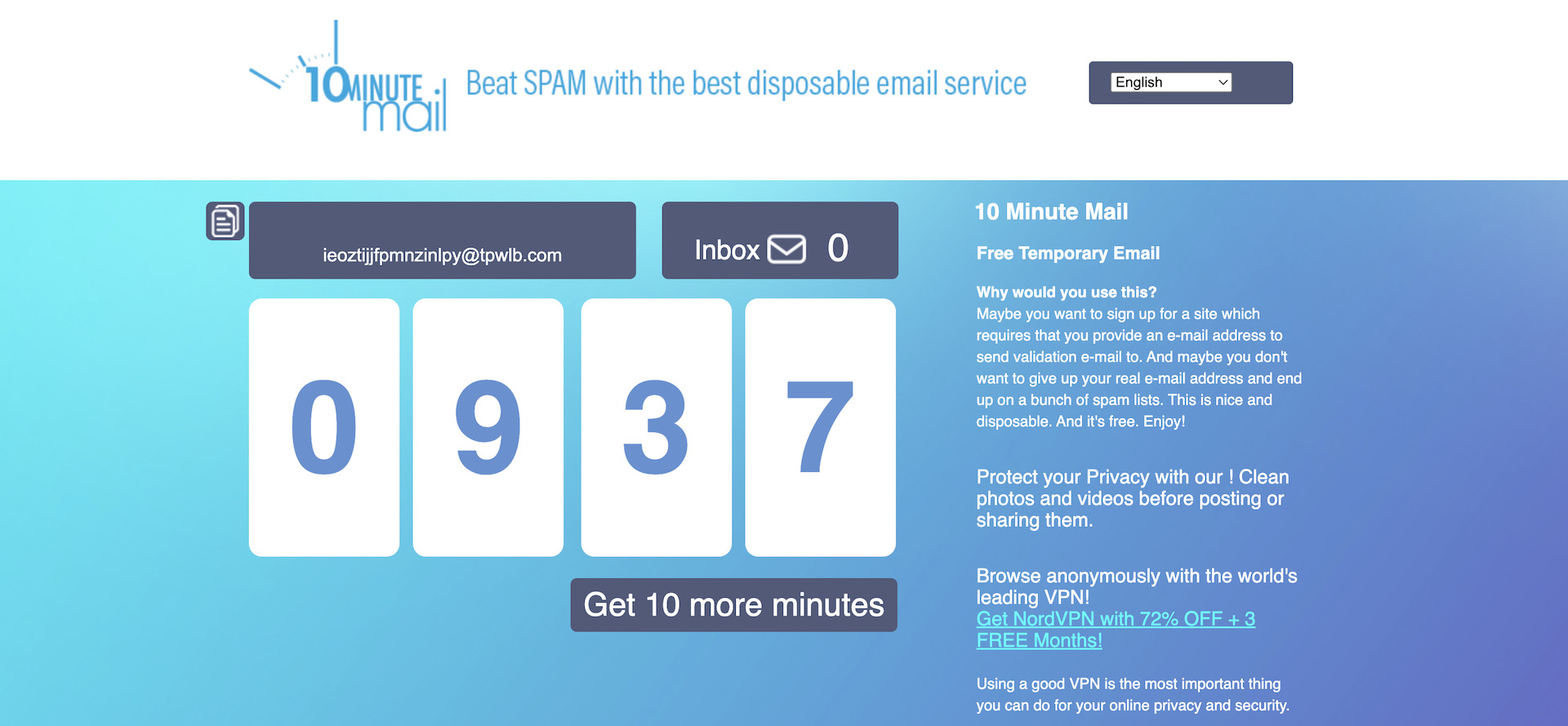 For those seeking a straightforward and hassle-free disposable email service, 10 Minute Mail emerges as a top choice. This platform offers a range of advantages, including its user-friendly interface, free availability, and robust security measures, making it an excellent option for individuals looking to protect their privacy and avoid spam without the need for advanced features.
10 Minute Mail operates on a simple premise: it provides users with a temporary email address that is automatically generated and expires after 10 minutes. Should you require more time, extending the duration is as easy as clicking the "Get 10 more minutes" button. However, it's important to note that once the additional 10-minute period elapses without renewal, the address and received messages will be permanently deleted.
One of the key benefits of 10 Minute Mail is its emphasis on user privacy. The generated email address is exclusively accessible and usable by you, ensuring that your temporary communication remains confidential. This service proves particularly useful in situations where you need a temporary email address to sign up for a service or access content while avoiding the use of your personal email address. Any emails sent to the generated address will appear in the message section on the home page, allowing you to read and utilize the necessary information. Once you close the window or wait for the 10 minutes to pass, both the address and received messages are permanently erased, further protecting your privacy.
While 10 Minute Mail excels in simplicity and security for basic email needs, it's important to note that it lacks advanced features and is primarily designed for receiving emails rather than sending them.
In conclusion, 10 Minute Mail offers an intuitive and secure solution for individuals seeking temporary email addresses without the need for additional functionalities. Its quick setup, free availability, and emphasis on privacy make it a reliable choice for protecting personal information and avoiding unwanted spam. However, users with more specific requirements or advanced email features may find alternative services better suited to their needs.
4. Temp Mail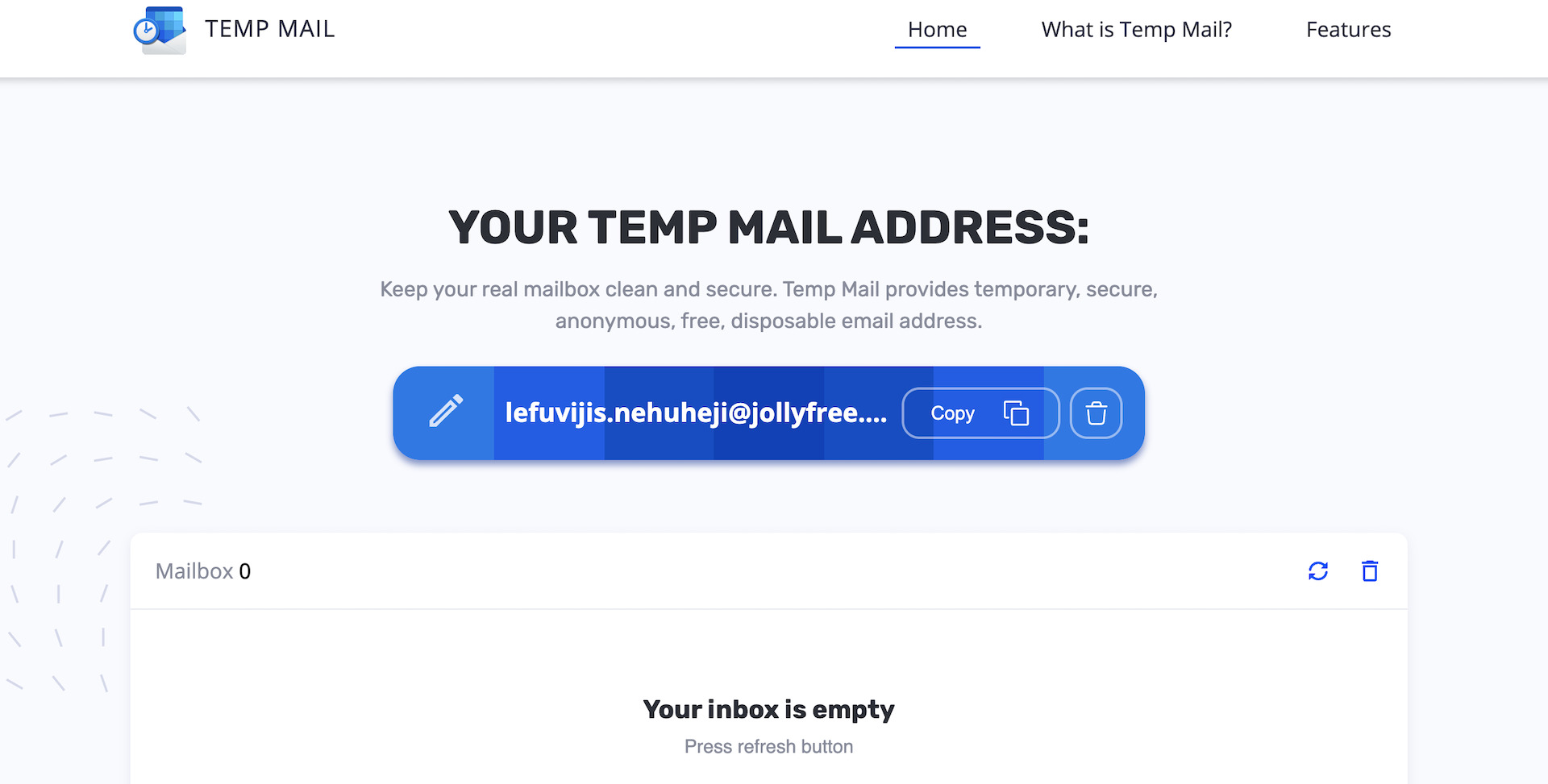 When it comes to ease of use and convenience, Temp Mail stands out as a top choice for individuals in need of a temporary email service. With its user-friendly interface and swift setup process, Temp Mail offers a hassle-free solution without the need for registration or sharing personal information. This makes it an ideal option for those seeking a quick and straightforward way to protect their privacy and avoid spam.
Temp Mail simplifies the process by instantly generating a disposable email address with a single click on the main page. Once created, your inbox is readily available below, allowing you to receive messages promptly, including attachments such as photos or other files. Unlike some other services, Temp Mail does not automatically delete the email address, leaving it active until you manually remove it or until the domain list undergoes changes. This means you can use the address for as long as you require without the need for time extensions.
In addition to its basic features, Temp Mail also offers a premium plan with added functionalities. Subscribing to the premium plan allows you to connect your custom domain and create up to 10 addresses simultaneously, ensuring full ownership and a 100% private address. Furthermore, the premium plan enhances your experience by providing extended storage of 100 MB for email messages, seamless functionality within web browsers, heightened privacy and security measures, and premium support without any ads.
Temp Mail is easily accessible through its website and is also available as an application on App Store, and Play Store, and compatible with popular browsers like Chrome, Safari, and Firefox, ensuring flexibility and convenience for users across different platforms.
In conclusion, Temp Mail offers a user-friendly and efficient solution for temporary email needs. Its straightforward setup process, availability across various platforms, and the option for a premium plan with additional features make it an attractive choice for individuals looking to safeguard their privacy and streamline their email experience. However, it's worth noting that Temp Mail is primarily designed for receiving emails and has limited storage on its free plan. Users requiring advanced features or greater storage capabilities may find alternative services better suited to their specific needs.
5. Guerilla Mail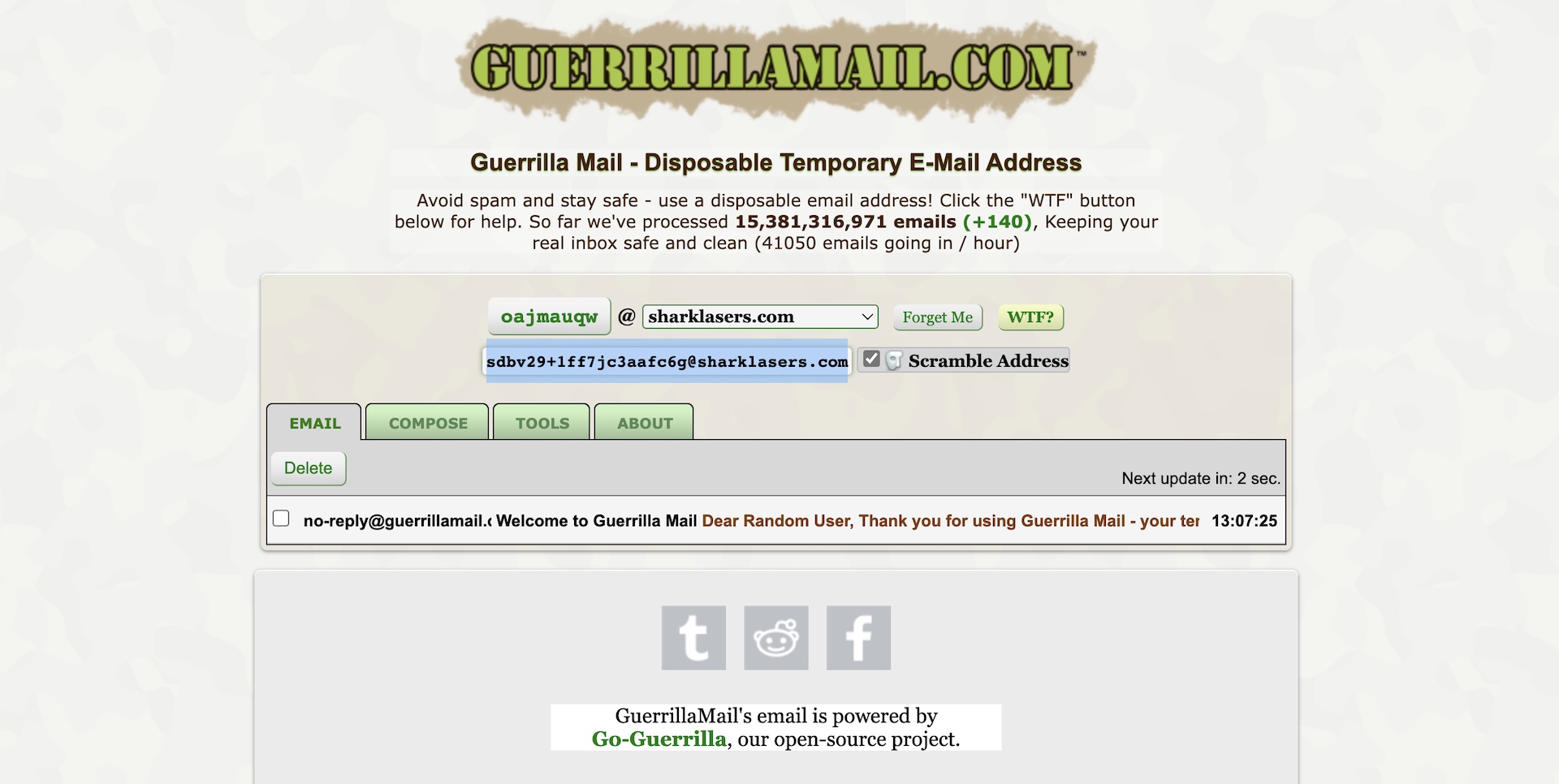 For individuals seeking a disposable email service with the flexibility of custom addresses, Guerilla Mail stands out as an excellent choice. With its commitment to anonymity and support for custom addresses, Guerilla Mail offers a comprehensive solution that empowers users to protect their privacy and avoid spam effectively.
Guerilla Mail distinguishes itself by providing a hassle-free experience without the need for registration. Upon visiting the site, users are automatically assigned a random email address, ensuring complete anonymity from the start. One notable feature of Guerilla Mail is that the messages delivered to your inbox are automatically deleted after 60 minutes, ensuring temporary and secure communication. However, it is important to note that the temporary email addresses themselves do not expire unless manually deleted by the user.
What sets Guerilla Mail apart is its ability to compose and send emails from a disposable email address. Users can send emails to anyone while maintaining their anonymity. Furthermore, attachments of up to 150 MB in size can be included, allowing for seamless file sharing. Guerilla Mail also enables users to reply to and forward received emails, providing a comprehensive email experience while safeguarding personal information. Additionally, users have the option to customize their inbox ID by selecting any domain name, further enhancing the flexibility of the service.
To ensure an added layer of privacy and security, Guerilla Mail offers a unique feature known as the "scrambled address." This feature makes it challenging for unauthorized individuals to access your inbox ID. The scrambled address can only be known if the inbox ID itself is known, making it an effective means of protecting your identity. It is highly recommended to utilize a scrambled address for enhanced security, with the level of protection increasing based on the complexity and difficulty of guessing the inbox ID.
While Guerilla Mail provides powerful features for custom addressing and privacy, it is worth mentioning that some users may find the service initially confusing to navigate. However, with a brief familiarization, users can quickly grasp its functionality and leverage its advantages for protecting their privacy and avoiding spam.
In conclusion, Guerilla Mail offers a secure disposable email service with support for custom addresses, empowering users to maintain their privacy in online communications. By providing the ability to send, reply to, and forward emails while ensuring anonymity, Guerilla Mail delivers a comprehensive email experience. The option to use scrambled addresses further enhances privacy and security. Although the service may require a short learning curve, its robust features make it an excellent choice for individuals seeking enhanced privacy and control over their temporary email communications.