If you're on the hunt for budget-friendly laptops without compromising on performance, you're in for a treat. In 2023, the world of affordable Windows laptops has never been more exciting, with an array of options that offer incredible value for your hard-earned money. From sleek designs and robust processors to ample storage and impressive displays, these top five cheap Windows laptops are here to prove that affordability doesn't mean sacrificing quality. Whether you're a student, a professional on the go, or simply looking for a reliable device for everyday tasks, we've got you covered.
Get ready to explore the best wallet-friendly Windows laptops of 2023 that combine functionality, style, and savings. Join us on this tech adventure as we dive into the world of affordable computing, where cutting-edge features meet your budget requirements. Let's find your perfect match among the top five cheap Windows laptops for 2023!
Number 1. Acer Aspire 5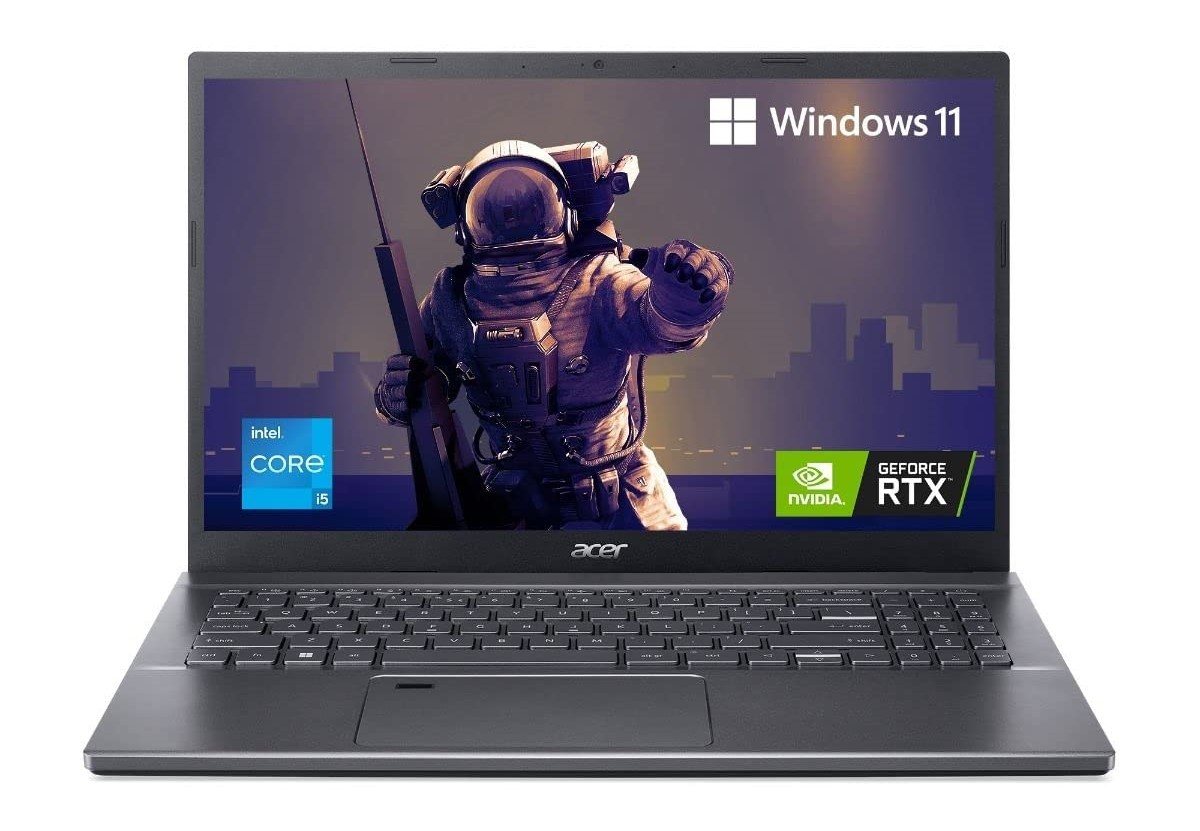 The Acer Aspire 5 A515-56G is a high-performance ultrabook that offers a sleek design, powerful specifications, and a range of features suitable for both productivity and entertainment purposes. Running on Windows 11 Home (64-bit) operating system, it provides a seamless and modern user experience.
The laptop boasts a 15.6-inch TFT LCD display with a resolution of 1920 x 1080 pixels, providing clear and crisp visuals. Although it lacks touch functionality, the display offers a wide viewing angle of up to 170 degrees, ensuring an immersive viewing experience. Additionally, the laptop features a 16:9 aspect ratio and a 141 PPI pixel density, enhancing the overall display quality.
In terms of connectivity, the Acer Aspire 5 A515-56G comes with Gigabit Ethernet and Intel Wireless Wi-Fi 6 AX201 for fast and reliable internet connectivity. Bluetooth v5.1 allows for seamless wireless connections with compatible devices. The laptop is equipped with multiple USB ports, including one USB Type-C and three USB 3.0 ports, ensuring convenient connectivity for various peripherals. An HDMI port is also available, enabling easy connection to external displays.
The laptop features a fine-tip keyboard with an independent numeric keypad and international language support, allowing for comfortable and efficient typing. The multi-gesture touchpad further enhances navigation and interaction with the laptop.
For audio, the Acer Aspire 5 A515-56G comes with built-in dual speakers supported by Acer Purified Voice Technology and Acer TrueHarmony Technology, providing clear and rich sound output. The laptop is compatible with Cortana with Voice, enabling voice-controlled interactions for added convenience.
The Acer Aspire 5 A515-56G is powered by an 11th Gen Intel Core i5 1135G7 processor, a quad-core CPU with eight threads and a base clock speed of 2.4 GHz, which can turbo up to 4.2 GHz. It features 8 MB of cache memory, delivering fast and efficient performance for multitasking and resource-intensive tasks.
For graphics, the laptop is equipped with an NVIDIA GeForce MX450 GPU with 2 GB of dedicated GDDR5 memory, providing decent graphics performance suitable for light gaming and multimedia tasks.
The laptop comes with 8 GB of DDR4 RAM and supports a maximum of up to 20 GB of RAM, offering smooth multitasking and responsiveness. It also features a 512 GB solid-state drive (SSD) with NVMe interface, ensuring faster data access and application loading times.
The Acer Aspire 5 A515-56G is powered by a 48 Wh, 3-cell Li-ion battery, which is supported by a 65 W AC adapter for charging. The laptop can provide up to 8.5 hours of battery backup, ensuring sufficient power for extended usage.
In summary, the Acer Aspire 5 A515-56G is a well-rounded ultrabook that combines powerful performance, a vibrant display, and various connectivity options. With its elegant design and capable specifications, it is a suitable choice for users seeking a reliable laptop for both work and leisure activities.
Number 2. Lenovo IdeaPad Flex 5