There are numerous third-party screen readers for Windows 11 available. The most popular are Job Access With Speech (JAWS) and Non-Visual Desktop Access (NVDA) (NVDA).
However, Windows has a free screen reader called Narrator. Given the abundance of alternatives, the majority of individuals do not utilize it as their primary screen reader. But if you're in the majority, it can come in handy if you're borrowing someone else's device or if you can't use your favorite program for any reason.
There are a couple of methods to activate the Narrator, and in this guide, we are going to walk you through the same.
Method 1. Using the keyboard on your Windows 11 Computer
If you don't have a remapped keyboard, you can activate Narrator by pressing Control + Windows + Enter. This will launch Narrator and launch Narrator Home (where you may learn about the capabilities of Narrator and change settings). You may minimize it while Narrator continues to operate, or you can quit it to exit the Narrator.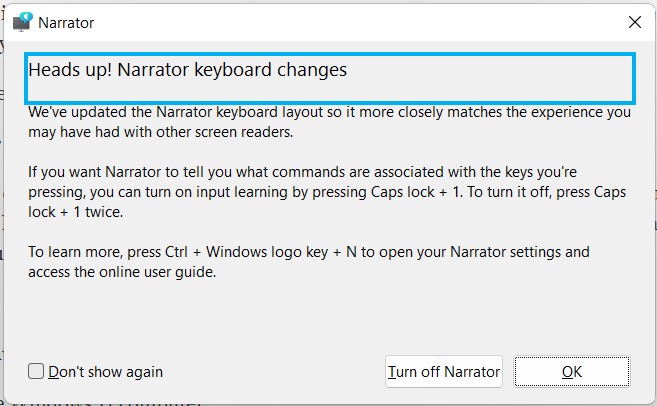 Method 2. Using the Accessibility menu
Step 1. Open the Settings application on the Windows 11 computer.
Step 2. On the left hand side pane, click on the Accessibility option.
Step 3. Under the vision section, click on the Narrator option.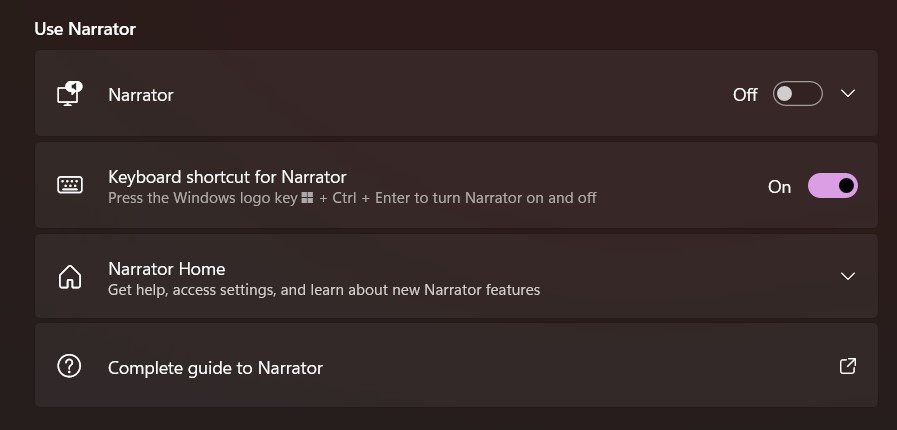 On this page, you may change Narrator's pace, pitch, loudness, verbosity, and navigation mode, among other things. This is also where you may connect a braille display, sync your settings with other devices, and make any necessary modifications. You may also toggle the keyboard shortcut on and off here.
Method 3. Using the Dock on Windows 11
You may also use the Windows search bar to activate Narrator. To do so, in the Taskbar at the bottom of your screen, click the magnifying glass and type "Narrator."
Enter "Narrator" into the text box that appears and choose the first result. This will launch Narrator.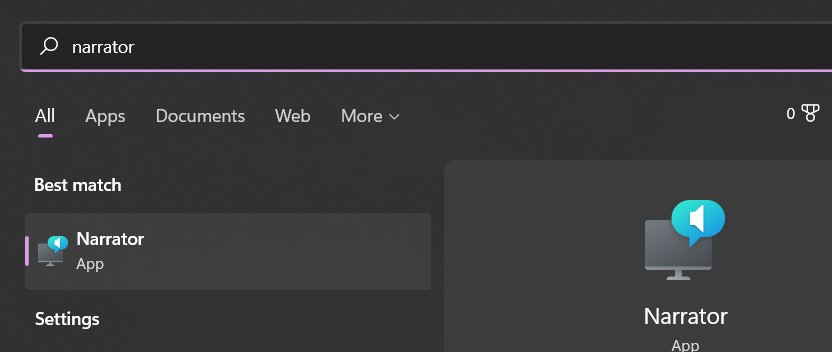 Alternatively, you may open the Start menu by clicking on the Windows logo, then All applications, and then Windows Ease of Access. When you click on it, Narrator will appear as an option beneath it.
The Narrator is a very useful feature in the Windows 11 package and is incredibly useful, not only for those with impairments, but also for those who want to bring in a bit of ease into their navigation process. What is every better is the fact that this is a built in feature and as such, you do not need to use third party software compulsorily.