When it comes to household cleaning, cordless vacuums have revolutionized the way we tackle dirt, dust, and debris. These super stick vacuum cleaners offer a winning combination of convenience and power, allowing you to effortlessly navigate your home and keep it spotless. Whether you're dealing with wooden floors, tiles, carpets, rugs, or even your car's interior, the best cordless vacuums have you covered.
To bring you the most reliable and efficient options on the market, we've rigorously tested various cordless vacuums in real homes, facing challenges that mirror everyday cleaning tasks. From pet hair to crumbs, these vacuums have proven their mettle against the toughest adversaries, ensuring that you have all the information you need to make an informed decision.
In this guide, we'll present the crème de la crème of cordless vacuums available in 2023. We'll delve into their performance, battery life, dustbin capacity, and overall suitability for different home sizes. We understand that each home has unique cleaning requirements, and our goal is to provide you with the essential insights to find the perfect cordless vacuum that meets your needs.
While cordless vacuums offer incredible convenience, we also acknowledge that some may prefer the hands-off approach of robot vacuums or the traditional power of upright models. That's why we've included recommendations for the best robot and upright vacuums as well, catering to a range of preferences.
Additionally, if you're looking to optimize your cleaning routine and learn handy tips, expert advice, and clever hacks to get the most out of any type of vacuum cleaner, our guide on how to vacuum is a valuable resource you won't want to miss.
Get ready to cut the cord and embrace a new era of effortless cleaning with our selection of the top cordless vacuum cleaners of 2023.
Number 1:  Shark Stratos Cordless IZ862H / IZ400UK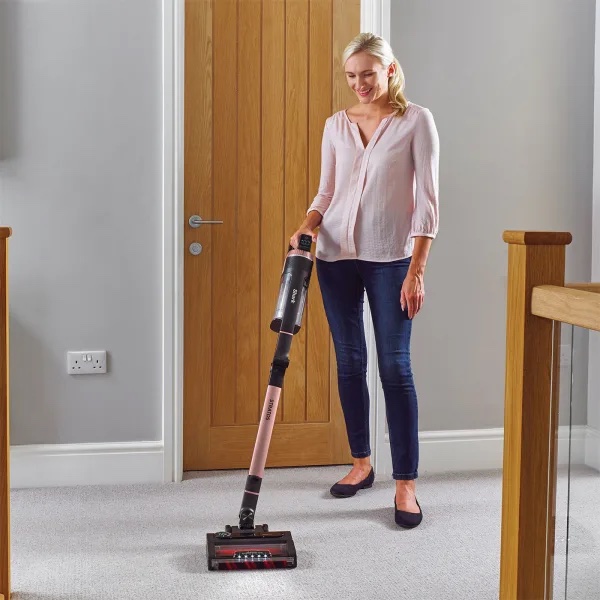 When it comes to cordless vacuum cleaners, the Shark Stratos is a true game-changer. Offering powerful suction and innovative features, this vacuum is designed to make your cleaning routine a breeze. With its cutting-edge Clean Sense IQ technology, the Shark Stratos can detect the level of dirt on your floors and adjust its suction power accordingly, ensuring a thorough clean every time. In this review, we'll delve into the impressive features and performance of the Shark Stratos cordless vacuum, exploring its capabilities, versatility, and how it simplifies your cleaning tasks.
Revolutionary Clean Sense IQ Technology: One of the standout features of the Shark Stratos is its Clean Sense IQ technology. This intelligent system allows the vacuum to analyze the cleanliness of your floors and automatically increase suction power when needed. This means that even the most stubborn dirt and debris can be effortlessly removed, ensuring a deep and thorough clean. With Clean Sense IQ, you can enjoy peace of mind knowing that your floors are truly spotless.
Anti-Hair Wrap Technology for Hassle-Free Cleaning: Dealing with hair tangled in your vacuum's brushbar can be a frustrating and time-consuming task. Thankfully, the Shark Stratos comes equipped with Anti-Hair Wrap technology, which prevents hair from getting tangled in the brushbar. This feature is particularly beneficial for households with long-haired residents or furry pets, as it eliminates the need for frequent manual detangling. Say goodbye to hair clogs and hello to hassle-free cleaning.
Flexible Wand and Versatile Tools: The Shark Stratos is designed with convenience in mind. Its flexible wand allows you to easily reach under furniture, ensuring that no corner or crevice is left untouched. Vacuuming under couches and sofas is no longer a strenuous task with the Shark Stratos. Additionally, this vacuum comes with a range of tools, including a crevice tool and a multi-surface tool, providing versatility for cleaning narrow spaces and different surfaces. Whether it's hard floors, carpets, or furniture, the Shark Stratos delivers powerful suction for effective cleaning.