It's no surprise that the epidemic resulted in a massive spike in home internet usage, with millions of Americans shifting to remote working and learning, not to mention an increase in individuals streaming shows and movies, gaming online with pals, and video chatting with loved ones. Now, more than two years later, it doesn't appear that these new habits are going away anytime soon, which means that having a good internet connection at home is more crucial than before.
Upgrading from a router to a mesh system is one of the best decisions most households can make. With several devices dispersed across your home, a decent mesh router acts as a team of routers, relaying wireless traffic back to the modem more effectively than a regular router, especially when connected at range. And, with so many new, next-generation alternatives on the market, now is an excellent moment to make the transition.
With the correct system in charge of your connection, you may have total wireless coverage and high speeds throughout the majority, if not the entirety, of your home. Even better, unlike many stand-alone range extenders, you won't have to juggle your connection between your main network and a separate extension network. Because range expansion is built into the architecture, the mesh router will automatically route your connection within a single, unified network.
Some of the best mesh routers we've tested include Eero systems, which popularised mesh networking before being purchased by Amazon in 2019, as well as the most recent models from TP-Link Deco, Asus ZenWifi, Netgear Orbi, and Google Nest. Mesh systems used to sell for as much as $500, but now these manufacturers provide multipoint mesh router systems, including the primary router and extra satellite extenders, for less than $300, if not less than $200. Though we advocate aiming a little higher, basic, entry-level mesh systems can be found for as little as $20 per device.
We still want to test out a lot of routers and mesh systems, including a rising number that employs Wi-Fi 6 technology, which promises greater performance and quicker speeds. More mesh routers that enable Wi-Fi 6E, which means they can access a newly opened mass of new bandwidth in the 6GHz band, should continue to appear during 2022, although it's probably still too early to invest in such a system (and they won't be cheap in most circumstances).
That said, let's take a look at the Top 3 Mesh Routers that you should buy in 2022.
TP-Link Deco W7200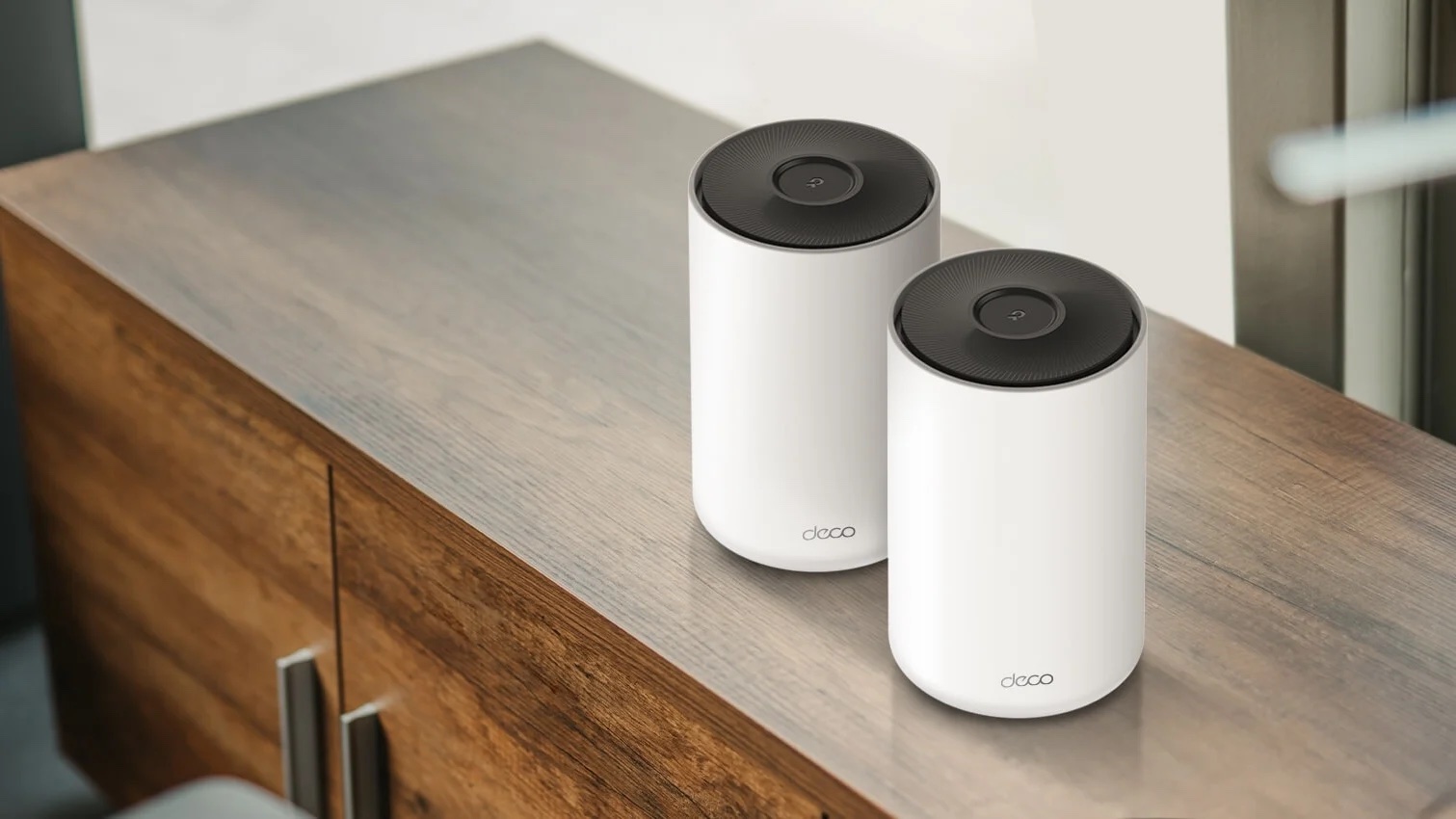 Look for the following features in a mesh router upgrade to truly feel like an upgrade: Wi-Fi 6 capability, as well as a tri-band design with the standard 2.4 and 5GHz channels, as well as a second 5GHz band that may be used as a dedicated backhaul link for wireless transfers between the main router and the satellites. The issue is that tri-band Wi-Fi 6 mesh routers are often somewhat pricey. Not long ago, I praised Asus and Eero for lowering the price of a two-piece system like that to roughly $400.
TP-Link is now doing even better, selling the Deco W7200 mesh router, a tri-band Wi-Fi 6 system for $229 in a two-pack. That could be the best mesh router value I've ever seen — and the best thing is that it works like a champ, with fast, steady speeds, decent range, and a setup process that's about as simple as it gets, with satellite extenders that join the mesh as soon as you put them in. In fact, the only mesh system that outperformed the Deco W7200 in my at-home speed tests was the Netgear Orbi AX6000, which costs $700 for a two-pack.
All of this adds up to the Deco W7200 being an excellent value and the first mesh router I'd recommend to everyone. Just keep in mind that it has been in and out of supply on Walmart's website this year, so it may not be instantly accessible in your area. If it isn't, you could choose the TP-Link Deco XE75, a comparable system that adds Wi-Fi 6E capability for $300 for a pair. The TP-Link Deco X90, a Wi-Fi 6 mesh system that outscored the W7200 in my tests and includes a multi-gig Ethernet connection for high-speed internet plans, is another option.
Netgear Orbi AX6000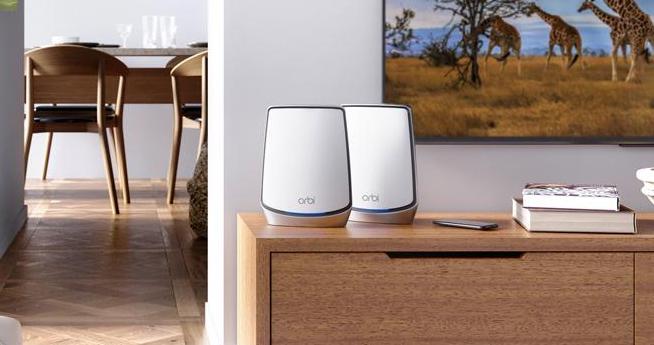 The Netgear Orbi AX6000 is too expensive to suggest outright at $699 for a two-pack, but if you only want one of the quickest mesh routers money can buy, look no further.
With full Wi-Fi 6 capability and a second 5GHz band that acts as a dedicated backhaul link for the router and its satellites, the powerful system performed admirably in our tests, reaching close-range maximum speeds of around 900Mbps. That's one of the fastest rates we've ever seen from a mesh network in that test, and it only dropped to 666Mbps at a distance of 75 feet – still faster than the Nest Wifi up close, barely 5 feet away.
Things grew much more remarkable when we took the Orbi AX6000 home to put it through its paces. With a 300Mbps incoming internet connection as a speed limit, the system returned average rates of 289Mbps to Wi-Fi 5 devices and 367Mbps to Wi-Fi 6 devices throughout the entire home, including speeds at the farthest point from the router that was 95 percent as fast as when connecting up close. That's an excellent result, and it's been consistent as I've continued my controlled mesh router speed tests. No other system I've tested has been able to take the top rank in the scoreboard in the two years since I first tested the Orbi AX6000 at my home, not even the newer Orbi AXE11000 system, which adds compatibility for Wi-Fi 6E. (yes, really).
Again, the issue is the price: $699 is simply too much for most people, especially considering that you'll need at least 500Mbps to see much of a difference between this system and others we like that cost less than half as much.
Eero 6 Plus
Eero was an early adopter of the mesh networking concept, and it was acquired by Amazon in 2019. Then, in 2020, we got two new versions of the Eero mesh router: the Eero 6 and Eero Pro 6, both of which added Wi-Fi 6 capability.
As an upgrade option, we enjoyed the Eero Pro 6, but the standard Eero 6 wasn't quite strong enough for me to recommend it. Fast forward until 2022, when the Eero 6 Plus is released. With a list price of $299 for a three-pack, it delivers the same compelling pitch as the Eero 6: a reasonably priced and simple-to-use three-piece Wi-Fi 6 mesh setup with a built-in Zigbee radio for connecting items like lights and locks to your network. Best of all, the performance has been greatly increased thanks to a faster AX3000 design (up from AX1800 with the Eero 6) and support for full-width, 160MHz channels (up from 80MHz).
In our at-home tests, the Eero 6 Plus delivered average download speeds in the top ten of the 30 or so mesh routers we've examined here – and none of the systems that outperformed it offer a better value. It also has fast upload rates and works well with previous-generation Wi-Fi 5 client devices, which is crucial because these devices still make up the majority of Wi-Fi devices in our homes. With three mesh devices for $299 and a range of up to 4,500 square feet, it's a good choice for large homes where that extra extender will be really useful.