Path and Pinterest are two of the fastest growing social networks on the internet. Path, an app for photo sharing on the go, has quickly gained size and scope to become a social app more than 2 million users strong since its recent relaunch. Path enables people to create an intimate mobile social graph for journaling the details of their lives, and it is taking the social network scene by storm.
Pinterest, on the other hand, is a content sharing web site where people who like different products, pictures, and web sites can "pin", or post their favorite artifacts for the world to see, share, and repin. The site has exploded in popularity over the last year, now claiming a user base in excess of 10 million who log in from a variety of internet service providers around the world.
How did both of these social networks become so big so quickly when so many other networks have burst onto the scene, only to fade into obscurity weeks, months, or years later? This article will attempt to follow the path to pinning down the reasons behind the unparalleled growth of two of the newest social networking giants, Path and Pinterest.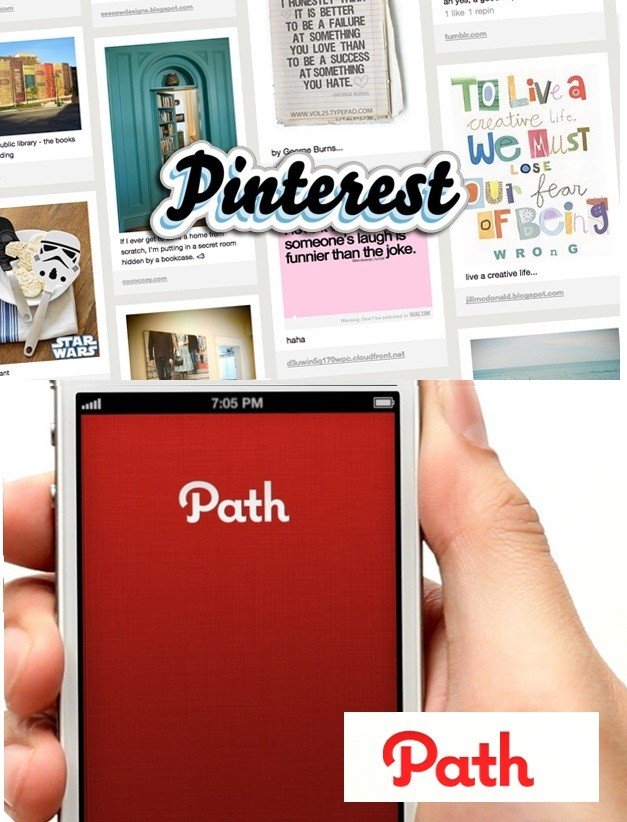 Perhaps the first and most important factor in the growth of both Path and Pinterest is the tendency of success to follow success. The majority of the first people who worked to bring Path and Pinterest to the forefront of the public eye had already established their reputations and skills in the field. To put it another way, they had a track record. Because they had already built up histories of performance, other people were more likely to join the bandwagon and try their hand at helping take the sites to greater heights.
For example, the co founder of Path is David Morin. He was one of the higher end developers of Facebook not too long ago, where he worked as a Senior Platform Manager. He also had a track record at Apple. Google gave Path a strong endorsement when, just four months after the platform had been created, they offered to buy it completely for a cool $100 million. That kind of interest is hard to ignore.
A second important factor in the growth of both Path and Pinterest is their almost laser pointed focus on user outreach. The base is the most important part of any venture, and both Path and Pinterest showed they understood the value of appealing to their bases by thanking and enabling the initial power users of their sites.
At Pinterest, for example, initial users were personally encouraged by the site's founders to spread the word of Pinterest and make the site their sandbox. Pinterest took things a step further by deliberately limiting signups to people who had received invites, creating a sense of intrigue and mystery about the site that drew large numbers of people in.
A third factor contributing to Path and Pinterest's rapid growth was their deliberate decision to make user friendly products that were both applicable and simple, while throwing in a healthy dose of addictive potential. This might seem simple, but a quick review of the sites makes it evident. The sites are easy to understand, relatively uncomplicated to join, and pretty straightforward to use.
In other words, they make sense without too much thinking. As a result, people become interested in working on or using the sites on a daily basis, and they start becoming interested in getting other people to join them. Pinterest, for example, targeted women using a range of internet service providers who were interested in technology and aggressively went after them. The results, as one can see, have been spectacular.
This is a guest article by Ruben Corbo, a writer for the website Broadband Expert where you can find internet service providers reviews. When Ruben is not writing he's composing or producing music for short films, video games, and other visual arts.