With most of the businesses worldwide now resorting to the work-from-home scheme, demand has grown for some reliable and secure team communication tools. While some of these apps are more open and easy to use for general purposes like catching up with friends and colleagues, there are some that are focused more on the corporates. One such application is Microsoft's very own 'Microsoft Teams'.
By definition, Microsoft Teams is a proprietary business communication platform developed by Microsoft, as part of the Microsoft 365 family of products. One can compare it with similar peer software like Slack or Skype for Business, but Microsoft has given this, a lot of useful features and functionalities, that make it, a go-to for organizations around the world.
The Office 365 Suite, distributed by Microsoft, is a great example of a seamless work ecosystem. All the applications can communicate with each other, and there are cases where one links to the other, in a way that boosts your productivity by a great amount.
People who work at enterprises may be well versed with the Microsoft Outlook application. For those of you who don't know, Outlook allows you to manage your email accounts (work and personal), on one platform. Clear segregation between the accounts allows you to get a clear picture of what is going on in your various email IDs, all on one platform.
One of the beautiful features here is that we now get a Microsoft Teams add-in for Outlook, and while it may sound simple, the benefits of this add-in, are immense. In simple terms, you can now schedule meetings on Microsoft Teams, from the Outlook app as well, and trust us, this saves a lot of time.
Microsoft Teams for Outlook on Windows
If you are using a Windows 10 PC/Laptop, the Microsoft Teams Add-in is automatically installed if you have the Microsoft Teams application and either Office 2013, Office 2016, or Office 2019 installed on their Windows PC. You will see the Teams Meeting add-in on the Outlook Calendar ribbon.

Microsoft Teams for Outlook on the Mac
The Microsoft Teams add-in button will appear in the Outlook Calendar ribbon if your Mac is running the Outlook production build 16.24.414.0 or later and is activated with a Microsoft 365 or Office 365 client subscription.
Microsoft Teams for Outlook Web App
If you are someone who uses the Outlook web app for your work, the Microsoft Teams add-in is available for this version as well. You will find a Microsoft Teams meeting slider inside the event creation window.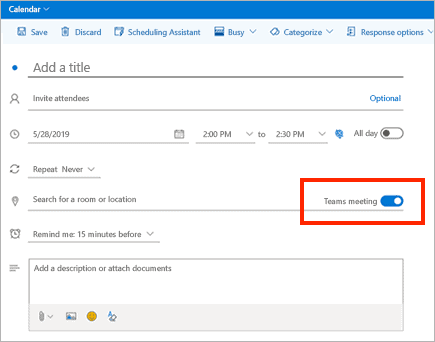 Microsoft Teams for Outlook on the mobile (Android and iOS)
If you are using the Microsoft Outlook app on your smartphone, the Microsoft Teams meeting slider will appear within the event creation window over here as well.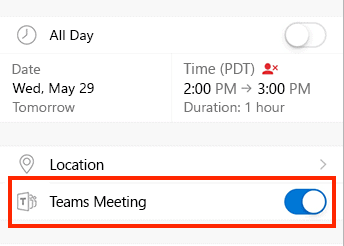 A word of caution here is that there is no specific installation link for this Microsoft Teams add-in. It is installed by default within the Outlook app as per the information provided above. Therefore, if you see a website that claims to have a working URL to download the Microsoft Teams URL (Other than Microsoft in the Future), we suggest that you stay away from the same.
If you want to download the Microsoft Teams app on your Desktop, you can use the link here, to head to the download page.