The New Kindle 2019 e-Reader Review.
The new refreshed Amazon Kindle is here thin and ultralight weighing just 174grams is one of the very few gadgets that feels extremely light on the hands and an ideal one to hold to when you start reading ebooks for long hours. Amazon Kindle comes in very simple packaging with the only accessory being a USB charging cable that can fit into any of your easily available USB charging adapter that's easily available with any smartphone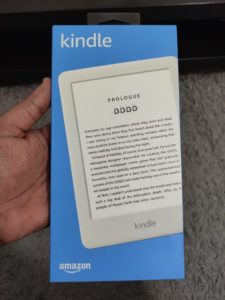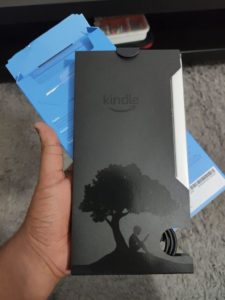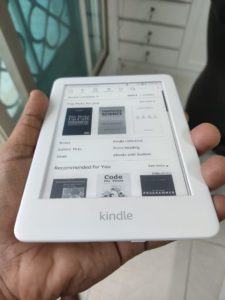 Kindle comes preinstalled with kindle books store which is one of the largest collection ebooks ( read 1 million here) and also thousand Arabic titles thanks to the support of Arabic, Hindi and other 40 languages, the menus and navigation will be in  English, Spanish, German, French, Italian, Portuguese, Dutch, Japanese, Russian and Simplified Chinese.
There is a bonus for Audiobook lovers, the new Kindle is equipped with Bluetooth functionality that can pair with any of your favorite Bluetooth headphones and a subscription with Audible store will have access to all the audiobooks.
The 6-inch screen 167 ppi glare-free screen equipped with 4  LED light will get you going on all the light conditions bright sunny day or during the night time and the capacitative touch screen prevents all the accidental swipes. Reading an e-book on the Kindle is the closest you can get to actually reading a book with added features like choosing the fonts, font sizes, and text alignment The Kindle promises about a month of battery life on regular reading habits but if you are using Bluetooth for Audible books regularly the results may vary.
Do remember Kindle is an internet-powered device and has an experimental browser for any emergency needs though some sites may not render as expected. Other features worth mentioning include
1.Vocabulary Reader: Look up for meanings of words from a pop-up dictionary as you read from an e-book.
2. Goodreads: A book recommending social service.
3. Kindle Free Time: All-in-one subscription that gives kids access to thousands of kid-friendly books and parental control parents can ensure kids won't access inappropriate content or websites.
4.Whispersync: synchronize your last page read across all Kindle devices and app.
The Kindle will be available starting today on souq.com and will be priced at 359 AED.