Introducing the best vacuum cleaners of 2023 from top brands such as Dyson, Shark, Miele, and more. These vacuum cleaners offer advanced technology, exceptional cleaning performance, and a range of features to make your cleaning tasks easier and more efficient.
With the latest advancements in vacuum cleaner technology, these models deliver powerful suction to effectively remove dirt, pet hair, and allergens from your floors and surfaces. Whether you prefer a traditional corded vacuum or a cordless option for added convenience, there are top-notch choices available.
We understand that choosing the right vacuum cleaner can be overwhelming with so many options on the market. That's why we've thoroughly tested these vacuum cleaners in real-life settings, evaluating their cleaning power, manoeuvrability, and usability. We want to ensure that our recommendations are not only effective but also comfortable to use.
In our comprehensive guide, you'll find a selection of the best vacuums for every type of home and cleaning need. Whether you're dealing with carpets, hard floors, or specific challenges like pet hair, we have you covered. We also provide in-depth guides for robot vacuums and cordless vacuums if you're looking for specific types of cleaners.
To make your shopping experience even better, we keep track of promotional codes for popular brands like Shark and Dyson. Don't miss out on the opportunity to find great deals and discounts.
Let us help you find the perfect vacuum cleaner that meets your needs and transforms your cleaning routine. Get ready to enjoy a cleaner and healthier home with the best vacuum cleaner of 2023.
Number 1:  Shark Stratos Cordless with Clean Sense IQ IZ862H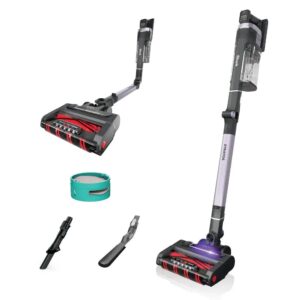 The Shark Stratos Cordless with Clean Sense IQ IZ862H is revolutionizing the way we clean our homes. With its innovative Clean Sense IQ technology, this cordless vacuum takes cleaning to a whole new level. No more guessing if your floors are truly clean—the Stratos detects the dirtiness of your floor and adjusts the suction power accordingly, ensuring a thorough clean every time.
During our rigorous testing, we were astounded by the powerful suction of the Shark Stratos. It effortlessly tackled dirt, debris, and even stubborn pet hair on a variety of surfaces, from carpets to hard floors and even furniture. The MultiFLEX wand is a standout feature, allowing you to easily reach under furniture and clean those hard-to-reach areas with ease.