Even if our phones can capture fantastic images and instantaneously share them around the world, there's something special about the old-school instant camera. You may capture a moment in a photo that you can see and touch virtually instantly with the push of a button. Images recorded by an instant camera aren't as immaculate or faultless as those captured by modern digital cameras, but their soft images and flaws are sometimes part of the charm.
However, not all instant cameras are the same, and some are better suited to specific purposes and budgets. That's why we put some of the most popular instant cameras on the market to the test, including models from Fujifilm, Polaroid, and Kodak. Let's get into it –
Number 1. Fujifilm Instax Mini 11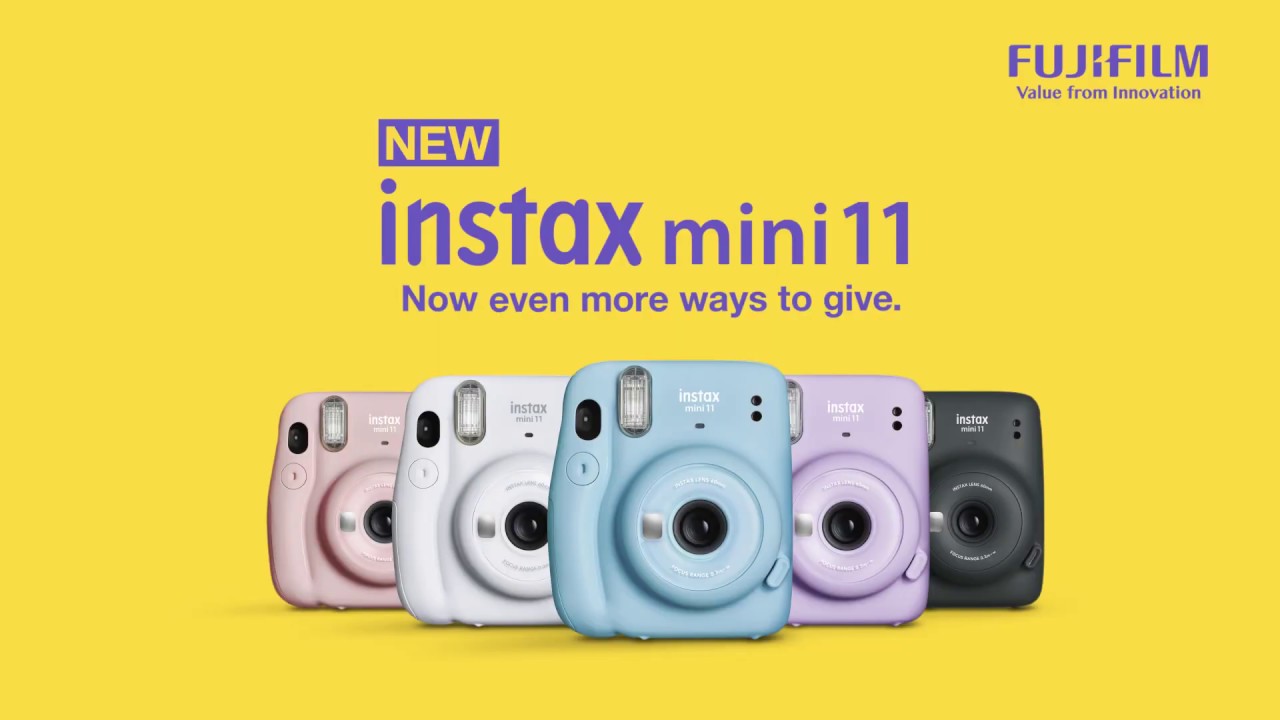 If all you want to do is press a button and receive a good print at a cheap price, we recommend Fujifilm's Instax Mini 11. It's a basic instant camera that's simple to set up and use, making it an excellent choice for children or those new to photography. We spent less than five minutes inserting the provided AA batteries and film (not included), quickly reading the instructions, taking a photo, and printing. It took roughly 20 seconds for the image to appear and less than a minute for it to fully materialize.
The Instax Mini 11 uses credit card-sized Instax Mini film, which normally costs around $0.99 per sheet and is available in packs of up to 20 prints for roughly $19.99. Unlike some other films, such as the film required for Kodak's Mini Shot 3 Square Retro, the Instax Mini film is widely available at most major retailers.
Image quality is better than most of the other cameras we examined for an instant camera, capturing photographs that are relatively true-to-life. The majority of the cameras we tested struggled to capture low-light circumstances properly, and this one is no exception, but the built-in flash does help. On the other hand, the flash — which you can't turn off — can be overbearing in some situations, resulting in a few overexposed photographs.
The Mini 11 is one of the smallest instant cameras I tested, and it's fairly light at roughly 10 ounces, making it simple to tote around and have a steady hold while taking images. It, like many others, is made of plastic and comes in a range of bright hues ranging from pink to blue to white. Even while the flash was still overbearing and didn't capture my features or skin color very well, the inbuilt selfie feature — which is essentially just a little mirror put on the front of the camera — is simple but effective.
Overall, the Instax Mini 11 is a basic camera that appeals to people of all ages and experience levels and does the job reasonably well. It lacks Bluetooth and does not pair with a companion app that allows you to edit photographs, nor does it include advanced functions such as filters, lens settings, or portrait modes. However, if you want an immediate camera that provides a superb, genuine analog experience, this is it.
Number 2. Instax Mini Evo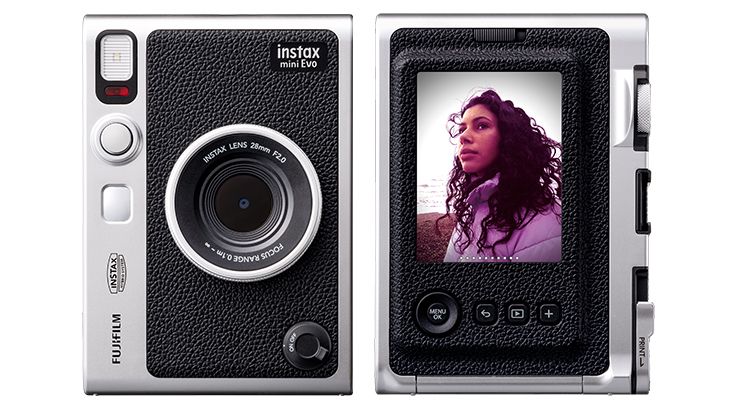 My colleague Becca Farcase's favorite instant camera is the Fujifilm Instax Mini Evo, and it's also mine. A hybrid camera that resembles Fujifilm's more costly Fujifilm X100 range of cameras, it looks beautiful and sports vintage dials and buttons that are so elegant that they drew the attention of bystanders as we took shots throughout Los Angeles.
It's easy to be put off by its $199 price tag, but this camera provides a level of versatility that could save you money in the long run if you intend to use it frequently. This is due to the Instax Mini Evo's full-color LCD screen, which allows you to see and pick which photographs you want to print before printing them, which can help you avoid wasting film on undesirable shots. We had more room for creative exploration because we weren't concerned about running out of the film. We also enjoyed printing images from our smartphones using the Instax Mini Evo app. Furthermore, unlike the Instax Mini 11, it does not use batteries. While it's unfortunate that the Evo charges via a Micro USB connector, the fact that it's rechargeable means you won't have to constantly squander money on new batteries.
The camera, like Fujifilm's Instax Mini 11, required less than five minutes to set up and uses Instax Mini film. The Mini Evo, on the other hand, allows you to turn off the flash, which helped me take significantly better photos, as did the enormous three-inch LCD screen that can be used as a viewfinder. You may also use the menu to change the brightness of the film when it's printed. That was useful because neither the Evo nor the Mini 11 are particularly good at recording gloomy environments, but it didn't totally address the problem.
You may also utilize the dials to apply several lens options and filters, such as retro to monochrome shades, as well as a mirror lens, vignette, soft focus, and more. You can also take app-based remote pictures, which provides another level of photography control and can help you snap better selfies than the front-facing selfie mirror.
The Evo's vast menu system was also difficult to understand, and it took me a while to find out how to switch on and off the flash. Furthermore, if you simply use internal storage, you can only snap 45 photographs until the device is filled. Still, these are minor flaws, and we were impressed with how portable the trendy camera is, as well as how simple it is to snap nice images quickly. Just keep in mind that because this is a new and popular instant camera, it may be difficult to locate in stock at the moment.
Number 3. Kodak Mini Shot 3 Retro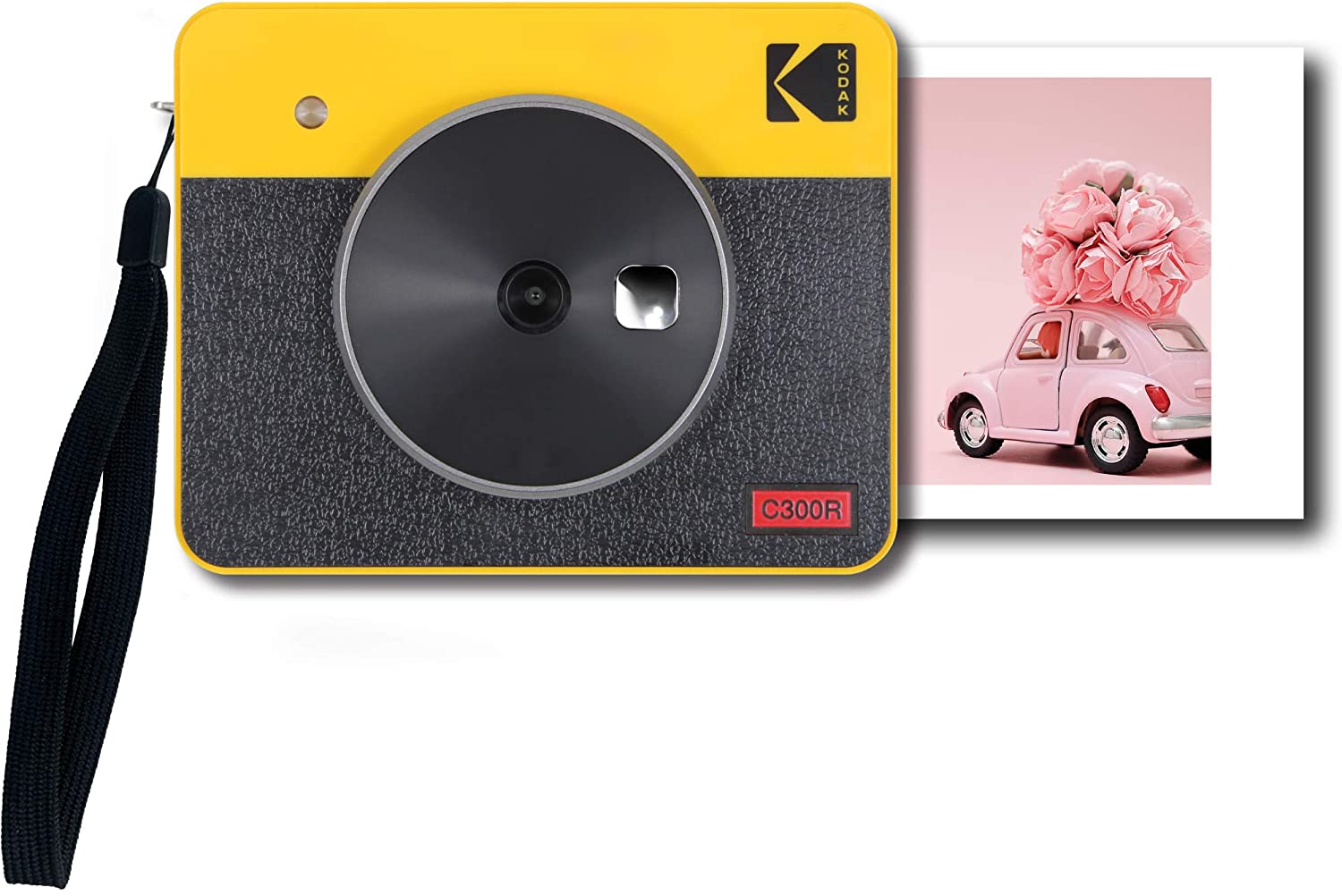 Whereas the companion software for the Instax Mini Evo is more useful, Kodak's hybrid Mini Shot 3 Retro is all about fun. The camera's companion mobile app lets you add frames, stickers, filters, and other customization choices to photographs, making it ideal for scrapbooking. There's even a cosmetic tool in the app to hide flaws, as well as a set of Snapchat-like filters to add, say, dog ears, making this a fun instant camera to use as a little photo booth at parties.
Kodak's Mini Shot 3 Retro, like the Instax Mini Evo, has an LCD screen (albeit a much smaller one) that you may use to determine whether or not to print a shot. It also supports Bluetooth, and the Kodak Photo Printer software may be used to upload photos to social media or print excellent, relatively crisp photos from your smartphone. Unlike the Mini Evo, though, Kodak's Mini Shot 3 Retro costs roughly $150 and comes with a film pack (though it is sometimes on sale for much less). It also utilizes less expensive film; a 30-sheet cartridge costs approximately $15 on Amazon right now, equating to about $0.50 per shot. The fact that the picture is less expensive invites play and creative experimentation.
The Kodak Mini Shot 3 does, however, have some significant drawbacks. For one thing, the camera produces 3 × 3-inch square photographs on Kodak film, which feels lower-quality and flimsier than Fujifilm and Polaroid film. Furthermore, while you may add colorful borders within the program, they are modern-looking rather than retro, which may be a turnoff for some.
Our major complaint with the Kodak Mini Shot 3 was that it doesn't print photos produced with the camera as crisply as clearly as photos taken with a smartphone. The photo quality wasn't as consistent as the Mini Evo's or Mini 11's, nor was it as crisp and sharp. The photographs also had an extreme pink hue that interfered with quality at times. It also doesn't store images as the Mini Evo does, so you can't choose whether or not to print them later.
The Mini Shot 3 is substantially heavier and less elegant than the Mini Evo. However, there is the option to purchase a white and black variant, which appears to be more appealing on paper. Also, while I eventually got the hang of the camera and found it simple to operate, it took me a little longer to set up out of the box because there were more instructions to follow than with Fujifilm cameras. The instant camera does not utilize disposable batteries and was not fully charged when it arrived, so I could only use it for a few minutes before charging. However, after recharging it with the provided Micro-USB cable, it lasted the majority of the day.
Nonetheless, if you don't mind sacrificing photo quality and want a reasonably priced hybrid camera with a slew of entertaining app features, the Kodak Mini Shot 3 Retro is a good option.
Number 4. Polaroid Go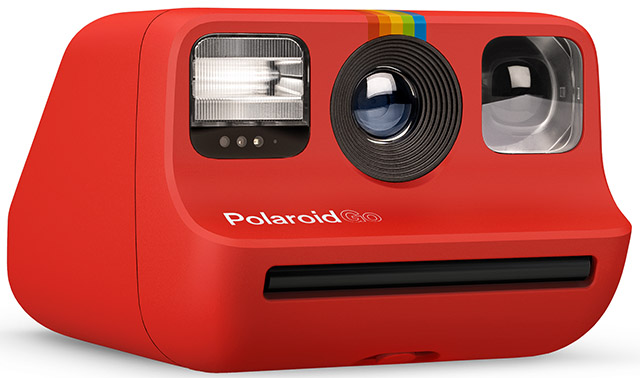 The Polaroid Go is the lightest instant camera we've ever held, weighing just over a pound and being easy to use with one hand. That's actually rather handy, given how difficult it was to capture photos with the bulkier Polaroid Now Plus and, to a lesser extent, some of the other instant cameras we tested. We'd be tempted to label this the greatest instant camera for travel or small children if the photographs produced were more true-to-life and didn't require you to hide them from light for roughly 15 minutes while developing.
The Polaroid Go is one of the most economical Polaroid cameras available today, with film costing just a bit more than Fujifilm's Instax Mini shots (or around $19.99 for a 16-sheet double pack). Fortunately, the inexpensive cost does not come at the expense of visual quality. While the Go, like most of the cameras on our list, struggles in low-light situations, it does not struggle as much as the Polaroid Now Plus. Surprisingly, it was simpler to take crisper shots indoors, which meant we used less film. The contrast and color saturation levels are still modest, but in a way that retains the nostalgic, almost dreamy aspect of the photographs printed by Now Plus.
However, unlike the Polaroid Now Plus, it lacks creative options and sophisticated capabilities, though double-pressing the flash button results in double-exposure images. There's also no Bluetooth support, so no fancy software to add new effects – however, it's rechargeable and comes with a Micro USB charging cable. Furthermore, as previously said, the prints are even smaller than the Instax Mini, which may be a disadvantage for people who like larger, more typical Polaroid photographs. While it creates similar vintage-style images, it doesn't look anything like old-school Polaroid cameras, which may detract from the throwback experience desired by some.
However, none of the older Polaroid cameras came with an app. Overall, the Go's simplicity makes it a good choice for anyone looking for a camera that offers a more conventional instant film experience that they can use almost anyplace.