The world is now moving towards SSD Technology, and when it comes to producing storage tech, no one does it quite as well as SanDisk. The company has been the undisputed king of the storage devices for some time now, and they are back again with their brand new Extreme Pro SSD device.
Priced at less than 500 AED for the 1TB variant, the SanDisk Extreme Pro SSD is blazing fast and features a beautiful USB Type C connectivity combo, where one connects to a Type C and the other connects to a Type A USB slot when you want to connect this device to your PC.
Now, does the SanDisk Extreme Pro SSD have what it takes to be the absolute best in the market?
Let's find out –
Design and Hardware
Sandisk is known for a distinct design language that remains more or less uniform across its portfolio. SSD devices are known for their rather sleek form factor, and to a certain extent, SanDisk has got it right. However, the overall design of the Extreme Pro SSD does feel a bit larger than required. There is also this hole cut out on one of the corners that you can use to attach a clip or carabiner. This too was an acquired taste for us, since we expect the device to be safely tucked away in our bag when not in use.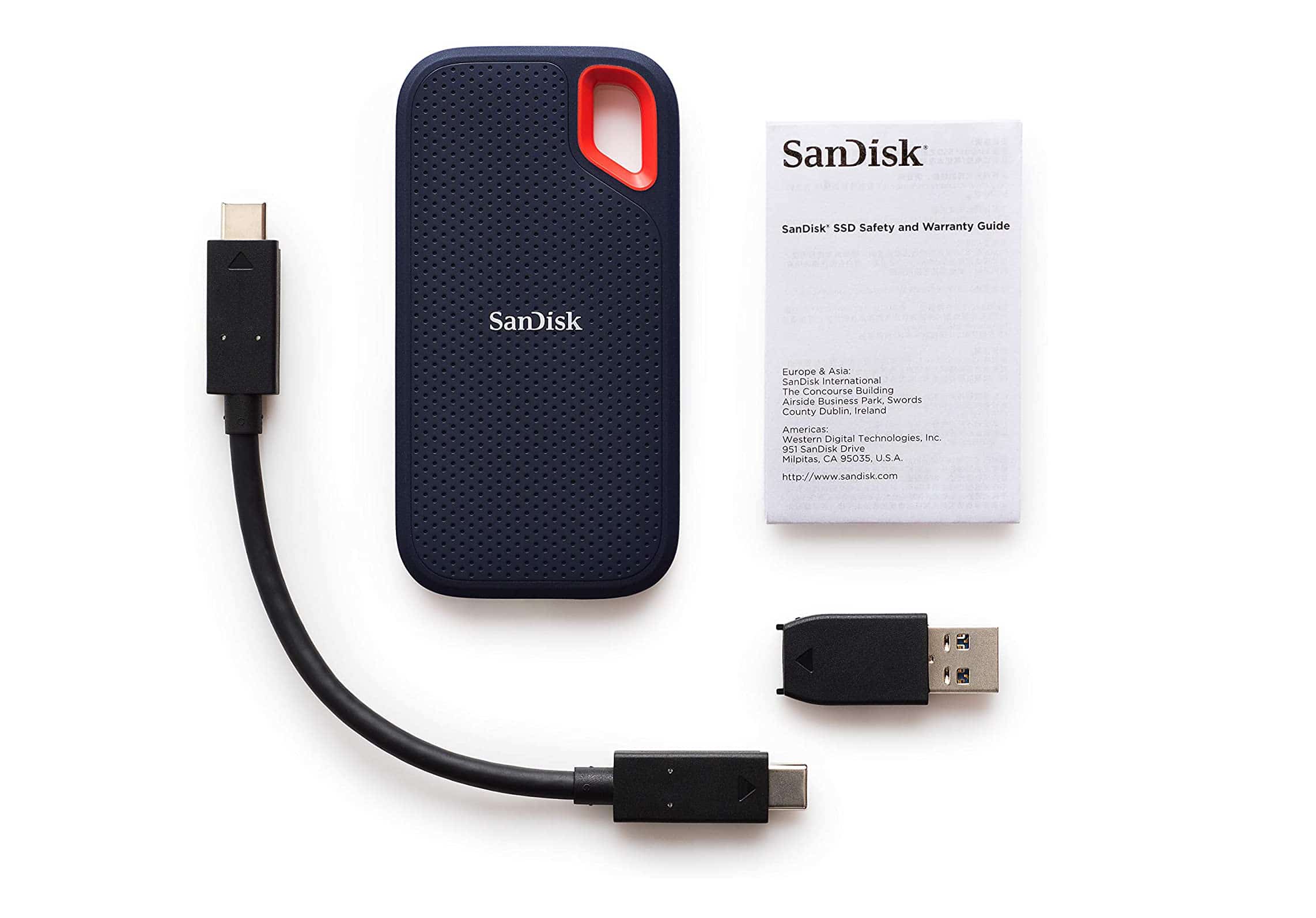 The outer shell of the Extreme Pro SSD is covered in Silicone rubber, which makes the device feel nice and grippy but it also feels that much more bulky as compared to other SSD devices in its bracket.
We also don't have an LED indicator. SSD devices make next to zero noise, so without a helpful LED indicator, its very difficult to understand whether or not your data is being worked upon.
Coming to the rest of the hardware, Sandisk does a great job of including two USB cables, one USB-C-to-USB-A and one USB-C-to-USB-C. It's useful to note that the interface here is the USB 3.1 with backward compatibility. however, we have seen a marked performance differential if you use the Extreme Pro SSD with a USB 3.0 port.
We also have SanDisk's proprietary SecureAccess data encryption utility preinstalled. This creates a password-protected "vault" folder on your SSD. The only catch here is that if you lose the password to that vault folder, there is nothing Sandisk can do to help you. So keep the password safe and somewhere you can easily find it.
The Sandisk Extreme Pro SSD also comes with an industry-leading 5-year warranty, which is an absolute deal considering other brands stick to 2-3 years maximum.
Performance and Durability
As it is with other SSD devices, the SanDisk Extreme Pro SSD features zero moving parts, thus making it very rugged, to begin with. The IP55 rating means that the Extreme Pro SSD can withstand a splash of water, or even a 5-6 foot drop. however, the device is not waterproof. What we mean is that you cannot immerse the SanDisk Extreme Pro SSD in water, or even expose it to dust storms or the beach. Part of the reason for this behavior is that the USB slots have no covers whatsoever. When this is the case, there is no way that the device can survive extreme conditions.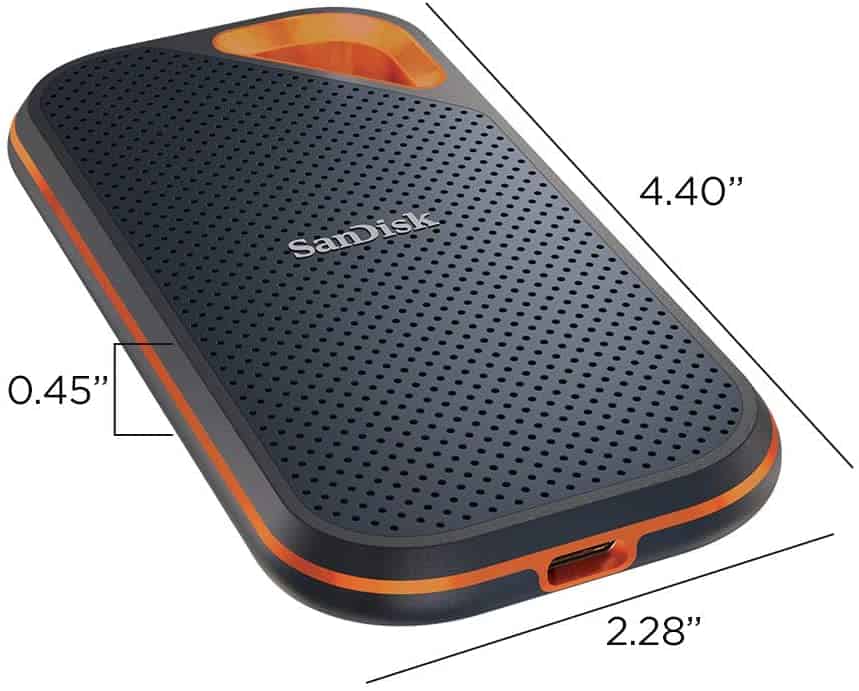 Despite these factors, the SanDisk Extreme Pro SSD shines in the performance department. On paper, SanDisk has promised transfer high-speed transfers with up to 550MB/s read speeds, and we are happy to report that these numbers ar every much accurate.
We subjected the SanDisk Extreme Pro SSD through some of the market relevant tests and here is what the results look like –
On the Storage Test, where we considered aspects like word processing and video conferencing, the SanDisk Extreme Pro SSD showed incredible promise and came in a close #2 to the Crucial X8 SSD.
On the Folder Drag and Drop Test, the Extreme Pro SSD aced the competition and came out #1 amongst the competitors.
Finally, on the BlackMagic 3.1 Disk Speed Test, the SanDisk Extreme Pro came out on top once again, with the Crucial X8 coming in a close second.
Overall, in terms of performance, we can conclude that right now, the Sandisk Extreme Pro SSD is one of, if not the best SSD device to own. The durability aspects are limited but it is robust enough to get the job done.
Conclusion
SanDisk keeps their string of hits going with the Extreme Pro SSD. It features a design that does raise a few eyebrows, but its something you can bear to see in your possession. The silicone outer covering is prone to scratches and cuts, so we recommend that you avoid attaching keys or other sharp items to the hole cut out.
Durability-wise, its as strong as they come. Make sure you don't take it for a swim or to the desert as its not built to last extremes, but what it lacks in durability, it more than makes up for in the performance. In most scenarios, the Sandisk Extreme Pro SSD comes out on top of the competition, and in areas where it doesn't, its still the second-best by a few short mm.
Overall, if you are in the market for a reliable SSD device for your computer, you should definitely consider the SanDisk Extreme Pro SSD.