Pros
Colourful Backlit Keyboard
Good Sound
Ideal Hardware for Gaming
Cons
Battery Life
Bulky
Frame Rate for games is low
MSI is a well known Taiwanese brand to all the PC gamers out there. The only other company that factory builds gaming machines specifically is the other well known Alienware brand.
While Alienware love to do their builds in extravagant fashion, MSI is slow and steadily taking the market with some pretty good gaming laptops, also some very well designed graphic cards of NVIDIA and AMD Radeon as well. It also makes other devices like tablets, servers, IPC's and even all in ones.
MSI is truely known for its gaming hardware and the variety of specs that comes in its laptop range. Also included in that gaming hardware is the 3rd party association to build NVIDIA and AMD Radeon graphic cards for those impulsive gamers who have chosen to custom build their own rigs to suit their needs most accurately.
We got our hands on one of their gaming laptops the MSI GE72 2QD Apache and we have given our opinion on it below.
Design:
The design of the laptop is quite a thing really. With a big enough screen and the body also being big, there is quite the bulk to handle. There are ports all around the body of the laptop. Enough USB ports, a DVD Drive, charging port, headphone and mic jack, HDMI port are all place on either side of the keyboard
They keyboard provided by SteelSeries is quite a eye-candy for gamers since it has colorful back-light that can be adjusted via its own software. Apart from that the big nature of the device means the keyboard and track-pad are also bigger.
The audio is provided by DynAudio and on its full volume its quite loud and gives a very good feel to your game-play. The speakers are strategically placed i feel right under the track-pad on the side that's facing you as a player.
The cooling is done by a dual fan system which sounds great but adds to the bulk of this device.
Specs:
Windows 8.1 upgradable to Windows 10

The latest 4th generation Intel® Core™ i7 Processor

Nahimic Sound Technology with immersive 3D sound processing

Embedded NVIDIA® GeForce GTX 960M with ultra performance

Exclusive SHIFT technology for system's performance and balance

SteelSeries Engine to personalize your play style

Keyboard by SteelSeries with LED back light

XsplitGamcaster for broadcasting, recording and sharing

Miracast for sharing content wirelessly to big screen TV

Exclusive Super RAID 2 with 3 SSD RAID0

Sound by Dynaudio 4.1 sound system

Cooler Boost 3: higher efficiency dual cooling system

Killer™ E2200 Game Networking

Matrix Display with max 2 external displays

LCD Panel with Wide viewing angles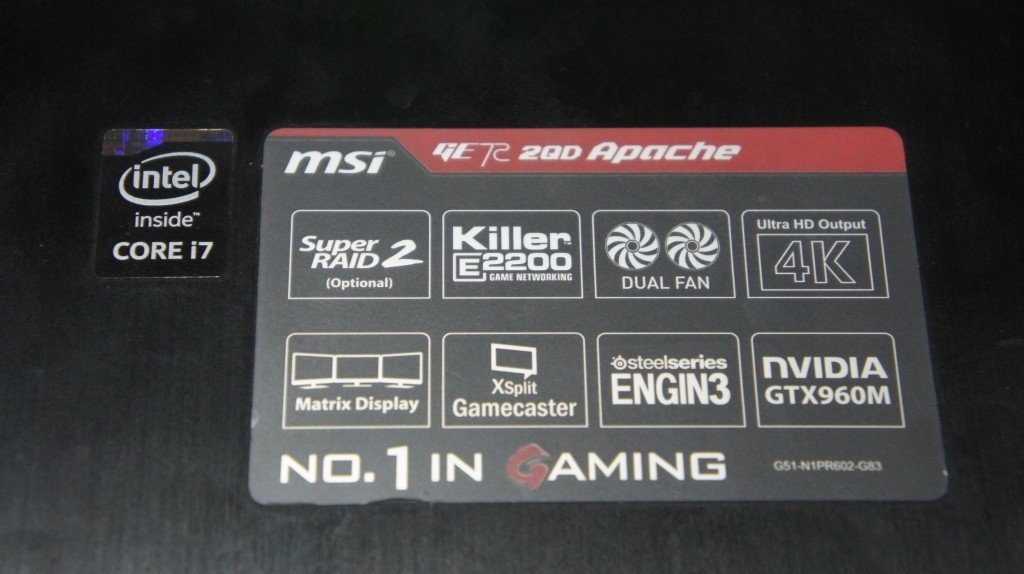 Gaming Performance:
Now gaming performance is the main thing for such a device that has a target audience of PC gamers. MSI is well know for its solid gaming hardware which is with the latest NVIDIA graphic cards. The laptop has a total of 4Gb graphics where its split into 2GB shared memory and 2GB DDR5 of NVIDIA GTX 960. This more or less boosts the gaming performance with a couple tested games in high performance mode of the laptop plus all the graphic options to its maximum. The frame rate though was disappointing at only 30fps tops. There was negligible lag only when you open the game but the 16GB RAM and 2GB GTX 960 makes sure that while the frame rate is at 30 or lower at times because of anti aliasing and VSync the game-play isn't badly affected in anyway that might ruin your experience. Smooth movement, no lag, good display output and wonderful sound to support along with a funky colorfully back-lit keyboard makes this Gaming PC one of those you must have in the consideration list.
Final Thoughts :
My final thoughts on this device are that it has a price tag of 6990 and with the specs its giving back to us as a user that is slightly disappointing. Add to that the bulkiness of this device which while has all the goodness of the giving a good gaming experience, it will not be comfortable to use anywhere else except a table which then again begs the question, why not get a custom rig that will come same price with probably better specs than this device.
The other disappointing thing about this was the frame rates that the games were being handled in. 30fps just does not cut it in today's gaming community for fast paced action games. A good gaming device will not only have good gaming hardware but it should also be able to translate the power-packed hardware into a good fps count.