MSI, the worldwide leading gaming brand, rolls into Gamescom 2015 in Cologne, Germany. MSI ushers in its brand new suite of MSI Z170 GAMING motherboards and has on display its highly-acclaimed GAMING series products, first gaming laptops fueled by XSplit Gamecaster V2.5, GT72 with Tobii Eye Control, GT80 with a mechanical keyboard, new Nightblade MI desktop PC, and top-tier GTX980 Ti GAMING 6G graphics card.
Revolutionizing PC gaming with MSI Z170 GAMING motherboards
MSI enters the next level of gaming with all new MSI Z170 GAMING motherboards available in three series; Enthusiast GAMING, Performance GAMING and Arsenal GAMING. Each series is packed with loads of GAMING features to optimize speed, sound and stability through GAMING LAN, Audio Boost, USB 3.1 and includes unique items dedicated to specific gamers. All MSI GAMING motherboards feature unique DDR4 Boost technology with optimized traces and fully isolated memory circuitry. This design ensures the memory signals stay pure for optimal performance and stability.Game in Style with Performance GAMING motherboards with customizable design through unique RGB LEDs and blazing fast performance.
MSI shows off its Latest and Greatest at Gamescom 2015 to satisfy all your gaming needs
Experience crazy-fast gaming laptops in MSI's booth. Being the first to add the latest 5th generation Intel® Core™ Broadwell-H processors to its gaming laptops. Compared to previous Haswell processors, the CPU performance of Intel® Core™ i7 5950HQ is 20% faster in 3D gaming entertainment, up to 10% faster in mathematics calculations, almost 20% faster in CAD/CAM calculation and up to 20% improvements in video editing/encoding.
GT72 gaming laptop embraces NVIDIA® G-SYNC, and futuristic Tobii eye-tracking to come
MSI showcases its highly-rated gaming laptops in the booth: GT80 boasts the powerful and upgrade-friendly gaming laptop, GE72 series incorporates A-Volute's Nahimic sound tech, and GT72 series includes NVIDIA® G-SYNC™ and Tobii Eye Control tech. The good news is that mass production of GT72 with Tobii's futuristic tech will be scheduled to begin in Q1 2016. Enjoy your gaming experience like never before, all in MSI's GT72 gaming laptops.
The sturdy and powerful mini gaming PC: Nightblade MI: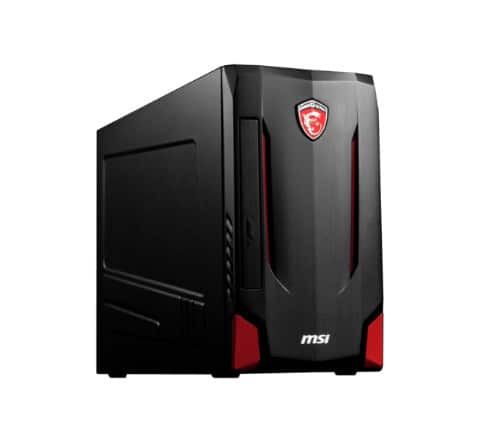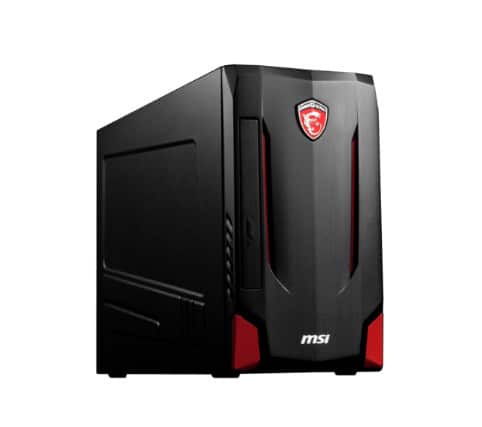 MSI displays the recently launched Nightblade MI, sibling of the successful Nightblade series. The bookshelf-sized gaming PC houses the Intel® Core™ i7 CPU and a full size MSI GTX 960 graphics card to offer a stunning visual experience. Along with exclusive features such as the Silent Storm Cooling technology and the prestigious Nahimic Audio Enhancer, the Nightblade MI embodies what every gamer craves for: victory.
Unmatched cooling and acoustic performance: GTX980 Ti GAMING 6G graphics card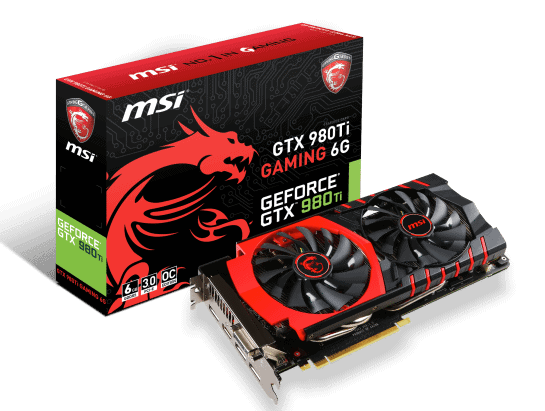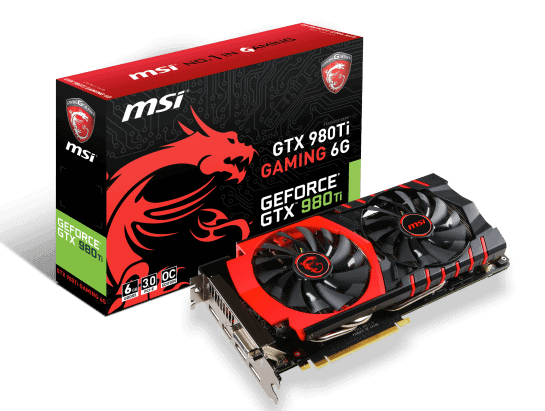 MSI's successful GAMING graphics cards line are on display in full splendor. Spearheaded by the MSI GTX 980Ti GAMING 6G, which carries 6GB of GDDR5 and the renowned Twin Frozr V thermal design which has won hundreds of awards worldwide. MSI's Twin Frozr V GAMING cards boast a premium LED illuminated MSI GAMING Dragon, which can be controlled by the latest version of the MSI Gaming App. As a finishing touch, MSI has recently launched a premium GAMING SLI bridge which perfectly matches the MSI GAMING theme and features a controllable LED light of its own.