The collaboration between Mercedes-Benz and the New York-based fashion label Proenza Schouler offers a new experience in luxury fashion and responsible design. Taking inspiration from travel and the open road, this limited-edition capsule includes seven gender-neutral styles that serve as elevated components crafted for a luxury traveler's needs. The collection launches on November 9th and will be available exclusively at www.proenzaschouler.com globally, Saks Fifth Avenue in New York, and Selfridges in London. In the Studio Odeonsplatz – the Mercedes-Benz brand space in Munich downtown – the collection will be showcased as an exhibition and pieces can be purchased on-site until the end of November.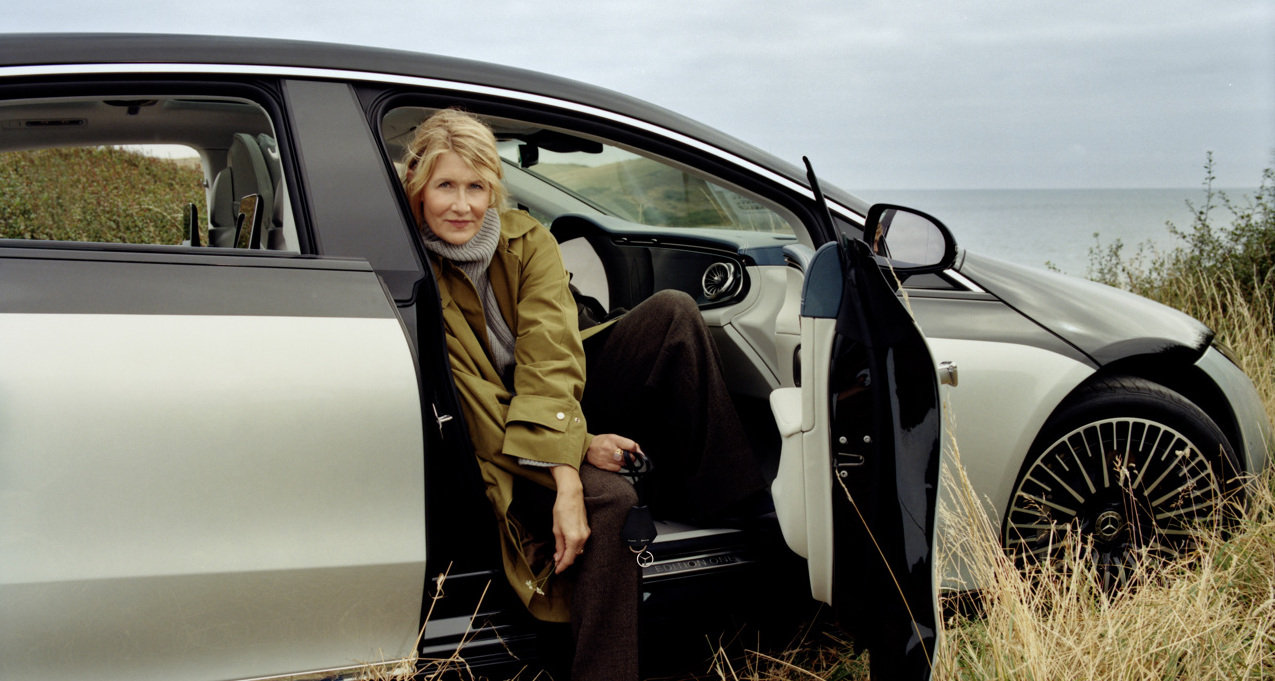 Each piece from the collection is a study in color and craftsmanship that reflects the passion of both brands for exquisite materials and outstanding design. Recycled cashmere blankets, offered alongside naturally tanned blanket harnesses, showcase Proenza Schouler's take on the iconic Mercedes-Benz star, featured in an abstract print in various colorways, including ecru, marigold, and sky blue. The olive-green eco-cotton trench coat offers a new interpretation of a travel staple and is designed as a finishing piece, with a statement star motif jacquard lining. The knit turtleneck is made from luxurious recycled cashmere, and the eco-cotton tie-dye t-shirt, a quintessential Proenza Schouler staple, is produced using organic and eco-friendly dye methods.  Accessories include an oversized graphic weekend tote made from recycled wool, and keychains crafted out of upcycled leather and featuring the Mercedes-Benz brand logo.
The Power of Two, featuring Laura Dern and Ellery Harper
The campaign entitled 'The Power of Two' is featuring Laura Dern and Ellery Harper.  A visionary road trip of a mother and her son in an all-electric EQS along the coast builds the dreamy scenery for the visual impressions of Mercedes-Benz and Proenza Schouler's capsule collection. Acclaimed actress Laura Dern and her son, model and musician Ellery Harper, who are both passionate about sustainability and responsible design, capture the collection's spirit of wanderlust and cross-generational family bonds. Styled by Joe McKenna and photographed by Harley Weir, the campaign relays the sense of discovery and exploration that inspired the design perspective.
Mercedes-Benz Global Fashion Engagement
Since 1995, Mercedes-Benz has established itself worldwide as a major player in the fashion industry, building authentic relationships within the fashion community through its commitment to emerging designer initiatives, innovative collaborations, fashion week partnerships, and live events. The brand is currently active in many key locations around the world, including the Mercedes-Benz Fashion Weeks Russia, Mexico, Madrid, Tbilisi, and Berlin and also the acclaimed International Festival of Fashion, Photography, and Fashion Accessories in Hyères.
A responsible future in fashion
Committed to the sustainable future of luxury design, Mercedes-Benz proactively works to future-proof the responsible growth of its fashion partnerships; highlighting best practices and aligning itself with creatives that reflect and champion values such as outstanding and intuitive design, creativity, and innovation. Mercedes-Benz is delighted to develop its long-standing partnership with Festival Hyères for 2021 with the inaugural Mercedes-Benz Sustainability Prize, an evolution of Mercedes-Benz's support of the festival's fashion finalists which will educate the next generation of talent in sustainable best practices.
Through its Mercedes-Benz Fashion Talents program and creative collaborations, the luxury brand has supported nearly 170 designers in over 30 platforms around the world, including Milan, London, New York, Beijing, Sydney, Prague, Istanbul, Berlin, and Accra.