At an event this week in the Netherlands, EV startup Lightyear unveiled its first solar-powered electric vehicle, dubbed Lightyear 0. The car, which Lightyear touts as "production-ready," has a range of 388 miles, 44 of which are obtained solely from solar power.
The Lightyear 0 is the result of six years of engineering study and development. However, it does not appear to be too unlike to the elegant sedan concept first exhibited by the business in 2019. The numbers are a touch more practical: 388 miles against 450 miles for the prototype — but the fundamental shape and design of the car look to be substantially unchanged.
The use of solar panels, which is uncommon in the automotive industry, is what distinguishes this car. The Lightyear 0 has five square meters (53.8 square feet) of "patented, double curve solar panels," which allow it to charge itself while traveling or sitting in the sun. Someone with a daily commute of fewer than 35km (21 miles) may drive for months without having to plug in the vehicle for recharging.
"It would take two months in climes like the Netherlands and up to seven months in Spain or Portugal," Lightyear claims.
The Lightyear 0 is powered by a 60kWh battery pack and four electric motors that provide 174 horsepower and 1,269 lb-ft of torque. Lightyear claims the vehicle would accelerate from zero to 62 mph in 10 seconds and reach a top speed of 100 mph.
The inside is basic but polished, with a hint toward sustainability. All of the materials are vegan, including microfiber upholstery, plant-based leather, recycled bottle textiles, rattan palm wood trim, and insulated particle foam. The 10.1-inch central touchscreen is powered by Android Automotive, Google's native operating system used in a number of Volvo and Polestar vehicles. And the Lightyear 0 has all the other high-tech bells and whistles, such as phone-as-key functionality, over-the-air software updates, and Android Auto and Apple CarPlay.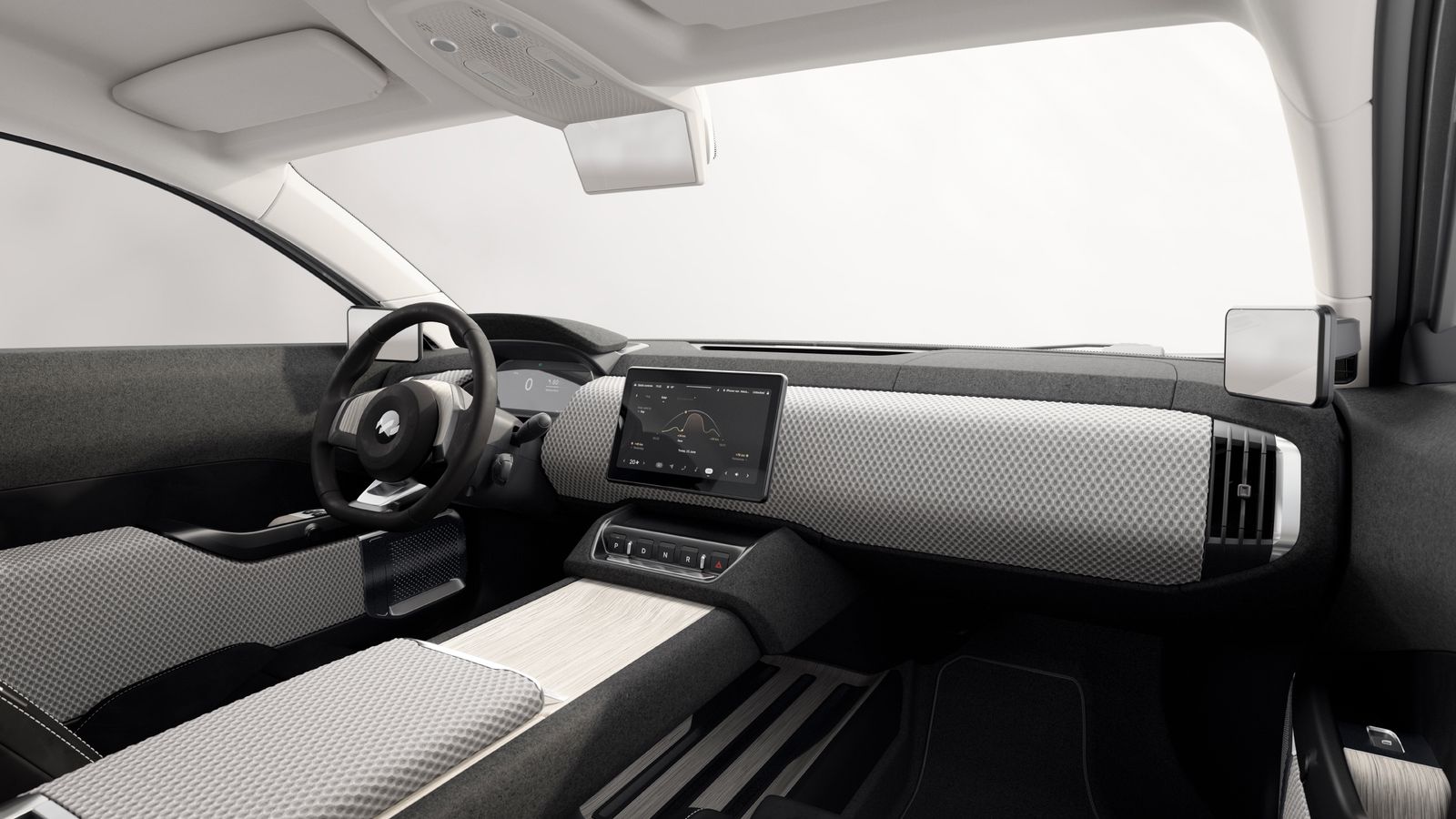 It is no minor effort to use solar cells to power an electric automobile. The quantity of solar energy that the best cells can gather and what is required to propel a two-ton vehicle at high speeds is vastly different. However, Lightyear appears to be further ahead than other organizations pursuing comparable concepts. There's a specification document! And a production schedule! Valmet Automotive, a Finnish contract manufacturer, is even a manufacturing partner for the corporation. These are hardly insignificant achievements.
However, there is still a long way to go, and there is no assurance Lightyear will cross the finish line. The landscape is littered with the remains of EV businesses that had lofty goals for the future but succumbed to the hard reality of vehicle manufacture. In essence, building automobiles is extremely difficult, and Lightyear is not alone in its quest of a breakthrough new form factor.
Lightyear isn't the only startup looking to the sun for ideas. Aptera, a California startup that went bankrupt in the aftermath of the Great Recession, was recently resurrected and is still in operation. Sono Motors, a German firm, is also developing a solar-powered electric vehicle. Mercedes-Vision Benz's EQXX concept features a 117-cell solar roof array. Toyota has also announced a solar roof option for its recently released BZ4X electrified SUV.
The firm was created in 2016 by a group of engineers who had previously competed in the World Solar Challenge, a race held every few years in the Australian outback to push the concept of solar-powered cars.
Lightyear says it will only produce 946 units, each of which will cost €250,000 (about $263,262 USD). That high asking price may also make it difficult to sell. You could definitely buy a top-of-the-line electric car and install solar panels on your house and still have money left over. Furthermore, the greater power output of your panels may indicate that your EV is technically more solar-powered overall.