LG is trying to redefine the whole meaning of watching TV with the new LG OLED curved TV(55EA9800) . With such deep colors, startling contrast and nifty curved screens all adding up to the extravaganza of the OLED TV. It promises a never before TV experience which will blow your mind away with such a real life looking picture quality where you can enjoy watching 3D cinema at the comfort of your home with better viewing angles due to its curved screen panel and a bunch of apps and an impressive browser to go with it.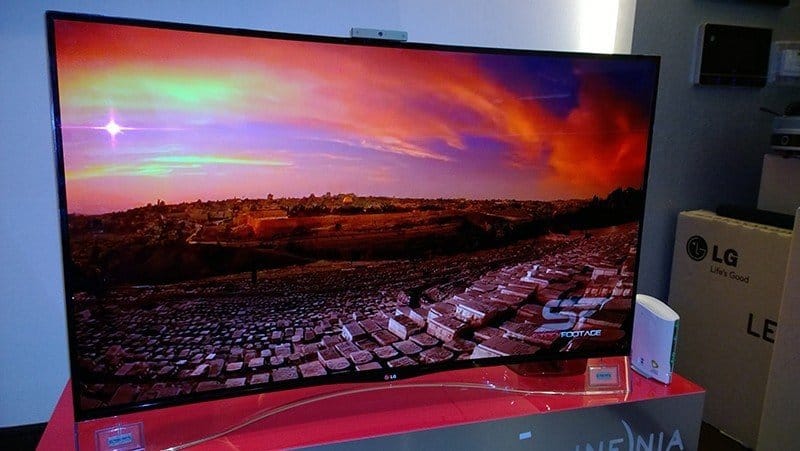 The LG curved OLED TV has a frameless design and the body is made up of a see through glass even the speakers at the both ends of the OLED TV has a see through view and absolutly no cables or chips visible in the frame, the design is spectacular and has the wow factor in it and to add LG OLED TV has won the 2013 red dot design award for a unique design that capitalizes on the thinness of the display .
Why the need of OLED TV's?
The LED TV present in our homes comes with traditional synthetic LEDs which are light emitting diodes but OLED is said to use organic substance that will glow whenever electric current is introduced. Due to this OLED the weight is decreased and the TV has become much thinner compared to its LED counterparts. You must be thinking what the technology is behind such stunning pictures! So, here is the secret of producing breath taking HD images, it makes the light pass through different mixture of filters to provide you what you see in front of your eyes – a life like picture! The OLED could be made so thinner because there are fewer layers as compared to LED TVs and do check out the image below the screen (4.5 mm) is thinner than your smartphone .
 Color contrast
It 4 color Pixel technology which adds up a white sub-pixel in to the 3 conventional color green, blue and red which enhances accuracy and also the color range. This is the reason it showcases realistic colors and puts it in the league of next generation TV viewing experience. It is also the first time that any TV is offering infinite contrast ratio. The range from the brightest whites to the darkest of dark black is measured by contrast ratio. When the intense color fades away you will get an actual sense of realism and also the depth of each and every content.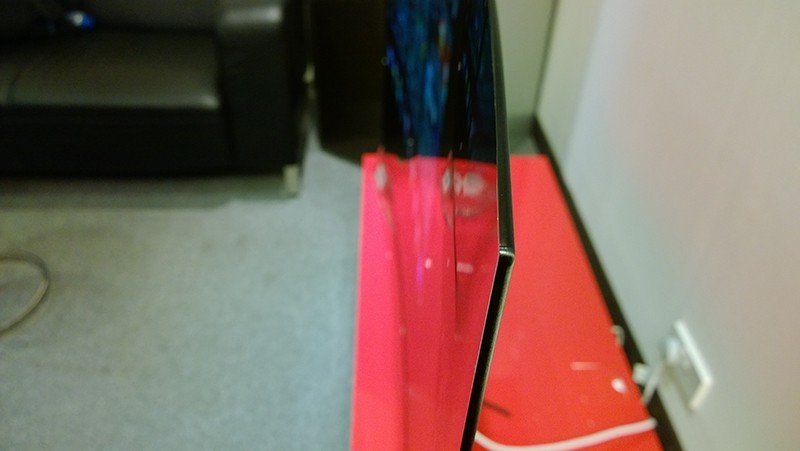 Curved body
When LED TV was introduced people thought TV can't get slimmer than this but OLED has proved everybody wrong with their all new thin curve body. It is amazingly 4.5 mm thick because of the two layers that exists instead of numbers of layers present in LED TV. It comes with huge screen of 77 inches and have much simpler internal than any other traditional TV display.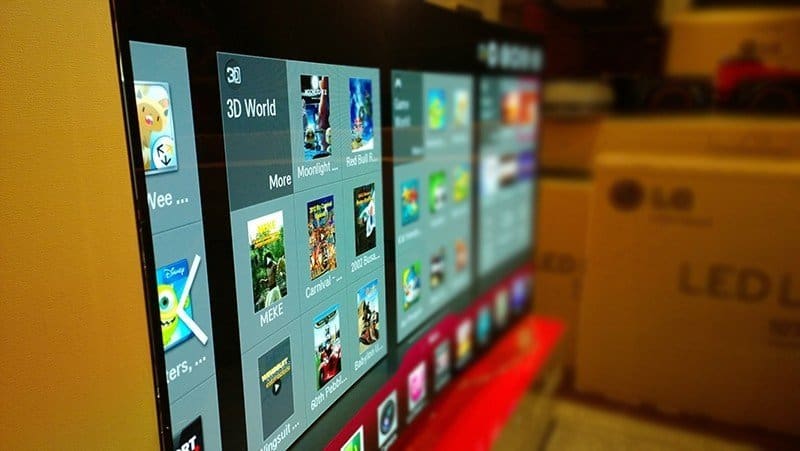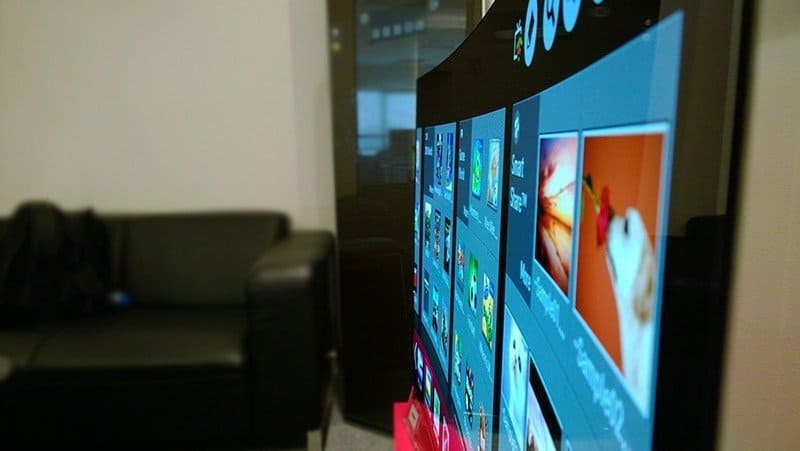 Power in your hand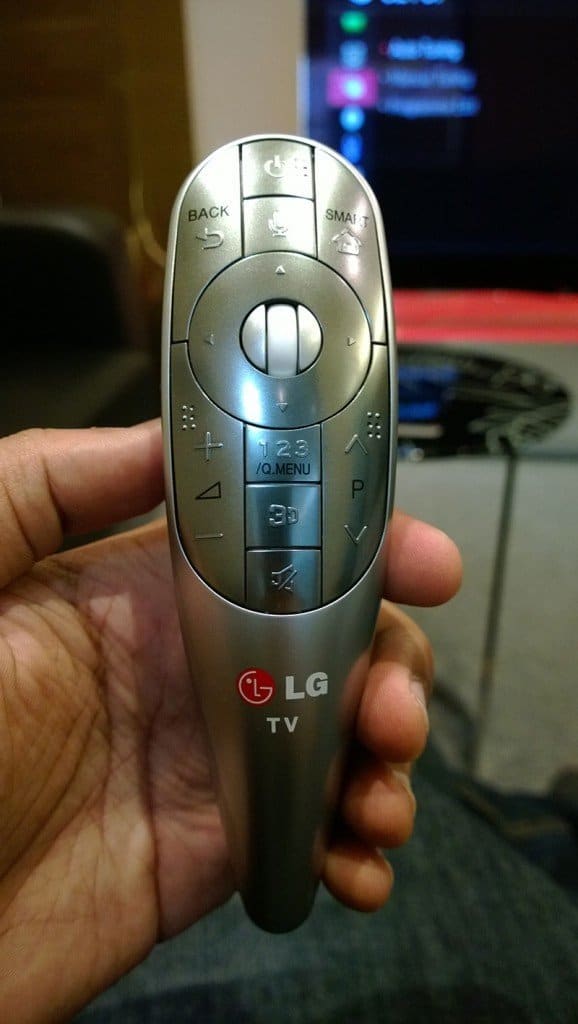 The remote control gave us the power to pick whatever we want and skip the rest and with the magic remote of OLED you will experience another facet of watching TV. It is simple and is much more fun to hang around with it as it recognizes your voice so it will change channel on your command. Moreover you will be able to access YouTube, Al Jazeera and other features from your TV. Searching for the channels which you like was a boring idea but with voice recognition  and hand gestures you won't be wasting any more time now. You will be only enjoying the TV along with internet connections and subscription to certain things. Another interesting thing is that you won't have to handle multiple remote controls while watching TV, your set top box, home theatre and Blu-ray can be connected through one remote only.The in built browser in this Curved OLED TV from LG is built on the chromium platform the same platform in which Google Chrome is built upon so the speed and simplicity is here to say and the HTML5 test scores were really impressive  438.There are bunch of apps on the LG app store smart world so you have a range of apps for social media ,games ,communication etc.to choose from. The TV comes with an attachable webcam so video chat through skype or other communication tools is just a click away.The camera picture quality could have been better though for this flagship model.The magic remote provided by this TV is an universal remote as well as comes with loads of gesture features for each task as well as works similar to a mouse pointer which has to be moved in the air and the performance is fast and smooth.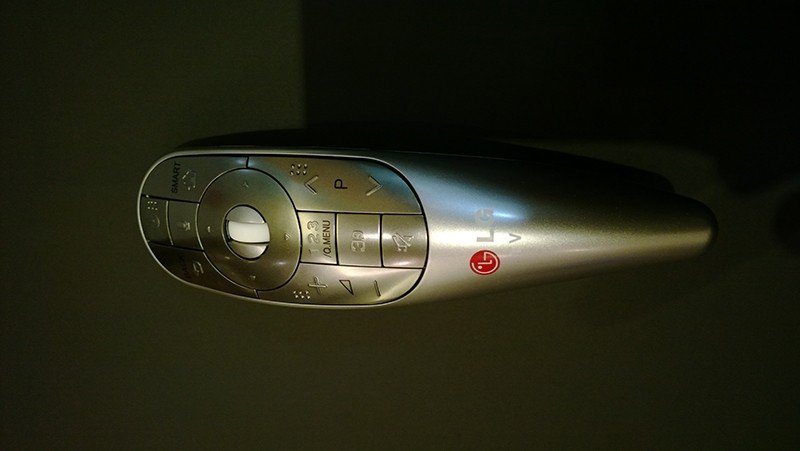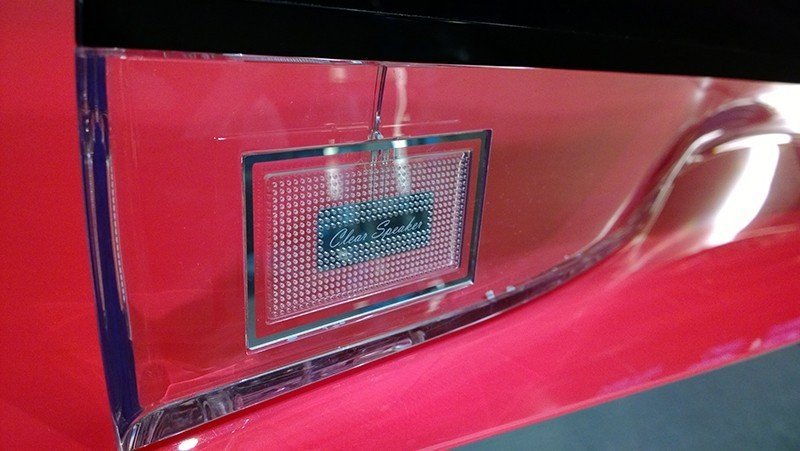 All your apps at fingertips
You will have every apps of your choice at your fingertips like favorite movies, gaming, TV shows and as per your family choice the content will open up. Then you have the internet connection and some subscriptions which are sold separately. You can also share the photos and videos from a compatible disc to your TV. With the presence of LG cloud sharing content with friends and families have been made much easier than before.
Split Screen gaming
When you are wearing the battery free light glasses you will be only watching your unique screen without having to share the screen with your friend and the option of cheating in the games are minimized to zero as you will not be able to see your friend's screen. The LG OLED curved TV is also the most enrgy efficient TV's for the 2013 according to energy star ratings ,It also comes with the feature that prevents greenhouse gas emission so, now by owning this OLED TV you will be contributing towards much greener environment a well.The TV comes with smart share feature so accessing content from third party devices over a WiFi is very easy.Also worthwhile to mention LG's 2D to 3D conversion automatically convert shows and movies into 3D The specifications of OLED TV are –
| | |
| --- | --- |
| Depth | 7.56 in. |
| Number of USB ports | 3 |
| 3D capable | TRUE |
| Weight | 37.92 lbs. |
| Height | 31.44 in. |
| Series name | EA9800 |
| Refresh rate | 120 Hz |
| Surround mode | TRUE |
| Equalizer | TRUE |
| Number of speakers | 8 |
| Speaker wattage | 40 W |
| | HDMI |
|   | Component Video |
| Input ports  | Composite Video |
|   | Analog Audio |
|   | 1/8 Inch (Mini) |
|   | OTA |
|   | Digital Cable |
| | |
| Number of HDMI ports | 4 |
This LG OLED TV is power packed in features , the display is stunning and a unique "Wow" design.The only lacking part is 4K is not yet implemented and according to LG the next model will come with 4K support.If you are early adopters of something new in technology and don't mind spending 35K DHS (9000USD) go for it.