As many people across the UAE experienced remote work from home during the pandemic it became more important than ever to ensure children and pets were safe. But keeping an eye on loved ones outdoors can be a challenge as traditional camera equipment is often limited by range and field of view. Fortunately, that is not the case with the EZVIZ C8C outdoor pan/tilt camera.
Developed by EZVIZ, a global innovator in home intelligence, this camera solution is the ideal choice for parents and pet owners who want the peace of mind to know they can keep a careful eye on children and animals as they play in their gardens. As the UAE's high summer temperatures begin to cool, many more families will be spending their time outdoors. As a result, it can become difficult to keep track of where children are playing or what our pets are getting up to. This is where the EZVIZ C8C, which is specially designed for outdoor use and is packed with advanced features, can help to provide households with an added level of security. Here are the key reasons why this stunning smart camera is the ideal outdoor solution for any home.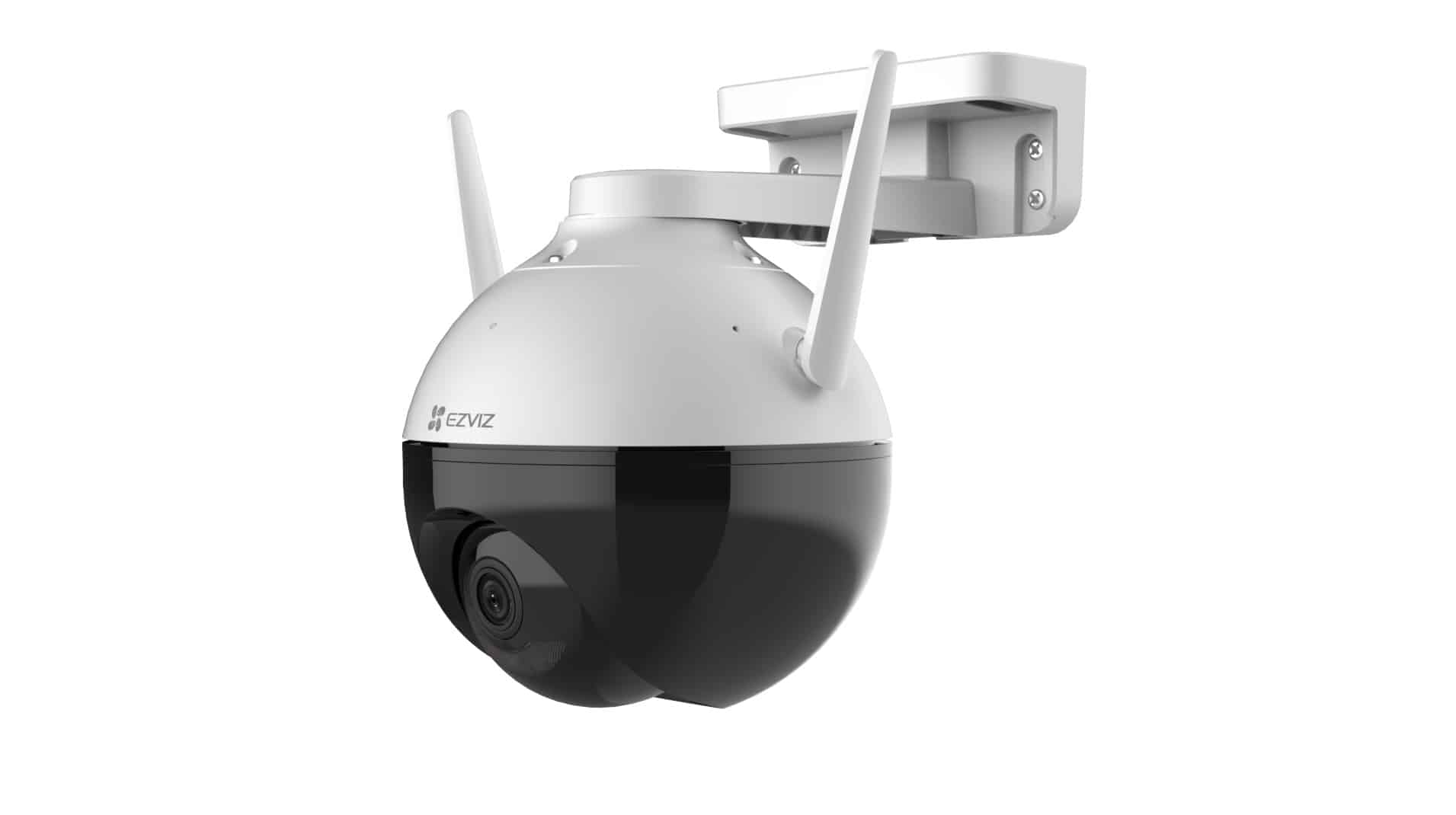 Greater field of vision so nothing is missed
The EZVIZ C8C is unlike most fixed outdoor Wi-Fi cameras that rely on narrow fields of view, which in turn leave huge blind spots. The traditional method of ensuring good coverage of a large space usually means numerous cameras have to be installed at strategic locations so that every angle is covered. That results in more expense and time dedicated to maintenance.
Fortunately, the C8C has you covered with its 360-degree horizontal and 95-degree vertical viewable coverage. Users can even control camera movement through the EZVIZ app on their smartphone or tablet device. Add in the fact that the camera records video at 1080p Full HD resolution while also being able to record clearly with a noise-canceling microphone and users will see and hear everything.
By using H.265 video compression technology, the C8C can stream higher quality video with only half of the bandwidth of other cameras. In other words, users can enjoy smooth streaming with much less space needed to store recordings.
Discrete, smart and feature-packed
EZVIZ understands the importance of technology that complements and easily fits into the lifestyle of consumers. Technology should adapt to a user's needs and not the other way around. With the C8C you get that and so much more. It features a stylish round design that helps it effortlessly fit into any outdoor environment. Thanks to weatherproofing it are also protected from the hot and humid conditions common in the UAE as well as rain. Two powerful spotlights will illuminate anyone who comes on or near the property while its color night vision and sensitive optical lenses can identify details such as clothing.
What's more, it can detect human movement more accurately than traditional motion detection technologies. The C8C employs a special AI algorithm to closely analyze movement so that human shapes are focused on. If such human movement is detected users will be immediately alerted via their smartphones.
Never miss a moment
EZVIZ has designed the C8C with convenience and ease of use in mind. It is part of a larger ecosystem of services that give users the choice of where to store their recordings. Users have the option to save data in two separate locations at the same time, so nothing is lost if the camera is damaged, or the network is down. A microSD card and EZVIZ's very own cloud storage service that keeps the data safe with encryption can also be used.
As mentioned earlier, the EZVIZ App gives users the ability to control almost every aspect of the C8C. The app lets you record, store, and protect the footage that matters most to you. Add in live streaming video, alerts as wells as 8x camera zoom and control, and users can use the system in a way that best suits their needs.
False alarms can be a common problem, especially if consumers live near a busy road or pedestrianized area. To avoid the frustration of receiving unnecessary alerts the C8C enables users to customize specific activity zones to filter out unwanted detections.
With summer coming to an end in the UAE many more families will be enjoying the cooler weather in their gardens. It makes it the perfect time to invest in a home security camera that offers the peace of mind of knowing loved ones are safe.