Stellantis is kicking off its SEMA show with a trio of Jeep and Ram show trucks. While the total number of in-house custom vehicles is lower than in previous years, they are still quite impressive. They also provide a sneak peek at potential new products from the brands.
Jeep CJ Surge Concept
Stellantis has once again created a stunning resto-mod. This one began as a CJ SUV and has a keen eye for the future. A 268-horsepower electric motor powers the vehicle. It appears to be a slightly different setup from the Jeep Magneto concept, which had more power. Jeep does not specify a transmission, only a two-speed four-wheel-drive transfer case. Power is routed through the transfer case to Jeep Performance Parts (JPP) crate Dana 44 axles. A 400-volt, 24-module lithium-ion battery pack mounted behind the seats provides power. What's particularly intriguing about all of this is that Jeep claims this truck was built to investigate what might go into a Mopar EV conversion kit. So, something along these lines could be available in the next couple of years to compete with the still-in-development GM eCrate kit.
Of course, Jeep didn't stop there by installing an electric powertrain in the CJ Surge. It has been raised by 2 inches and has 18-inch Black Rhino wheels wrapped in 35-inch tyres. The body appears stretched, and the hood features a custom power dome. The windshield was cut by 2 inches, and wider fender flares were installed. JPP JK bumpers and JPP skid plates are installed front and rear. It also has custom rock rails, a roll cage, a bikini top, and the colors orange, black, and blue. We love the houndstooth seat inserts, but the whole thing is stunning and makes us want more EV conversion options.
Ram 1500 Backcountry X Concept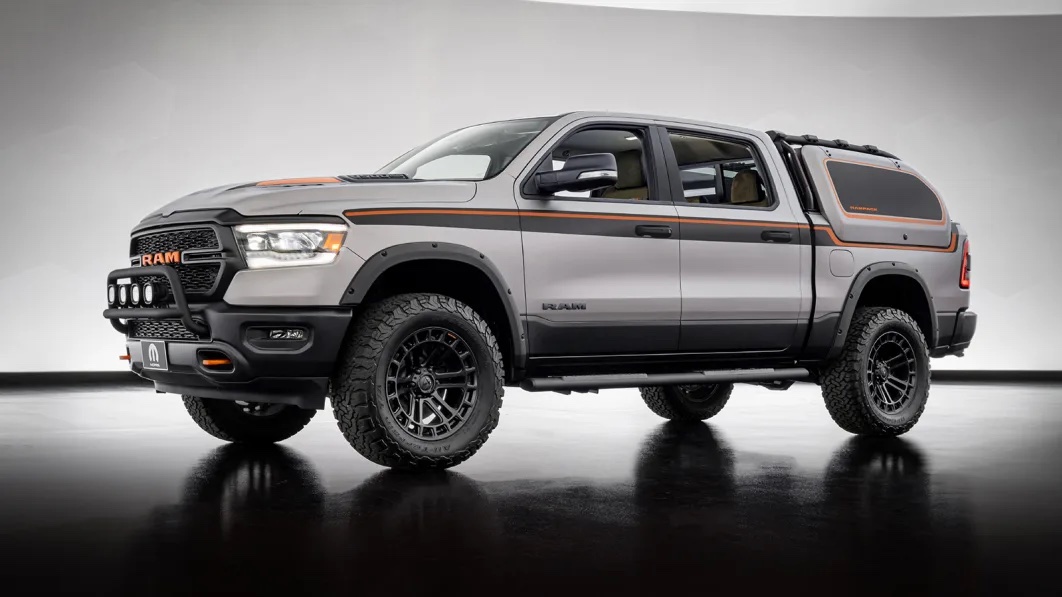 The Ram 1500 Backcountry X is all about what's in the back, whereas the CJ Surge is all about what's under the hood. It has RamPack and RamRack custom parts that increase the truck's cargo-hauling capabilities. The RamPack is made up of two bedside storage boxes. In addition to the regular-production RamBox bedside bins, they add 12.3 cubic feet of locking and weather-tight storage. The RamPack boxes also include shelves and tie-downs to keep everything safe and organized. They fit the truck's lines very well, but that could be due to the stripes that accent them.
The RamRack evolved from a previous concept of sliding roof rails. It is primarily made up of a metal tube frame that wraps around the RamPack and sliding Thule rails. It works perfectly in this application, but we're not sure how it would look without the RamPack.
Aside from those components, Ram also added a workbench to the tailgate. It includes conversion tables, an angle finder, slots for clamps, and woodworking hardware. All of these components appear to have the potential to be extremely useful and popular. Ford already has a similar feature on the F-150 for the tailgate workbench. If there is enough interest, we could see all of them eventually appearing as production accessories.
Aside from the special prototype parts, this Ram has many other features. It comes standard with a spray-in bed liner, a Mopar 2-inch lift kit with Fox shocks, 20-inch Fuel wheels, 37-inch tyres, a Mopar grille, Mopar off-road lights, and Mopar side steps. The interior features custom green upholstery with orange stitching, extra grab handles, and a RamVac. That's another feature that could become a useful future accessory.
Ram 1500 TRX Gold Shot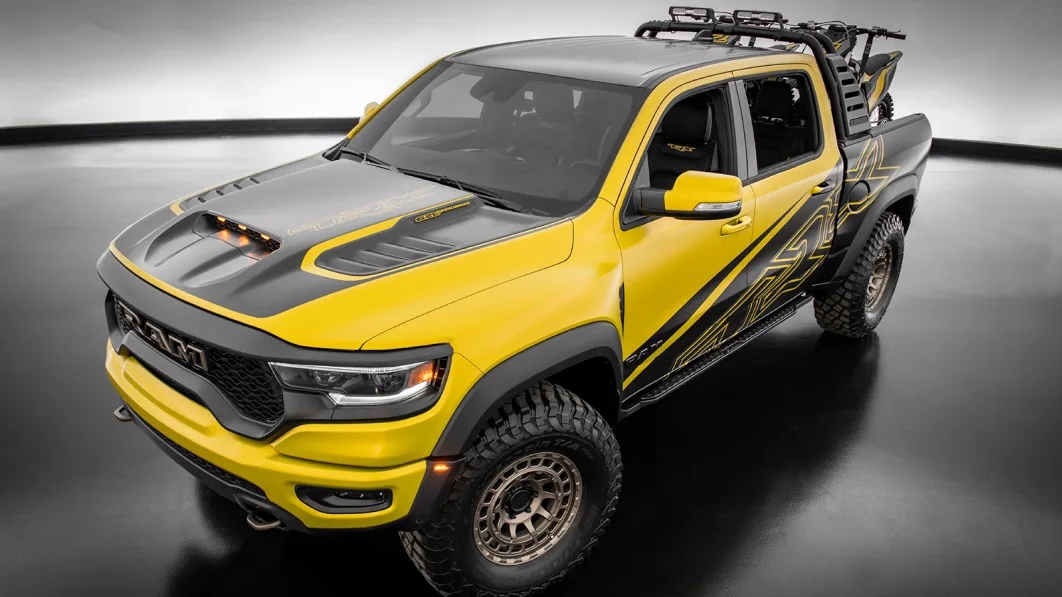 Ironically, the concept based on the Ram 1500 TRX is the most conservative of the three. It primarily displays current Ram accessories like the RamBar, Mopar rock rails, and 5-inch exhaust tips. Custom skid plates and concept LED off-road lights are also included. Black Rhino wheels are wrapped around 37-inch tyres. Of course, it has an eye-catching black and yellow paint scheme, as well as the matching black and yellow leather and Alcantara interior.