Stylish wearable with a very good fitness tracking device , exceptional battery life and a lots of connected apps to choose from. We recommend this device.
If you are a fitness freak and only believe in numbers when it comes to calories then you must be on the look – out for a device which will tell you about how much calorie you have shed. Jawbone Up24 is one such device which you can wear around your wrist comfortably and it pairs with Android/iOSapp too. This is fun to wear a wristband which actually does keep track of your daily fitness routine and also making a fashion statement. The only thing is that you have to connect it with some Smartphone to get the data it has collected as it doesn't have any display on the device itself apart from 2 led light and a button.
Design
If we talk about design, then you can say that it looks pretty good, but the only problem is that the end doesn't rest flat. It comes in three colors black and red. You will also get their sizes so that you can buy the one that fits your wrist and the sizes are small, medium, large. Tracking your health can be fashionable too, and this has been shown by Jawbone Up24. The thought that has gone into making this wonderful piece of the device is intelligently crafted so that people can use it on a daily basis. It is like you are doing your regular jobs with a computer wrapped around your wrist  as it is so light that you hardly feel it.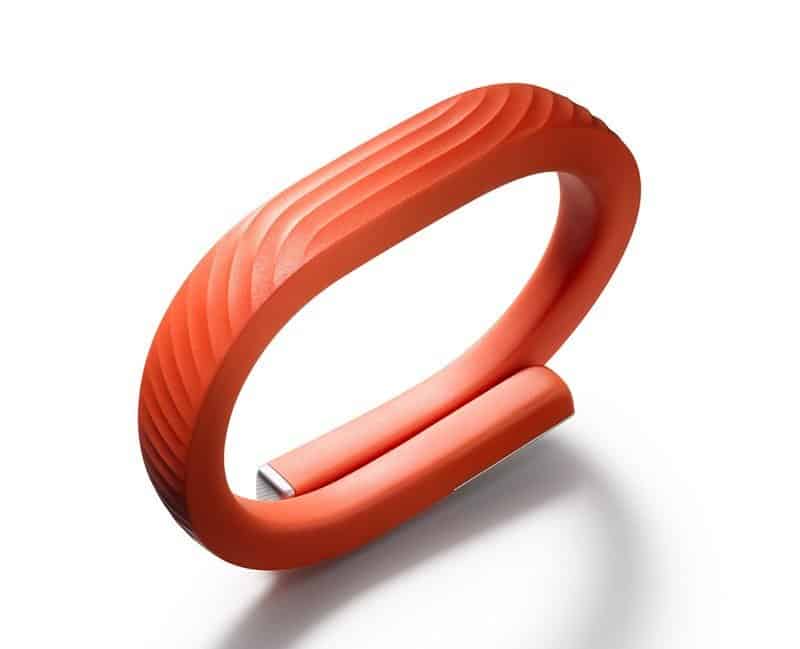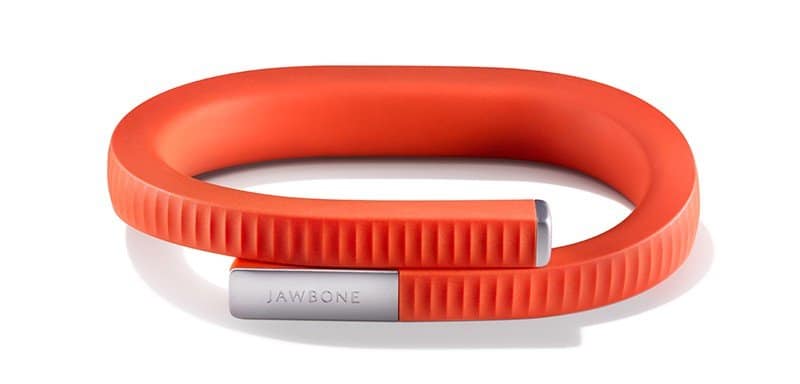 Functions
What it does is that it tracks, even your sleep so on any given day if you didn't have sound sleep then this device measure that too. Jawbone Up24 can keep a track on your movement so that it gives you proper details about whatever you need to know. The app that comes with it displays the data and also you will be able to add the mood and meal so that it can provide you the insights which will help you to realize whether you are on the right track or not. Once you set the goal you will be updated at regular interval about how far you have achieved your goal. You can always stay connected with this and it will keep you updated about the progress through the home-screen which is like a dashboard. The notifications help you to know then and there what has been achieved.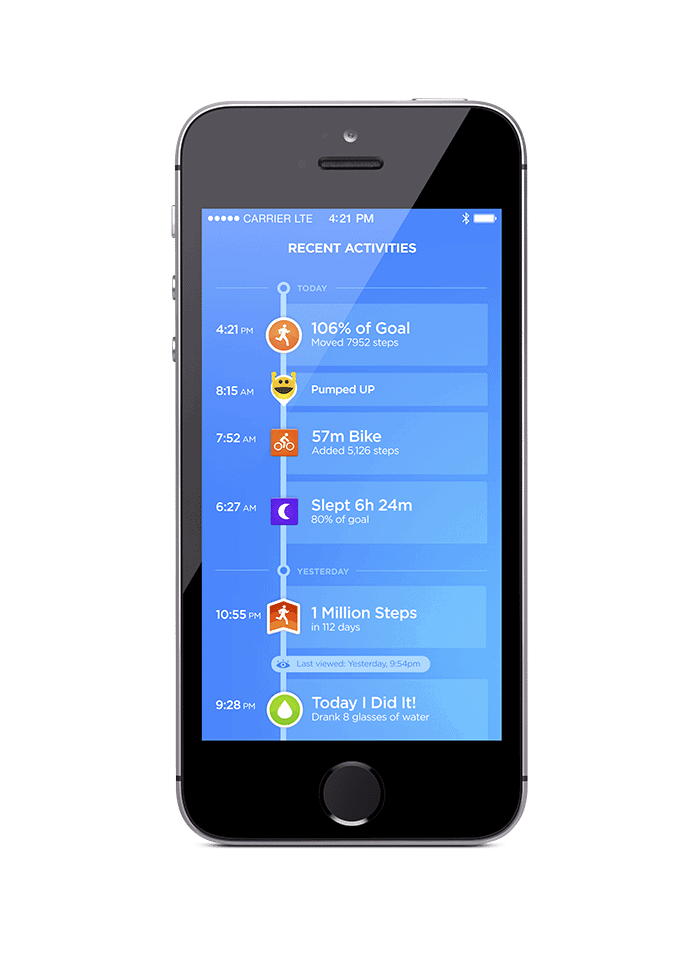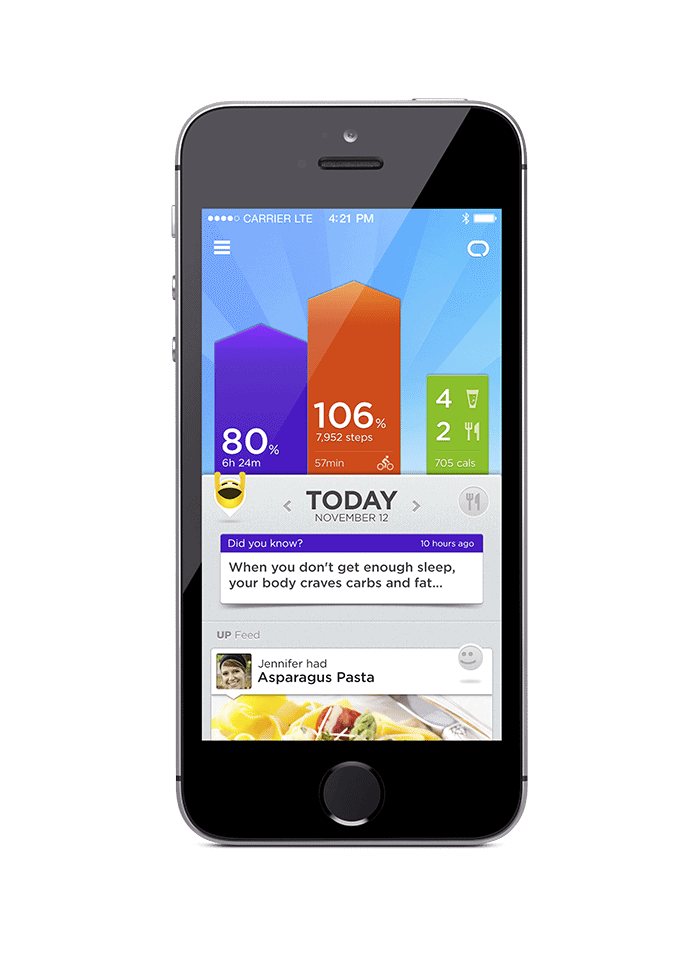 Connected with Apps
Your Jawbone UP24 experience will be even better when you attach it with your favorite apps. If you are an enthusiast who loves to explore then you can do the same with this funky device too, as you will get to explore various apps within Jawbone UP24 only. Some of us are fighting to shed some extra kilos and then there are some who are trying to gain weight so with Jawbone UP24 you can keep a track on your weight to see whether you are taking your steps towards the goal set by you. You can also map the bike rides and most importantly, you will have access to huge library which includes all the information that you require about food items. Integration into UP feed happens seamlessly and the same hold true for trends and lifeline too.Integration with apps like my fitness pal one of the best in tracking your fitness and calorie intake is one of the features worth mentioning.
What we liked about Jawbone 24
Tracking sleep pattern
Logging food intake and inbuilt calorie counter
Stylish device to wear on
Act as a smart alarm as well.
Extremely light and had no issues to wear it during sleep or during the day.
Excellent battery life almost 4-5 days on a single charge
What we think it missed.
Should have been a waterproof device.
Maybe next version could track heart rate and pulse as well.
Hardware

Type

Watch style

Color

Red, Black

Sensors

Accelerometer

Connectivity

Wireless support

Bluetooth 4.0

Port(s)

3.5mm jack (data)

Power

Battery

32 mAh Lithium – Ion Polymer

Rechargeable battery

yes

Charge time

80 minutes approx. through USB charging cable

Quoted use time

7 day

General

Tracking Metrics

Motion / steps, Calories, Sleep

Fitness analytics

yes

Heart Rate Monitor

No

Display Type

LED indicator lights

Compatibility

Android, iOS

Announced

41579

Released

41579

Price

149

UP Band Dimension and Weight

Small

52 mm W × 35 mm H (inner)
66 mm W × 50 mm H (outer)
19 g

Medium

63 mm W × 40 mm H (inner)
76 mm W × 54 mm H (outer)
22 g

Large

69 mm W × 43 mm H (inner)
81 mm W × 56 mm H (outer)
23 g

Materials & Care

Band

hypoallergenic TPU rubber

Cap

TR-90 Nylon, plated in Nickel
Splash-resistant, but do not submerge
Avoid excessive bending