Infinix is a new company which wants to get its slice in the ever growing smartphone industry dominated by big players like Samsung and Apple. They launched Zero X506 and Alpha 8 X550 as their flagships recently to huge successes. It has now announced a new device Infinix X505 Race Jet 4G in GCC and Middle East regions which is a relatively mid-range device and wants to compete with the whole aprty of HTC and Samsung devices. It is an addition of 4G and a small upgrade from Infinix Race Jet which was a 3G device. Its recent French debut did record sales for Infinix. Let's see some of the features of this phone.
Design
Front of the phone is dominated by the display. The volume rockers are located on the left side of the phone and the lock is located on the left side. The back of the phone has the camera and the flash and the lower back has the main speaker. The back has been given a texture smooth finish which is very comfortable to hold. What's good to hold doesn't mean is grippy. It is pretty slippery and you must be a little careful while holding it or use a phone cover.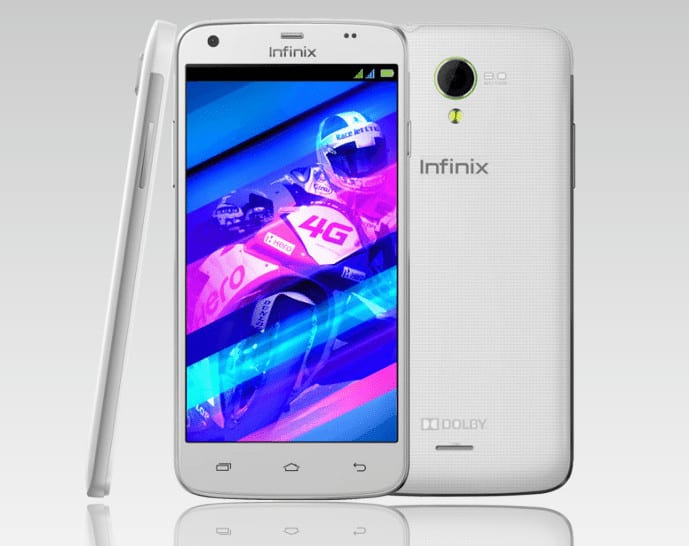 Display
This device has a comfortable 5 inch display with a 540 x 960 pixel resolution. Not having a 720 p display may feel a bit less for a mid-range phone because these days even the mid ranges have an HD display. However it doesn't seem like an issue in this device because it has a pretty neat display with vivid colors. The display is NOT gorilla glass, thus you have to be a little careful with the phone and shouldn't be dropped. Overall the display is pretty good with a good touch sensitivity.
Camera
The phone has an 8 megapixel main camera and a 5 megapixel front camera. The front camera has been improved because of the selfie revolution forcing the phone manufacturers to improve their front camera's quality. The camera is pretty decent is not good and does a good job provided there is good light. Under low light conditions, the camera is pretty much useless. The color reproduction is good and the camera seems to give vivid colors. The camera application has many features which can be used to improve your photo experience.
Performance
To reduce the cost of the phone, Infinix has dumped Snapdragon for a 1.3 GHz MediaTek MT6582 processor and a Mali 400MP2 GPU. These aren't the best available in the market so there is no comparison to the flagships of other manufacturers. The processor is paired with a 1GB of RAM which is pretty disappointing because it really bring down the performance of the phone. The phone is pretty laggy at times. For a mid-range phone you can call this phone pretty decent though.
Features
The phone is Androis 4.4.2 KitKat out the box. Other features include an 8 GB internal memory which can be expanded upto 32 GB with the help of a micro SD card. One of the best features is the phone has a dual SIM dual standby so you will be able to use 2 numbers with this device. The speakers are pretty loud and decent all thanks to the Dolby integration