Last night, in the presence of around 500 media, VIP guests and partners from around the region at the Madinat Jumeirah Dubai, Huawei unveiled their latest Flagship devices – the Mate S and W1 Huawei Watch. The evening soiree included an entertaining program of special performances with the dramatic, high-tech shows and presentations for the night reflected the products launched as they combined innovation, art and style.
Commenting on the Huawei Mate S and W1 Watch, Sandeep Saihgal, Middle East Vice president of Huawei Consumer Business Group said, "The Middle East is a very strategic market for our business. We strive to grow and offer our customers products that impact and enrich their lives. In designing the Huawei Mate S, we wanted to develop a smartphone that offers a personalized experience with the power of touch; we once again took a revolutionary approach and reimagined how people interact with their devices, adding innovative features that enhance ease of use, functionality and creativity. Adding to the currently launched standard Mate S version, we will be launching soon the force touch version of this device, which will add more innovative dimensions to the user's interaction with the device whilst enhancing their experience. With the launch of the Huawei Watch, we have created a bespoke timepiece that expresses consumers varied preferences in technology, fashion and lifestyles, whilst maintaining technological innovation."
These latest additions to the market feature a combination of brilliant capabilities and stunning visual appearance.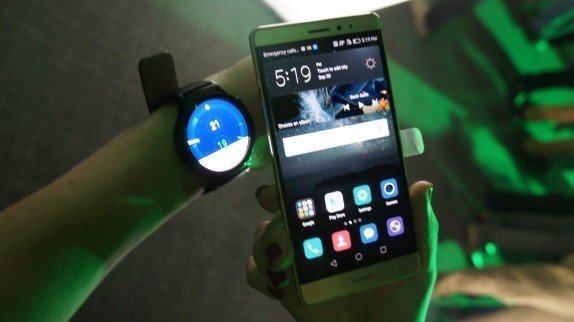 Revolutionary pressure control that redefines the user experience
Touch is a core of the Huawei Mate S, creating a new experience for users that enhances their interaction with the device. When viewing photos, they can be quickly previewed and enlarged by pressing the screen with one finger, streamlining the operations of a traditional phone. Earlier this month at IFA technology show in Berlin, Huawei revealed the new pressure-sensitive technology which can be used to weigh small objects. Huawei cleverly did this by placing an orange on the screen, with the Mate S revealing its weight of 280g.
The phone is equipped with Fingerprint 2.0, an upgraded version of the advanced chip level security and one-key unlock technology in the Huawei Mate 7. Fingerprint 2.0 improves recognition speeds by 100 percent, with more accurate self-learning functions. It can also be used to control the notification bar, double-click to erase unread notifications, slide to preview pictures, and hold and take phone calls. All of these options improve the one hand operation of the phone. Fingerprint 2.0 and Knuckle Control 2.0 – first introduced in the Huawei P8 – simplifies how users switch between app operations and take screenshots. The feature offers users a new way to interact with their phone: drawing a "C" with their knuckle activates a camera, while double-clicking the screen with a knuckle records the screen in the form of a video.  With these options, every type of touch provides an opportunity to be innovative.