HP ProBook 635 Aero G8 is one of the lightest notebooks you can get your hands on. It's a business notebook, ensuring durability for long-time usage. It has excellent graphics and powerful processors for top-notch performance.
The HP ProBook comes with an adapter for charging. There are several adapters; they can be 45W or 65W, an external adapter, or a Type-C power adapter. The availability of these adapters varies from region to region.
Pros and Cons
Let's take a look at all the pros and cons of the HP ProBook to help you decide if you should get it.
| | |
| --- | --- |
| PROS | CONS |
| Lightweight | No SD card reader |
| Ultra-fast AMD Ryzen Processors | No thunderbolt hardware interface  |
| Super long battery life | Limited viewing angles due to the privacy screen |
| Smooth hinge that allows you to open the ProBook with one hand | |
| Face recognition and fingerprint sensor | |
HP ProBook 635 Aero G8's Top Features
Lightweight but Sturdy
If you're on a business trip, you wouldn't want to carry your 2kg laptop with you all the time. This is why business notebooks are lighter in weight. The HP ProBook weighs a mere 2.2 lbs or 990 grams, making it one of the lightest business notebooks. It's also very thin, just about 1.80 cm, making it easy for you to hold or carry.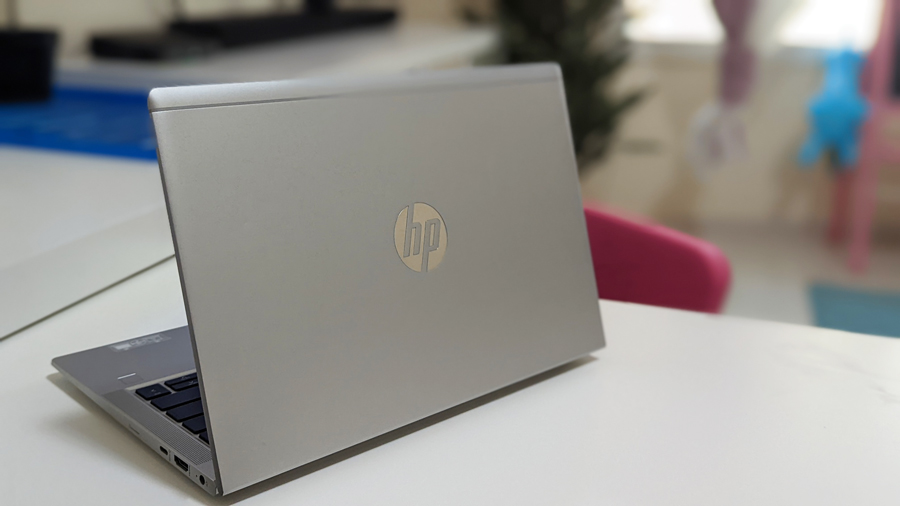 With the hybrid and remote working models becoming more prominent, using a lightweight device for easier remote work has become essential. The pandemic also led to a lot more people needing a device like the HP ProBook that goes easy on mobility to work from home. 
Design
HP ProBook 635 Aero G8 has an excellent and thoughtful design. It can be easily opened with a single hand as it's single-hinged. The hinge is also super smooth with an easy-to-lift yet stable lid. HP uses diamond cutting technology to polish the ProBook, giving it a sleeker and elegant finish.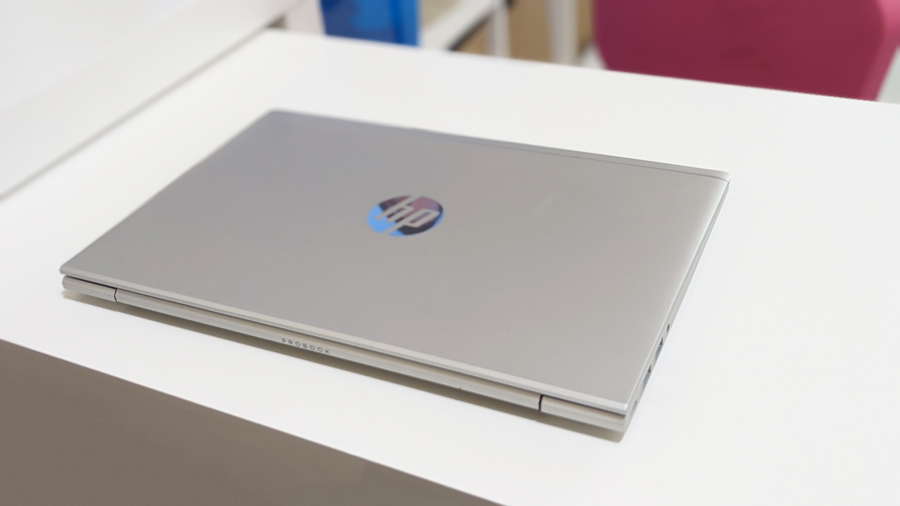 With the HP ProBook, you don't have to shift or move your laptop to share something on the screen with your coworker. It comes with a 175-degree opening angle. This lets you flatten the screen on your desk, making it easy to reveal your screen to coworkers for collaboration.
Excellent Performance Specs
Don't worry; HP doesn't compromise on powerful processors for its lightweight.
Processors (CPU)
Ryzen is one of AMD's product lines. It has the incredible processing speed required for gaming, powerful workstations, heavy editing, and video rendering. The HP ProBook comes with five multi-core processor options you can choose from:
AMD Ryzen 3 5400U

AMD Ryzen 5 5600U

AMD Ryzen 7 5800U

AMD Ryzen 5 PRO 5650U

AMD Ryzen 7 PRO 5850U
Instead of waiting for each operation to be executed before moving on to the next, these extra cores increase the performance of your device, allowing it to handle more at once. 
The most basic processor for the HP ProBook is AMD Ryzen 3 5400U with four cores and a base clock speed of 2.6 GHz up to a maximum of 3.7 GHz. The most powerful one is the AMD Ryzen 7 PRO 5850U, with eight cores and a base frequency of 1.9 GHz that goes up to 4.4 GHz.
Graphics (GPU)
The HP ProBook 635 Aero G8 comes with integrated AMD Radeon graphics. This is perfect for your daily business workflows or watching your favorite TV shows. 
If you are a gamer and are wondering if the HP ProBook can handle it, it can but only to a certain extent. This ProBook will work just fine for light gaming. However, this is not suited for heavy gaming. So, you can't expect good performance for games that require a considerable amount of graphics processing power.
SSD
People usually replace their traditional HHDs for SSDs or solid-state disks. Speed is one of the most important things for buying a device. It is inconvenient to wait 2 minutes for a reboot or to transfer files, especially in this age where file sizes are constantly expanding given the higher quality of data. 
SSD uses a flash-based memory that makes reboots, file transfer, loading programs much quicker, drastically improving the overall performance. The HP ProBook has 6 SSD sizes that you can choose from. It starts all the way from 128GB M.2 PCIe TLC to a maximum of 1TB PCIe Gen3x4 NVMe SSD. 
1 TB PCIe Gen3 x4 NVMe TLC Solid State Drive

512 GB PCIe Gen3 x4 NVMe TLC Solid State Drive

512 GB PCIe NVMe Value Solid State Drive

256 GB PCIe Gen 3 x4 NVMe TLC Solid State Drive

256 GB PCIe NVMe Value Solid State Drive

128 GB M.2 PCIe TLC Solid State Drive
Memory
HP ProBook 635 Aero G8 has 32GB DDR4-3200 RAM. Even though the laptop weighs on the lighter side, HP integrated 2 SODIMMs. Both the SODIMM slots can be upgraded. It also supports dual-channel memory, increasing the speed of data transfer from the computer's memory and CPU.
Display
This ProBook has a 13.3 inches display with a screen resolution of 1920?1080p. It also has an anti-glare coating, ensuring no reflections while working, studying, or gaming. You can buy this ProBook with a maximum of 1000 nits of brightness to make it easier for working under sunlight. You can also choose lesser, more affordable nits such as the 250 or 400 nits.
Battery Life
There are two primary battery options in the HP ProBook. While both are long-life 3-cell batteries, you can choose between a 42 Wh polymer and a 53 Wh polymer. If you buy the ProBook with 42 Wh polymer, your laptop will last up to 15 hours, while the 53 Wh polymer laptop will last up to 20 hours.
The battery life is excellent, but here's the kicker: it has the HP fast-charge technology, so it can charge 50% in just 30 minutes when your screen is turned off.
Audio and Speaker
The HP ProBook 635 Aero G8 comes with an integrated microphone. It has a dual-array microphone that captures sound waves, rendering clearer audio. The dual-microphones also provide noise-canceling audio by eliminating external noises such as fan and traffic noises from your audio.
For speakers, the ProBook has two integrated speakers. When the sound comes from the bottom, it is difficult to hear the audio clearly without earphones. The keyboard has tiny holes on the sides for its speakers. It was designed in a way to give users direct access to the speakers. It makes video conferences, and streaming movies or TV shows much easier. 
I/O Ports
It has ample ports, ensuring your device can be connected with other devices easily. There are 3 USB ports; 2 of them are Type-A, and the other one is Type-C. To stream on a projector or an external TV, you can make use of the ProBook's HDMI 2.0 port. Note that you have to buy the cable separately.
Other than these ports, you have an AC power port to connect your adapter and charge your device. Another port is the combo jack for your earphones or headsets. It also has a SIM card slot and a nano security lock slot. However, you have to buy the lock separately.
Keyboard and Trackpad
HP has a premium keyboard in its HP ProBook 635 Aero G8. You don't have to worry about being clumsy as the keyboard is spill-resistant with durakeys. The keys are flat, allowing you to have a quiet and comfortable typing experience. If you're working in dim light, you can use the optional backlit option, so your keys are backlit along with the labels on the keys.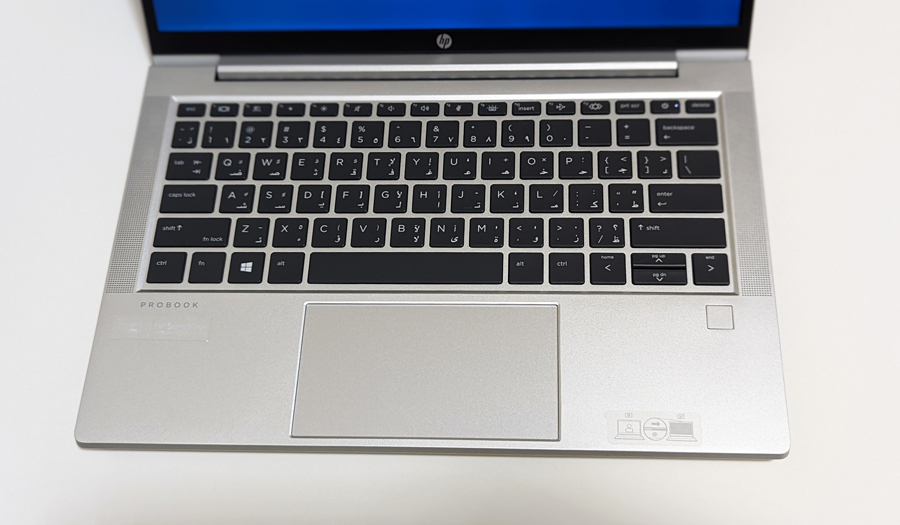 The trackpad or touchpad is small and extremely smooth, giving you a gliding experience. It has hidden left and right buttons, giving you a button-free appearance. The trackpad is protected with glass and is accurate with responsive tracking. The trackpad supports multi-touch gestures. This functionality allows users to leverage multiple finger touches to access a range of functionalities.
Webcam
You can choose from two options here: the 720p HD camera, and the 720p HD and IR camera. The latter requires an internet connection. The top of your laptop has bezels. 
The top-most bezel is home to your HD wide-angle camera and its privacy shutter. The 720p HD webcam keeps you looking neat and fresh in all your meetings. Another bezel houses the optional IR camera.
The webcam comes with facial recognition, allowing you to instantly log in when you open the device.
Color Gamut Coverage
If you're an artist that draws or someone who edits often, colors are extremely important. So, while looking for a laptop, you naturally look for the color coverage in your system. There are multiple grading systems for color gamut coverage like the sRGB color gamut, the Adobe RGB, DCI-P3, NTSC, and DeltaE. 
The HP ProBook boasts a 100% on the sRGB color gamut. So, it's perfect for artists to draw or for video editors to color-correct or color-grade their videos. However, this may slightly vary, and if you're not happy with the color gamut coverage, you can always use a  third-party color-accurate monitor for color grading.
Cooling System & Fan Noise
Even though this is not a gaming laptop requiring a very robust cooling system, it can still be helpful when you're running multiple tabs at once or carrying out some heavy tasks. The Ryzen processor powers high performance while maintaining low power consumption. So, it doesn't cause too much heat. 
HP uses a single fan and single heat pipe for this ProBook, but it was designed in a way that the distance between the heat pipe and the CPU is minimal, allowing the heat to be dissipated quickly. The laptop's rear hinge takes up the heat, protecting you from feeling any of the direct heat on your keyboard surface. 
Security and Privacy
Security is crucial for any laptop, even more so when it comes to business laptops. So, what does the HP ProBook 635 Aero G8 offer in terms of security?
Sensors
You have an optional fingerprint sensor near the touchpad on the palm resting surface. This can help you avoid any unauthorized access. Another security feature is facial recognition technology. It can be quite easy to steal or hack passwords; facial recognition is comparatively a much safer option.
Privacy Shutter
Most laptops come with a webcam. It's an incredible feature but comes at the cost of privacy. You should always know when your laptop's camera is on and can be accessed by other sources. 
Some laptops introduced a small bezel that emits light when the webcam is in use, but this can go unnoticed sometimes. So, HP's ProBook went a step further and introduced the privacy shutter to close the webcam when not in use.
Privacy Screen
You can enable HP's Sure View tech with just a click. It reduces the visible light outside of the privacy region so intruders can't view what's happening on your laptop from certain angles. This will ensure that even when someone peeks at your laptop while you're working, they most likely won't see anything of value.
TPM chip
The ProBook has a TPM (Trusted Platform Module) 2.0 security chip. It's a secure crypto-processor that provides hardware-based, security-related functions. 
EAL4+ Certified
This notebook is Common Criteria EAL4+ certified, meaning it maintains good developmental practices and independently assured security. Essentially, it satisfies a well-established set of security requirements.
The Bottom Line: Should You Buy the HP ProBook 635 Aero G8?
The HP ProBook 635 Aero G8 is a perfect choice for you if you're a professional. Its lightweight feature allows for easy mobility when you're on your business trip. HP, thankfully, doesn't compromise power for its lightweight. 
It boasts a powerful AMD Ryzen processor with a maximum of 1TB SSD. It has dual microphones for crisp audio and a 720p webcam for clear video. So, yes, the HP ProBook 635 Aero G8 is most definitely worth your dollars.