In this article, we will take a look at how you can Turn off Airplane mode on your Windows 10 PC/Laptop.
Let's get started –
Airplane Mode was developed with one thing in mind – Allow users to use their devices in an Airplane without disturbing the signal reception of the Pilots. Keep in mind, that Airplane mode disables WiFi and Mobile Internet while its ON, and are automatically restored once you turn off the Airplane mode.
Method 1 – Using the Hardware switch
Many mobile devices have a hardware switch to turn on or off the airplane mode. You can use that button or switch to turn off all the wireless signals from your device. This method involves the use of a hardware switch on your device. A few Windows 10 Devices today possess a dedicated hardware switch, which lets you toggle between ON/OFF for Airplane Mode.

If you possess devices that has this hardware switch, then your job is done right here. However, as always, the number of devices that have this switch is very low, and chances are that you may not have a device with this switch. If yes, then read on.
Method 2 – Using the Notifications Slider

This is one of the simplest ways to Turn off Airplane Mode. Open the Notification Slider on your Windows 10 PC/Laptop. You will find an Airplane Mode Button. Click on it to toggle between ON/OFF.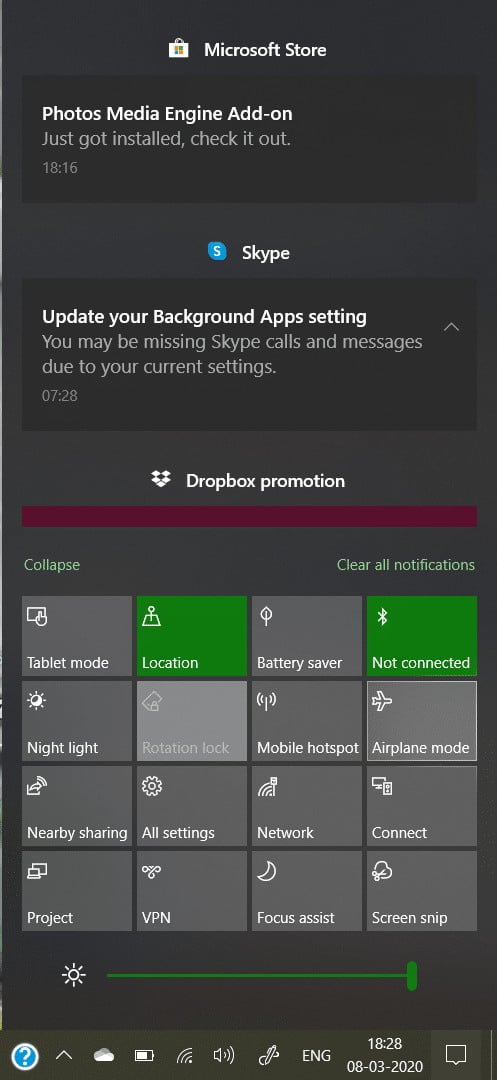 The advantage of this method is that it also does not allow any third party apps to bypass the Airplane Mode. The PC/laptop will remain in the designated mode until you switch the mode, manually.
Method 3 – Using Windows 10 Settings

In this method, we will make use of the Windows 10 Settings in order to Turn Off Airplane mode. Use this method, if the aforementioned methods are really not working out for you.
First things first, open the Start Menu. You can do so by clicking on the Start menu button on the bottom left-hand side or by tapping the Windows key on your keyboard.
In the Start Menu, click on the Settings icon to open the Windows 10 Settings.


Click on Network and Internet to open related settings. In the Windows 10 Settings window, select the Network and Internet Settings option.


Once you enter the Network and Internet settings, on the left pane, you will see the dedicated Airplane mode tab.
Click on the Airplane mode tab, and in the right-hand side window, you will see all the relevant settings dedicated to Airplane mode. Click on the first setting to toggle between ON/OFF for Airplane mode.


Airplane Mode will now be switched OFF.