Hisense, one of the largest consumer electronic brands globally, announces its entry into the smartphone segment. Leveraging its strengths in developing smart technology and innovative products, the smartphone is an extension of Hisenses' highly competitive product offerings.
This announcement was made by Hisense during the GITEX Technology Week in Dubai, UAE
Witnessing a steady growth in the smartphone industry, the consumer-friendly brand recognized the market potential for its innovative, smart, and efficient devices. The brand has been instrumental in delivering quality home electronics to end-users and is poised to enter in the smartphone market to increase its product offerings as well as expand market realization.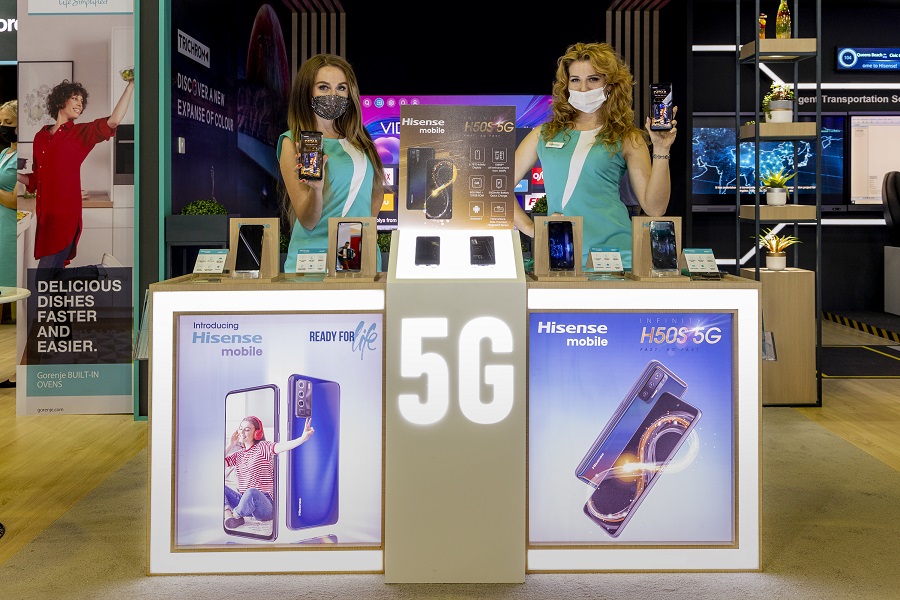 Building on years of experience, Hisense mobile is a combination of innovation and technology that strikes a perfect balance between quality and meeting the requirements of today's consumer demands. Hisense mobile is themed 'Ready for Life' as it complements the readiness of life to become your companion capturing all the moments of life.
In terms of configuration, the Hisense mobile, both Infinity H50 and E50 series come with dual-SIM card support that run on Android 11.
Masterful Craftsmanship:
The top-end model is Hisense, H50 marks the introduction of craftsmanship inspired by the movement of light, giving the handset a sensational touch of a 3D gradient flexible curve design, with complex everchanging colors in different viewing angles. It indulges the end-user with an infinite view with its 6.81" Full HD+ Infinity Display that indulges your eyes in an all-immersive viewing experience, improving your overall viewing on a mobile phone. Whereas the Hisense E50 has a 6.55" display easier to optimize the content and interactive experience, it also comes with a unique 3D textured design feature to create a striking visual appearance.
Hisense mobiles come with biometrical facial recognition algorithm and an integrated side-mounted fingerprint sensor that allows you to instantly and securely unlock your phone.
Camera for life's every occasion
The Hisense Infinity H50 sports an enhanced 108MP (12000x9024pixels) zoom-in camera, one of the world's highest megapixel smartphone camera resolutions, enabling users to capture minute details. Its 'super night shot' brings forth the dark nights most breath-taking views never imagined before. The MORPHO HDR enhances the picture quality by correcting the color and saturated dark sports, making the pictures more vivid. The stabilization mechanics makes the images sharper than ever with technology that compensates for camera shakes through image synthesis, especially useful for night portraits and telephotography. From 120-degree wide-angle capability to 3cm micro shot Hisense H50 provides unblemished images.
On the other hand, the E50 carries a powerful multi-mode 13-megapixel triple camera and an 8-megapixel front camera, designed for selfie perfection and the ability to align with your skin tone for balanced images.
Advanced power-saving battery
Both the Hisense mobiles H50 and E50 display impeccably advanced power-saving systems that battery life by intelligently optimizing power, 5000mAh, and 5100mAh respectively.
More storage, Less lagging
The Hisense H50 and E50 series offer a smooth experience with less lagging, allowing users to switch between apps with ease. It takes advantage of large internal and expandable memory for powerful and longer usage.
Providing a superior mobile experience for users in the region, Hisense encourages its customers to be 'Ready for Life' by providing them with the best connectivity, exposure rates, incredible display, plus a top-notch camera to assist with creating lifelike moments, and much more.