If you're someone who writes, you probably know how frustrating it is to miss a grammatical error after proofreading for hours. You've probably heard of many editing software, and you might be confused about which one's right for you. 
If you're someone who… well, writes, there's a good chance you've heard of Grammarly. If you haven't, no sweat—we've got you covered. We reviewed Grammarly and tested its features so we could help you quickly understand what's good vs. what's not so good about Grammarly. 
Grammarly is a popular writing assistant that helps fix grammatical errors, spelling mistakes, and detect plagiarism. I've used the free version of Grammarly for years and recently made the switch to its premium version. So far, things have been nothing but smooth sailing.
How to Use Grammarly?
Grammarly is available as a web app, desktop client, browser add-on, and integration. You can also download Grammarly on your phone, which essentially integrates Grammarly to your keyboard. 
All Grammarly tools—web app, add-on, desktop client, and integration—are available for all users. You don't need a premium account for any of these.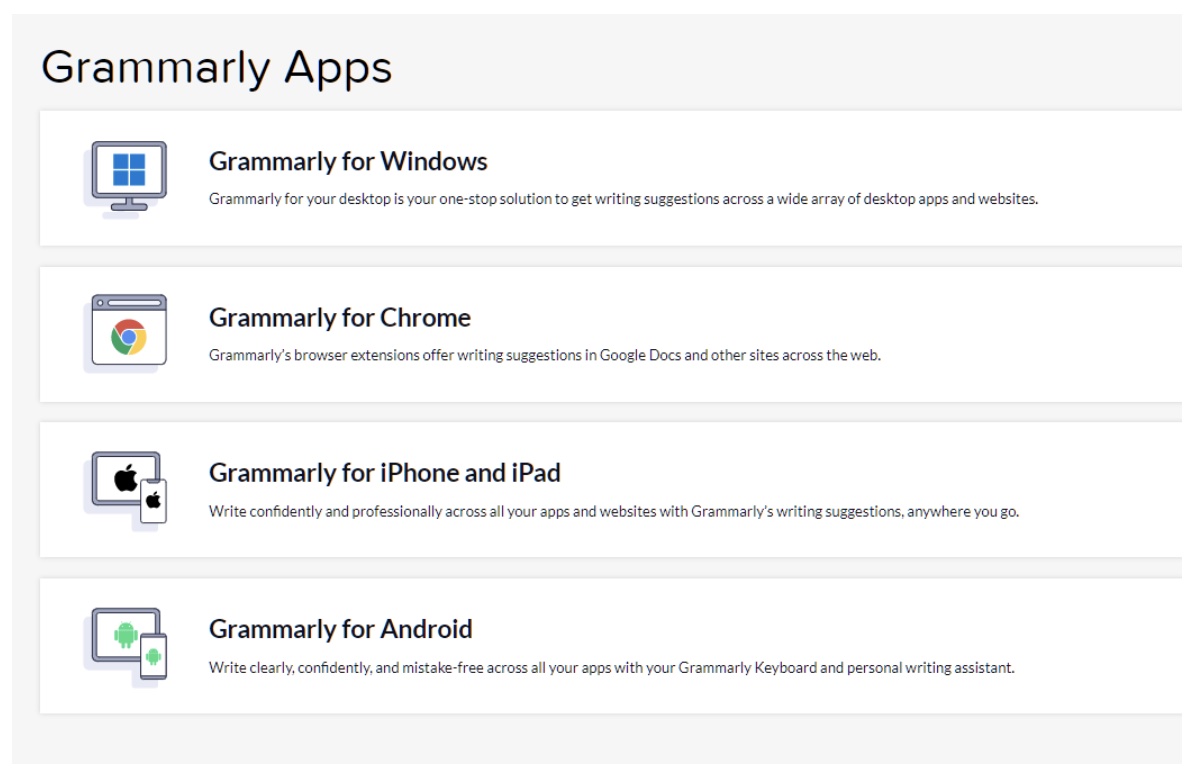 Grammarly as a Web App
You can use Grammarly's web app by visiting the website. On the top-right corner of the website, click Log in to access your Grammarly account. If you don't have an account, click Log in and select I don't have an account. Once you've logged into your account, you can upload or click New and type your text in.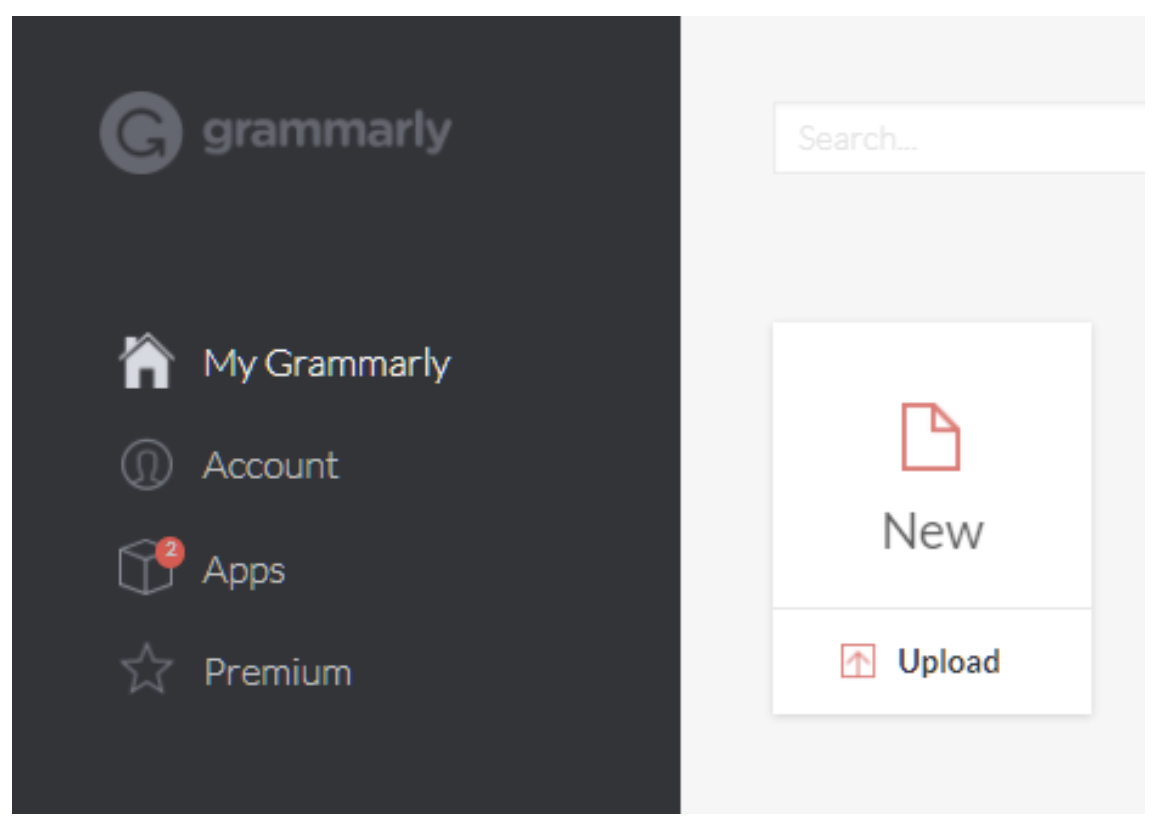 Grammarly As A Desktop Application
If you'd like to download Grammarly onto your computer, go to the Grammarly website and click on the green Download Grammarly button.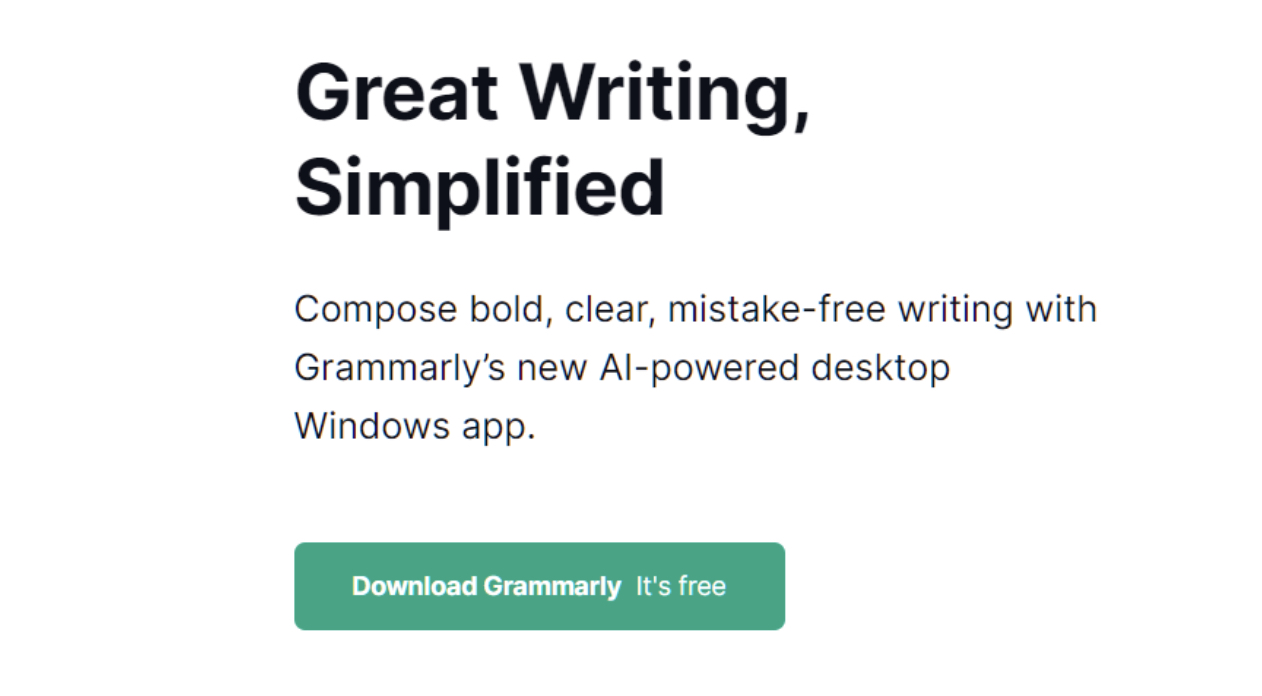 Once you've downloaded and installed the app, launch and start typing. You'll see Grammarly start making suggestions as you type.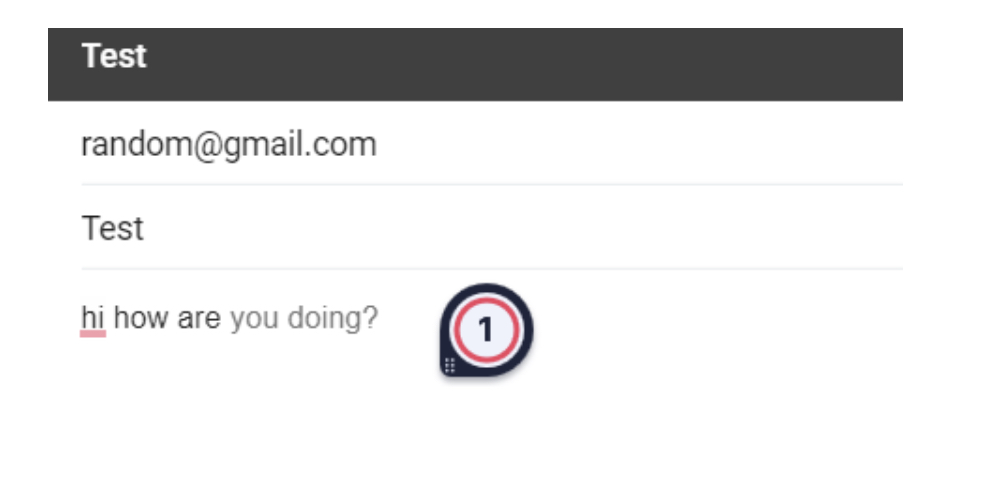 If you click on the widget, you'll see Grammarly's suggestion.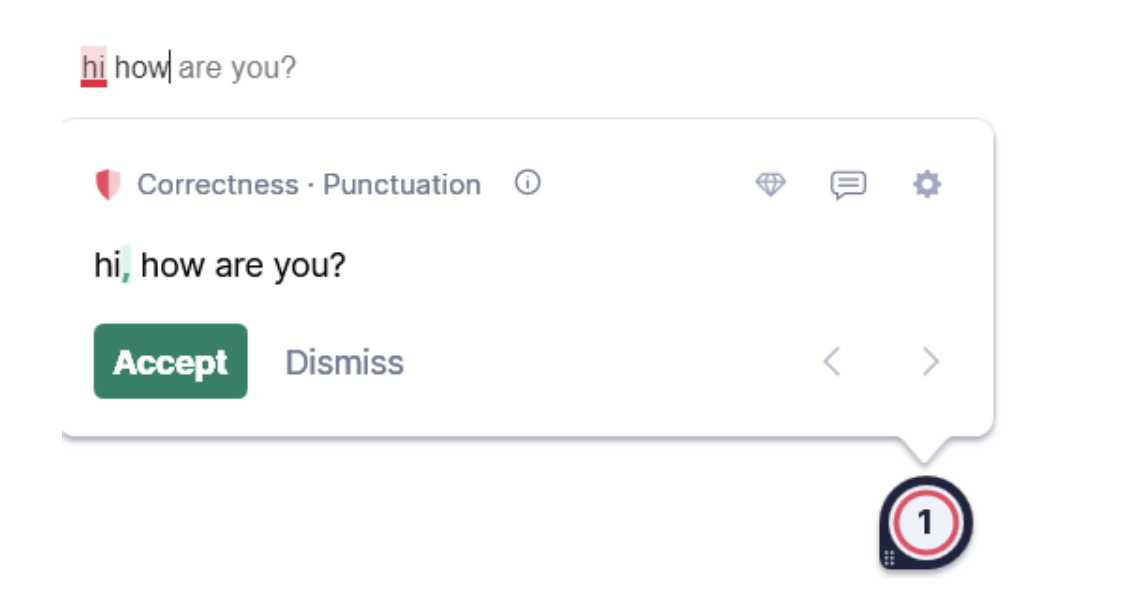 You can either accept or dismiss the suggestion. If you'd like to turn it off, click on the Settings icon and turn off suggestions for that particular website or app.

Grammarly as a mobile keyboard
Go to your app store and search for Grammarly to download the mobile app.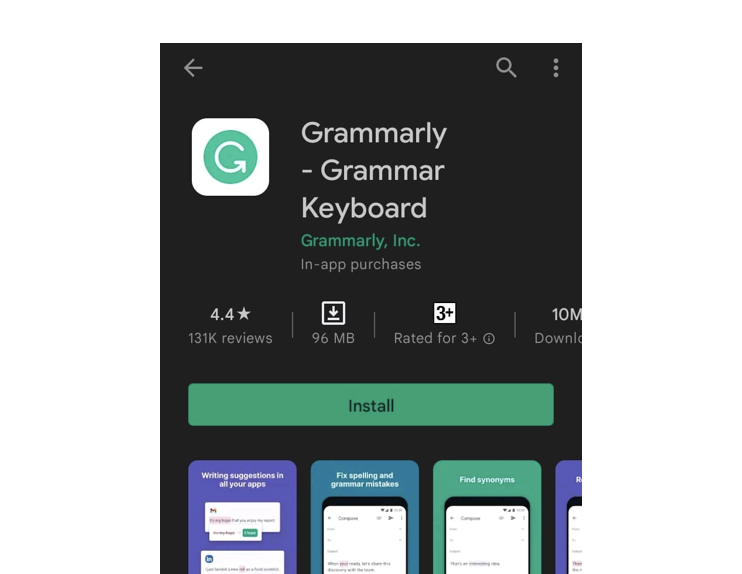 Once you've downloaded Grammarly, the app will integrate Grammarly into your keyboard. As you start typing, Grammarly will offer suggestions just like you'd see when you turn on Android's suggestions. Of course, Grammarly's suggestions are far more refined.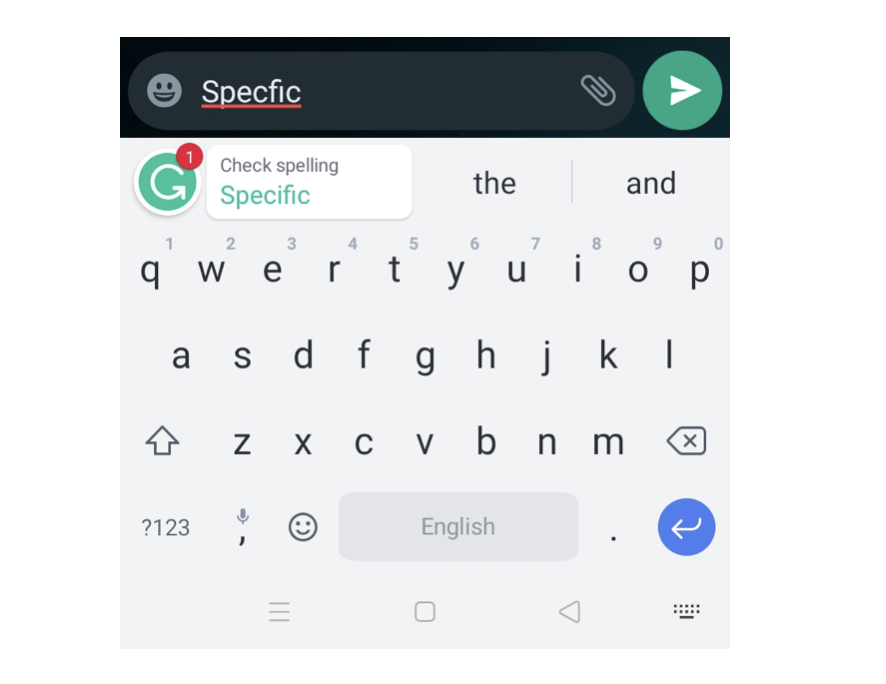 If you click on the suggestion, you'll see the suggestions as well as the explanation for it.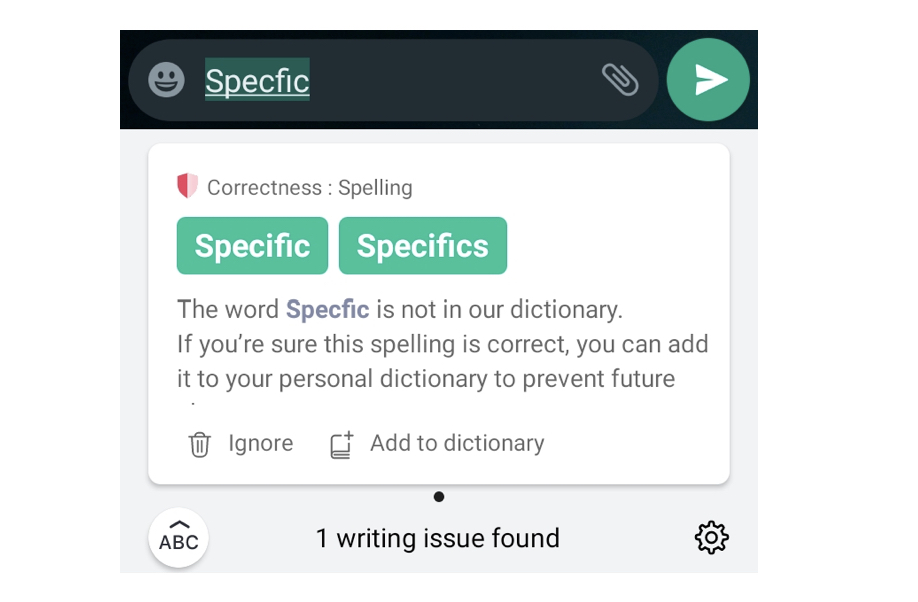 Grammarly as a Chrome Extension
Grammarly has a Chrome extension that works for all Chromium-based browsers, including Microsoft Edge. Download the extension by clicking on the blue Add to Chrome button.

This will check for errors in your writing whenever you're using the Chrome browser. You can click on the extension to view and change your settings.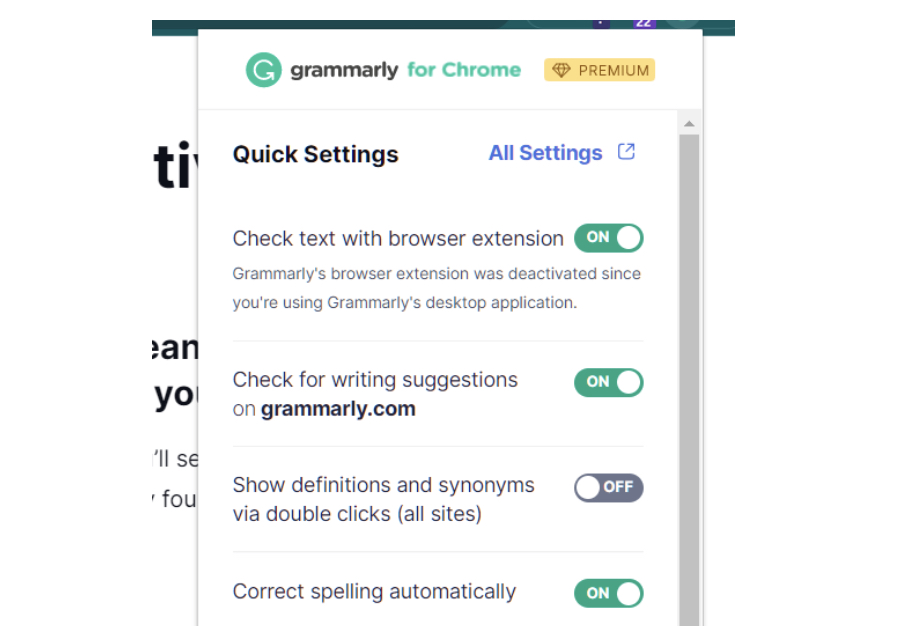 Grammarly as a plug-in for Microsoft Word
Download the Grammarly add-in for Microsoft Word if you use Word as your primary text editor.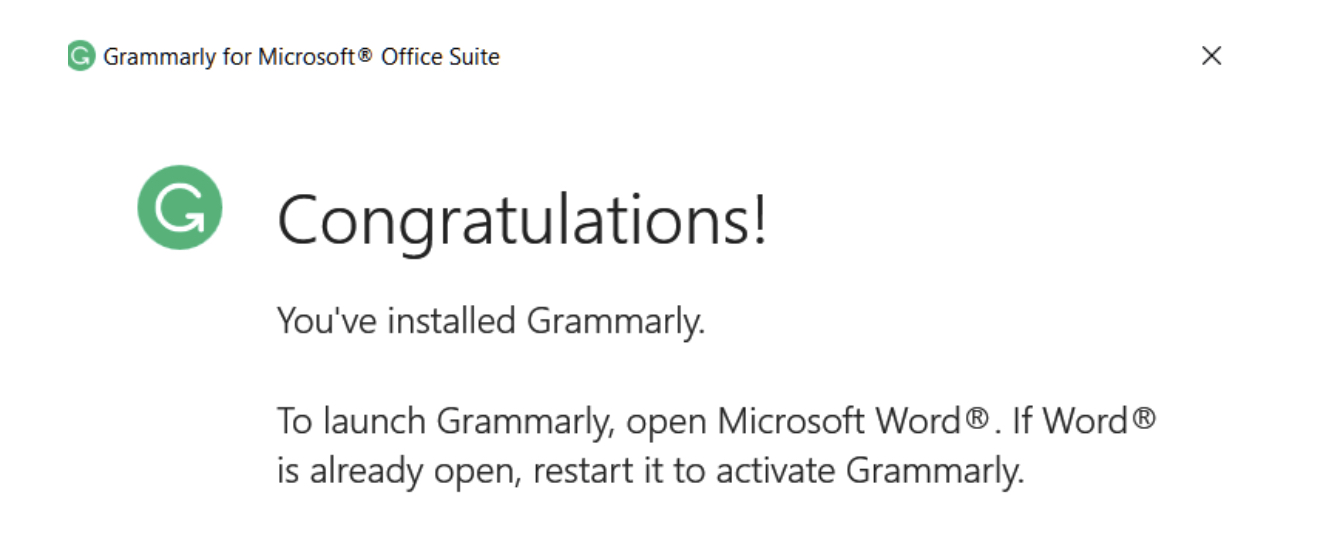 I typically use Word for all sorts of writing. The add-in is pretty handy and non-intrusive with a docked interface that sits at the right of your screen. I love that it keeps making suggestions as I go so I don't have to spend time at the end going through all suggestions one by one.
What's right for you: Free vs. Premium vs. Business vs. Enterprise?
Grammarly provides three types of plans—Free, Premium, and Business. That sounds great, but let's talk about what you'll get for your $$$ in each of these plans.
Grammarly Free
If you're someone who writes occasionally or if you just need a basic grammar and spell checker, the free plan will suit you well.
The free plan covers basic suggestions, conciseness, and tone detection. However, the free plan still manages to polish your writing by a good margin.
You can use all Grammarly apps and extensions with your free plan. However, the free plan doesn't include the plagiarism checker or the expert writing help option.
Grammarly Premium
Grammarly's Premium plan also checks for advanced grammar and spelling mistakes, in addition to what's included in the free plan. 
The Premium plan also checks for consistency, phrasal predictions, and helps you rephrase your sentences for better clarity and delivery. Grammarly's Premium plan also gives you access to the plagiarism checker and the expert writing help option. 
However, you can't take the Premium plan for a spin because there's no free trial for the Premium plan. You'll need to pay Grammarly to test it.
To clearly understand the benefits of Grammarly's premium plan, let's run the same text in both the plans to look at the difference in the amount and type of suggestions.
The free plan gave 7 suggestions, mostly basic grammar and punctuation suggestions.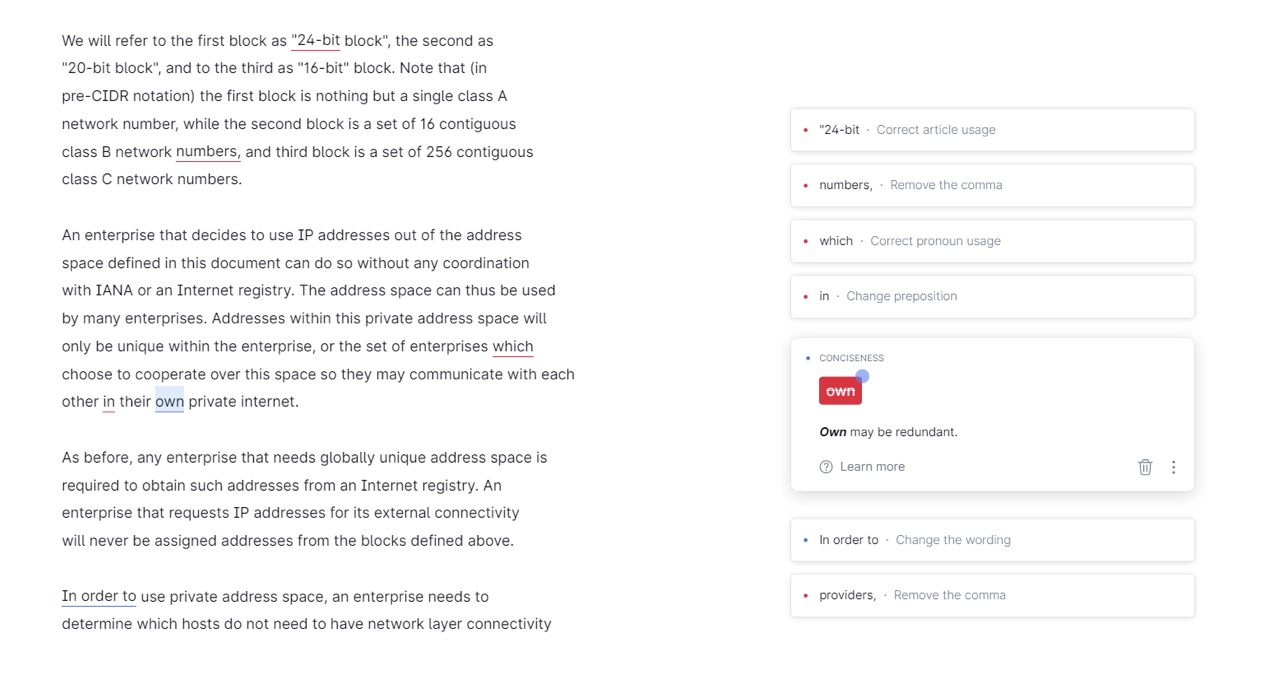 The premium plan gave 23 suggestions, including the basic grammar & punctuation suggestions and some more advanced grammar & phrasal suggestions.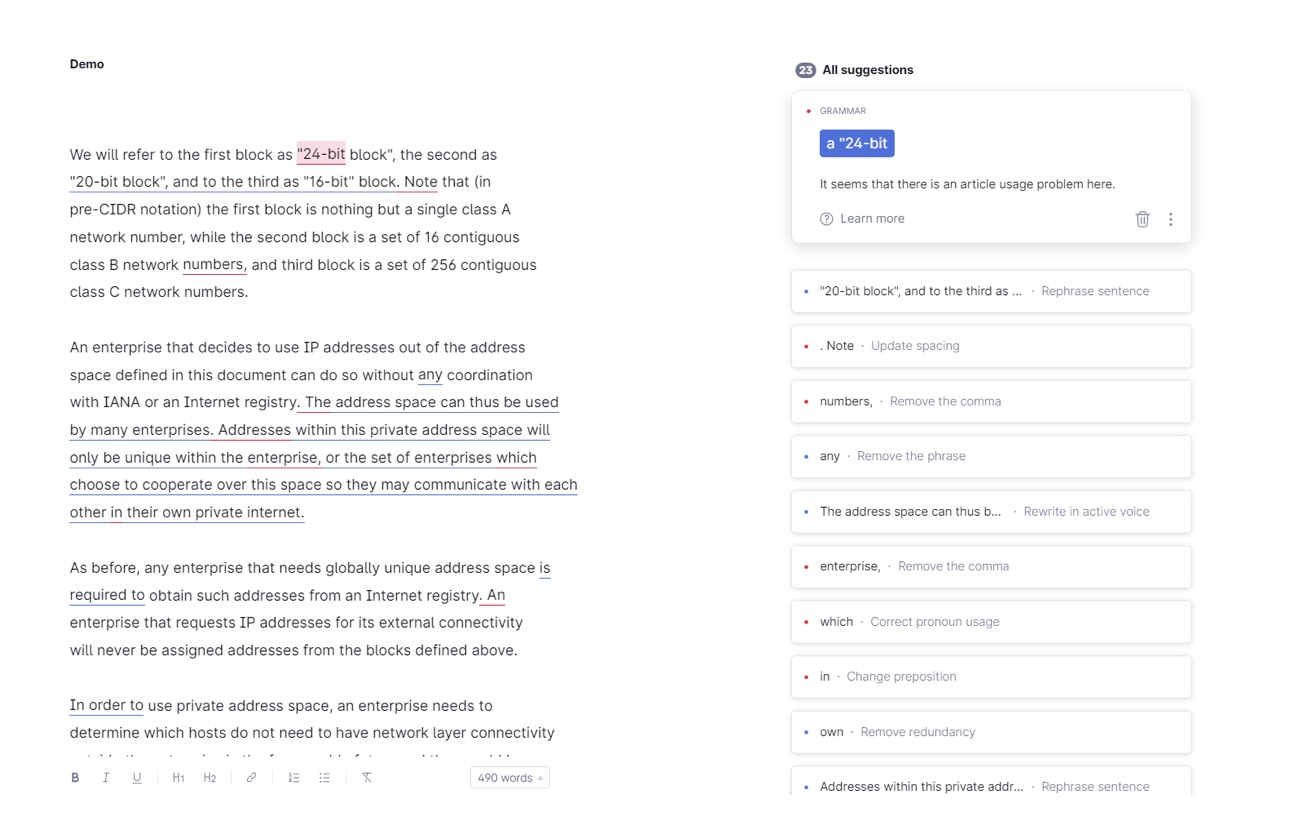 Grammarly Business
If you're an agency owner or a business that focuses on collaboration and brand tones, consider the business plan on Grammarly. 
The business plan gives you more goodies like:
Collaboration
Analytics
Snippets, and
Style guides
The collaboration feature allows you to add team members—writers, editors, formatters—to your Grammarly account. 
Once you've added the members, you can use Grammarly Analytics to get insights into your team's activity. It also gives you an overview of communication, a usage summary, Grammarly suggestions, and the tones used by your team members.
Then, you've got snippets. Snippets are essentially phrases that you use very often in your business. 
For instance, say you're launching a new product. Chances are that you'll have to repeat yourself as you start getting product inquiries. But with snippets, you can skip the mundane, repetitive task and streamline your enterprise comms, while still staying on-brand. Neat, huh?
Your business likely has a specific tone of voice, formatting standards, and structure for communications. Grammarly will use its AI-powered algorithm to try and make suggestions to get you back on track if your writing sounds off-brand using its Style Guide feature. 
The Business plan truly is a polished version of Grammarly that goes a step further than its competitors like ProWritingAid.
The business plan is Grammarly's top-of-line, but here's the good news: Grammarly provides a 7-day free trial for the business plan so you can try it out before spending any cash.
Grammarly Enterprise
The business plan in Grammarly can only support up to 149 team members. For more team members, you have to switch to Grammarly's Enterprise plan.
This plan includes all the features present in Grammarly Business. This plan supports unlimited team members and it has advanced security. It allows for domain authorization and bulk user management.
The enterprise plan also includes a dedicated customer success manager along with phone support during business hours.
Grammarly's Subscription Pricing
Premium Plan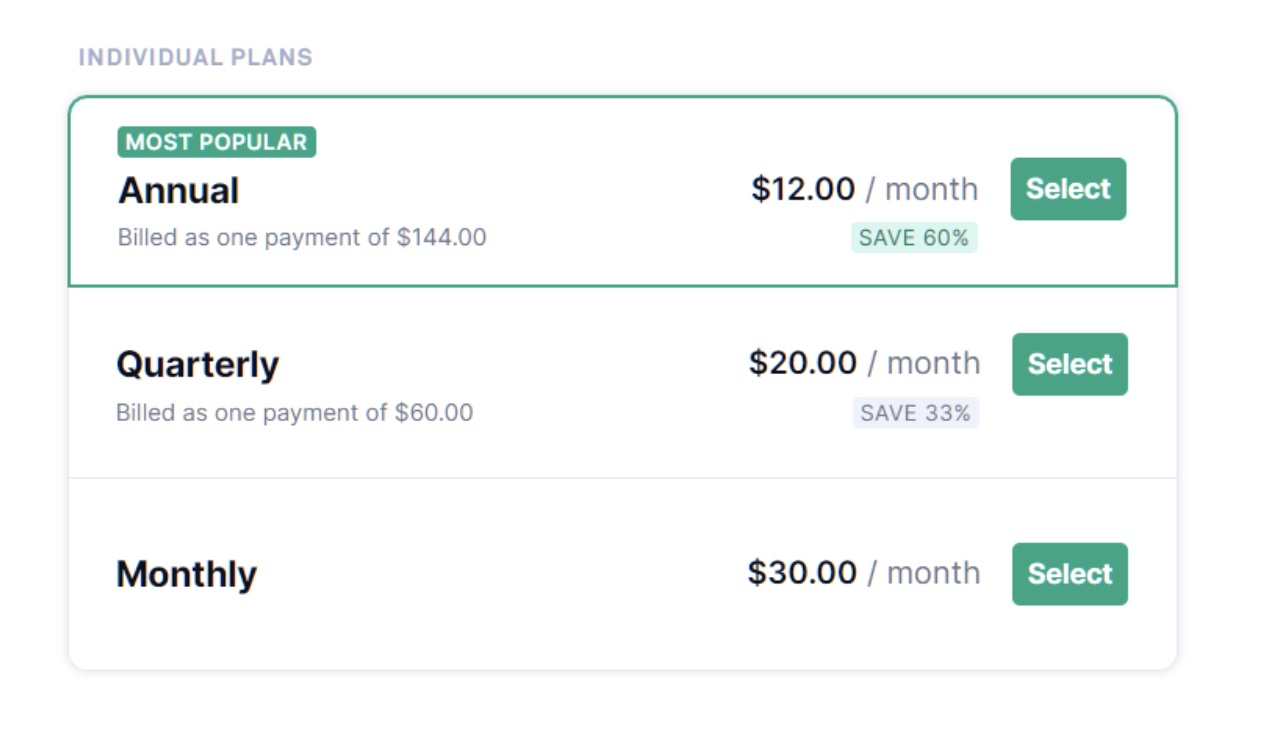 Business Plan
The Business plan's pricing depends on the number of team members and the duration of the subscription. 
However, there is no quarterly plan like in the premium plan—there's only the monthly and annual plan. You can choose up to 149 members. Note that you need a minimum of three members to sign up for the Business plan.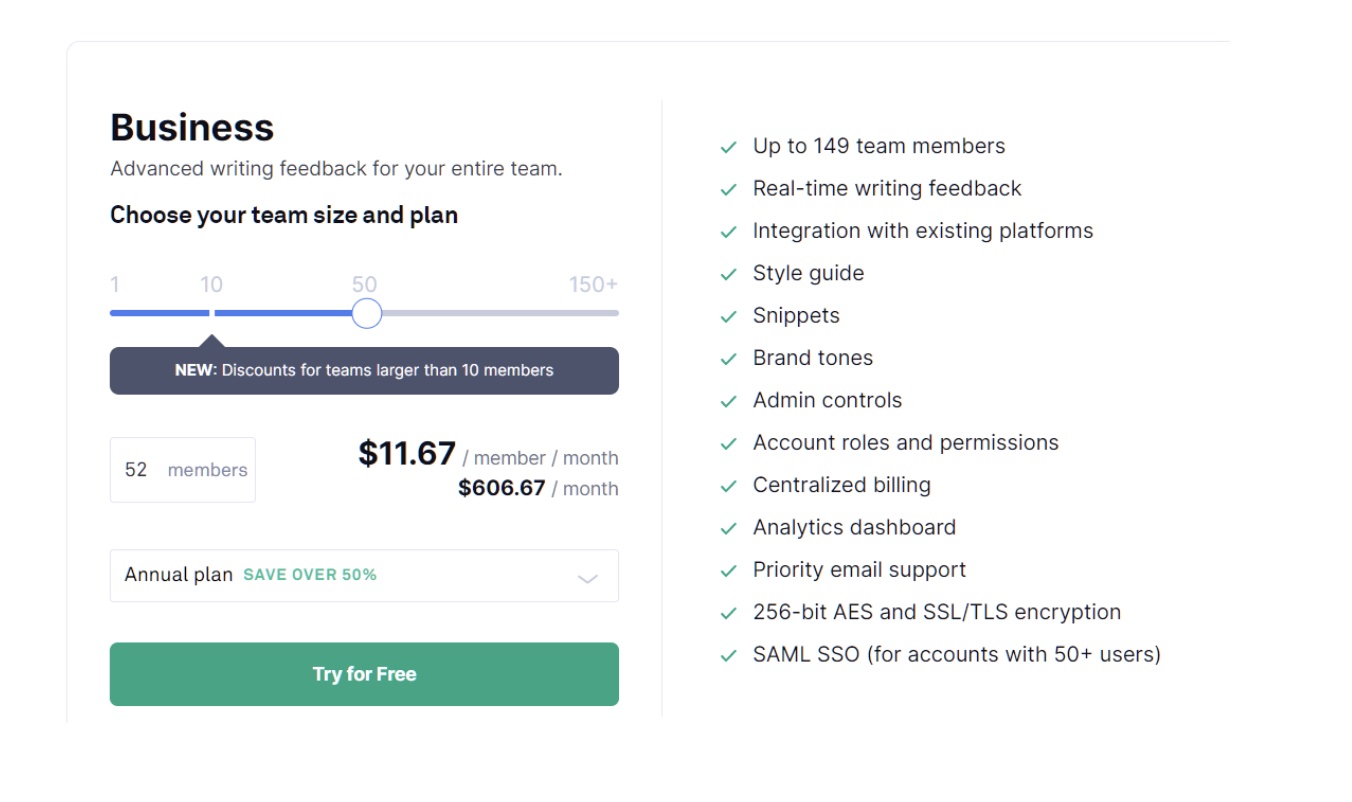 Enterprise Plan
If you need a plan for more than 149 members, you'll have to switch to the Enterprise plan of Grammarly. You'll need to contact them for custom pricing.

What Does Grammarly Offer?
In the web app or the desktop client, you can see the writing assistant at the extreme right of your screen. You can toggle the assistant by clicking START ASSISTANT to view at the writing assistant and you can click HIDE ASSISTANT to hide it. These are the following insights the Grammarly Writing Assistant has to offer.
Overall Score
The score for your text is the first thing you'll see. You can click on it to look at your performance. The first section is called Performance, and it contains the score for your writing. Grammarly looks at the correctness, clarity, engagement, and delivery of your writing to come up with an overall score

The second section is the Word Count section, which contains the number of characters, words, sentences, approximate speaking and reading time.

The next section is called Readability which compares your text to other Grammarly users and scores you based on that. Shorter sentences and smaller words bring your score up because it improves readability. The higher the readability score, the easier your text is to read.

The final section is the Vocabulary section. It compares your vocabulary with other Grammarly users and scores you based on that. This section isn't helpful for every user out there, but if you're writing fiction or similar genres, this section will come in handy.

You can download the entire report as well. To do this, click DOWNLOAD PDF REPORT present at the bottom of the dialog box. At the bottom, you'll also see an option to DOWNLOAD PDF REPORT.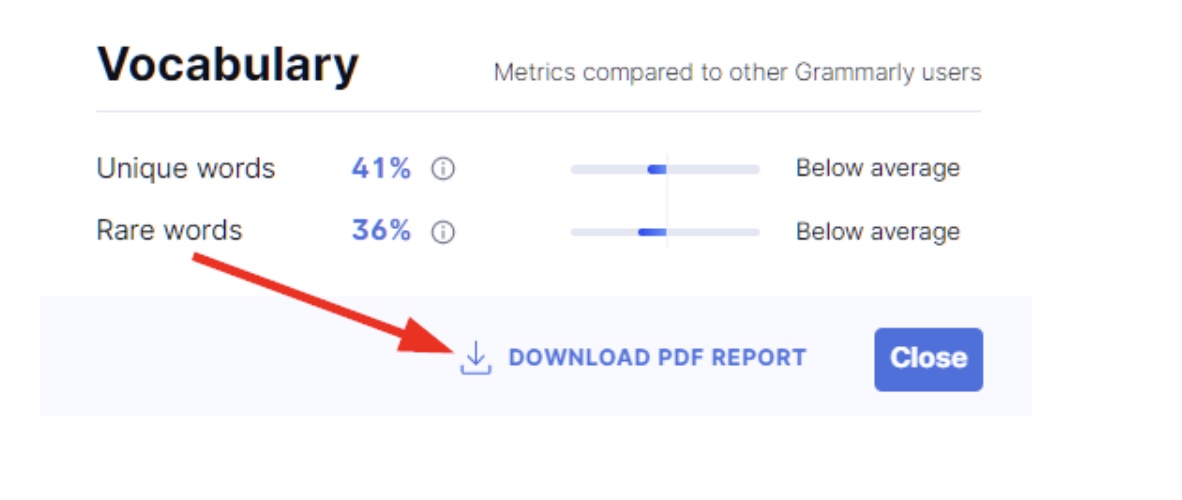 The PDF report will contain a summary of the three sections along with Grammarly suggestions, if any were left unresolved. It will also contain details about plagiarism if you have a Premium or Business account. 
Goals
The Goals feature allows you to instruct Grammarly about the audience and domain you're writing for, preferred tone of voice and formality, and the intent of your writing. Grammarly will use this information to provide more tailored suggestions. 
In most cases, the feature seems to work well, though it does go overboard sometimes and makes inaccurate suggestions.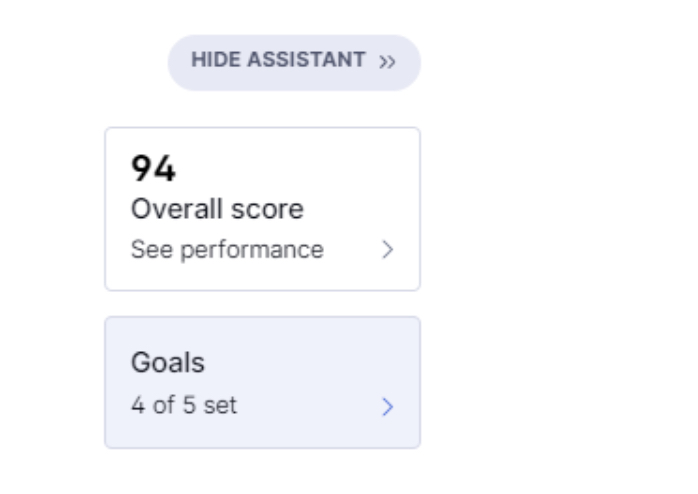 However, you can always ignore suggestions you believe aren't accurate. There's no downside to using it. 
So, if you want to use the Goals feature, click on Goals to open the Set goals dialog box. You can set goals regarding how you want your text to come across to your readers. You can set goals for Audience, Formality, Domain, Tone, and Intent. 
Note that Domain is only available to Premium and Business plan users.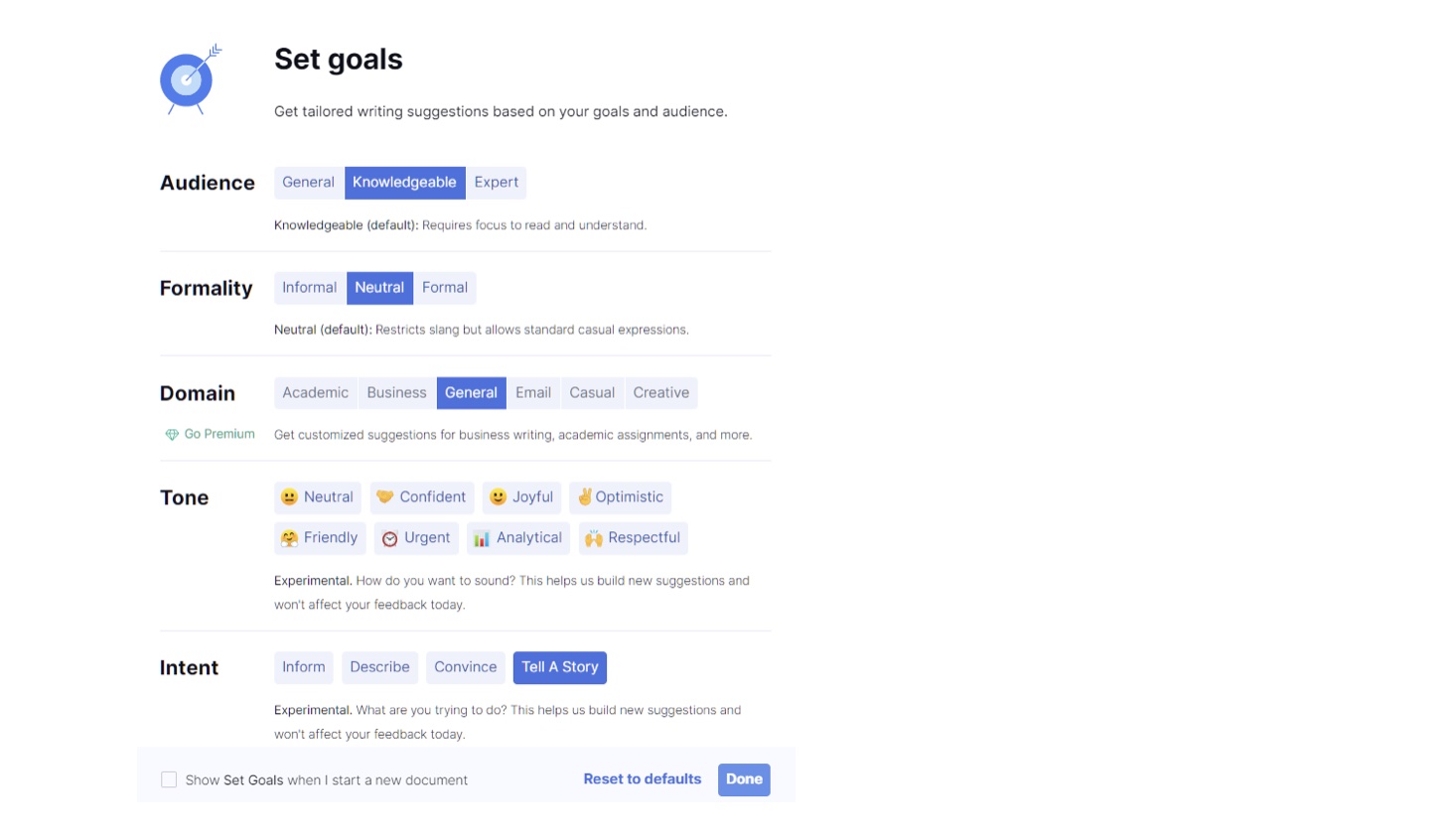 Suggestions
Every time you type in Grammarly, it gives you suggestions. The suggestions are categorized as Correctness, Clarity, Engagement, and Delivery. This is available for all users. 
However, advanced suggestions are only available to Premium and Business plan users, while style guide suggestions are available only to the Grammarly Business plan users.
Correctness
Correctness checks for grammar, spelling, and punctuations. These types of suggestions are indicated by underlining the text in red.
Clarity
Clarity helps to make your writing easy to understand. It includes different word suggestions, phrasal suggestions, and passive to active voice suggestions.These types of suggestions are indicated by underlining the text in blue.
Engagement
Engagement helps make your writing more interesting and effective. It gives suggestions or alternate words for overused words. These types of suggestions are indicated by underlining the text in green.
Delivery
Delivery helps you deliver your content effectively and make the right impression on your reader. These types of suggestions are indicated by underlining the text in purple.
Style Guide
Style Guide ensures you adhere to your organization's writing guidelines. These types of suggestions are indicated by underlining the text in gray. Note that this feature is available only on the Grammarly Business plan.
Get Expert Writing Help
The Expert Help option is available only on Grammarly Premium and Business plan.
No matter what type of tool you use, you'll still need some expert help every once in a while. Grammarly provides you with a team of writing experts that you can consult with when you believe your writing is too complex to be optimized by a tool. 
The pricing is dependent on the type of help that you require and how soon you need it.
The price is lower for "corrections only" help. You can choose between 30 minutes, 24 hours, and 3 days. This type of help only checks for spelling, grammar, and punctuations.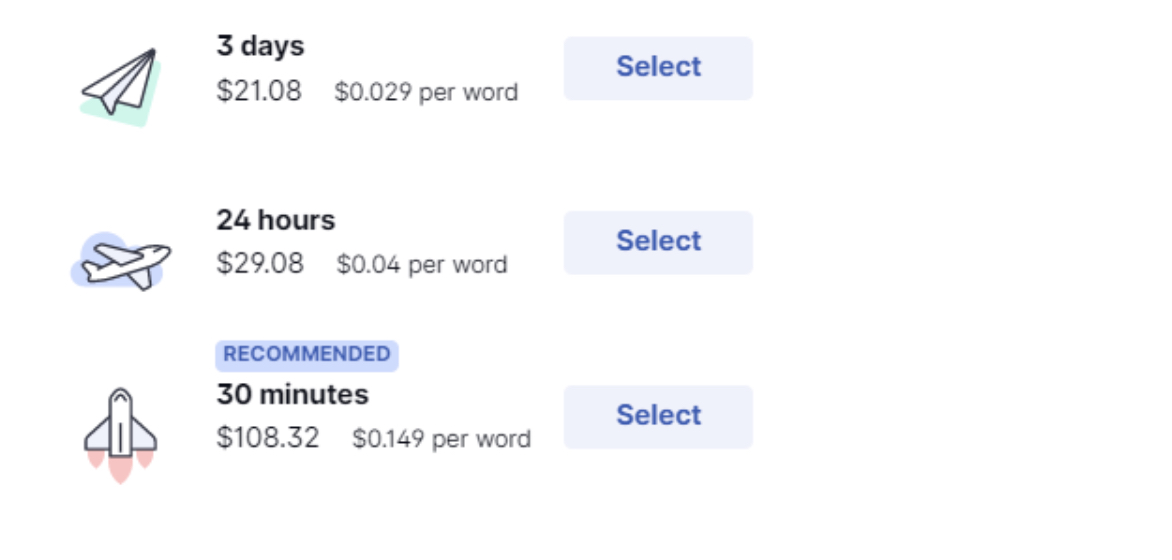 You can also get corrections and clarity help to have the team check for spelling, grammar, and punctuation, streamline wordy sentences, clarify vague sentences, and increase readability by making sentences easier to follow.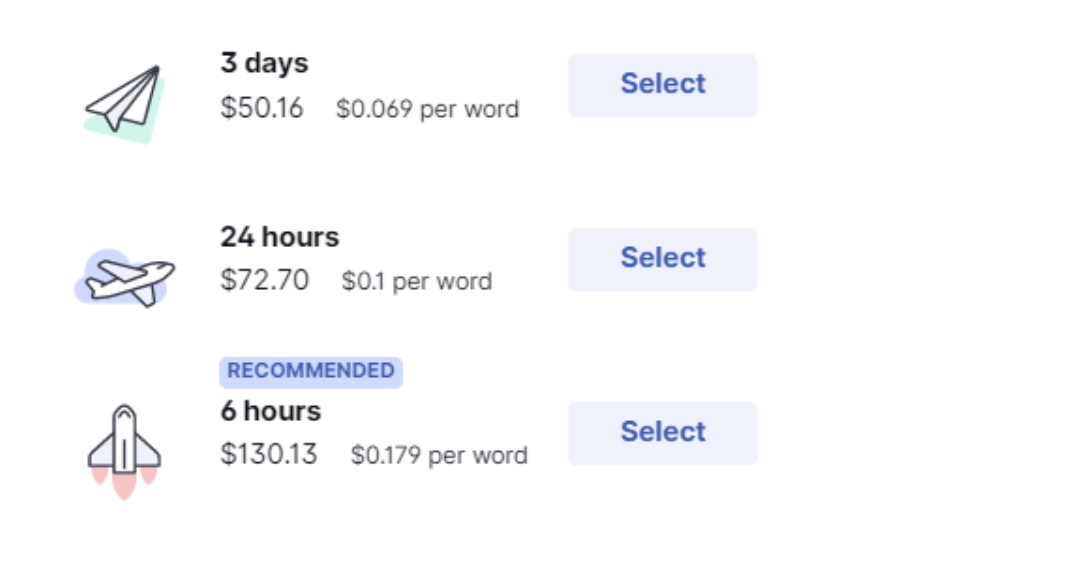 Plagiarism Checker
The plagiarism checker is also available only on the Grammarly Premium and Business plan. Just click Plagiarism present at the bottom of the writing assistant.


You can see the percentage of plagiarism in your text and the references where the plagiarism checker found matching text. 
Grammarly will underline the text found as plagiarized in green. You can click one and select the gray highlighted area to copy the reference.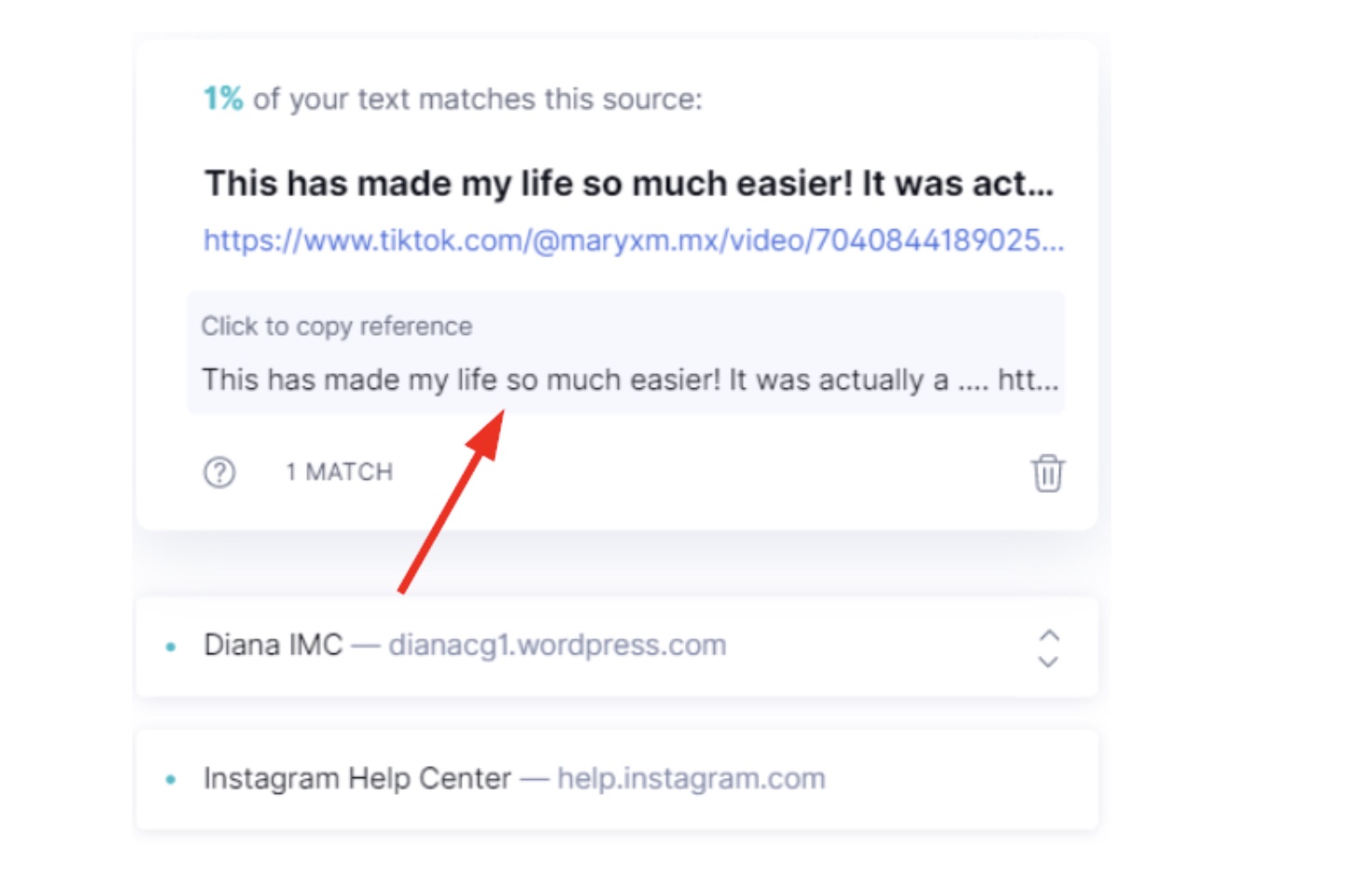 Grammarly vs. Other Editors
Grammarly vs. ProWritingAid
Grammarly makes the entire writing experience seamless with its intuitive and non-intrusive design whereas ProWritingAid pours a ton of options right off the bat when you open it. This can be incredibly overwhelming for new users.
Grammarly keeps track of the word count as I write. ProWritingAid doesn't give you a word count in real-time, and that's a major drawback. When you copy-paste a text to Grammarly, it retains your formatting, whereas ProWritingAid doesn't.
You can use Grammarly as a web application, desktop application, mobile application, chrome extension, or an add-in for free. ProWritingAid's web interface is for free, but you need to pay for other integrations. 
ProWritingAid is better if you're looking for something with a lower price tag, though. However, the best part is that ProWritingAid has a lifetime plan, while Grammarly doesn't. This can be a major drawback for some people.
Grammarly vs. Hemmingway
Hemingway editor is free, but it's still got a lot going for it. It checks your writing for adverbs, passive voices, and hard-to-read phrases and sentences. However, Grammarly goes a step further.
Overall, Grammarly focuses on correctness, clarity, engagement, and delivery. Grammarly can also detect the tone of your writing. This is absent in the Hemmingway editor. 
Hemingway editor can only be accessed via its web application whereas you can use Grammarly via their web interface, desktop client, add-in, and chrome extension?all for free. 
Grammarly vs. Ginger
Ginger doesn't have a web application like the other editing apps. This means you need to download Ginger to use it.
Grammarly's interface is much cleaner and easier to use compared to Ginger. Unlike Grammarly, Ginger doesn't retain formatting. It also doesn't show suggestions real-time. 
Once your text is in the editor, you have to select the Check button after which the corrections are automatically applied to your text. This takes away your ability to pick and choose from the editor's suggestions.
Is Grammarly Premium Worth It?
Grammarly is a powerful writing assistant and it's constantly evolving with better features over time. So, if you're someone who writes a lot of content, emails, or communications, Grammarly's Premium plan might be a good investment. Its sleek interface, plagiarism checker, and accurate suggestions will help you keep grammar nazis away and produce error-free, concise, and engaging content. 
The Bottom Line
If you're someone who writes or blogs frequently, Grammarly can be your best friend. Its ability to correct grammar, spelling, and punctuation mistakes is incredible. Grammarly is definitely the cream of the crop with its intelligent AI and a sleek interface.