Dubai World Trade Centre (DWTC) today revealed that GITEX Technology Week 2013 is poised to become the most comprehensive edition yet in the event's history. Running under the theme "Lets Create, Disrupt and Re-imagine Together", the 33rd edition of GITEX Technology Week 2013 runs from October 20-24 at DWTC, with Dubai Internet City (DIC) a strategic partner.
The event organiser's optimism comes as the local IT market continues to go from strength to strength; the latest forecast by Gartner suggests that IT spend in the Middle East will hit USD 192.9 billion in 2013, up 5.5% from last year.
DWTC also stated that GITEX Technology Week's reputation for shaping the Middle East Africa and South Asia (MEASA) region's Information and Communication Technology (ICT) agenda is largely attributable to an enduring ability to deliver unbeatable industry insights and strong returns on investment (ROI).
Now firmly established as MEASA's top ICT event – and one of the most influential in the world – GITEX Technology Week attracted 139,000 ICT professionals from 144 countries last year. 80% of world's leading ICT brands were present.
The 2012 show's "Where Technology Means Business" tagline proved apt, with 61% of C-Level Executive visitors boasting procurement budgets of over USD 5 million while 18% had budgets between USD1 million and USD5 million, 13% were prepared to spend USD 500,000 and 8% had up to USD500,000. The average deal struck at GITEX 2012 either met or exceeded ROI expectations.
With 95% of exhibitors planning to return this year, and a host of newcomers from across the world already signed up, Trixee Loh, Senior Vice President at Dubai World Trade Centre, believes GITEX Technology Week 2013 has what it takes to outdo 2012's landmark performance.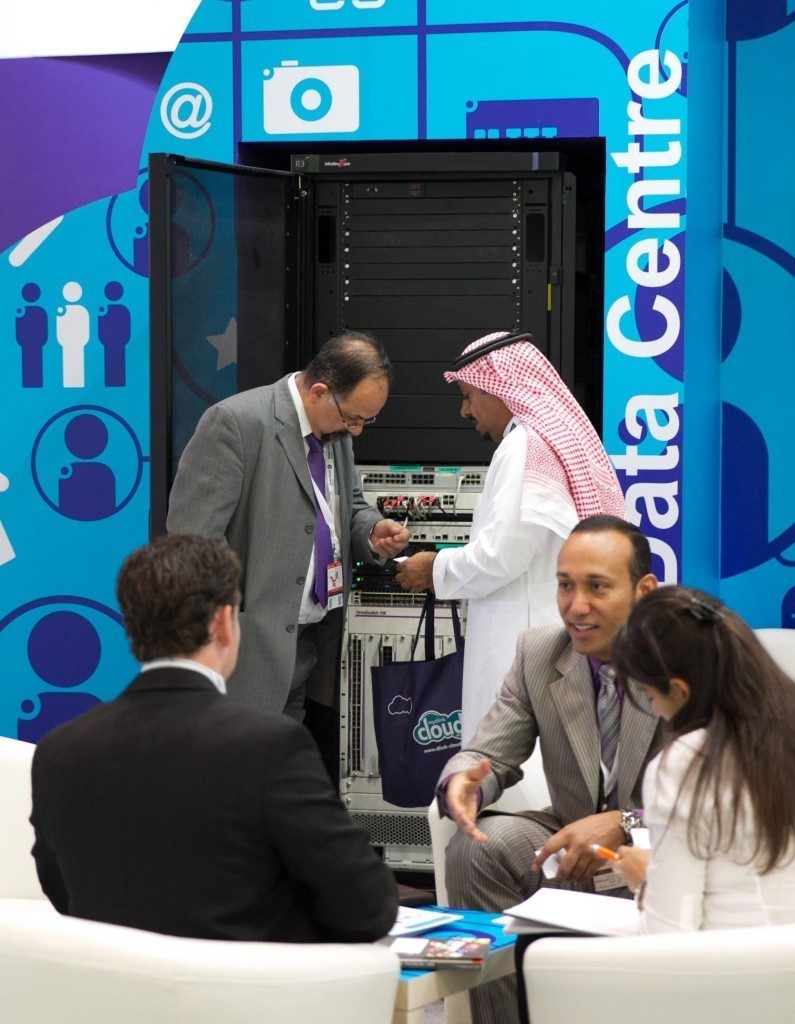 "This year, we have done everything we can to give GITEX Technology Week a new edge and relevance. Among other things, we're ramping up our international reach, introducing incisive, trend-dissecting features like the Big Data Conference, as well as proactively unearthing and celebrating new talent through a series of competitions. We're also proudly hosting new events of global stature like InfoComm MEA and the GSMA Mobile 360 series, once again emphasising our ability to attract the world's top technology game-changers. The buzz surrounding GITEX Technology Week 2013 has already begun, and I am confident that all the pieces are in place for this year's theme of creation, disruption and re-imagination to leave a lasting legacy that we can continue to build on well into the future."
[blockquote right="pull-right"]-85% of last year's attendees said event met or exceeded ROI expectations- -IT spend in the Middle East sees annual growth of 5.5% to hit USD192.9 billion in 2013[/blockquote]
Abdel Wahed Bendaoua, Head of Enterprise, Emerging Markets – EMEA at Google, which is also participating as a Student Lab competition partner at GITEX 2013, said: "GITEX is an amazing place to meet most of our customers and prospects in a very short period of time. It is also an opportunity for us to showcase technologies supported by our partners. We have seen GITEX evolve year over year, and we are excited that it is now the top event of its kind in the MEASA region. We hope to welcome visitors interested to know about the latest in cloud technologies, enterprise search, geospatial technologies, and also to understand how our products such as Chromebook are changing the way we use the Internet. We are also proud to be involved with the GITEX Student Lab. GITEX Technology Week 2013 will certainly be a busy week for us, as we seek to further educate the market and generally move the needle in the local ICT industry."
Jay Srage, SVP, Qualcomm Technologies Inc., and President of Middle East, Africa and South East Asia Pacific, Qualcomm, said:
"As the world leader in 3G, 4G and next-generation wireless technologies, Qualcomm Incorporated continues to redefine computing and drive the evolution of new devices and experiences that transform users' lives. With the UAE as a self-established tech hub for the region, GITEX Technology Week 2013 is a superb platform for us to demonstrate Qualcomm's latest innovations. We are delighted to participate in the exhibition this year to showcase our best-in-class Qualcomm Snapdragon processors, Qualcomm Vuforia, the Alljoyn platform, and much more."
New at GITEX Technology Week 2013
 To enhance GITEX Technology Week's ability to deliver both ROI and insight, this year's event is structured around three comprehensively defined segments. GITEX WORLD encompasses 12 dedicated sector-based industry platforms; GITEX EDGE features a range of new competitions, networking and knowledge-sharing forums; and GITEX TRENDS addresses some of the most pressing ICT issues on the planet.
While Big Data featured heavily last year, its relentless growth and business impact has prompted GITEX Technology Week to devise a stand-alone session to dissect and discuss this hottest of topics. Taking place on October 22, the Big Data Conference has been explicitly designed to help CIOs cope with the data deluge, arm their organisations with the ability to mine it for strategic advantage and, crucially, convert what is ostensibly a big challenge into a big business opportunity.
This year, all GITEX Technology Week conferences will feature opening keynotes to enhance c-level discussions and offer a forum for a dedicated c-level agenda.
A new exposure-enhancing and knowledge-sharing platform set to make an impression are the free to attend Smart Sessions. A dedicated theatre will provide a powerful showcase for anyone with innovative solutions and insight. Featured activities include panel debates, discussions and interactive presentations. Smart Session topics include mobile apps solution trends, SME entrepreneurship, cyber security, social media and cyber security.
Another new addition is the gsmExchange TradeZone, the world's largest online trading platform for the Mobile Phone Distribution industry. gsmExchange will host 28 co-exhibitors from all over the world, who are recognised as leading distributors in their regions. The area will also host some of the largest national distributors to facilitate local businesses looking to expand their network with a diverse range of suppliers or buyers. It will provide a focal point for distribution professionals to network and business develop in an exclusive trading environment.
Great anticipation is also mounting for GITEX Technology Week's co-located GSMA Mobile 360 Series, a new regional conference series for executives in the mobile industry, as well as key regulatory and government representatives. The new thought-leadership conferences, which are coming to the Middle East for the first time, will complement those that are run as part of larger GSMA events such as the Mobile World Congress, Mobile Asia Expo and NFC & Mobile Money Summit, and will explore key mobile industry trends and issues on a regional basis.
GITEX Technology Week is also set to up the competitive ante this year with a series of awards to recognise innovation in the industry. The Cloud Awards will celebrate excellence and recognise cloud computing's contribution to the business community, while the GITEX Hot Stuff Awards is set to be the largest consumer electronics gadget event in the region.  Entries for the latter will be pared down to a field of ten that will compete for what is set to be coveted title, as voted for by a panel of expert judges and the general public.
Adding to the constructive competitive spirit is the Student Lab competition, which is sponsored by the Ministry of Presidential Affairs (MoPA) and held in association with Google. Attracting students from leading regional universities, the competition provides a platform to recognise and promote ICT leaders of the future. Come 1 September 2013, 10 finalists will be selected by a jury committee and the best projects will be presented to representatives from leading ICT companies across the globe.
Sponsored by Lincoln, which is also the provider of the event's Official Technology Car, the new Content Hub will provide an exciting world of live newsfeeds, social media alerts, interviews, breaking news and industry updates under one platform. It will also feature country-specific bloggers and serve as one-stop-shop for multi-platform media collaboration, as well as a powerful aggregator of real-time GITEX Technology Week news and views. As part of its commitment to GITEX Technology Week, Lincoln will be organising a raffle wherein the lucky winner can drive away in a brand new car.
Growing international magnetism
 As ever, GITEX Technology Week aims to increase its numbers of international visitors and exhibitors. Last year 19% of visitors hailed from Africa, 13% from the Americas, 4% from East and South Asia and 4% from Europe. DWTC hopes to improve on that showing through initiatives such as its burgeoning Africa in Focus programme. GITEX's growing global reach will be in further evidence at the expanded Business Solutions. Now in its second year, the dedicated showcase gives more than 40 specific country groups the chance to present their most innovative technology products and seek profitable cross-border sales and collaboration. This year's GITEX Technology Week Official Country Partner is Serbia. The partnership will boost trade links with Serbia and increase the presence of the country's many promising ICT companies at the event.
Game changing conferences
 Joining Big Data Conference, sponsored by Commvault and Huawei, on GITEX Technology Week's conference program is the well-established Cloud Confex, the largest and most influential event of its kind in the Middle East. On 22 October, leading experts will chronicle how and why cloud has moved from hype to mainstream, as technological bottlenecks disappear and business mindsets continue to change. Sponsored by Etisalat and F5, this year's Cloud Confex, is bolstered by the aforementioned Cloud Awards and an intensive two-day Cloud Governance, Risk and Compliance Workshop (23 and 24 October). The latter will be led by renowned cloud guru Peter HJ van Eijk, an in-demand writer, speaker and trainer (he is a master trainer for the Cloud Essentials course and a Cloud Credential Council Certified Trainer).
Also returning by popular demand is the Digital Strategies Forum on 23 October, which will discuss how the rules of business are being exploded and the complexities of coping with a new, consumer-empowered era. Sponsored by Gemalto, the Digital Strategies Forum will examine how mobile, social networks, big data, and emerging customer touch points are changing the way enterprises and brands engage with customers, and will provide attendees with a roadmap on how best to exploit revenue opportunities opened up by the digital revolution.
Confirmed GITEX Technology Week conference speakers to date include Terry Kane, Head of Digital Strategy, Jumeirah Group; Fayyaz Alam, VP, Emirates Group IT; Saeid Hejazi, CEO, Wally; Zubair Ahmed, VP and Head of IT, Emirates Islamic Bank; and Ahmed El Rayes, Founder and CEO, Gamfield Labs.
 Enhanced industry sector focus
 As well as bolstering GITEX Technology Week 2013 with new features, DWTC has pulled out the stops to enhance its existing industry sectors (GITEX WORLD).
The Network and Security Sector is looking forward to welcoming the world's top names dealing with biometric technologies, anti-virus/anti-spam solutions, security tools and services. Top of the agenda will be the region's ever-increasing vulnerability to cyber-attacks. Last year's Norton Cybercrime Report found that more than 1.5 million people in the UAE alone were affected by cybercrime in the past 12 months, resulting inDh1.039 billion in direct financial losses.  The report also found that 31 per cent adults in the UAE were victims of social or mobile cybercrime in the past twelve months compared to 21 per cent globally.
With the smart card revolution continuing apace, retail banks, telecom operators, governments and large corporations alike are eagerly anticipating GITEX Card Technology, which has been updated to tackle everything from Near Field Communication to Radio Frequency Identification (RFID) and beyond.
GITEX Consumer Tech, meanwhile, brings its customary dazzling line-up of entertainment and leisure hardware, software and accessories. Highlights will include software, gaming accessories, headphones, MP3 and MP4 players, streaming video, and video management solutions. Additional excitement is expected this year with the GITEX Hot Stuff Awards taking place.
As the trade event with the highest government participation in the region, GITEX Technology Week has high hopes forGovernment Sector, which will be packed with ministries, regulatory authorities, free zones and CERTs from the Middle East region.
As usual, mobility is likely to prove a big draw. The Qualcomm-sponsored GITEX Mobile, Apps & Content World is now the Middle East's most successful event of its kind, connecting key players and educating attendees on the latest industry developments through forums such as the increasingly popular Mobile App Debates.
Further telecommunications insights can be gleaned at the TRA-endorsed GulfComms, where representatives and thought leaders ranging from product infrastructure manufacturers and call centres to B2B Voice over Internet Protocol (VoIP) systems, systems integrators and beyond will brainstorm the region's communicatory future.
In addition to the GSMA Mobile 360 Series, GITEX Technology Week is delighted to welcome InfoComm MEA for the third successive year. The event assembles the widest range of audio visual (AV) systems and technologies found in hospitality, retail, architecture, entertainment, broadcast, corporate IT, or government sectors like transportation, education, healthcare and defence in the region.
A better way to network
2013 GITEX attendees will once again benefit from ConneXions, an event-specific virtual community inspired by the interface of social media applications. Users can browse profiles of visitors and exhibitors online, set appointments, manage personal diaries and create matches with the best potential clients, all before arriving at the show. On-site, ConneXions kiosks and staff will assist visitors to find the right products, services and exhibitors for their business needs.
Other creative networking features include the Midis Group-sponsored C-level Majlis Programme which will continue to provide c-level executives the chance to network with like minded peers.