Chrome OS Flex is the successor to Neverware's CloudReady operating system, which brings Chrome OS to nearly any old Mac or PC. CloudReady and Chrome OS Flex, like standard Chrome OS, are built on Chromium OS, Google's open-source desktop operating system. However, unlike CloudReady, which bypassed every previous version of Chromium OS due to the additional development overhead of forking the open-source project, Chrome OS Flex will receive updates as quickly as normal Chromebooks – a significant improvement over its predecessor.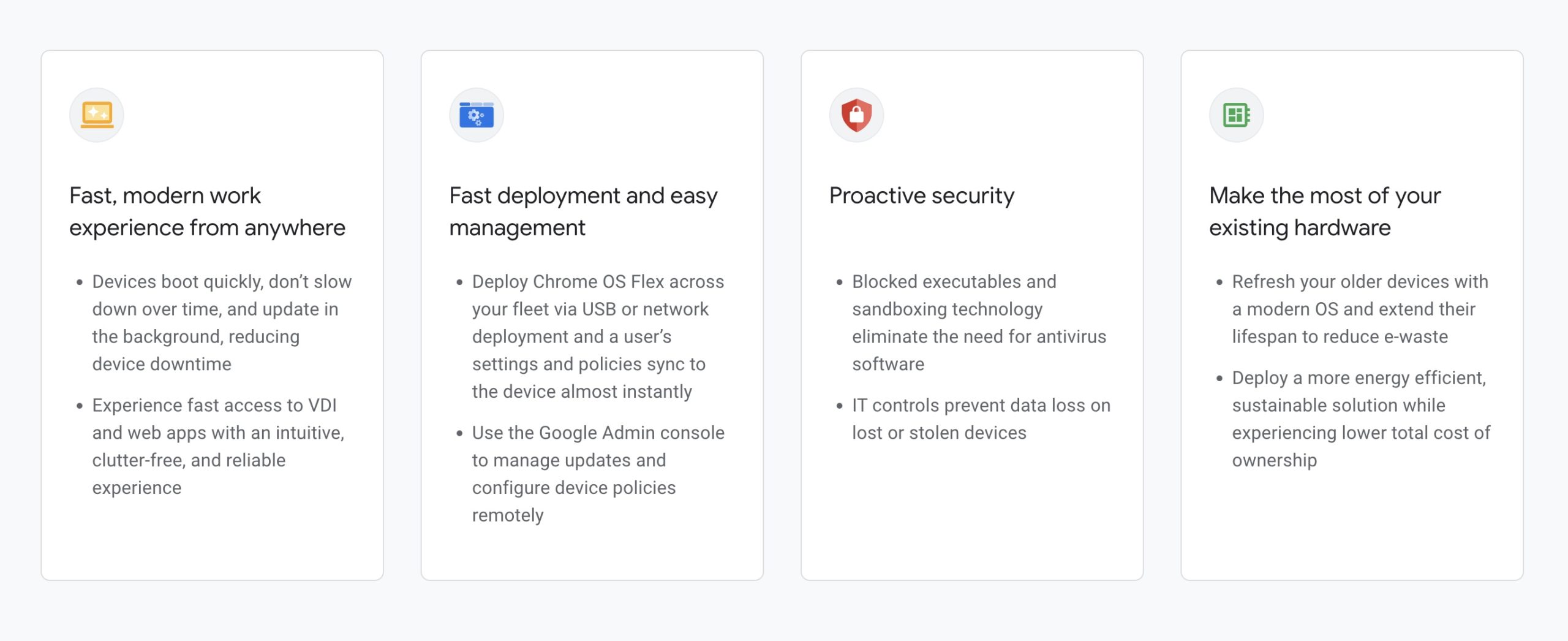 Chrome OS Flex can accomplish practically everything the conventional edition of Chrome OS does. The Chrome browser is prominent, allowing you to access the web in a lightweight and secure operating system environment. You'll be hard-pressed to find any computer-breaking infections due to the absence of native program support, which is usually what allows the malware to do the most damage. Despite the lack of native apps, you can use all of your favorite web apps, such as Gmail, Google Drive, Microsoft Office Online, and a plethora of other wonderful productivity tools.
How does Chrome OS Flex stack up against the regular version of Chrome OS?
Chrome OS Flex and normal Chrome OS have some significant differences. Most notably, Flex lacks native support for Android apps. However, just like on ordinary Chrome OS, it will be possible in the future to mirror your Pixel phone's screen for Android app access. And you can already use Phone Hub to its full potential right now. Chrome OS Flex, unlike CloudReady, is capable of running Google Assistant.
Another significant distinction between Chrome OS Flex and Chrome OS is the relative absence of Linux app support. While Linux for normal Chrome OS has only recently passed beta, it is still labeled as experimental on Chrome OS Flex, and certain older laptops lack the necessary hardware to run Linux virtualization. Chrome OS Flex is genuinely more like previous Chromebooks — cloud-first laptops that rely nearly entirely on online technology.
Chrome OS Flex only works with Intel and AMD processors. Computers with ARM chipsets will be excluded from the Chromebook-like experience, leaving Microsoft's Surface Pro X and the latest M1 Macs in the cold. This may change in the future, but for the time being, most ARM machines are fresh and capable of running their original operating systems just fine.
Chrome OS Flex does not support a few ports and functionalities, which may not function properly or at all in the worst-case situation. CD and DVD drives, fingerprint readers, FireWire ports, infrared and facial recognition cameras, Thunderbolt, and styluses or other pen peripherals are all potentially affected components and ports.
Google is also working on a list of officially supported Chrome OS Flex devices, complete with information on which features will and will not work. However, whether you have officially certified hardware or not, Chrome OS Flex should work just fine in most circumstances. It's certainly simple enough to experiment with without committing to it.
Why you should consider using Chrome OS Flex
Chrome OS Flex is perhaps the simplest method to revitalize your old computer, whether it's running Windows or macOS. While traditional operating systems with full native application support are more powerful than Flex, they are also more demanding on hardware. After a certain age, they may just no longer run well enough to deliver a wonderful experience. Chrome OS Flex requires fewer resources because it is effectively just a glorified browser capable of running web apps (and, depending on your hardware, Linux software).
For many people, web apps are all they require on their home computers. When gaming, scripting, and creative pursuits like photography or videography are removed from the equation, a browser is all that is required to get by. A browser can be used to handle word processing, rudimentary picture editing, emailing, shopping, and even taxes. Many web services also provide an installation shortcut, which allows you to pin them to your taskbar and run them exactly like you would a native program.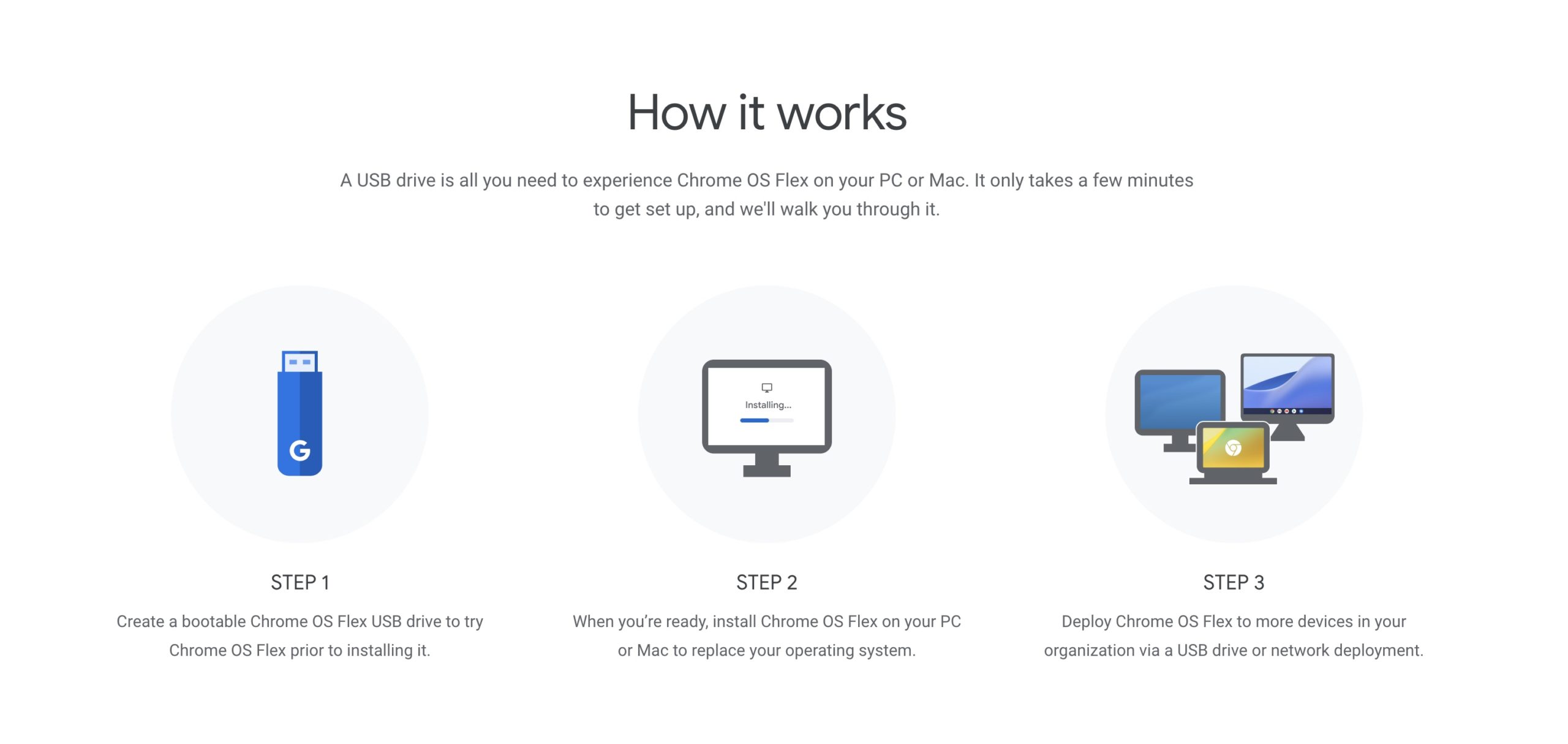 The technically minded would undoubtedly argue that you could install a lightweight Linux distribution on your PC, which is a wonderful solution for someone who is somewhat adept at diagnosing their machines. However, if you want a minimal-frills option that requires little to no maintenance and tweaking, Chrome OS Flex is the way to go. It's absolutely the way to go if you want to patch up a relative's or friend's computer, especially if they don't know much about it and only need it for online browsing.
Even if you're not persuaded that Chrome OS Flex is the perfect operating system for you, you may test it out on the computer you're currently using. Simply follow our instructions to make a bootable USB stick and test the OS directly from it. Chrome OS Flex may not be as fast as it will be once installed on your computer, but it's adequate for a first look. Dual-booting is not officially supported on Chrome OS Flex devices, thus once you've decided to install Chrome OS Flex, you must go all-in.
Conclusion
Chrome OS Flex is the most convenient way to repurpose your system without falling down the Linux rabbit hole. Chrome OS Flex also provides a functional experience straight out of the box, with all of your browsing data synchronized with the rest of your Chrome-friendly devices. With Chrome OS Flex now branded as a developer-focused preview, it may take some time to smooth out all the quirks, but once it reaches its stable version, there should be few to no complaints.