In the ever-evolving landscape of technology, even the seemingly humble form builders have undergone a significant transformation. We've come a long way from the days of grappling with code-based builders that demanded intricate coding skills. Today, crafting forms is as simple as a few clicks, thanks to the rise of no-code builders.
These form builders are the unsung heroes behind engaging and information-rich forms tailored for diverse purposes. Whether you're gathering external responses, constructing a database, or managing internal workflows, these tools have your back. The era of form creation has ushered in intuitive drag-and-drop form builders, with Google Forms leading the pack.
Google Forms, a household name in the form builder industry, is freely accessible to anyone with a Google account. It's a reliable choice for basic form building, equipped with features like conditional logic, a selection of templates, and various question types. What truly sets it apart is its robust analytics and reporting capabilities, presented in a user-friendly visual format. By seamlessly integrating your form with Google Sheets, you unlock a realm of powerful features.
In essence, Google Forms offers a straightforward interface with essential form-building functions, catering to individuals, professionals, freelancers, and small businesses. However, it's worth noting that it falls short in comparison to some of the top-tier online form builders. With limited template choices, minimal design options, and constrained payment integrations, it may not meet the demands of every user.
In this comprehensive guide, we'll introduce you to a curated selection of form builders tailored to specific needs. Whether you're a beginner crafting forms for educational projects or a seasoned professional designing data collection forms, our list has something for everyone. So, without further ado, let's explore the top alternatives to Google Forms that are shaping the future of form building.
Number 1. Jotform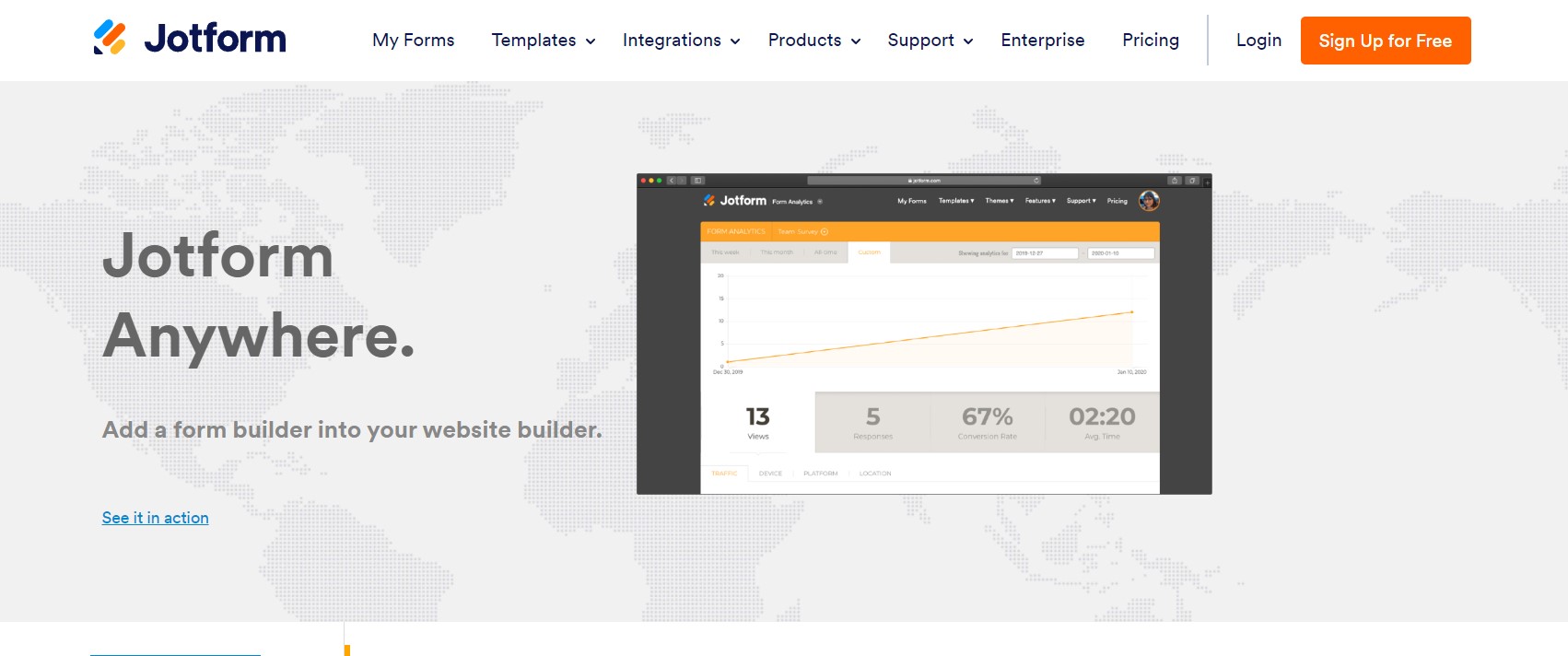 JotForm stands tall as the reigning champion among form builders, and for good reason. Its excellence is a result of a delightful combination: a user-friendly interface that simplifies form creation and a rich array of advanced features that cater to every conceivable need.
To kick things off, JotForm offers a staggering 10,000+ form templates, dwarfing Google Forms by a whopping 600-fold. These templates are thoughtfully organized into over 45 categories. Using them is a breeze; simply select a template and tweak it in JotForm's intuitive drag-and-drop editor. Adding elements couldn't be more straightforward.