Pros and Cons of Cloudways
| | |
| --- | --- |
| PROS | CONS |
| 3-day free trial | No domain options |
| 24*7 live chat support for all plans | Doesn't offer email options (only add-ons) |
| Flexible plans and pricing and pay as-you-go plans | No cPanel |
| Excellent performance |   |
| Free SSL certificates for all plans |   |
| 24*7 real-time monitoring with a smart-bot for real-time updates |   |
What Is Cloud Hosting?
If you want your website to be accessible for people on the internet, you need to host it. This essentially means you store all the files required for your website in storage space. 
Now, when the users type in the name of your website, they're essentially sending a request to download your website files from the storage space. As a response, users get the files of your website downloaded, which they can use to look at your website.
Cloud hosting is when the storage space is a cloud or a virtual server.
How Does Cloud Hosting Work?
Multiple physical servers are interconnected to create multiple virtual servers, which then combine to form a single virtual network that hosts your website. The data in your website and the tasks it has to perform are distributed among these virtual servers, creating an unlimited amount of resources available. 
How Is It Different From Web Hosting?
Web hosting is when the storage space is a single physical server. Cloud hosting is relatively new and is gaining popularity. However, web hosting has been around for several years, much before cloud hosting saw the light of the day. Below, you'll find some key differences between web hosting and cloud hosting.
Characteristic
Web Hosting
Cloud Hosting
Uptime
Uses a physical server. Any problem in that server would disrupt your website, increasing the chance of possible downtimes.

 

In comparison, this has excellent uptime because it has multiple physical servers, so if one server fails, another one kicks in.

 

Scalability
If you scale up your business and you need more resources, you need to change your plan or find a new service provider.
You can easily scale-up your resources without changing or restarting your server.
Cost
You pay for a predetermined amount of fixed resources.
You just pay for what you use.
Advantages Of Cloud Hosting
The excellent uptime, flexibility, scalability, and cost-effective pay-as-you-go model are some of the biggest advantages of cloud hosting. Apart from the security measures provided by web hosting providers like the automatic scanning for viruses and  SSL certificates, cloud hosting goes a step further by providing firewalls and advanced monitoring systems to protect your websites.
What Is Managed Cloud Hosting?
Like the name itself suggests, managed cloud hosting is when the hosting provider manages your platform to architect a solution ensuring scalability, security, compliance, backups, migration, customer support, etc. This is perfect for businesses without solid technical expertise or a robust in-house IT team.
Cloudways
Now that we've got all the technical jargon out of the way, let's take a look at Cloudways to see if it's the biggest bang for your buck.
Cloudways is a managed cloud hosting service provider with multiple choices for your application and server. The different applications you can use to build your website in Cloudways are WordPress, Magento, Laravel, PHP, and WooCommerce. There are multiple servers that you connect to. They are DigitalOcean, Linode, Vultr, Amazon AWS, and Google Cloud Platform. 
Cloudways also offers 24*7 customer support with automated backups and excellent security. Let's understand if Cloudways is worth your money by looking at some of the most important aspects that you look for in a good web hosting service provider.
User-friendly Interface
Let's first take a look at how easy it is for you to create a website and host it using Cloudways. 
If this is your first time and you're unsure if Cloudways is right for you, you can use their 3-day free trial. Here's the good news: you don't have to enter your credit card details to access their free trial. All you have to do is verify your email and phone number to access their 3-day free trial.
You first go to their website. Click on the START FREE button at the top-right corner of your screen. 

Fill in your details and click the START FREE button again to create your account. It's fairly easy and they don't bombard you with too many questions.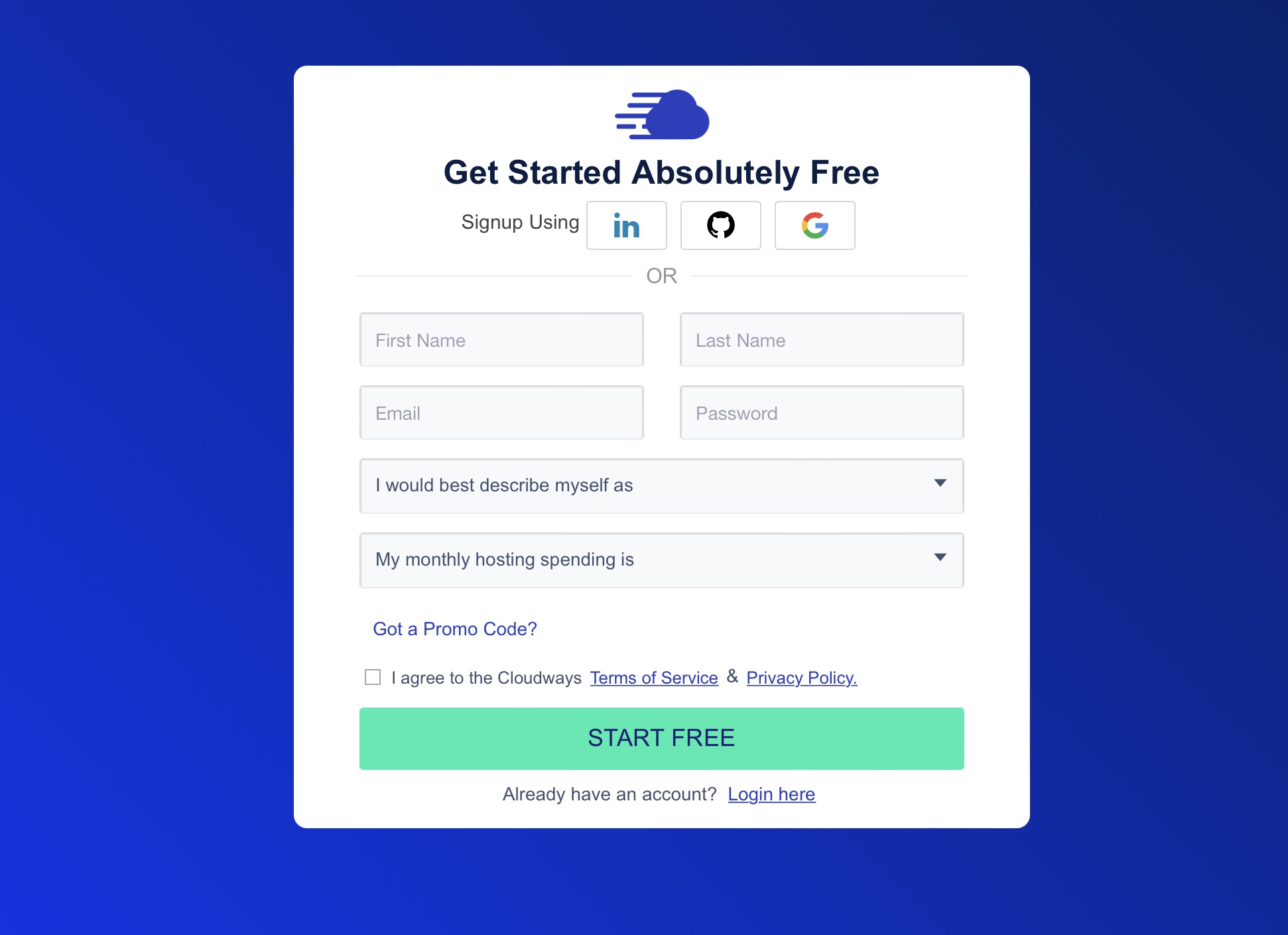 Now, check your email and activate your account by clicking the Activate Account button.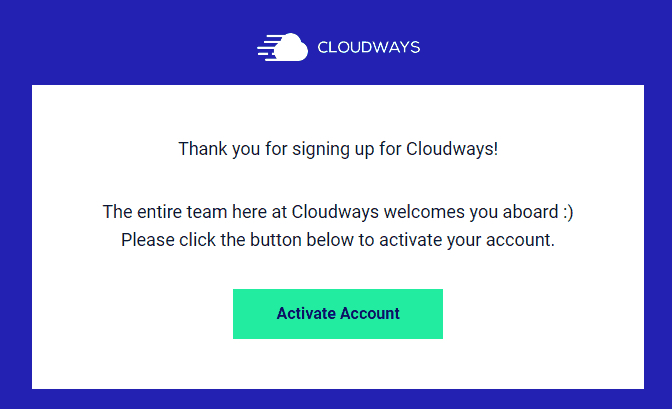 Once you've verified your email, you have to verify your phone number for a verified Cloudways account.

Enter your phone number and click on Send SMS. Clooudways will send you an OTP to your number. Enter the OTP and click on Verify to verify your Cloudways account. After you're in your verified Cloudways account, click on LAUNCH NOW.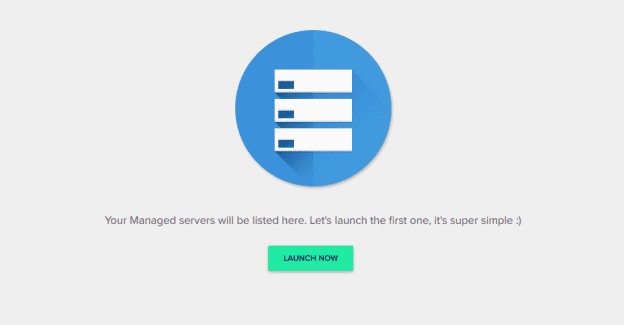 Now, you have to choose your Application from the options given in the dropdown—WordPress, Woocommerce, PHP, Laravel, and Magento. I'm choosing WordPress Version 5.8 for this demo, the default option. You then have to name your managed app and server. Finally, you have to name your project. Cloudways use their own custom dashboard rather than the popular cPanel. If you're already used to cPanel, it might take some time for you to become familiar with their dashboard. Nonetheless, it's pretty easy to use.

Next, you need to choose the server size and location. Choose a size suitable for you and the location closest to you.

Finally, click on LAUNCH NOW, present at the bottom-right of your screen. Now, wait for your server to be launched.

Once your server is created, you can go to APPLICATIONS by clicking the toggle.

Once you're in the Applications tab, you can click on your application name.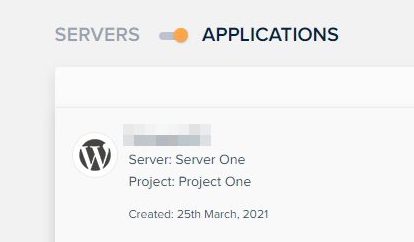 Under the Access Details section, you can find your wordpress credentials. Click on the Launch App Admin URL to open the wordpress login page. Enter your credentials to customize your WordPress site.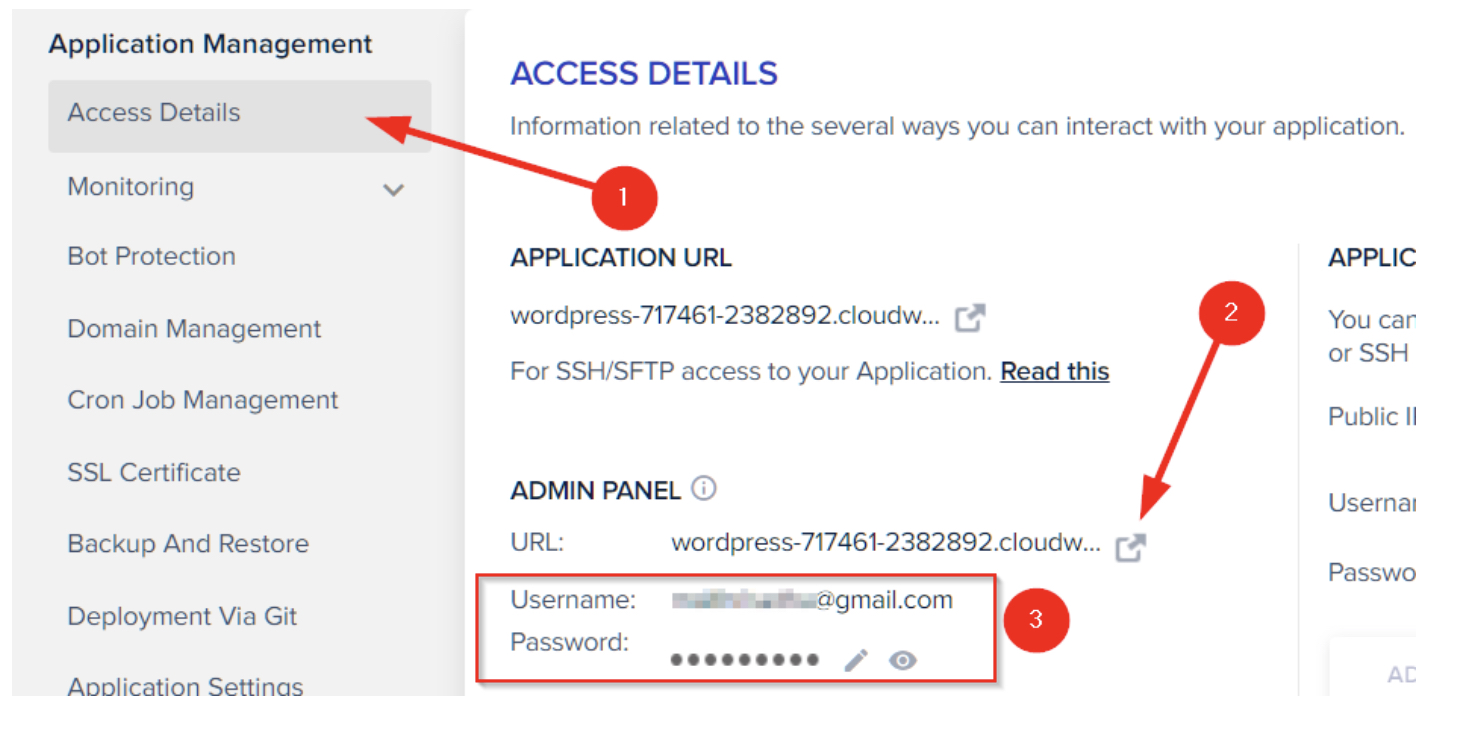 Customize your website on WordPress and click Publish to publish the changes you made.

Now, go back to Cloudways and click the Launch App icon to launch your website.

You can now look at your website.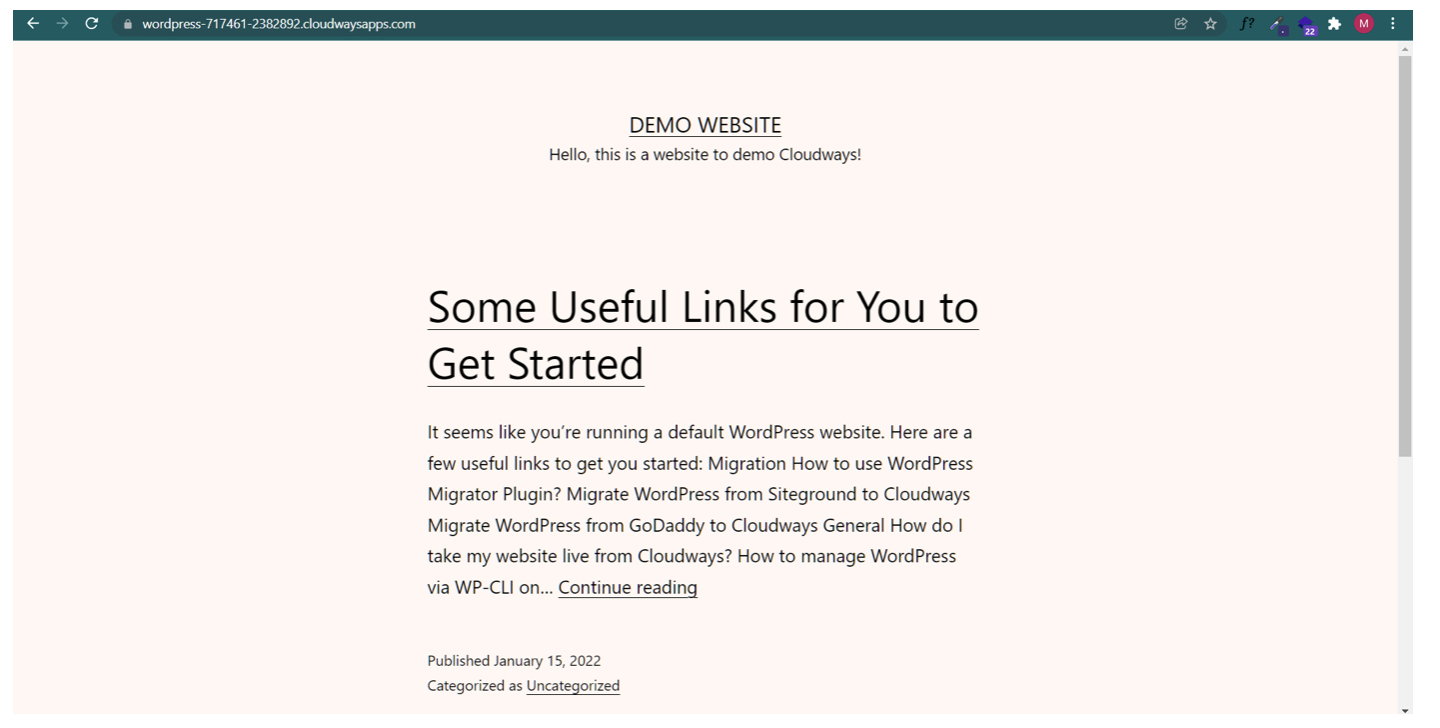 The entire process is fairly user-friendly. The user interface is intuitive making it easy for you to launch your server and application. Even someone with little or no technical expertise in hosting websites can quickly navigate through and launch the server on Cloudways. 
Domain and Email
You would've noticed that there are no domain registration or email options. You'll need to purchase an email add-on or register your new domain elsewhere and connect it to Cloudways because Cloudways doesn't provide them for you. The unavailability of these two options is a major drawback in Cloudways as you have to pay extra to get them from other sources.
Cloudways provides two add-ons for email—Gmail SMTP and Rackspace Email hosting. The Gmail SMTP is free of cost, while you have to pay extra for the Rackspace add-on.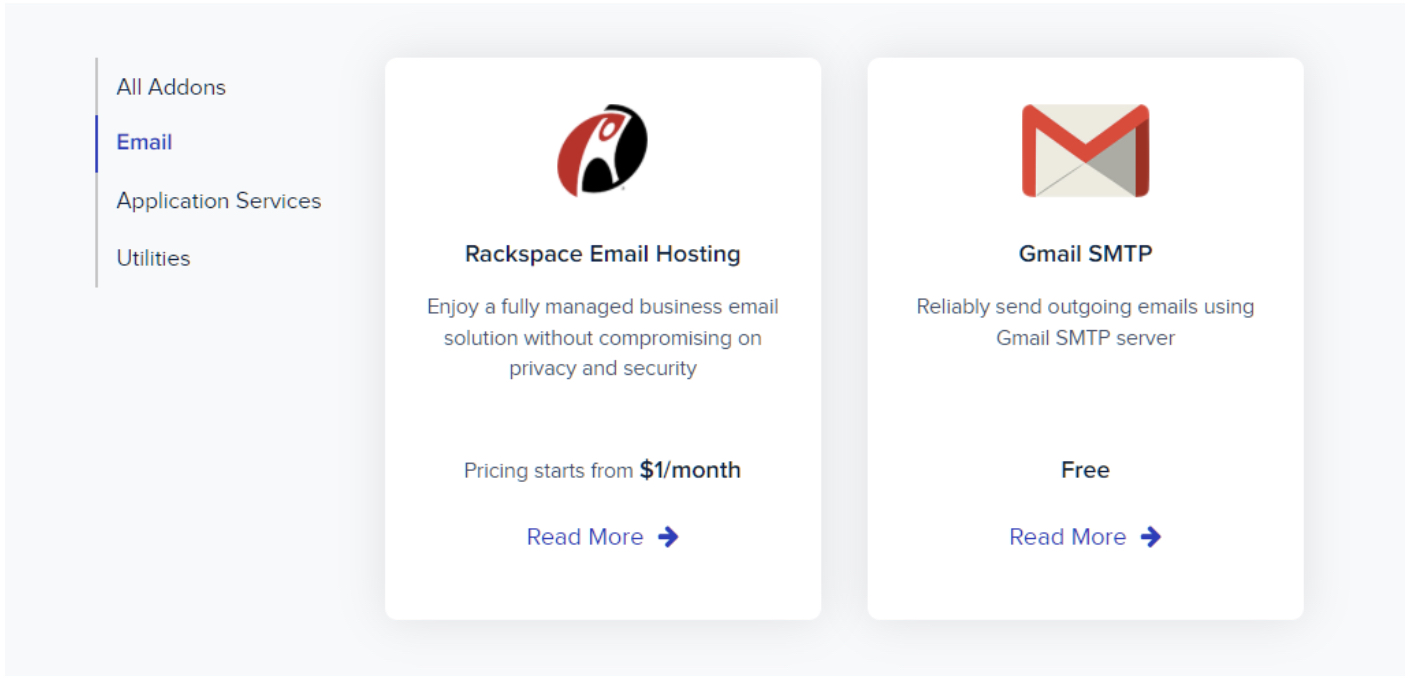 Uptime
Uptime is undoubtedly an incredibly important aspect of any website. If your website is down, your services and products there are unavailable to the customer. This might result in you losing out on your business or traffic. Fortunately, Cloudways has excellent uptime. 

They also provide a 99% uptime guarantee. It varies slightly for different servers. The uptime guarantee is when the service provider compensates for the downtime if it exceeds their promise. This is usually a good indicator of services that provide excellent uptime. 
Speed
Speed is another critical factor to consider when you're hosting your website. Ideally, the speed of loading a new website must be fast. A slow website would eventually lead to lesser traffic, resulting in losing out on business and customer confidence. 
Cloudways has a good loading and response time because of the HTTP/2 enabled servers, which maintains a high level of communication speed between the client and the servers. Cloudways also uses SSD (solid-state disk) servers, HTTP accelerators, and their own CDN (content delivery network), which means Cloudways can potentially offer attractive speeds.
Another place where speed comes into the picture is while creating a server. You don't want to spend too much on creating and launching the server. Cloudways said it takes approximately 7 minutes to launch a server.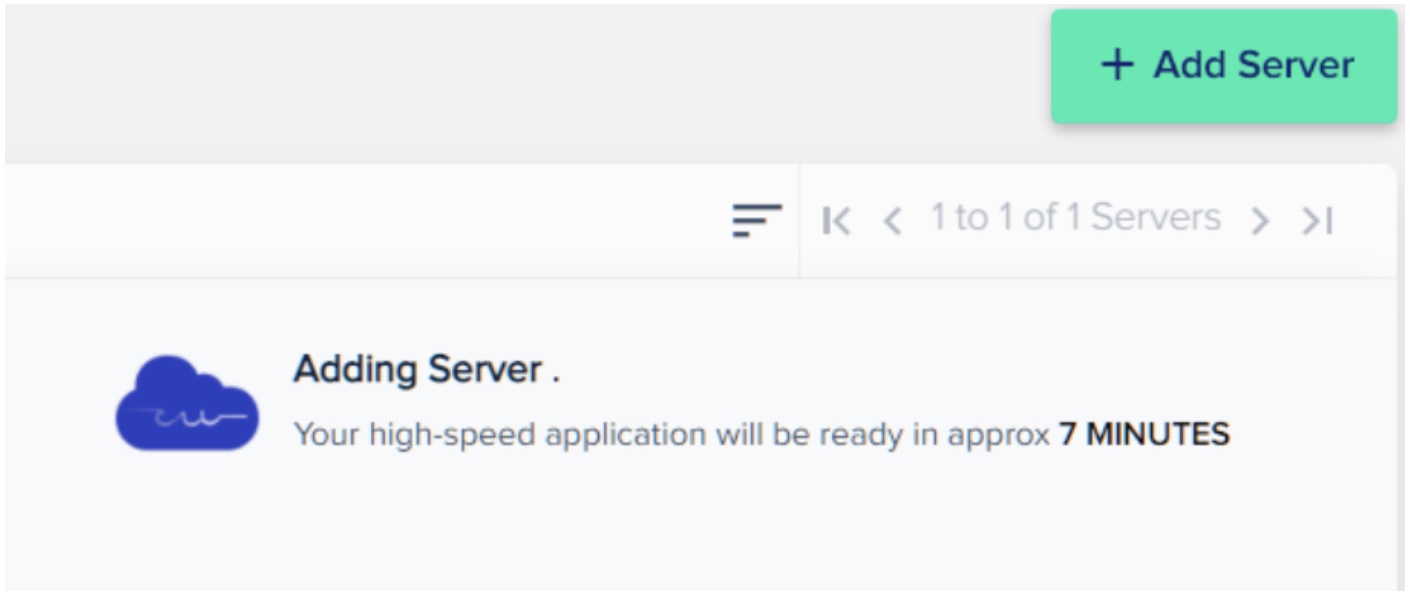 True to their word, it took exactly a few seconds over 7 minutes to launch the server during our test. 
Security
One of the most important things for a website is security. Usually, when you visit a website, you may see a lock icon next to it. This means it's an HTTPS website where your data is protected and the connection is secure.

To switch over from an HTTP to HTTPS, you need an SSL (Secure Sockets Layer) certificate. You can get a free SSL certificate if you use Cloudways as your hosting platform.
All Cloudways managed services come with a dedicated firewall, along with IP whitelisting practice for database access. Your Cloudways account has TFA (Two-Factor Authentication) enabled to ensure only you access your account. 
Cloudways also has regular security patches done on your server to protect it from vulnerabilities. Your WordPress sites come with Bot Protection to help you protect your website from attacks like brute-force attacks or DoS (Denial of Service) attacks.
Monitoring Your App
Cloudways offers real-time monitoring 24*7 with new relic integrations that will enable you to look at app performance easily. Cloudways also provides you with a smart-bot called CoudwaysBot that you can integrate with your email for real-time notifications on performance insights of your website.

Customer Service
If you have a problem at any point in time, you can use their customer support live chat that's available 24*7 throughout the year. They offer three types of customer service depending on the plan you choose. The plans available are Standard, Advanced, and Premium.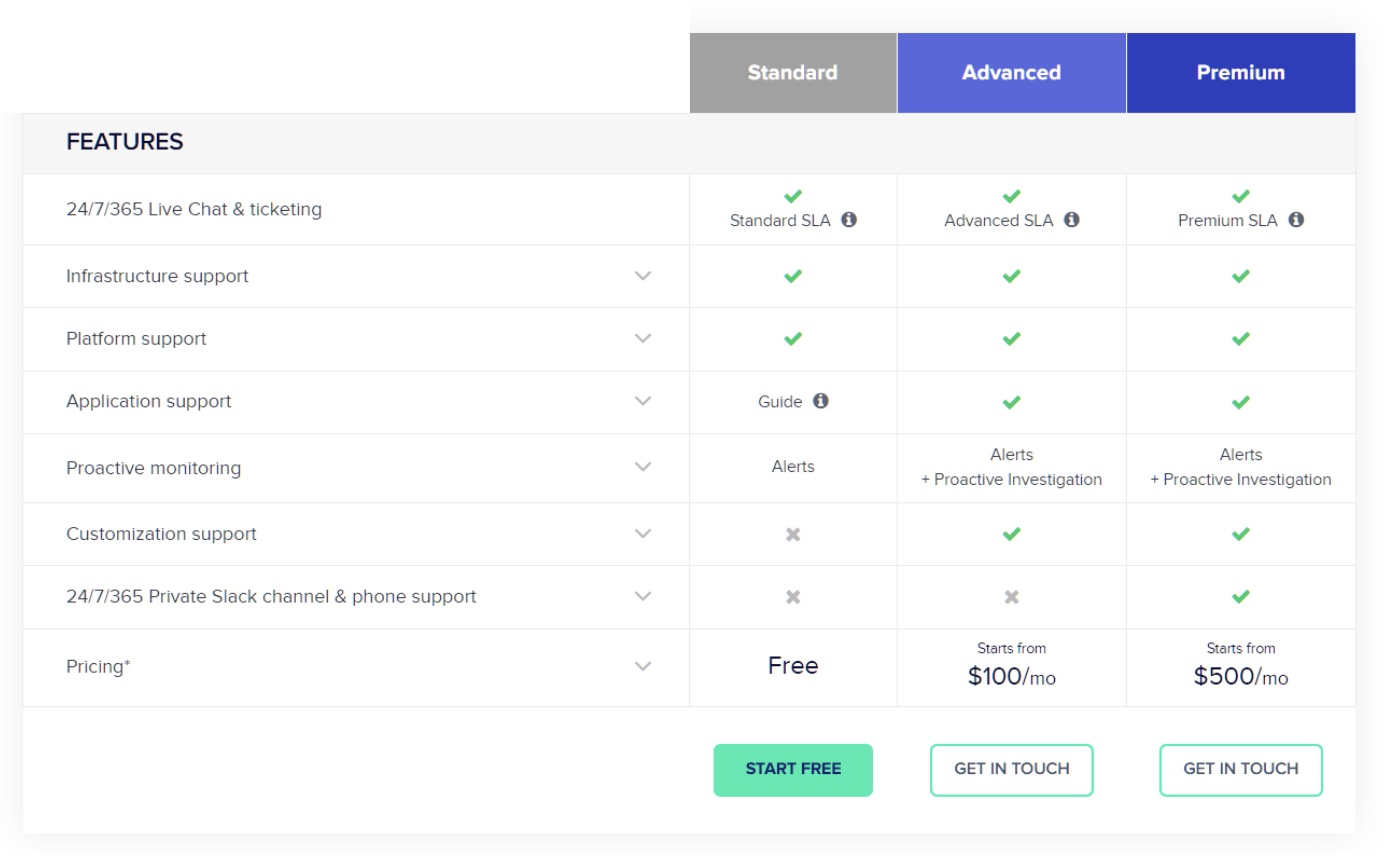 For instance, the chat duration for the Standard plan is only 15 minutes. If the issue is still not resolved, it'll be converted to support tickets. The same for the Advanced plan, except the chat duration, is 30 minutes. The Premium plan has no time restrictions on your chat.
Cost
The pricing for Cloudways is dependent on three things—the servers you choose, the duration you choose to be charged (hourly or monthly), the plan you choose. For instance, the Standard plan for a DigitalOcean server on a monthly basis is $10/month. They also offer a free migration with any plan or server you choose.
Another advantage is that there's no upfront cost in Cloudways. You choose a plan and you will be billed the next month for what you consume.
Which Cloud Hosting Service Is The Best?
Knowing all the ins and outs of Cloudways is just not enough to purchase their product. To truly know if Cludways is right for you, you need to compare it with other top cloud hosting services. This will help you understand if Cloudways is worth your money!
Cloudways vs. DreamHost
DreamHost has domain registration and email options available for you and they even give you a free domain name for a limited time period as well. 
However, Cloudways is the clear winner when it comes to customer support as DreamHost's customer support live chat is only available at specific timings in a day.
While they don't offer a free trial like Cloudways, they give you a 97-Day Money-Back Guarantee, valid on credit card payments. 
Cloudways vs. InMotion
InMotion offers private cloud hosting options but doesn't specialize in cloud hosting like Cloudways. So, if you're definitely looking for a cloud hosting service provider, Cloudways is the way to go. 
However, if you're open to trying out other hosting services as well like shared hosting, VPS hosting, you can go for InMotion. 
Cloudways vs. HostGator
HostGator is much cheaper than Cloudways. HostGator also comes with domain and email options. They also give you a free domain. 
A drawback is that some major features like dedicated IP or CDN which increases the speed of your website are reserved only for the business plan. 
There's no free trial like Cloudways, but they offer a 97-Day Money-Back Guarantee. 
Cloudways vs. BlueHost
BlueHost's automated backups are not available for large websites. They don't provide real-time monitoring and dedicated firewalls for your website. 
However, if you're looking for something cheaper, BlueHost's initial or introductory plans are much cheaper in comparison to Cloudways, but their renewals are pretty high. BlueHost offers domain and email options as well.
Just like the other hosting services, they provide a 30-Day Money-Back Guarantee instead of a free trial like Cloudways.
Cloudways vs. Kinsta
A major drawback in Kinsta is that it's a WordPress-only platform whereas Cloudways offers many PHP-based applications as well. Kinsta is generally much more expensive compared to Cloudways. 
Kinsta offers a demo account where you can register and use their dashboard for free. Kinsta uses HTTP/3 enabled servers, allowing better performance whereas Cloudways use HTTP/2 enabled servers.
Cloudways vs. SiteGround
You can only use the Google Cloud Platform in SiteGround whereas you can pick from five cloud server providers in Cloudways. 
SiteGround is much more expensive than Cloudways because GCP is costlier than other cloud service providers. They also provide 24*7 live chat support like Cloudways. However, there's no free trial option like the one in Cloudways.
Final Thoughts: Cloudways Review
Many cloud hosting service providers don't specialize in cloud hosting like Cloudways. Nor do they have the many application and server options like Cloudways. 
Cloudways stands unique in the fact that they offer a 3-day free trial with no credit card details. They also have unmatched performance and security features, contributing to their rising popularity.
If you're looking for a specialized cloud hosting platform with many flexible plans and pricing, Cloudways is your best bet!