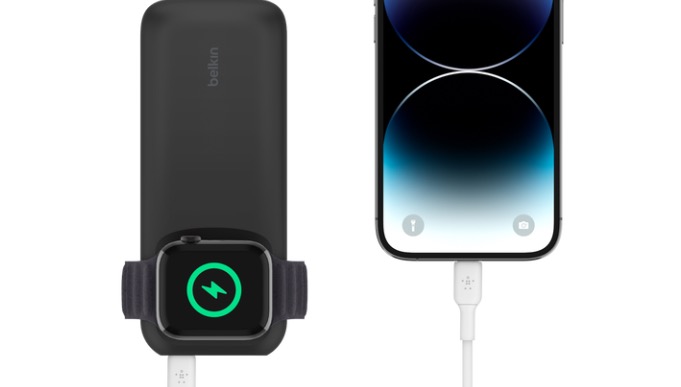 What truly sets this charger apart is its exceptional fast-charging capability for compatible Apple Watch models. If you've ever forgotten to charge your watch overnight (we've all been there), this device comes to the rescue. Just place your watch on the charger as you enjoy your morning coffee, and it'll be fully charged before you dash off to start your day.
But the BoostCharge Pro isn't confined to just Apple Watch charging; it also accommodates the 2nd Gen AirPods Pro. While it does the job well and the magnets assist in aligning the case correctly, you might need to make minor adjustments to ensure a snug fit and initiate charging.
Now, let's shift our focus to the USB-C connection. Like most other power banks on the market, it serves as a reliable power source for external devices. Belkin proudly touts Power Delivery compatibility, offering up to 20W of output. This means you can enjoy reasonably fast charging for your iPhone, provided you remember to carry a Lightning cable.
But here's where things take an interesting turn. Although 20W isn't exactly lightning-fast, I couldn't resist testing whether the Belkin BoostCharge Pro Fast Wireless Charger for Apple Watch + Power Bank 10K could give a MacBook device a helping hand, even though it's not officially listed as compatible. To my surprise, it worked, albeit with a few caveats. I conducted the test with a MacBook Air 15, and it took some time before the MacBook Air accepted the charge.