The market is now opening up to a variety of different electronics and one of the most sought after products are air purifiers. The marketing gimmick has taken up steam in recent years with most companies showing the viewers that there is a way for them to breathe fresher air at home, and they are right, especially with air pollution levels reaching new levels every day. Air purifiers have now started selling like hot cakes, and the once drab looking pieces of equipment are now getting sleeker iterations from brands all over the globe. Blueair is one such company. After a successful stint with Air purifiers, they are now back with purifier devices with a twist. The Cabin Air is an air purifier built for cars and other road vehicles. Reports and Surveys conducted by the company suggested that almost 72% of the users have shown concern about the quality of air that they are breathing in the car.
Blueair has been doing some truly best in class research in the area of air purity and according to another survey conducted by them, 72% of the people asked were aware about the harmful impacts of impure air in the vehicles and taking this into consideration, the Cabin Air was conceived. The air inside the car cabins can be as much as 15 times more polluted than the air outside due to the vehicle exhausts in combination with other vehicle's exhausts, as well as tire and road wear products, entering the car through ventilation and air conditioning systems. With summers just right in UAE and other Middle Eastern countries and the sand storm and dusty environment being the norm of a typical summer in the gulf a car air purifier with a HEPA filter will get the job done for you.
Coming to the Cabin Air device itself, the design is kept very sleek and non-obtrusive. It blends seamlessly into the interior of your car and does not give you the impression of it being a hardcore pollution prevention gadget. The device has been designed keeping in mind bumper-to-bumper traffic and close proximity to large vehicles as well. Another important aspect of air purifiers is the time they take to start proper operation. The Cabin Air reportedly starts delivering clean air within just 6 minutes of operation, and since fresh air keeps you more energized and alert, Cabin Air also helps you drive more safely.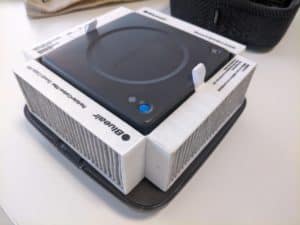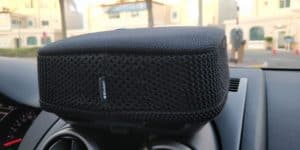 The next factor we need to consider is the safety of the driver. Usually, gadgets like this require the driver to keep glancing at them from time to time to ensure that they are operating properly, but the Blueair Cabin has got you covered over there. The Cabin Air comes with an intuitive no-look interface, reassuring feedback, and an optional automatic sensor. All of these together ensure that you never have to take your eyes off the road, thus ensuring a safe and clean drive.
Next up, we have an optimized version of Blueair's HEPASilent technology for vehicles. For those of you who are new to this, the HEPASilent Technology combines electrostatic and mechanical filtration to deliver low noise, 360° airflow, and high CADR. It provides more than 95% filtration efficiency against PM 2.5, pollen, dust, yellow dust, and industrial emissions and has been tested to meet or exceed global standards, such as GB, CARB, CB, and AHAM.
Earlier in the article, we saw that the Cabin Air purifier has a reassuring feedback system. What this means is that it continuously and reassuringly displays air quality via an indicator on its control knob. It even has Bluetooth connectivity for the Blueair Friend app and over-the-air updates. This maintains transparency with the user and gives us all a clear-cut idea of how exactly the condition of the air is around them.
All in all, the Blueair Cabin Air purifier for cars is a device that you want to have, not just because of its sleek design or ultra-productive features, but because in an age of increasing air pollution, a little bit of precaution from our side is better than suffering the consequences. You can buy the Cabin Air purifier from Blueair's official website. They ship to most countries in the world, so I recommend you to check that before placing your order.