When it comes to gaming monitors, no one does it better than BenQ. With a near 100% hit rate, BenQ has been pushing out one successful offering after another, and now, it seems that they really cannot put a step in the wrong direction. Today, we have for review, the new BenQ EW3280U UHD monitor, the E3280U can be considered as a bigger brother of the much-acclaimed BenQ EX2780Q, and we are excited to tell you all about this new monitor, and whether or not, it can make its way into your gaming setup.
Let's get started.
Design
BenQ is known for its iconic minimal bezel and sharp design for all their monitors, and the EW3280U is no different. It is a 32-inch panel with a native resolution of 3840 x 2160 pixels (this is nothing but 4K). A pixel density of 138 pixels per inch and a 16:9 widescreen aspect ratio, makes it an ideal choice for gaming, entertainment, and even some casual photo editing.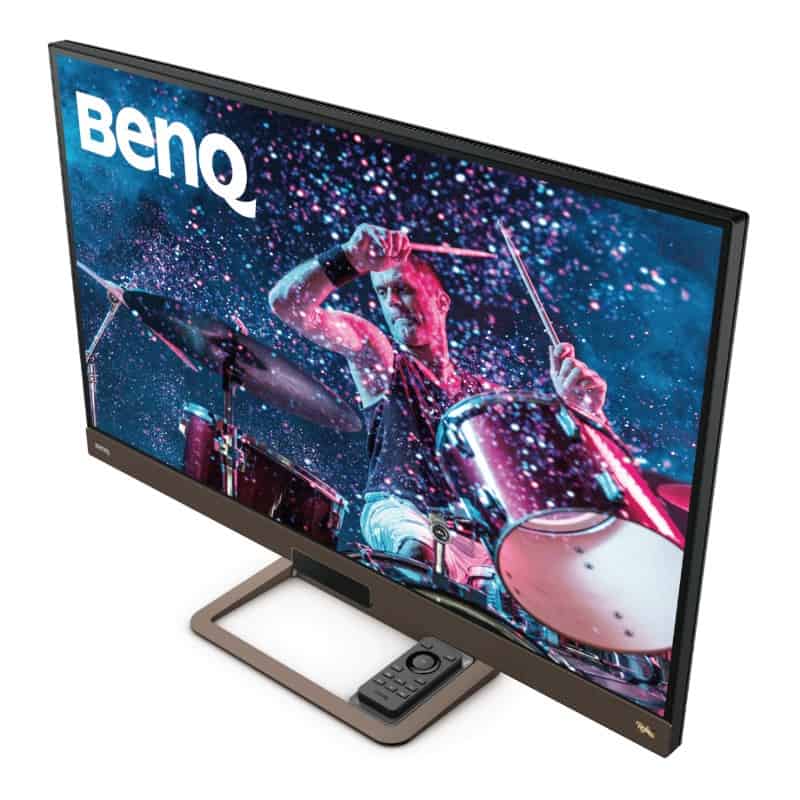 When it comes to the chassis itself, the EW3280U is a real sleek piece. We have a matte black cabinet, which makes it blend into the surroundings nicely, and also doesn't attract too many fingerprints. We like the slight change of tone in the base, where BenQ has gone for a sleek bronze shade. This demarcates the main display panel from the base, which is not necessary, but a nice touch nonetheless.
We also get a stand with the EW3280U, which is very robust and when you mount the display onto it, the whole setup measures around 20.6 x 28.6 x 8 inches. We also get tilt control with this stand, but there is no pivot, swivel, or even height adjustment. This is a point we don't really appreciate as they could have easily given us a proper stand looking at the pricing.
Coming to the connectivity, the ports can be found under the display (facing downwards), and while this has become the norm for most new displays today, it can get a bit cumbersome, when you have to connect external devices to the display. Nevertheless, coming to the ports themselves, we have two HDMI 2.0 ports, one DisplayPort input, a USB Type-C port, and an audio-out jack.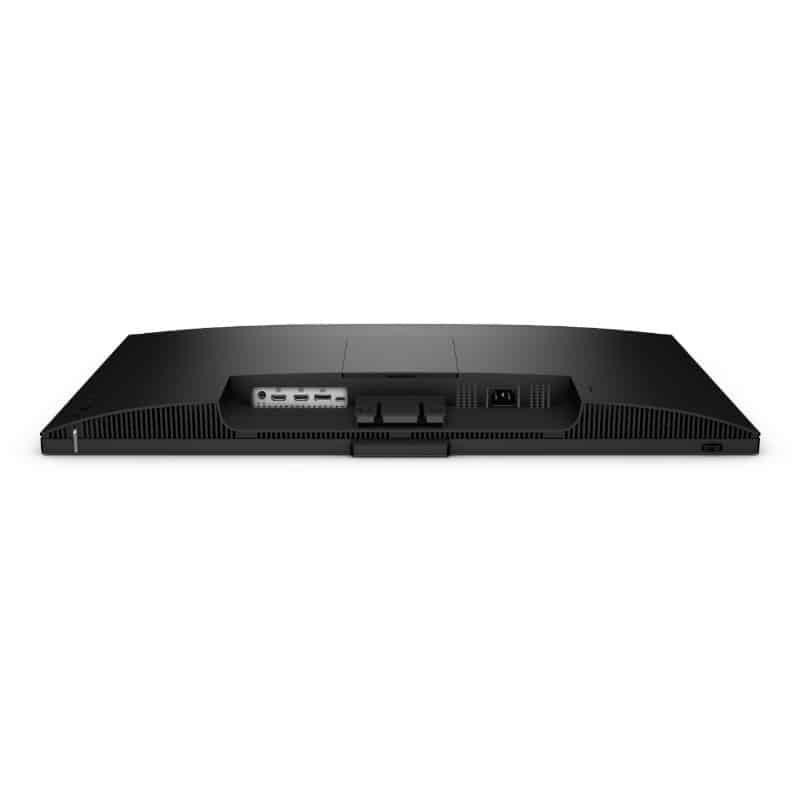 What we love about the USB Type C port on the BenQ EW3280U, is that it supports data transfer, video input, as well as power delivery up to 60W. This means you can stream content from your laptop and charge it as well.
Navigating through the EW3280U
When it comes to monitors in general, we have to keep in mind that navigation is a very important aspect. Some monitors do not come with any navigation solutions and it becomes very difficult later on, to find our way through the menus and settings.
The BenQ EW3280U comes with two systems for navigation. A mini joystick-like controller installed at the back of the display, and a dedicated remote. You can use either of these to make your way through the multitude of menus and settings.
Some of the aspects that you can change are – Input, Picture, Color, Audio, Eye Care, Custom Key, and System. From Input, you can switch among the HDMI, DisplayPort, and USB-C inputs.
The Colour menu lets you choose from among 11 different color modes, which is incredible, as it gives you a bigger variety like Standard, Low Blue Light, three gaming modes, two Custom modes, and M-book. By the way, that M-Book mode is specially included to show images from a Macbook laptop.
Coming to the audio menu, the BenQ EW3280U allows you to control the volume, but if you want, you can even switch between five audio modes – Live/Pop, Cinema, Dialogue/Vocal, Game, and Rock/Party.
Coming to the rest of the settings, we have Eyecare, which lets you take care of the blue light impact (useful for prolonged use), and finally, we have the System menu, that lets you control FreeSync, USB-C configuration and  OSD settings.
Display and HDRi
One of the most common terms that you will see in monitors these days is HDR technology. In simple terms, HDR makes crisp objects look ever more clear and this is useful especially in gaming and photo editing. However, BenQ, who is at this point, the absolute pioneers in display technology, have released their own technology, which they call HDRi.
HDRi can be considered to be the step up to HDR, which means, the content you will see on the BenQ EW3280U will not just be clear, it will be ultra-clear.
The color outputs we found to be absolutely spot on and you can actually see images that have been HDR enhanced, appear even better with the HDRi.
Now, HDRi comes with both hardware and software components, all of which you will find in the BenQ EW3280U. A sensor on the monitor's bottom bezel measures the ambient light, letting the EW3280U adjust its screen brightness in response to changing conditions.
What we love even more about this HDRi technology, is that when it detects a dark region in the video, it automatically brightens it without overexposing the rest of the image. This results in a very balanced image and a huge smile on your face.
The icing on the cake here is that BenQ covers the EW3280U with a three-year warranty on parts, labor, and the backlight. This makes the deal that much sweeter and when you see that they also bundle in an HDMI 2.0 cable, a USB Type-C cable, and a DisplayPort-to-mini-DisplayPort cable in the box, this package becomes an absolute win.
Coming to the rest of the display, BenQ has rated the EW3280U's luminance at around 350 nits, and its contrast ratio at 1,000:1; Being an IPS LCD panel, the contrast ratio was expected to be that amount as it is pretty much the market standard right now. We were happy with how the EW3280U tested when it came to playing a whole variety of content. The display covers 99% of the sRGB color gamut, which makes for pleasurable viewing.
The HDRi works like clockwork and we have no complaints whatsoever.
When it comes to gaming, we observed that while the BenQ EW3280U does not actually have a lot of game-centric features, it can handle pretty much any game you throw at it. You can switch between the different display modes to see what setting suits you best.
All in all, the BenQ EW3280U is a powerhouse monitor which has an absolutely enviable display package. The warranty is great and looking at the various add ons given in the box, it is an absolute no brainer for purchase.
Audio for All
When a monitor company hypes the audio capability on its new offering, you have to take them seriously. The EW3280U is a significant step up from its predecessors in the audio department.
Usually, when you buy a monitor, you usually do not get built-in speakers to begin with. Even if you do spend the extra money and get yourself a monitor that has in-built speakers, the audio output is sub-par at best. This is why it is recommended to go in for some external speakers with the display.
However, BenQ EW3280U is a totally different story. As we mentioned earlier, BenQ has specifically hyped the inbuilt speaker capability of the EW3280U, and when we fired it up for a demo, we were absolutely blown away by what we heard.
The twin 2-watt speakers and 5-watt subwoofer give you more than a bang for the buck performance and with the bumped up bass, improved treble response, and five unique audio modes to choose from, you will really have to think twice about buying a pair of external speakers.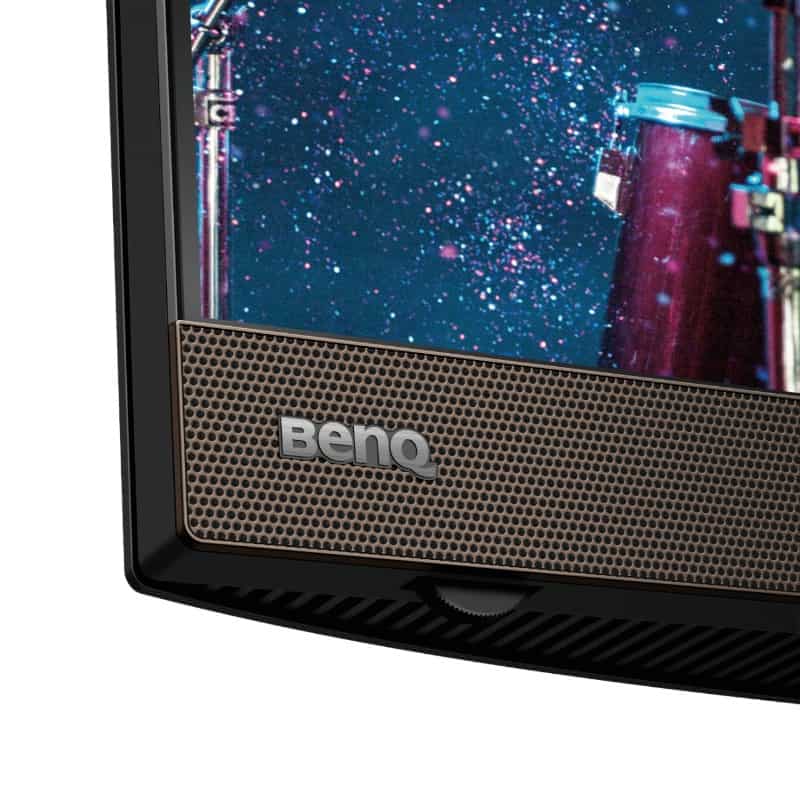 Of course, if you want really top-notch audio, then you can invest in external speakers or even high-end headsets, but if you are more of a casual gamer or you just want to enjoy your content as it is, you can safely use the built-in speakers on the EW3280U without an issue.
Conclusion
BenQ has produced yet another hit with the EW3280U, and really there is not a lot we can complain about. Yes, the thick bronze lip on the panel could be smaller and the connectivity ports could be positioned differently, but this is just us nitpicking and scrambling for cons because there are next to none.
If you are looking for a good 32-inch monitor, that offers a beautiful display, great connectivity, and surprisingly good built-in audio, the BenQ EW3280U is the one for you.