When Apple unveiled the iPhone 12 series, one of the standout features that made a comeback was MagSafe charging. This wireless charging technology was discovered in the 2012 version of the MacBooks, and Apple perfected it and brought it to the iPhones. As with every major Apple invention, the unveiling of MagSafe sent a ripple through the market, and peripheral companies went busy developing a slew of peripherals that utilized this technology and provided users with excellent third-party alternatives. Belkin was one such peripheral manufacturer, and the 3-in-1 Boost Charge Pro lived up to its reputation. We obtained the Belkin 3-in-1 Boost Charge Pro and decided to give it a swing. Of course, the latest iPhones include MagSafe, indicating that this device is still important in terms of technology, but when it comes to a product, there are a few other factors to consider.
In this post, we'll go through the Belkin 3-in-1 Boost Charge Pro and help you determine whether it's the charging accessory for you, and more importantly, whether it justifies the 549 AED price tag. Let's get started without further ado.
Design and Build
The Boost Charge Pro MagSafe is comparable in appearance to other Belkin 3-in-1 chargers on the market. The Boost Charge Pro MagSafe features a circular base with an angled chrome-colored t-shaped arm extending from the top of it that holds a MagSafe charger on one side and an Apple Watch charging puck on the other. It's made of a white plastic substance that's coated with a softer silicone.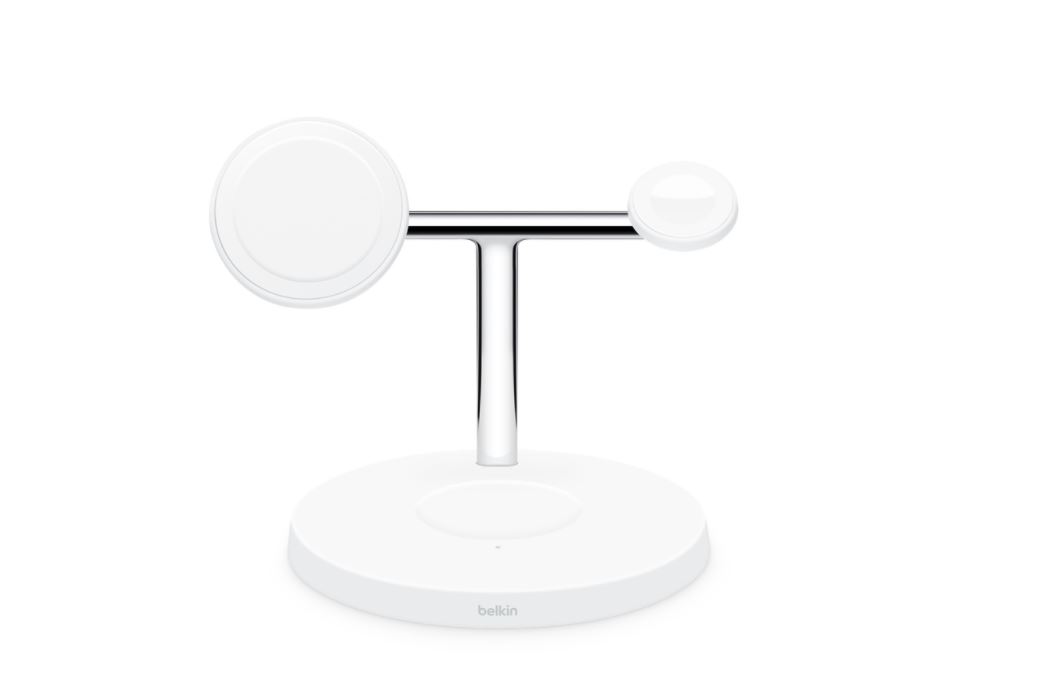 It is impressive to see how Belkin has managed to make this device so clean. A smaller base or a rectangular profile would have made the overall product look a lot more appealing. but we need to understand that the kind of weight that this accessory will be supporting warrants the need for a large base in order for the whole structure to stay standing even when fully loaded. Both charging pucks are fixed and cannot be rotated or tilted, and the default angle takes up more vertical space than we would have preferred.
The MagSafe charger is compatible with all iPhone 12 models and is sized such that it may be used in either portrait or landscape orientation. In landscape mode, even the biggest iPhone 12 Pro Max may be utilized without interfering with the Apple Watch charging puck on the opposite side. Even in the dark, the magnets line up fast, making it simple to place an iPhone in the optimal charging position.
The Belkin MagSafe charger is covered in the same soft substance as Apple's normal MagSafe charger, however, the Apple Watch charging puck is made of a smoother plastic, similar to Apple's own charging alternatives for Apple Watch. The Boost Charge Pro MagSafe is available in black or white, and it has a stickier silicone layer at the bottom to guarantee that it stays in place on a desk when holding up an iPhone, as well as a weighted base.
Now, on the Airpods charging base, there is a small led that turns white when the alignment of the AirPods is correct and the charging is underway. The same led turns orange of the alignment is off and you can rectify the same till it changes back to white. Now, the LEDs do get a bit distracting at night, but since it is only limited to AirPods charging, it's something that can be handled with ease.
Working and Performance
Because this is a 3-in-1 charger, the Boost Charge Pro's MagSafe base is a wireless charging infrastructure that can handle AirPods or AirPods Pro, allowing the Apple Watch, iPhone 12, and AirPods to be charged simultaneously. The little circular depression on the charger indicates where to position the AirPods for charging.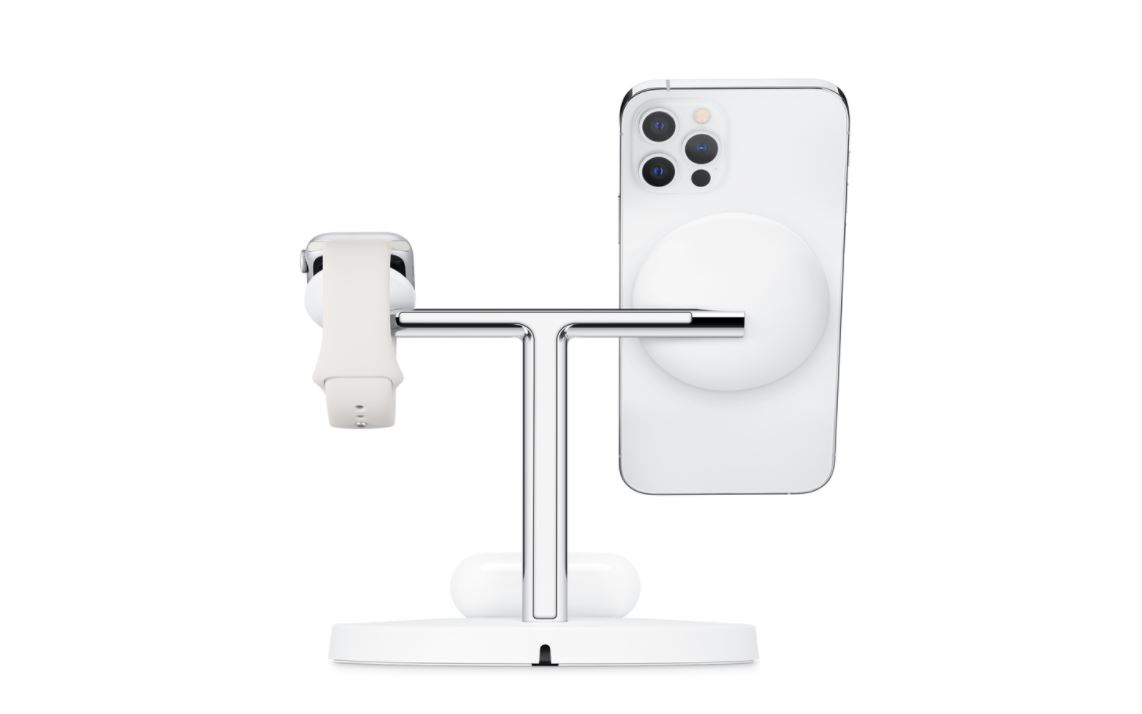 The Belkin Boost Charge Pro charges your iPhone 13 and iPhone 13 Pro at the fastest possible rate of up to 15W. Simply place your iPhone on the charging stand for a secure, aligned connection in portrait or landscape mode, utilizing MagSafe technology. The wireless charging puck and pad have been designed specifically for use with your Apple Watch and AirPods. It complements any space, from the living room to the office, as it is designed to draw you in from every angle. When it comes to the quality of the MagSafe hold in this wireless charger, you will be able to nudge the iPhone around, but it won't give away and fall off. We even tried to hold the device upside down while an iPhone was docked in for charging, and thankfully, the phone stayed exactly where it was docked. Even when charging your phone, you'll be able to shift it around so you can switch between portrait and landscape positions. Also, if you wish to watch a video or stream some content while your iPhone is charging, the Belkin lifts it up to a great viewing angle and holds it securely. Typically, multi-tasking on your device while charging it can lead to some heating issues, but in this case, we found that the device maintained a steady temperature and did not throttle out of the blue.
We compared the performance of this charger with the regulation MagSafe charger that is sold by Apple and to our surprise, we found that Belkin charged the iPhone 13 quicker than the regulation charger, and even when the charger has all devices plugged in, the performance is on par with the standard MagSafe pad. We also found that the Boost Charge Pro performs equally well on the iPhone 12 series as well, since that lineup also features the groundbreaking MagSafe Technology.
The Boost Charge Pro MagSafe comes with a 40W power adapter and 1.5m wire, so you won't have to guess which power adapter you'll need to reach the quickest rates. With either the MagSafe Charger or the MagSafe Duo, Apple does not supply a power adaptor. You may use Apple's official 20W charger or another charger that may or may not be compatible with the MagSafe charger, and the MagSafe Duo requires a suitable 27W+ charger for full performance.
The MagSafe charger does not function with previous iPhones, which is one of the rare disadvantages of the Boost Charge Pro MagSafe. Although regular MagSafe chargers are technically compatible with older iPhones and can charge them at 7.5W, Belkin's upright design depends on magnets to keep the iPhone in place, and older iPhones lack MagSafe magnets, therefore there is no practical charging alternative.
What is interesting is that you can charge older wireless charging compatible iPhone on the charging pad meant for AirPods. While this will not give you optimum charging speeds, it is still something. This charging station works with an iPhone X, iPhone 11 Pro Max, iPhone 12, and iPhone 12 Pro Max, so we're guessing it'll work with other phones.
Conclusion
The Belkin 3-in-1 Boost Charge Pro Magsafe is the optimum choice if you are looking for a multi-charger accessory for your home or workplace. Carrying this along for your travels is not the most optimum and we do have other peripherals that focus on the traveling and portable aspect. This charger is meant to be used on your work table or room, and the fact that it handles three devices simultaneously, with an excellent performance makes it a very compelling package to purchase.
You can buy the Belkin 3-in-1 Boost Charge Pro Magsafe via the official website or the Apple website.