Why do we need antivirus? This is an insane question now as everybody who has a little bit of knowledge about computer and how it works they are sure to know how inevitable it is to have antivirus installed in your PC. Once you decide on installing one, you will get many options in the net, some are free and some comes with a price tag. If you think that free antivirus is not god enough then think again! You have the Avast free antivirus which is ruling the list of popularity due to its brilliant performance. The download of Avast anti-virus is simple and it will take you around three minutes with approximately ten clicks to complete. To complete the installation process, a restart is necessary. Surprisingly the free version is valid for a year all you have to do is register with Avast. You can download the free version of Avast 2014  from here
Digging into Avast
Amongst the free antivirus, Avast is the best one doing the rounds of the market for long time. It is user friendly; anybody and everybody can navigate through. You have all the options coming up in the left hand corner for the easy access of the primary settings and other information panels. If you are not sure what the particular settings does for you then you click on it and it will give you the illustration in an interesting way. When you click on Avast icon on your PC it pop up providing you the details whether you are safe or not and on the top one button is placed which says Upgrade. Below it shows you why you should keep your PC protected as there are hackers for the look out of the unsecured site so that they can hack into some personal customer data, business account information or even your personal bank account details. So, you see how important it is to keep yourself secured with some high performance antivirus like Avast!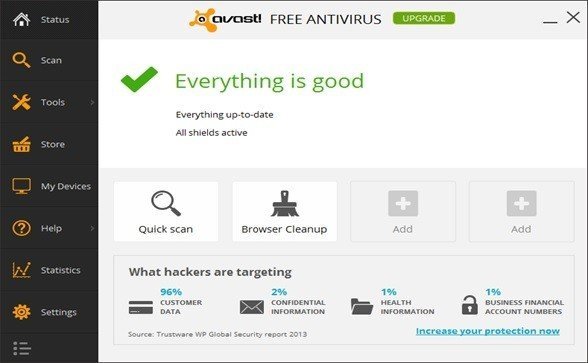 Effectiveness of Avast free antivirus
Avast is very effective as almost all the virus files get detected and it doesn't let any malware pass through. Avast has been working hard to identify more and more new viruses and malwares so that it can keep itself updated and keep your PC protected from all the threats doing the round in the internet.
In order to keep you protected it has provided you with so many scanning options. The quick scan will offer you a scanning of those areas which are mostly prone to malware function. The full system scan performs an out an out scan of your whole system and this process is time consuming. Removable media scan as the name suggests scans all the removable media which is attached to your PC currently. Select folder to scan is the option you can choose when you want to scan a particular folder that you think might contain some threats. Boot time scan will run automatically next time the system started after you click the start button. It has a RAM footprint of 82 MB and you will get around 13-second impact on the startup time but if you have faster hard disk then you won't be able to notice the difference on boot time at all.
Therefore with so many options of scanning your PC you can be rest assured that you are in safe hands and all your important documents are secured from any kinds of threats.
Impact on the system after installation
So many tools are available for providing you a hassle free work. It will sometimes make sit presence felt with the voice message that pops up stating the file has been updated to the latest version. If you can just turn off the volume then you are goo to go.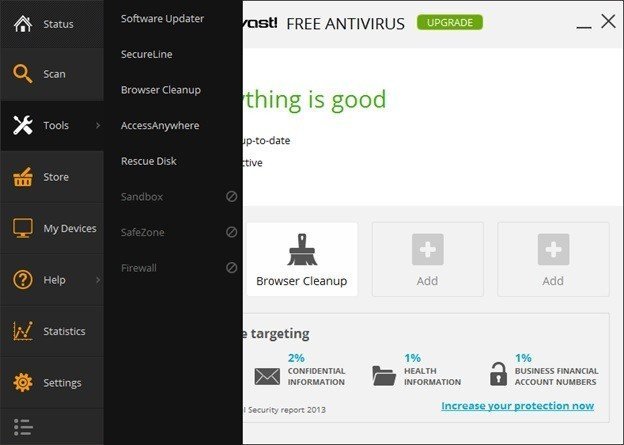 Avast doesn't affect the system run time at all. In chrome, Opera, Internet Explorer and Firefox it gets installed by default. It never seems to have intervened with the homepage or even with the search settings.
Support system of Avast
If you have any issues with Avast then you can simple go to the Help button and there you will get the Support feature, click on that and the above mentioned page opens up. Before you launch your complain you can simple go to FAQs an check whether it has some answer for your query or not. If it doesn't then you have other options through which you will get your query answered.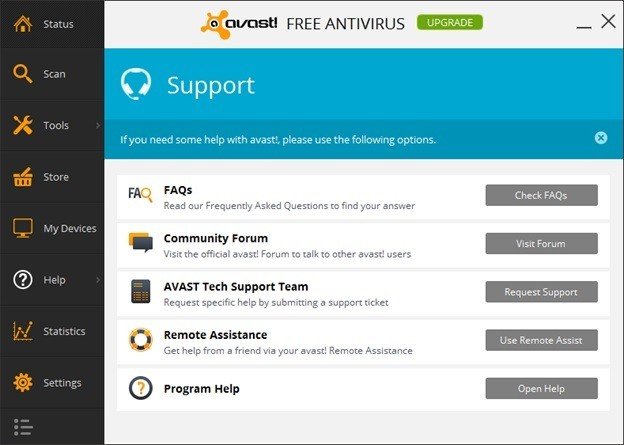 Want to upgrade – know the plans!
If you are satisfied with their performance and want to subscribe then you can opt for any plan you want. The plans are displayed in Store, you have to click there and the all the deals come up and from there you can choose whichever suits you.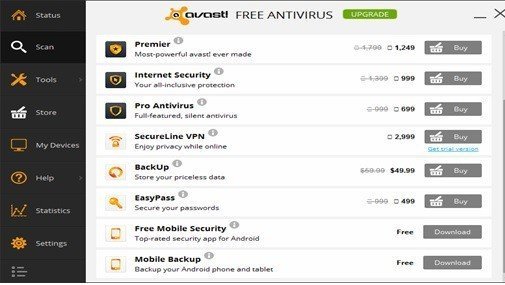 Part Code

Free Antivirus

Price

Free

Overall performance

Very Good

Ease of Use

User Friendly

Features & Design

Very Good

Value for Money

Definitely

Software subcategory

Internet security

Operating system support

Operating system Windows Vista supported?

Yes

Operating system Windows XP supported?

Yes

Operating system Linux supported?

No

Operating system Mac OS X supported?

 No

Other operating system support

Windows 8
With all the new and interesting features Avast is here to protect you from all kinds of threats and attacks and the good thing is that it is user friendly. So start your journey with Avast today and enjoy a peaceful surfing.
Download  The Avast 2014 free anti virus : Download Now.