ASUS today announced Transformer Book Trio, a new breed of ultraportable device with a two-part dockable design that can be used by one person as a laptop, or by two people as a separate tablet and desktop PC. With the ability to switch between Windows 8 and Android at the press of a button, Transformer Book Trio offers unmatched three-in-one flexibility for users who want the best of all mobile worlds.
 Dual processors and dual operating systems
ASUS Transformer Book Trio features a sleek and durable metallic design, and is powered by a 4th generation Intel® Core™ processor for seamless multi-tasking performance and outstanding energy efficiency in Windows 8 laptop mode. When it's time for entertainment to take over from productivity, the 11.6-inch display detaches from the 'PC Station' keyboard dock for use as a multi-touch Android tablet with its own Intel Atom™ dual-core processor and up to 64GB of solid-state storage.
With the display docked, Transformer Book Trio can switch instantly between Windows 8 and Android 4.2 by pressing the dedicated 'Trio' key on the keyboard, with data shared between the two operating system's via the tablet's storage. Unlike other dockable ultraportables, Transformer Book Trio's PC Station isn't dead weight when the tablet display is detached. With an external display connected via Mini DisplayPort or Micro-HDMI, the PC Station can then be used as a self-contained desktop PC with Windows 8, which means Transformer Book Trio can be used by two people, in two different places, at the same time.
 Full HD multi-touch display and SonicMaster audio technology
ASUS Transformer Book Trio's 11.6-inch display features a crisp Full HD resolution with IPS technology for vibrant and accurate color with wide 178-degree viewing angles. 10-point capacitive multi-touch gives instant fingertip control with both Windows 8 and Android, while the backlit keyboard and multi-touch touchpad ensures comfortable productivity use. With stereo speakers and ASUS SonicMaster audio technology in both the PC Station and tablet, Transformer Book Trio also delivers rich and detailed sound with video, music and games.
 Power-packed portable performance
ASUS Transformer Book Trio doesn't sacrifice portability for the sake of versatility — or vice versa. With 802.11ac Wi-Fi and Bluetooth 4.0 in the PC Station, plus 802.11n Wi-Fi and Bluetooth 3.0 in the tablet display, Transformer Book Trio cuts the need for cables, no matter which mode it's used in. Separate batteries in each part also maximize mobility, and Transformer Book Trio has up to 13 hours battery life in Android mode and five hours in Windows 8 mode.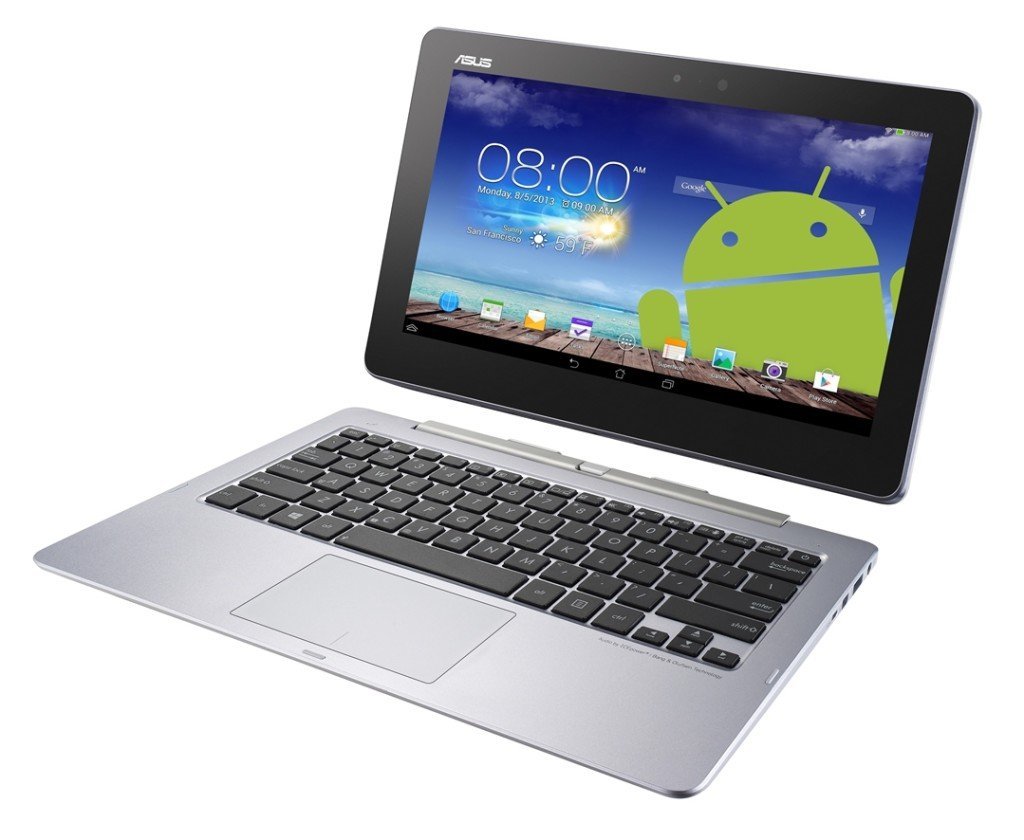 SPECIFICATIONS1

Operating system

PC Station:    Windows 8

Tablet:           Android 4.2

Processor

PC Station:    Intel Core (up to i7)

Tablet:           Intel Atom Z2560 (1.6GHz)

Graphics

Display

11.6-inch Full HD(1920 x 1080) IPS with capacitive 10-point multi-touch

Memory &
storage

PC Station:    4GB DDR3 (1600MHz) RAM with up to 1TB hard drive

Tablet:           2GB LP DDR2 RAM (1066GHz) with 16/32/64GB onboard storage

Cameras

Rear 5MP with auto-focus and 1080p Full HD video recording

Front 720p HD camera

Connectivity

PC Station:    802.11ac (dual-band), Bluetooth 4.0, 2 x USB 3.0, Mini DisplayPort, Micro-HDMI 1.4, 3.5mm headphone/mic

Tablet:           802.11n (2.4GHz), Bluetooth 3.0, Micro-USB 2.0, 3.5mm headphone/mic, microSD card slot

Audio

PC Station:   Stereo speakers with ASUS SonicMaster technology, digital mic

Tablet:          Stereo speakers with ASUS SonicMaster technology, digital mic

Sensors

Accelerometer, ambient light, gyroscope, e-compass

Battery

PC Station:   33Wh lithium polymer

Tablet:          19Wh lithium polymer

Size & weight

PC Station:    304.9 x 193.8 x 13.4mm, 1kg

Tablet:           304.9 x 193.8 x 9.7mm, 700g