ASUS today announced that ZenBook Flip 13 OLED (UX363) is now verified on the Intel Evo Platform for an exceptional mobile experience, with exciting updates including an OLED touchscreen, 11th Generation Intel Core processors and Intel Iris Xe graphics. 
ZenBook Flip 13 OLED is the world's thinnest convertible laptop to include full-size HDMI and USB Type-A ports — as well as two of the latest Thunderbolt 4 USB-C ports — for uncompromised on-the-go connectivity. Silky-smooth performance is ensured by matching the new processors and graphics with up to 16 GB RAM and up to a 1 TB PCIe 3.0 SSD.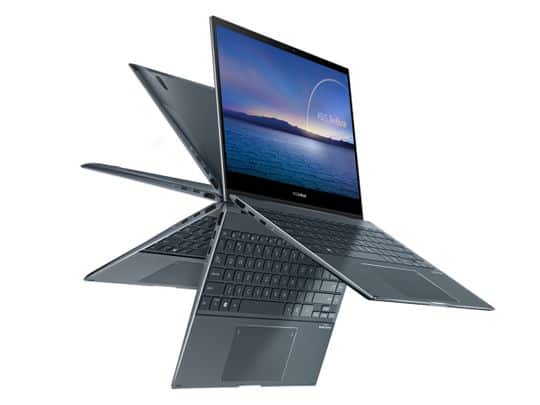 With a high-capacity 67 Wh battery that can deliver up to 14 hours of operation on a single charge, ZenBook Flip 13 OLED is perfect for today's work-anywhere lifestyles. ZenBook Flip 13 OLED supports fast charging with the supplied 65-watt charger, and ASUS USB-C Easy Charge allows users to take advantage of a wide range of standard USB-C or USB-C Power Delivery (PD) chargers. 
Silky-smooth power
Equipped with up to the latest 11th Generation Intel Core i7 processor and all-new Intel Iris Xe graphics, ZenBook Flip 13 OLED is verified as an Intel Evo laptop, a new platform that ensures premium performance and responsiveness, efficient battery usage, and stunning visuals for an exceptional mobile experience. 
ZenBook Flip 13 OLED also features up to 16 GB of 4266 MHz LPDDR4X RAM, combined with up to a 1 TB PCIe 3.0 SSD for quiet and ultrafast storage.
The WiFi 6 (802.11ax) in ZenBook Flip 13 OLED lets users enjoy smooth streaming of 4K UHD online videos and data transfers at faster-than-wired speeds of up to 2.4 Gbps. WiFi performance is optimized with ASUS WiFi Master Premium technology, which includes ASUS WiFi Stabilizer and ASUS WiFi SmartConnect. 
Precision OLED touchscreen
ZenBook Flip 13 OLED is now available with up to a 13.3-inch FHD OLED NanoEdge touchscreen that has a fast 0.2 ms response time. The display offers an ultrawide color gamut of 100% DCI-P3, which is widely used in the motion picture industry, and features slim 3.9 mm bezels that maximize the screen space while reducing the laptop's footprint.
Color accuracy is usually represented by a 2D color-gamut diagram that shows how colors are faithfully reproduced, but only at a particular brightness level. However, since the ability to reproduce colors accurately at different levels of brightness is crucial, ASUS OLED panels are calibrated to accurately reproduce colors in a 3D color volume — showing what the panel would reproduce at 100% DCI-P3 color gamut regardless of brightness level. 
ZenBook Flip 13's OLED display also manages the blue-light ratio to reduce potentially harmful emissions by up to 70%, with TÜV Rheinland certification for low blue-light emissions — promising greater care for the user's eyes, ever after many hours of use.
Flexible performance, effortless mobility
The distinctively elegant ZenBook Flip 13 OLED has an all-new design that combines ultimate portability with supreme versatility. It's surprisingly light at just 1.3 kg, and it's a mere 13.9 mm thin, so it's perfect for on-the-go productivity and creativity. 
Even with its super-slim design, ZenBook Flip 13 OLED offers comprehensive I/O capabilities. Featuring full-size HDMI, USB Type-A and two Thunderbolt 4 USB-C ports, it's the world's thinnest OLED convertible laptop with such an impressive list of full-size ports. 
ZenBook Flip 13 OLED also features the innovative ASUS NumberPad 2.0. This is a dual-function touchpad —30% larger than the previous model — that incorporates an LED-illuminated numeric keypad for easy data entry.
Flex with style
The innovative 360° ErgoLift hinge on ZenBook Flip 13 OLED has a precision-engineered metal multi-gear mechanism that's cleverly designed to lift and tilt the new edge-to-edge keyboard into a comfortable typing position while improving cooling airflow when the NanoEdge display is opened beyond 135°. The edge-to-edge keyboard design also adds space for a whole new row of function keys on the right-hand side. The ErgoLift hinge holds the display securely at any angle, allowing the versatile ZenBook Flip 13 OLED to be used in laptop, tablet, stand or tent modes — or anything in between. In tablet mode, the dual-action hinge automatically rotates out of the way to allow the display to fold flat against the base. 
Extreme battery life
ZenBook Flip 13 OLED uses a high-capacity battery that allows users to work or play for up to 14 hours on a single charge. Its fast-charge technology allows it to be recharged to 60% capacity in as little as 49 minutes, so users can be up and running quicker than ever.
ASUS USB-C Easy Charge support allows ZenBook Flip 13 OLED to be charged from a wide range of standard USB-C chargers. User can enjoy ultrafast charging with any USB Power Delivery-certified charger, including the supplied 65-watt fast-charge adapter. 
AVAILABILITY & PRICING
ASUS ZenBook Flip 13 OLED(UX363) will be available from 18th February 2021 in UAE from Virgin Megastore, Jumbo, Sharaf DG, Emax, Ecity, Computronic, and Amazon. Price starts at 5,299 AED
Asus ROG Strix Scar Series
ASUS Republic of Gamers (ROG) today announced the Strix SCAR 15 G533 and Strix SCAR 17 G733, premium gaming laptops engineered from the ground up to give esports players an uncompromising experience in competitive tournaments.
The flagship Strix SCAR 17 G733 integrates the latest innovations to keep the most demanding esports players at the top of their game. With a fast 300Hz refresh rate and 3ms response; drives it with powerful new GeForce RTX 30 Series GPUs and Ryzen 5000-Series mobile processors; and helps the hardware reach its full potential with radically redesigned fans and other cooling upgrades.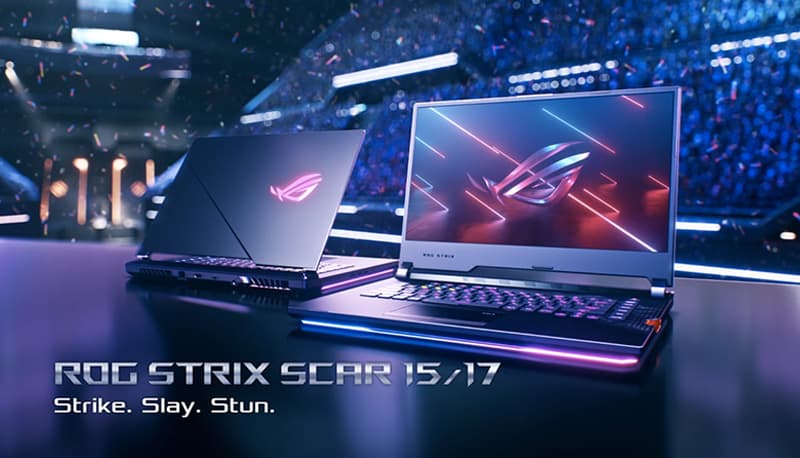 Play at pro speed with 300Hz 
For esports players, waiting an instant too long can put victory out of reach. That's why ROG has led the adoption of high refresh rates in gaming laptops and continues to push the limits of panel technology. The Strix SCAR 17 G733 features the world's fastest laptop display, a 17.3" IPS-level panel that combines a Full HD resolution with a 300Hz refresh rate and 3ms response time. Compared to the 240Hz standard common for tournaments, a 300Hz refresh rate reduces the delay between new frames by 33%.
The smaller Strix SCAR 15 G533 has a 15.6" screen with a 300Hz refresh rate and 3ms response time. In a first for Strix, Adaptive-Sync technology is standard across the entire series. 
Latest NVIDIA and AMD processors
The 2021 Strix SCAR laptops saturate their high-refresh displays with the combined power of a GeForce RTX 30 series GPU (up to an RTX 3080 for SCAR 17 and RTX 3070 for SCAR 15) and up to a Ryzen 9 5900HX processor for both Strix SCAR 15 G533 and Strix SCAR 17 G733. 
Based on NVIDIA's new Ampere architecture, the GeForce RTX 3080 is clocked up to 1645MHz at 115W with ROG Boost, with another 15W available from Dynamic Boost. It combines new streaming multiprocessors with 2nd gen RT cores and 3rd gen Tensor cores to enable the most realistic ray-traced graphics and advanced AI features. 
The Ryzen 9 5900HX uses 8 cores and 16 threads to power through demanding multitasking like gaming while streaming, recording, and interacting with an audience. AMD's new Zen 3 architecture raises performance per clock thanks to lower cache-access latency and numerous other architectural tweaks. ROG's robust cooling and power delivery allow the 5900HX to run on up to 54W of sustained power when the GPU is active and 80W on its own. The CPU is unlocked, allowing users to push for higher speeds with overclocking.
In its top configuration, the SCAR 17 G733 is available with 32GB of DDR4-3200 RAM and dual hyper 1TB solid-state drives. The memory and storage are fully upgradeable with an easy-upgrade design and pop-open screw that allow quick access to the system's two SO-DIMM slots and twin M.2 slots.
Optical mechanical keyboard
Regular laptop keyboards push conductive membranes together to detect keystrokes. This electrical approach creates a lot of signal noise at contact, requiring a debounce delay of 5ms to ensure accuracy. Any delay is detrimental in esports, so the new optical mechanical switches in the 2021 Strix SCAR series trigger using a precise infrared laser beam instead, eliminating the debounce delay and reducing the response time to only 0.2 milliseconds. The optical mechanism is also much more durable than conventional alternatives, extending the switch's lifetime to 100 million presses.
Enhanced mobility
The 2021 Strix SCAR have a footprint up to 7% smaller than last year's models, making them easier to carry. Their higher-capacity, 90Wh battery also allows for more unplugged time than ever: up to 12 hours of video playback.
Mobility is further enhanced by fast charging support, which allows the battery to reach 50% in only 33 minutes. Fast charging is also supported over USB Type-C with compatible 100W adapters and power banks. Support for Type-C charging is new for the Strix series this year, giving users more flexibility on the road.
An athletic redesign
The 2021 Strix SCAR series introduce a unique look inspired by athletic apparel. The redesign enhances aesthetics and functionality but remains unmistakably Strix.
The compact chassis has a footprint up to 7% smaller than last year's models, in part due to thinner bezels. At only 4.5mm along the top and sides, the slimmer frame increases the screen-to-body ratio from 80% to as much as 87%, improving portability and putting users closer to the action. 
On the Strix SCAR series, the aluminum lid is slashed with a shimmering dot matrix design created with precise electroplating. A soft-touch texture makes the palm rests comfortably smooth, and a translucent treatment on the keyboard deck shows the hardware inside.
RGB illumination has been refined with a higher-density light bar that glows around the front edge of the new Strix chassis. In the SCAR, it complements a new companion strip under the screen and a glowing ROG logo on the lid. 
New cooling technology
A refined cooling system extracts peak performance from the processors in the new Strix SCAR series while lowering noise levels by 3 decibels compared to last year's models. The upgrades start with the first mass-produced implementation of liquid metal on AMD laptop processors. Liquid metal transfers heat away from the CPU more efficiently than traditional thermal compounds, which allows for increased thermal headroom.
The upgraded thermal module channels heat from the CPU, GPU, VRAM, and voltage regulation circuitry with an extended heat spreader and up to six heat pipes, maximizing redistribution to sustain higher clocks. 
ROG Arc Flow fans improve airflow by up to 35% for the CPU and 21% for the GPU with no increase in noise. The new design spins 84 blades capped by special tips that follow an aerodynamic wave pattern that reduces turbulence. The blades each taper down to just 0.2mm at the base to move more air, and they're made of a liquid-crystal polymer strong enough to maintain its structure at high speeds. 
To further amplify airflow, the new Strix series uses an improved self-cleaning cooling system. Dust accumulation on the heatsinks and fans slowly compromises cooling, so particles are channeled out of the chassis to ensure reliable performance over time. Shorter anti-dust tunnels in the latest models clear the way for 15% more airflow while still preventing harmful buildup.
Cooling and performance can be customized with Scenario Profiles. Performance and Turbo modes provide higher performance for demanding esports titles, while Silent mode lowers noise levels for lighter workloads. With 0dB Technology, the fans switch off completely when CPU and GPU temperatures drop below 60°C in Silent mode. This makes cooling truly silent under light workloads.
More immersive audio
The new Strix SCAR series features a quad-speaker array. Two tweeters fire sound from behind the keyboard, while two Smart Amp woofers bounce low frequencies off the surface under the laptop. Together, these four speakers generate rich sound with 2.8x more volume, 3x more powerful bass, and up to 3x greater dynamic range than competing setups. 
AVAILABILITY & PRICING
ROG Strix SCAR 15 G533 and ROG Strix SCAR 17 G733 will be available from 2/18/2021 in the UAE from Sharaf DG, Jumbo, Emax, Ecity, Computronics, Virgin Megastores, and Amazon. 
Price for the ROG Strix SCAR 15 G533 is at AED 8,999 
Price for the ROG Strix SCAR 17 G733 starts at AED 10,999