Apple Vision Pro,  Apple's highly anticipated headset, previously known as the Apple headset, has finally been unveiled at the WWDC 2023 keynote. The device marks Apple's foray into augmented reality (AR) and virtual reality (VR), and it boasts several innovative features that set it apart from its competitors.
Unlike traditional headsets that require a dedicated controller, the Vision Pro is designed to be controlled solely through voice inputs and hand/eye gestures. This is made possible by the integration of multiple external and internal sensors and cameras. Additionally, Apple introduces a unique feature called EyeSight, which utilizes the curved display on the headset's exterior. EyeSight allows others to observe a user's reactions while they are wearing the device, enhancing social interaction and immersion.
Apple has prioritized comfort and usability in the design of the Vision Pro. The headset is constructed from a custom aluminum alloy to minimize weight, and it features a digital crown that enables users to adjust their level of immersion easily. The headband comes in three sizes, catering to various head shapes, and is designed to be soft, comfortable, and easily adjustable. Dual-driver audio pods are built into the headband, providing immersive spatial audio. To further reduce the headset's weight, Apple has incorporated an external battery that connects to the device via a wire.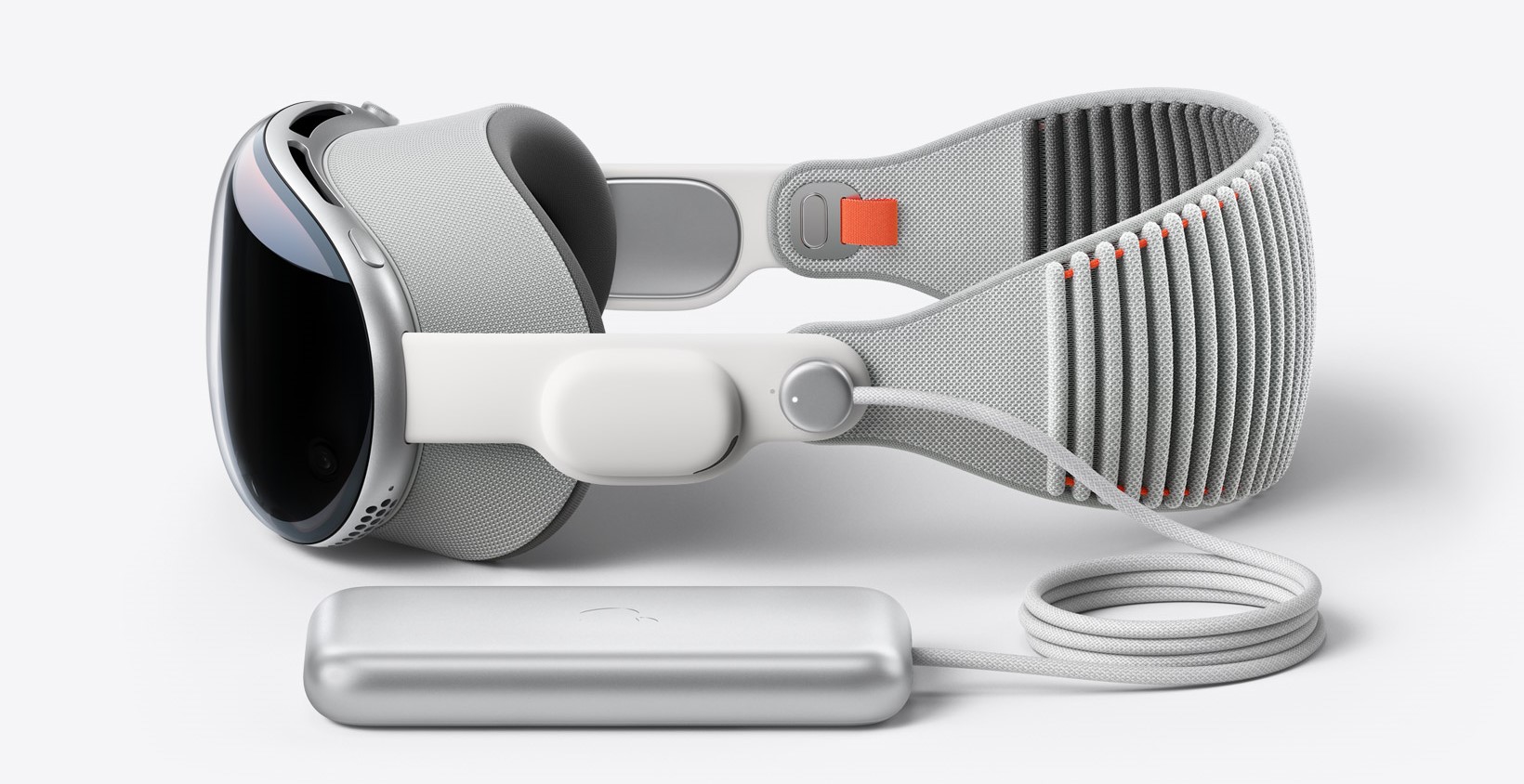 Optically, the Vision Pro employs a proprietary three-element lens paired with dual 4K micro-OLED displays, delivering a combined total of 23 million pixels. The device is equipped with IR cameras, LED illuminators, LiDAR sensors, and traditional camera sensors. Powering the entire headset is Apple's visionOS, which collaborates with the company's R1 chip and M2 processor to ensure responsive and "lag-free" standalone performance.
One of the notable aspects of the Vision Pro is its compatibility with familiar apps like Safari, allowing users to interact with real-world objects and individuals while using these applications. Apple has also developed a special version of the App Store exclusively for the Vision Pro, serving as the primary platform for downloading new AR and VR software. The headset's versatility extends beyond home use, as Apple has optimized FaceTime and other apps for collaboration, making the Vision Pro a valuable tool for remote work.
During video calls using the Vision Pro, users are represented by digital personas, which are created using data from the headset's sensors and a new machine learning algorithm. This feature adds a unique dimension to virtual interactions. For those seeking a more traditional desktop setup, the Vision Pro can be paired with a Magic Keyboard and Trackpad.
Apple has incorporated its first 3D camera into the Vision Pro, enabling users to capture special moments with added depth information. The camera also includes a privacy feature that indicates when recording is taking place. Additionally, the Vision Pro offers a dedicated mode for watching videos on a virtual screen, providing an immersive cinematic experience on a display that measures up to 100 feet wide. Gamers will be pleased to know that the Vision Pro supports over 100 titles from the Apple Arcade library and can be paired with a PlayStation 5 or Xbox controller for enhanced gameplay.
At WWDC 2023, Apple announced a partnership with Disney, teasing exciting experiences for the Vision Pro, including enhanced viewing options for Disney+ shows and augmented reality demos for basketball games. Although some of these demonstrations are still works in progress, Disney CEO Bog Iger confirmed that the Disney+ app will be available on the Vision Pro upon its launch.
To ensure security, the Vision Pro incorporates a new Optic ID authentication system, which utilizes a user's iris for unlocking and signing into the device. Apple assures users that Optic ID data is fully encrypted and stored locally, with no information regarding a user's gaze shared with third-party apps or websites.
The Vision Pro is expected to be released for sale in early 2024, with a price tag of $3,499. With its innovative design, advanced features, and compatibility with popular apps, the Vision Pro is poised to make a significant impact in the AR and VR market, further expanding Apple's technological ecosystem.