M1 Ultra is the next big step for Apple chips and the Mac. UltraFusion, Apple's new packaging design, connects the dies of two M1 Max chips together to create a system on a chip (SoC) that has never-before-seen levels of performance and capabilities. M1 Ultra delivers breathtaking computing power to the new Mac Studio while maintaining the best performance per watt in the industry. There are 114 billion transistors on the new SoC, which is the most ever on a computer chip. It can be set up with up to 128GB of high-bandwidth, low-latency unified memory that can be used by the 20-core CPU, 64-core GPU, and 32-core Neural Engine. This means that developers can write code faster, artists can work in huge 3D environments that were previously impossible to render, and video professionals can convert video to ProRes up to 5.6x faster than with a 28-core Mac Pro with Afterburner.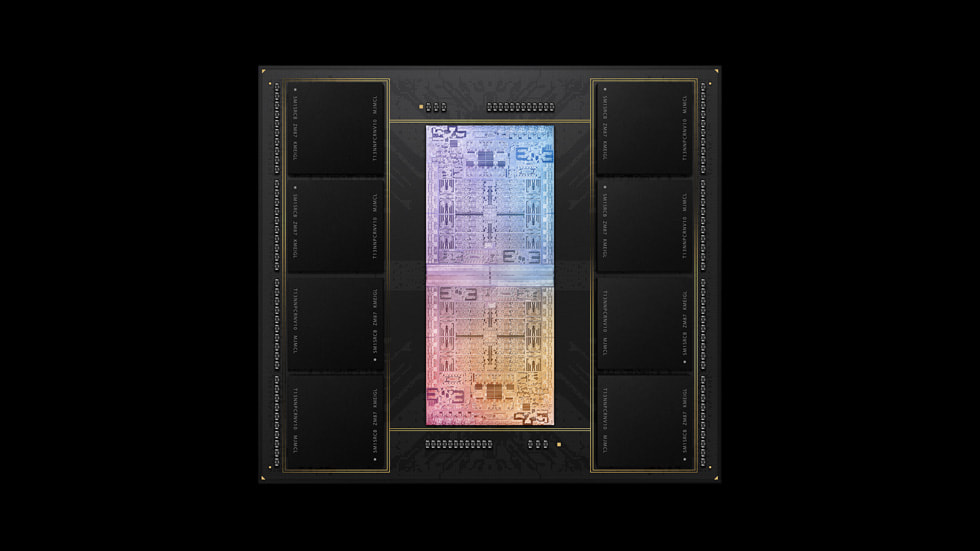 Groundbreaking UltraFusion Architecture
The M1 Ultra is built on top of the very powerful and efficient M1 Max. To make it, the dies of two M1 Max are connected using UltraFusion, Apple's own packaging design. This is the most common way to get more performance out of your computer. Connecting two chips through the motherboard usually comes with a lot of drawbacks, such as slower latency, less bandwidth, and more power. Apple's new UltraFusion technology, on the other hand, uses a silicon interposer that connects the chips across more than 10,000 signals, providing a massive 2.5TB/s of low-latency, inter-processor bandwidth. This is more than 4 times the bandwidth of the most common multi-chip interconnect technology. So, developers don't have to write new code to use M1 Ultra's extra power. There's never been anything like this before.
Unprecedented Performance and Power Efficiency
M1 Ultra has a very powerful 20-core CPU that has 16 high-performance cores and four high-efficiency cores. It has 90% more multi-threaded performance than the fastest 16-core PC desktop chip in the same power envelope. In addition, M1 Ultra reaches the PC chip's top speed with 100 fewer watts. That means less energy is used and the fans run more quietly, even as apps like Logic Pro process a huge amount of virtual instruments, audio plug-ins, and effects.