Apple users are eagerly awaiting the release of iOS 17, the latest version of the operating system for iPhones and iPads. While the public beta was scheduled to be available in July, some users were pleasantly surprised when they discovered an early glimpse of the software. According to AppleInsider, Connor Jewiss and others noticed that the iOS 17 developer beta could be installed through the Beta Updates section of Settings, regardless of whether users had paid for the necessary account. Similar opportunities were also found for macOS Sonoma and watchOS 10 previews.
However, it's important to exercise caution before diving into these early betas. At the time of writing, it is uncertain whether the developer betas will continue to be accessible. Even if they are, it's advisable to proceed with caution as these initial pre-release versions are more likely to contain bugs and compatibility issues with apps. Installing them on essential devices could potentially lead to problems and disruptions. Unless you're a developer seeking to prepare app updates, it is generally recommended to wait for either the public beta or the final version set to release later this fall.
Despite the excitement surrounding iOS 17, it is important to note that it is primarily an iterative upgrade, building upon the foundation of its predecessors. Nevertheless, it introduces several features that users may find appealing. One notable addition is the live voicemail transcript feature, which automatically transcribes voicemail messages, allowing users to quickly glance at the text instead of listening to the audio. This can be particularly useful in situations where it's not convenient or appropriate to listen to voicemails.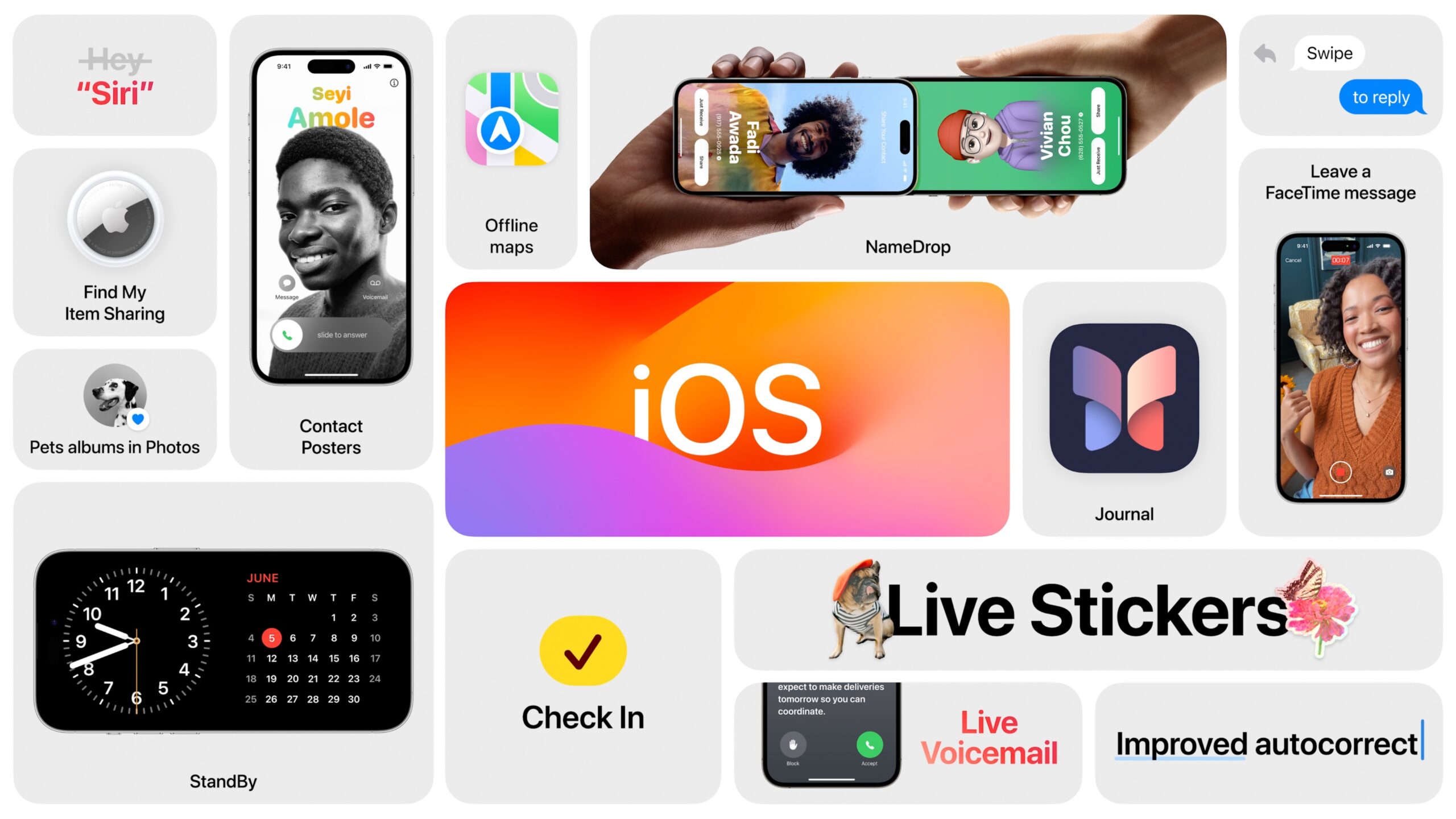 Additionally, iOS 17 offers improvements in the realm of sharing. The process of sharing content between apps and with other users has been streamlined, making it more efficient and user-friendly. This enhancement is expected to simplify workflows and enhance productivity for individuals who frequently engage in content sharing.
Autocorrection, a feature that assists users in correcting typos and errors while typing, has also been enhanced with increased intelligence in iOS 17. The improved autocorrection algorithm is designed to better understand context and provide more accurate suggestions for corrections. This refinement aims to reduce errors and enhance the overall typing experience for users.
Furthermore, iOS 17 introduces a new journaling app that allows users to create and maintain digital journals. This feature enables users to document their thoughts, experiences, and memories directly within the operating system. It offers a convenient and integrated solution for individuals who enjoy journaling and provides an organized platform to preserve personal reflections.
Moving beyond iOS, macOS Sonoma, the upcoming version of Apple's desktop operating system, also brings several notable additions. Users can look forward to desktop widgets, which provide quick access to information and functionality without the need to open specific applications. These widgets can be customized and arranged on the desktop, offering a personalized and informative experience.
In terms of privacy updates, Safari, the default web browser in macOS Sonoma, receives enhancements to bolster user privacy and security. These updates include stricter privacy measures to prevent tracking and improve the overall browsing experience. Apple continues to prioritize user privacy, and these improvements further solidify their commitment to protecting user data.
Additionally, macOS Sonoma introduces a Game Mode, designed to optimize system resources and prioritize performance for gaming. This mode aims to provide a smoother and more immersive gaming experience by allocating system resources more efficiently. Gamers can expect improved graphics, reduced latency, and enhanced overall gameplay.
Meanwhile, watchOS 10 represents a significant revamp for Apple's smartwatch operating system. One of the key features of watchOS 10 is the introduction of quick-glance widgets, which offer users easy access to information from their favorite apps at a glance. These widgets can be added to the watch face, allowing users to quickly view relevant data without opening individual apps.
While the anticipation for these updates is high, there is no rush to try them immediately. Given the nature of early betas, it's important to exercise patience and wait for the stable releases. The public beta or the finalized versions of iOS 17, macOS Sonoma, and watchOS 10, which are expected to be released in the fall, will likely offer a more polished and stable experience for users.
In conclusion, Apple inadvertently gave users an early peek at the iOS 17 developer beta, macOS Sonoma, and watchOS 10 previews through the Beta Updates section of Settings. However, it is advisable to exercise caution when considering installing these early betas, as they may contain bugs and compatibility issues. It is generally recommended to wait for the public beta or final versions to ensure a smoother and more stable experience. iOS 17, macOS Sonoma, and watchOS 10 introduce various features and improvements, such as live voicemail transcripts, easier sharing, enhanced autocorrection, desktop widgets, privacy updates, and quick-glance widgets. Nonetheless, there is no rush to try them immediately, and it's prudent to wait for the official releases later this year.