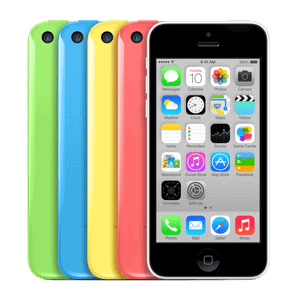 Apple® today introduced iPhone® 5c, featuring an all-new design, packed with incredible features in five gorgeous colors—blue, green, pink, yellow and white. iPhone 5c is built on a foundation of features people know and love like the beautiful 4-inch Retina® display, blazing fast performance of the A6 chip, and the 8 megapixel iSight® camera—all while delivering great battery life. iPhone 5c comes with more LTE bands than any other smartphone in the world, a new FaceTime® HD camera, and iOS 7, the most significant iOS update since the original iPhone.
"iPhone 5c is everything iPhone 5 was and more, in an all-new design packed with great features," said Philip Schiller, Apple's senior vice president of Worldwide Marketing. "iPhone 5c is designed with a beautiful polycarbonate enclosure that looks and feels so solid in your hand."
iPhone 5c features an all-new design crafted from a single, hard-coated polycarbonate body with a steel reinforced frame for a solid, sturdy feel. The steel frame holds the internal components and also doubles as the iPhone 5c's multiband antenna. The enclosure is one continuous and seamless structure that is finished with a hard coat for a durable and incredibly glossy surface. To complement the all-new iPhone 5c design, Apple created soft, matte, microfiber-lined cases in a very intentional contrast to the glossy, hard coat finish. These sleek silicone cases with unique circular patterns let splashes of color show through, and with five iPhone 5c colors and six cases to choose from, you can mix and match for dozens of fun combinations.