Are you looking for an easy way to upgrade your home lighting experience? Smart bulbs might just be the solution you need. These bulbs connect to your Wi-Fi network and can be controlled using a smartphone app, voice assistants, or even schedules. But with so many options available, it can be hard to choose the right one for you. In this article, we will introduce you to three smart bulbs that we believe you should absolutely try out. From color-changing bulbs to affordable options, there's something for every budget and preference. Let's dive in!
Number 1. Philips Hue White + Color Ambiance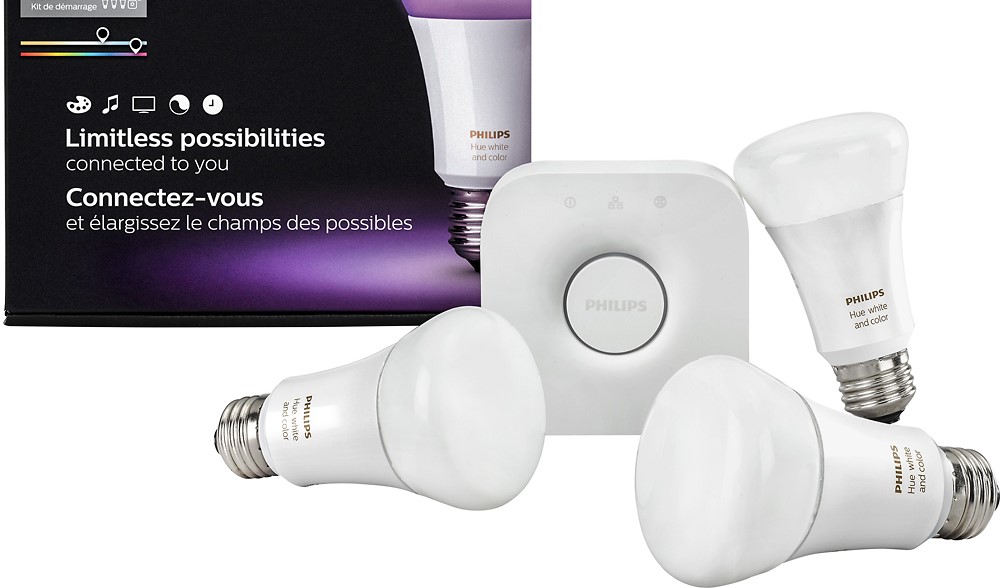 Philips Hue bulbs are a well-known brand in the world of smart lights, and for good reason. These bulbs are the best smart light bulbs available due to their compatibility with a variety of devices, easy-to-use mobile app, and expandability. If you're considering outfitting your home with these IoT devices, Philips Hue is the way to go.
One of the most significant advantages of Hue bulbs is their Bluetooth-enabled feature, which makes it simple to try them out before committing to a full system. You can purchase a few bulbs to begin with and easily expand your system with a hub when you want to add more lights to your home. In the past, a hub was required for any and all lights, but now it's much easier to dip your toe into the range before fully taking the plunge.
To start using a Philips Hue bulb, you only need to screw it in, turn on your light, and follow the instructions in the mobile app. We recommend grouping the lights into their own "room" in the Hue app, even if you only have them in one room to start. This way, you can easily control the entire space's environment at once.
Hue's White + Color bulbs provide a range of warm to cool whites and millions of colors to experiment with. The colors are rich and vibrant, and Philips' pre-programmed scenes, such as Energize, Bright and Relax, allow you to quickly emulate your old "dumb" lights with different warmth levels of white light. Additionally, you can choose from a variety of color scenes in the app, or create your own color temperature.
The Hue app is easy to use, and the bulbs support voice commands from Amazon's Alexa and the Google Assistant. This means you don't even have to open the app to control your lights; you can simply say "Alexa, turn off the bedroom lights," and only the lights in that designated room will extinguish. You can add up to 10 bulbs to your system using Bluetooth alone – at which point you'll have to add a Philips Hue hub into the mix to support up to 50 lights. The hub also enables features like HomeKit connectivity, light schedules and automations, home and away modes, and syncing with movies and music.
Automations is arguably the most useful of those features, as it allows you to set on/off schedules for your lights, including automatically turning the lights off when you leave the house. While some features are exclusive to those with Hue hubs, adding a hub to the mix makes the system more reliable, allowing you to do more with increasing numbers of connected lights.
Philips Hue also offers a ton of options for both indoor and outdoor smart bulbs. This means you can make every bulb in and out of your home smart, which is essential if you plan on investing in smart lighting long-term.
However, the biggest downside of Philips Hue is the price. These bulbs are on the expensive side, with a two-pack of White + Color Ambiance bulbs costing $80. If you're looking for cheaper bulbs to test out smart lighting, some of the other picks available may be better choices. However, if smart lighting is something you want to invest in going forward, we recommend going with one of Philips' Hue starter kits, which can save you money in the long run.
Number 2. LIFX Color A19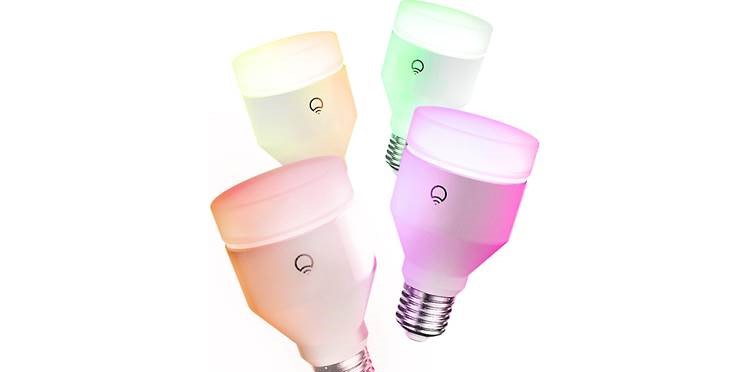 In comparison to Philips Hue's White + Ambiance bulbs, LIFX's color smart lights are straightforward to install, offer vibrant and saturated colors, and are compatible with Alexa, Google Assistant, and HomeKit. However, LIFX bulbs differ from Hue's in that they rely solely on WiFi, and they may cost slightly more than Hue devices. The Color A19 bulb is LIFX's 1100-lumen offering, priced at $50, but there is an 800-lumen alternative available at a lower cost of $35 per bulb.
LIFX's mobile app is notable for its streamlined interface, which is the primary way that users interact with their smart lights daily. The homepage displays all of the room groups in the house, along with the names of each light in each room. With a single tap, you can turn on an entire room or a particular light, and do the same for every light in your home.
LIFX bulbs support scheduling, allowing you to program your lights to operate automatically, so you don't have to manage them manually. The app includes a wide range of scenes and effects to choose from, with LIFX offering more creative and entertaining options than Hue. You can choose from settings like "spooky" or "pastel" and use effects such as "strobe" to create a nightclub ambiance in your living room. While most people may not use these niche features regularly, they are ideal for entertaining or setting the perfect tone for a movie night or gaming session.
LIFX offers a variety of products, from standard A19 bulbs to light strips to candles, as well as switches for physical control. However, Philips Hue provides even more options, including floor lamps, outdoor spotlights, downlights, light bars, and motion sensors. If you're looking to upgrade all of your home's lighting to smart bulbs and want several ways to control them, Hue may be the better choice due to its extensive selection of products.
Number 3. TP-Link Kasa Smart WiFi Light Bulb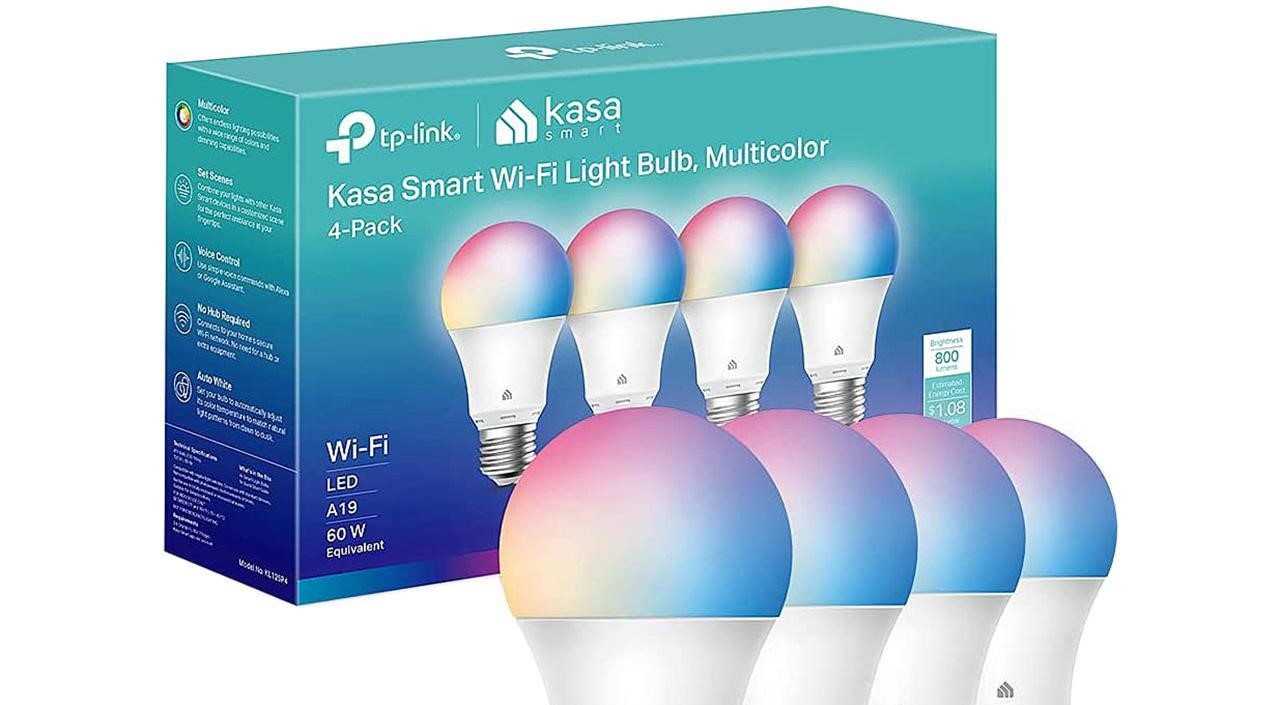 TP-Link's Kasa brand is recognized for producing reliable yet budget-friendly smart home gadgets, and their smart lights are no exception. Our test of their WiFi-only multicolor smart bulbs found them simple to install and operate, with an array of features available at an affordable price; a pack of four multicolor bulbs only costs $40.
Kasa's multicolor smart lights not only have an effortless installation process but also maintained a stable connection throughout our testing, while the companion mobile app is user-friendly and neat. All of the key functions for each light can be accessed on the dedicated page for that bulb, allowing you to adjust brightness, white levels, color, schedules, and more without having to navigate through multiple menus. Changing colors is practically instant, and the light responds immediately as you swipe your finger across the color wheel in the app. Modifying the four presets you can save takes only a few taps, as does grouping multiple bulbs into rooms and setting up lighting schedules. For scheduling, the app displays the next step in the schedule (such as off at 8:35 pm) next to each light.
In addition, there is a useful "usage" section on each light's page that shows its energy consumption over time, along with an estimate of how much energy you're saving by using a smart light instead of a regular one. This would be an interesting feature to observe over several weeks or months, particularly if energy conservation is one of the main reasons you opted for smart lights.
TP-Link asserts that you can connect an "unlimited" number of smart devices to their mobile app, meaning you can have as many Kasa smart lights in your home as you wish. However, we only tested a few bulbs together, so we cannot confirm how dozens of connected devices would impact app speed and light response time. These bulbs are WiFi-only, which means that connecting them to a Zigbee hub is not an option, so bear this in mind before investing in a house full of these gadgets. Additionally, note that these lights are not compatible with Apple's HomeKit, although you can control them using Alexa and Google Assistant commands.