The New Sharaf DG store at the Times Square Centre reflects Sharaf DG's concept of "New Way of Doing Things". Its not just a store, it's a new way of shopping – a place where technology meets customers. Where customers feel welcomed, meet people with similar interests and discover the true value of technology.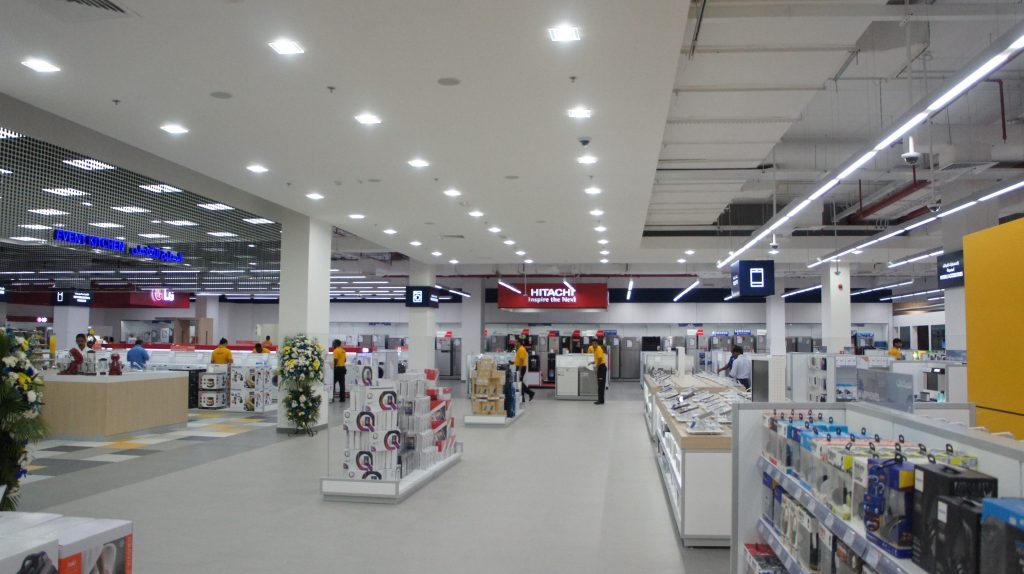 Nilesh Khalkho CEO, Sharaf DG said "It has taken us close to 2 years of work starting from consumer shopping behavior research, to understanding what drives customers to visit stores be it online or physical stores and creating a customer centric shopping experience, It's a new way of doing things, a new way of shopping. One that is fresh, new and stylish. We started off on a clean slate and questioned every design, process, technology and organization structures to arrive at an experience which will Inspire customers and help them discover something new every time they visit Sharaf DG, provide a personalized shopping experience. Such a unique shopping experience, we believe will make our customers spread the word and in doing so the customers become our brand"
The first impression when you enter the new Sharaf DG store is one which invites and engages with the huge open architecture complemented by one of the biggest video walls in Middle East. The power wall is capable of displaying 6 times 4K resolution. The Power Wall would be used for product launches, product presentations, Live Video Uplink and interactions with customers including the current selfie contest.
As a customer enters the store, they see a social environment called DG Lounge flanked on either side by the Solution Bar.  The DG Lounge is a space where customers can relax and discuss technology and products with their friends and family over a cup of coffee. They also get to discover new products and cutting edge technology curated by the Sharaf DG team at the Solution Bar.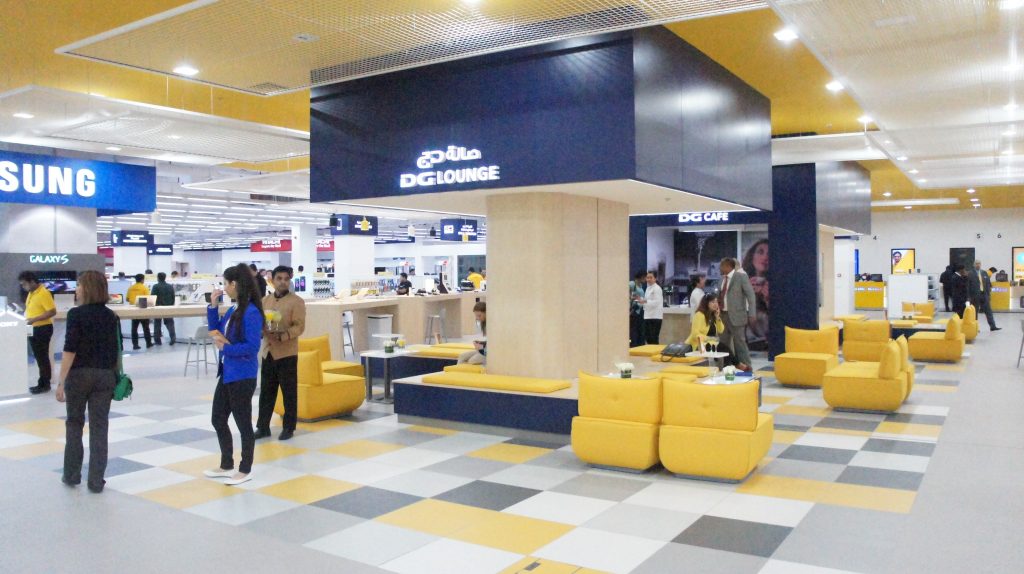 Sharaf DG announced the launch of a new Mobile App, a new Website, a new feature of Shop Online and Pick Up in store, a new store at Times Square Centre all at one go.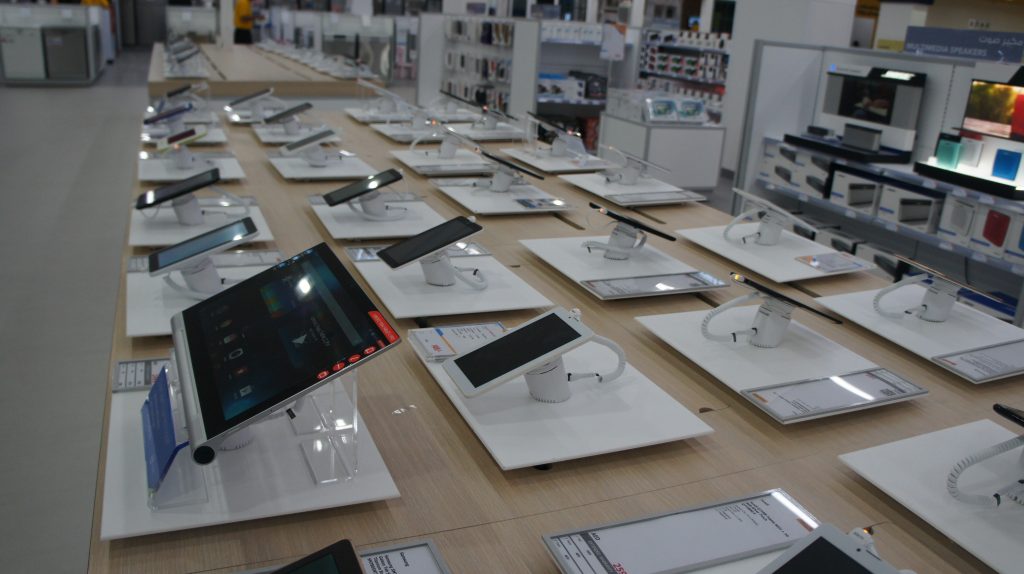 Nilesh Khalkho said "The new Sharaf DG App is the one stop destination for all your electronic needs. You can search products, check features, compare products, compare prices with other retailers, check stock availability across Sharaf DG store locations, add a product to your wishlist, share with your friends and family, show your loyalty by adding your Air Miles loyalty card and buy products from the comfort of your mobile, get home delivery or pick up instore. Features like store locator and product locator in select store are really key differentiators of the App."
Sharaf DG store at Times Square Centre boasts of one of the biggest Gaming Walls in Middle East a real treat for customers who love Gaming. Customers can choose from a list of games using the selection console and enjoy a game with a friend or with a ever present Sharaf DG employee.
Dotted across the stores is an impressive array of Digital Screens mounted on retail area tables. Sharaf DG staff cast product content, offers and videos on these retail area screens to engage with customers and help them choose the right product.
Nilesh Khalkho added "All Sharaf DG staff now carry a tablet which is loaded with the Sharaf DG Sales Tool, an assisted selling application which helps the Staff engage with the customers, search for products, provide features, cast product details to Retail Area Screens which are placed in each category. Sharaf DG staff can now invoice products, collect payment, unbox products at the yellow colored tables called Tech Bench. So as a customer you can checkout easily in the new Sharaf DG store. Our sales staff is truly empowered to sell more and sell better."
A unique feature in the store is the concept of Automated Vending Machines used for dispensing Laptops, Tablets, Mobiles and Cameras. The Vending Machines in Sharaf DG are the largest in the world. The Laptop vending machine is a one of its kind in the world.  The purpose behind the vending machine is to reduce the time it takes to service a customer. The vending machines are a sight to watch with a robotic arm actually moving in and moving out picking stocks.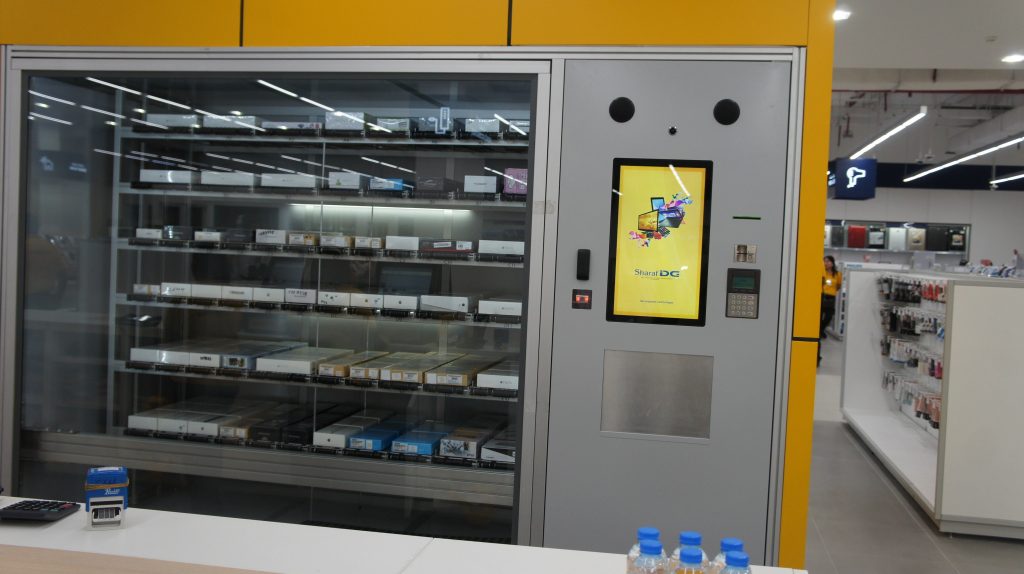 The Headphone section and the DG+ Demo rooms, are a treat for audiophiles. The Headphone experience helps customers discover a product and at the same time check out how they look using the product.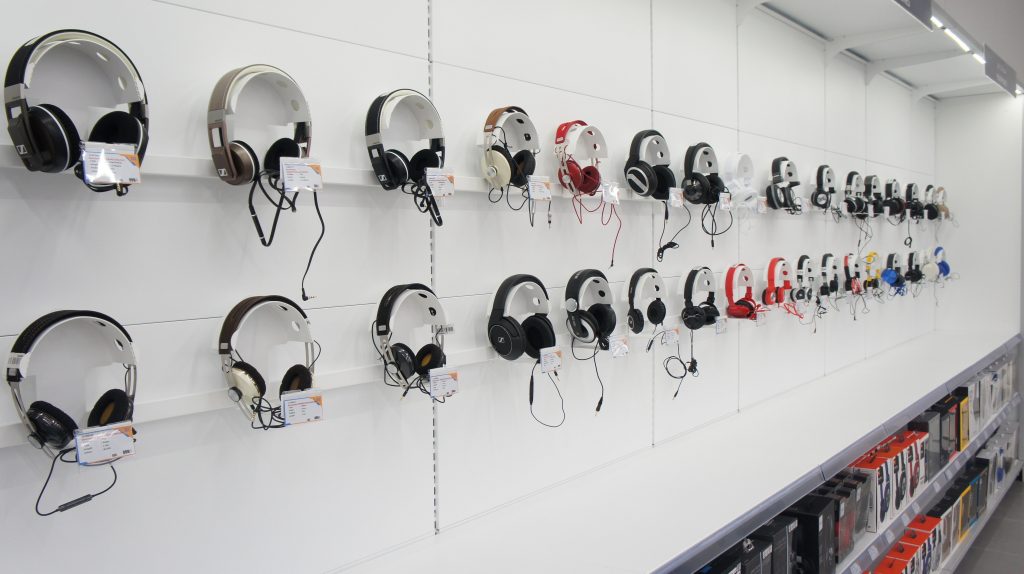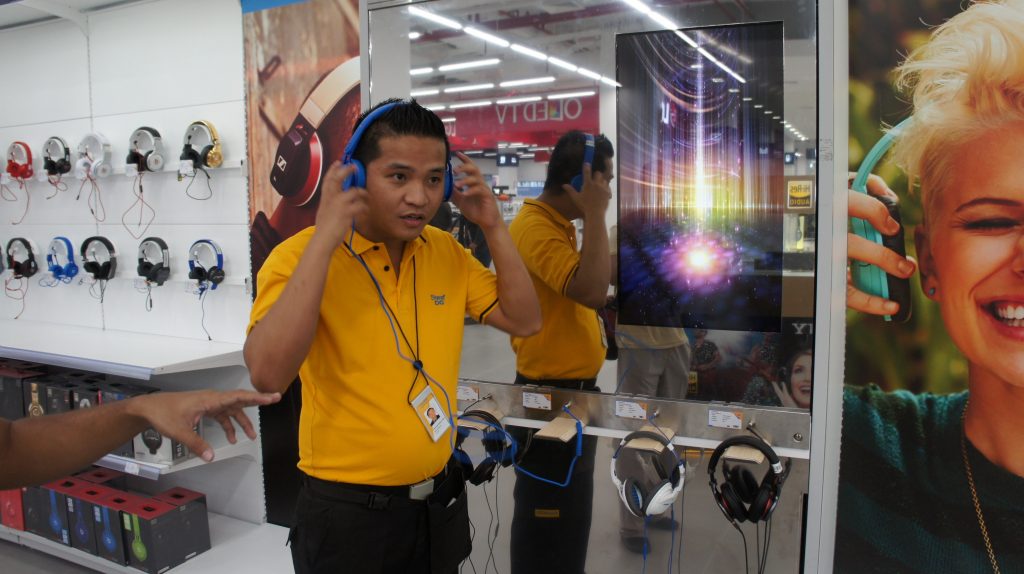 DG+, the Audio Video Experts will help customers experience different products before they choose one for their dream home.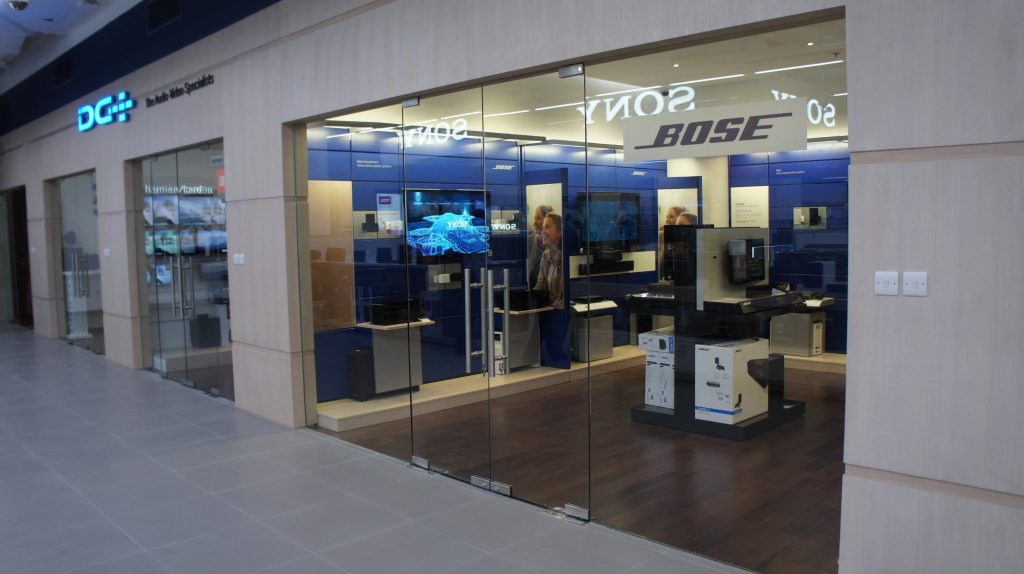 The store has a large display of TVs in the TV section divided into 4 clusters. The TV experience is where a customer can choose a cluster of TVs and Sharaf DG sales staff will play a content of customer's choice from select content available on the Sales Tool.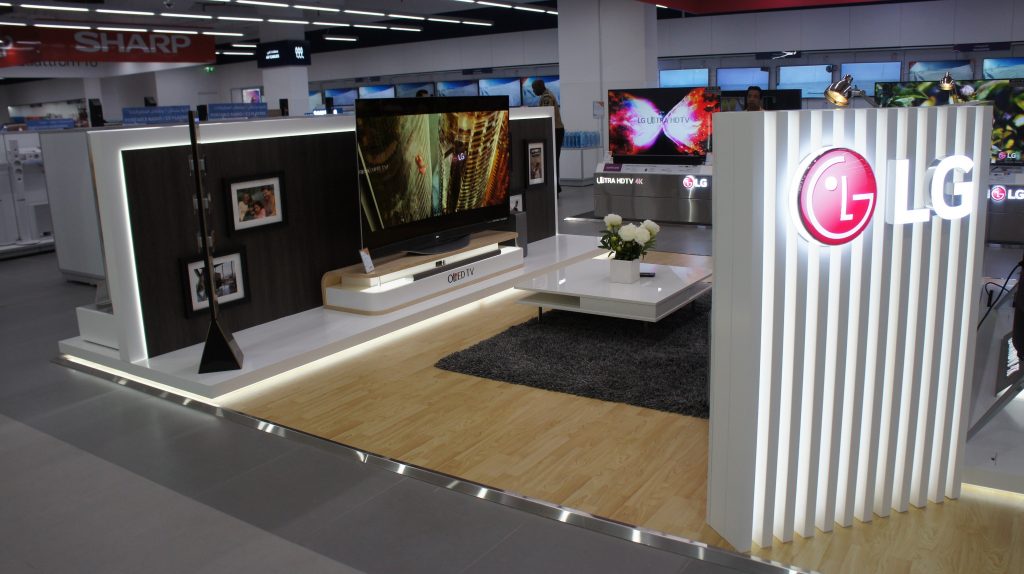 Nilesh Khalkho added "Creating an experience where a customer can choose a TV based on comparison of performance of display we believe will help customers arrive at a purchase decision"
Being a customer-focused organization, DG Help Service Centre Hub manned by Sharaf DG staff has been expanded.  Sharaf DG believes in after sales service to its customers. Now it operates the Authorized Service Centres of leading brands like Apple, Sony Vaio and Lenovo and Samsung will open shortly. DG Help also provides Out of Warranty Support for all major IT and Mobile brands with a turn around time of 1 day. DG Help provides specialized support of Data Recovery to Consumers and Enterprise clients. We have Class 100 clean work bench and other sophisticated devices to recover data from any type of storage medias and configurations
Sharaf DG has also introduced a new concept of DG @ Business a Retail to Business, initiative which will serve the growing needs of small and medium sized businesses. Starting from Biometrics Access Control, Infrastructure Monitoring & Security including CCTV surveillance & Firewall Security, Networking, IP Telephony, Print Solutions, Board Room & Class Room Solutions, UPS, Server & Storage Solutions to business desktops, laptops and workstations of various form factors catering to various industry segments; the whole range of products and solutions can be experienced here.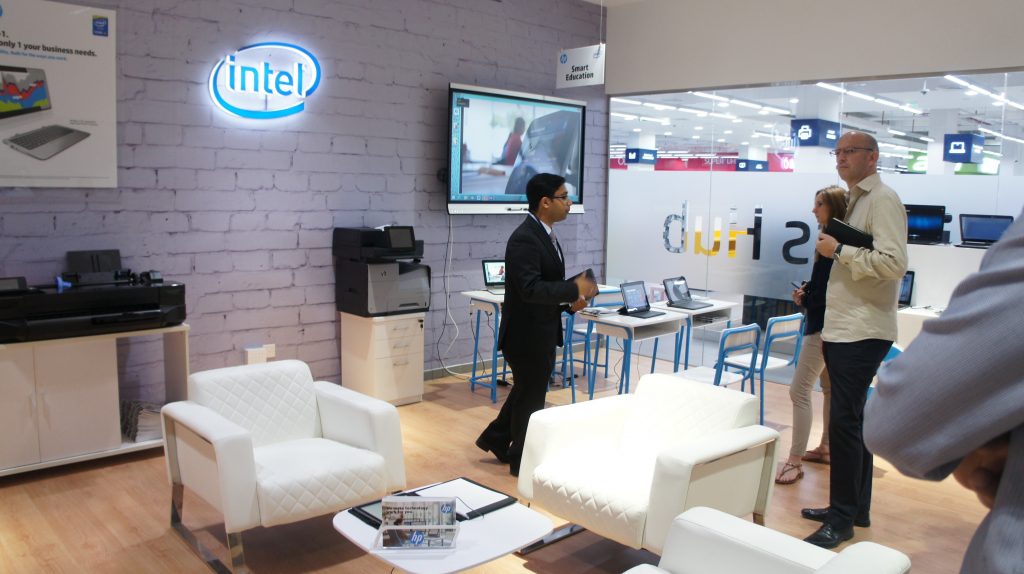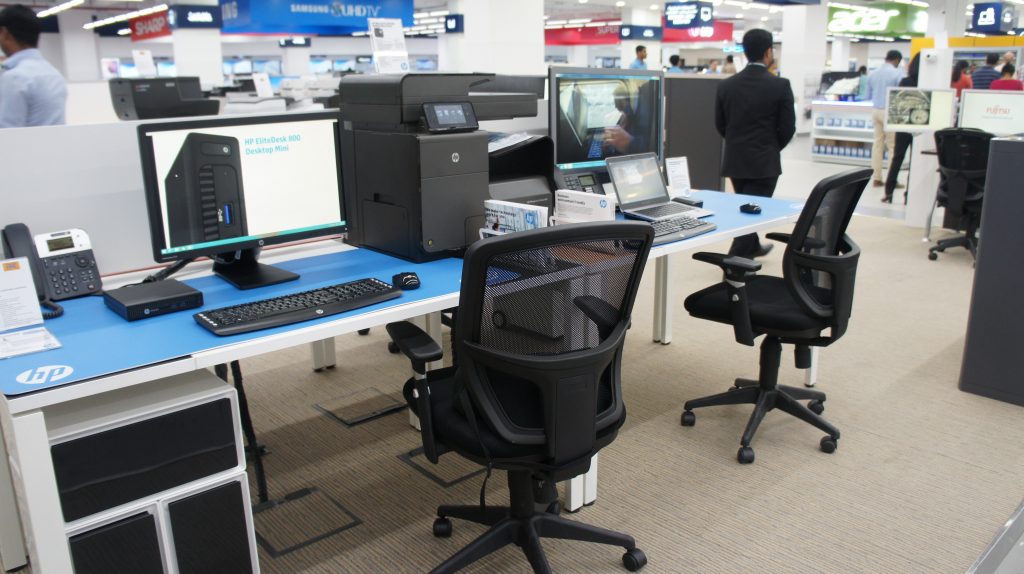 One of the other attractions is the Photography Wall experience a perfect example where Inspiration can help customers choose SLRs. Only when customers see great photography results from SLRs will they be able to understand the real benefit of SLR over any other form of photography whether using still cameras or smartphones. We also help customers discover few products on their own, this happens when they lift a product in the featured area and voila they see features of the product.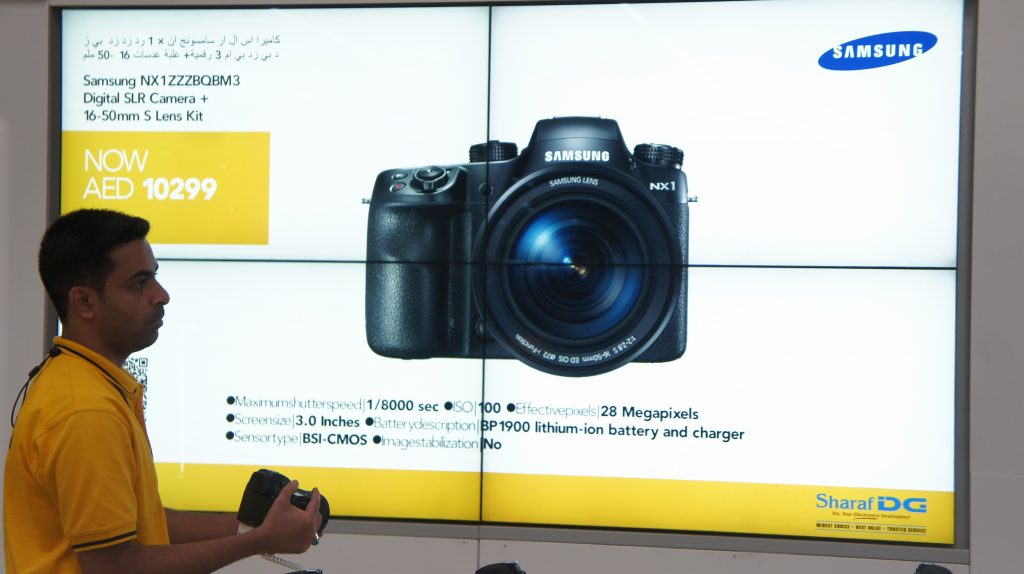 Sharaf DG has also created a counter next to the cashiers called the Pick Up Point, which will serve customers who buy online or on the mobile app and visit stores to pick up their purchase. Currently the Order Online, Pick-Up instore is available in 7 stores in UAE – Times Square Centre, IBN Battuta Mall, Dubai Mall, Deira City Centre, Abu Dhabi Mall, Al Ain Mall and Mega Mall, Sharjah. Nilesh Khalkho added "We will be expanding this feature to the rest of the stores in the next few months"
At Times Square Centre store, Sharaf DG has created a SmartHome Experience. A small home has been created and customers walk through the home and see see a whole lot of gadgets in a real environment interacting with each other. Customers will understand how they can watch their home from their smartphone, Control Lights and change color of lights based on mood, monitor motion and temperature, enable smartlocks to ensure home access through image or fingerprint.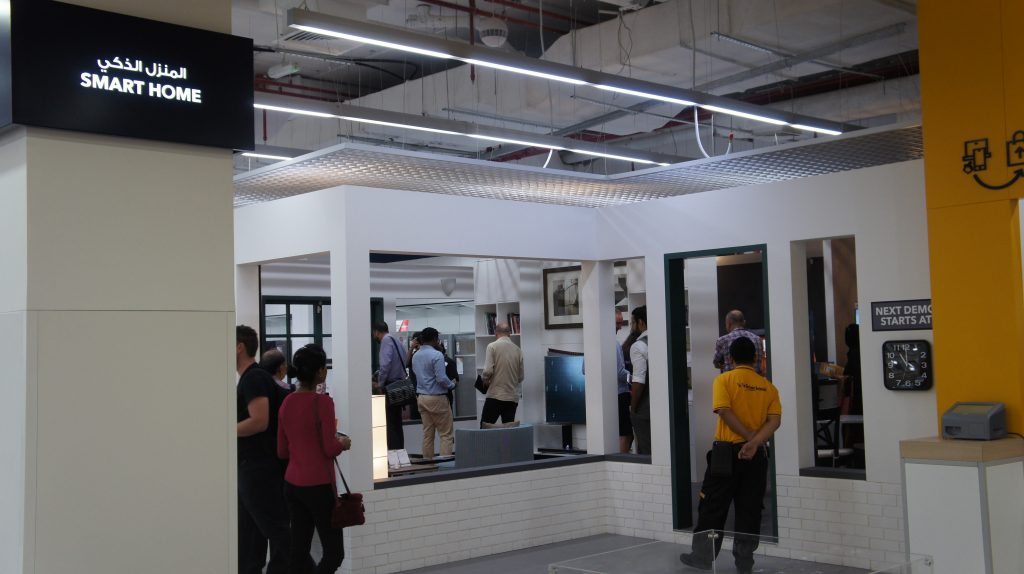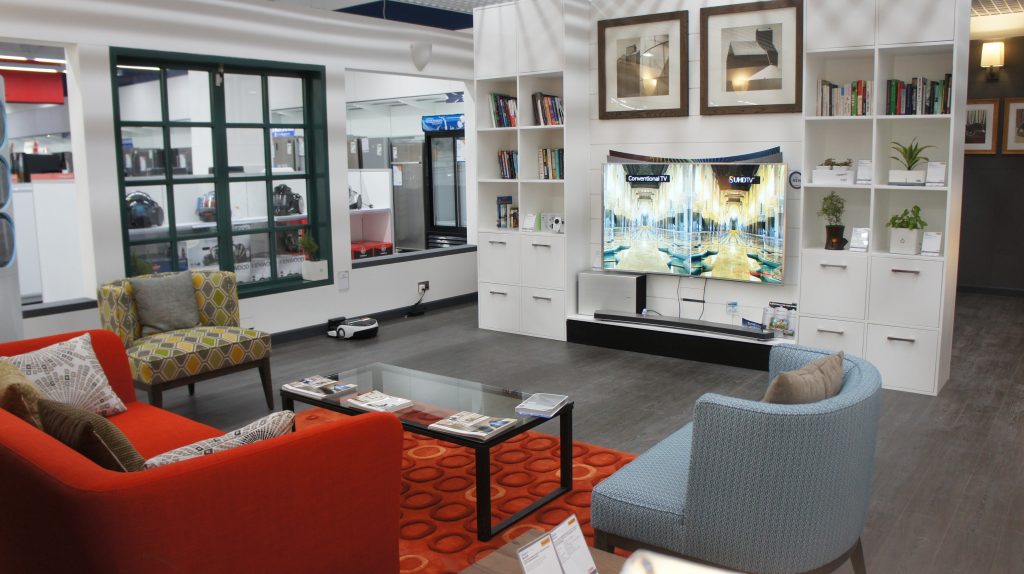 In the Home Appliances section, Sharaf DG has created the Event Kitchen. This is where our customers will discover, get inspired by the Kitchen and Home Appliances in the real environment. Sharaf DG plans to have regular events where chefs will demonstrate the use of gadgets.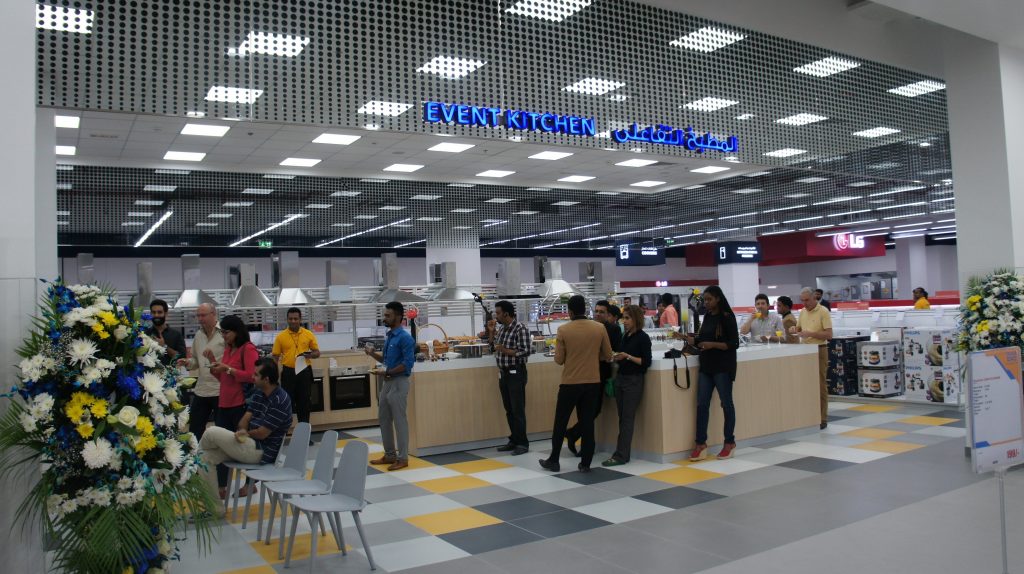 Apart from Sharaf DG experiences instore, leading brands have worked together with Sharaf DG to create innovative experiences instore.
Nilesh Khalkho said "As we celebrate Sharaf DG's 10th Anniversary and in 2015 declared as the Year of Innovation, we wanted to commit ourselves to serving our customers better by creating a great customer shopping experience and I welcome all our customers to visit  our store, download our new mobile app, visit us on our website and be connected with us on our social media channels"