Canon Middle East strengthens its acclaimed PowerShot series with the introduction of the PowerShot G16 and PowerShot S120 – two new cameras demonstrating Canon's unparalleled expertise in image processing and lens design. Built to offer an exciting new level of image quality and performance for Canon's advanced compact range, both models boast impressive speed and responsiveness.
At the heart of both models is Canon's new DIGIC 6 image processor – a powerful platform enabling the capture of outstanding images. The sheer power of DIGIC 6 allows users to expand their photographic range and take stunning images in a wide variety of challenging situations. Canon's HS System combines the DIGIC 6 processor along with a 12.1 Megapixel 1/1.7 type high-sensitivity CMOS sensor, to deliver images with wider dynamic range, low noise and high levels of detail – even in lower light conditions, courtesy of sensitivity up to ISO 12800.
Offering enhanced speed and performance, both cameras feature superfast shooting and operation, with sustained continuous shooting speeds of approximately 9fps . Photographers can also take advantage of significantly improved AF speeds – the PowerShot G16 is now 41% quicker than its predecessor the PowerShot G15, while the PowerShot S120's AF speed is 50% quicker than its predecessor the PowerShot S110. The G15 and S110 were already significantly faster than previous G and S models.
PowerShot G16
The PowerShot G16 features a super-bright f/1.8-2.8 genuine Canon lens, developed using highly refractive glass, alongside a unique and multiple material coating, engineered to handle specific wavelengths of light at the nanometre scale. Its 5x optical zoom provides incredible versatility, offering an f/1.8 aperture at its 28mm wide-angle, and an f/2.8 aperture at its maximum 140mm focal length. This offers photographers extra freedom to shoot in low light, using fast shutter speeds to freeze motion even when using full optical zoom.
Featuring the signature style synonymous with the PowerShot G-series, the G16 offers a range of manual controls and excellent handling for everyday use and its lightweight, robust aluminium body makes it an ideal complement to a DSLR camera. Designed for quick one-handed operation, the camera features a two-level Control Dial, dedicated Movie Button, customisable Front Dial, Rear Dial and Shortcut button – making it quick and easy for users to access and adjust camera settings between shots. What's more, the G16 is the first-ever PowerShot G-series model to feature wireless connectivity.
The Canon G-series is the camera of choice for advanced photographers. A recent survey hosted on the Canon Professional Network  found that of those that own a G-series camera, 83% use it for personal photography and 53% have also used it for professional purposes. This result highlight the trust that professional photographers place in the G-series, using it as a secondary camera in their day to day working life and also for capturing their precious personal moments.
PowerShot S120        
The PowerShot S120 is the first S-series model, and the world's slimmest camera, to feature an f/1.8 lens . The ultra-wide f/1.8, 24mm 5x optical zoom lens provides the flexibility to capture a range of subjects. The lens delivers sharp results even in dark conditions thanks to its wide aperture and the ultra-wide, f/1.8, 24mm 5x optical zoom which provides the flexibility to capture a range of subjects. The 24mm ultra-wide-angle is ideal for capturing sweeping scenes, while the versatility of the 5x zoom makes it easy to get closer to subjects, and combined with the flexible aperture range, provides an ideal feature set for capturing a wide range of shooting scenarios.
Demonstrating the perfect balance between size and outstanding image quality, the S120 packs an array of manual controls into its slim and compact body. Images can be shared directly to portable devices and social networks via the Wi-Fi functionality and crucial settings can be adjusted in a number of ways – through the dedicated control buttons, via the 7.5 cm (3.0'') touchscreen or with the S-series' iconic Lens Control Ring – ensuring the photographer is always in control.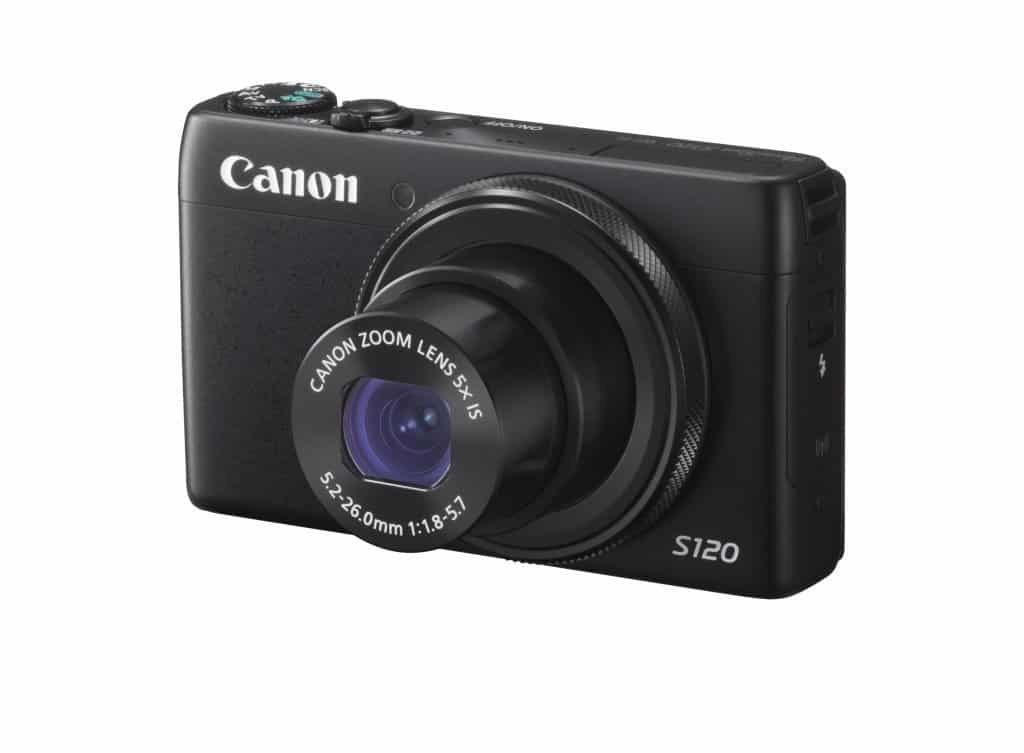 Creative flexibility with manual control       
Offering similar levels of control to Canon's EOS DSLRs, both models have been designed to allow full manual control of important exposure settings. The cameras also offer multi-aspect ratio shooting and RAW support for maximum creative composition and post-processing freedom.
The development of two new Creative Filters – Star and Background Defocus – as well as improved HDR mode capabilities will encourage creativity when shooting. Coupled with the superb low-light and high ISO performance, Star mode, with three different pre-sets – Star Nightscape, Star Trails and Star Time-lapse movie – allows users to vividly capture a starry sky. New Background Defocus mode instantly creates the effect of a shallow depth of field by automatically blurring the background, while improved HDR mode gives extra freedom to shoot handheld when capturing HDR images.
Image clarity with Intelligent Image Stabilizer
Canon's renowned Optical Image Stabilizer technology counters camera shake, suppressing blur in stills and unsteady movie footage. Intelligent IS automatically detects the shooting situation and applies the most suitable Image Stabilizer mode from seven preset variables. Both models also feature a five-axis Enhanced Dynamic IS mode, reducing the rolling motion-style camera shake that typically occurs when movies are recorded whilst in a moving vehicle or walking.
Stay connected
Canon's Wi-Fi functionality available on both models means that treasured memories can be shared by wirelessly uploading images to social networks when connected to the Internet, or via portable devices such as smartphones and tablets. The cameras also support GPS tagging via mobile, enabling location data to be added to shots using Canon's dedicated app for smartphones or tablets. The new Image Sync function conveniently safeguards memorable images. Users can select and send images via Wi-Fi using Image Sync, which intelligently determines the best method of image backup, either via online cloud storage  or on a registered PC, then automatically synchronises them.
Crisp and clear Full HD movies
The PowerShot G16 and PowerShot S120 support Full HD (1920 x 1080) 60p movie recording with stereo sound – ideal for capturing creative, high-quality videos. Both cameras' optical zooms can be used during recording, while Tracking AF in movies ensures subjects remain crisp, clear and in focus.
The PowerShot G16 features Fine Detail Movie processing and advanced noise reduction at 60p, for shooting expert movies even in difficult lighting conditions. Users can also manually focus prior to shooting movies, using Manual Focus Peaking to highlight an area of highest contrast to achieve pin-point accurate focus. For further compatibility with smartphones and tablets, both the PowerShot S120 and PowerShot G16 record in MP4 format and movies can easily be transcoded in-camera, compressing the movie file size (up to 88% smaller) for quick and easy sharing.
PowerShot G16 Key features:
•           Bright f/1.8-2.8, 28mm, 5x zoom lens
•           HS System: 12.1 MP CMOS, DIGIC 6
•           Intelligent IS with 5-axis movie stabilisation
•           Superfast: up to 9.3fps
•           7.5 cm (3.0") LCD; OVF
•           Front Dial, Full Manual, RAW
•           Full HD (60fps)
•           Wi-Fi; GPS via Mobile
•           Star Mode
•           Range of accessories
PowerShot S120 Key features:
•           24mm, f/1.8, 5x zoom lens
•           HS System: 12.1 MP CMOS, DIGIC 6
•           Intelligent IS with 5-axis movie stabilisation
•           Superfast: up to 9.4fps
•           7.5 cm (3.0″) touch screen
•           Lens Control Ring, Full Manual & RAW
•           Full HD (60fps)
•           Wi-Fi; GPS via Mobile
•           Star Mode
•           Optional 40m Waterproof Case