Dubai, UAE – BlackBerry® (NASDAQ: RIMM; TSX: RIM) today launched BlackBerry® 10, the re-designed, re-engineered, and re-invented BlackBerry platform that creates a new and unique mobile computing experience. Available on two new smartphones, the BlackBerry® Z10 (all-touch) and BlackBerry® Q10 (touch with physical keyboard) smartphones powered by BlackBerry 10 offer you a faster, smarter and smoother experience than any other BlackBerry you have used before.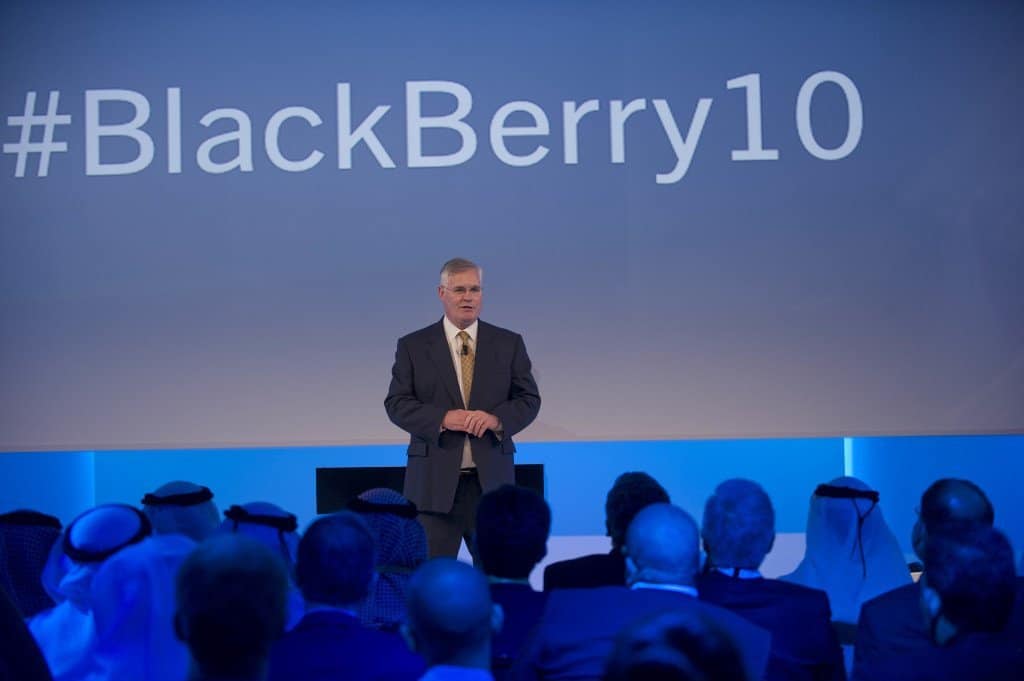 BlackBerry unveiled the new BlackBerry Z10 and BlackBerry Q10 smartphones at events held simultaneously in New York, Toronto, London, Paris, Dubai, and Johannesburg.
"Today sees a re-invented BlackBerry launching an entirely new mobile experience," said Thorsten Heins, President and CEO of BlackBerry. "We are thrilled to be introducing BlackBerry 10 on the new BlackBerry Z10 and BlackBerry Q10 smartphones, to deliver a faster, smarter experience that continuously adapts to your needs.  Every feature, every gesture, and every detail in BlackBerry 10 is designed to keep you moving."
Highlights of BlackBerry 10
BlackBerry 10 is a robust and reliable platform that is smooth and responsive. It has a modern design and a gesture-based interface that is highly discoverable. It is designed to support, learn, and adapt to the way you work and share with features like:
The ever present BlackBerry® Hub, which is a single place to manage all your conversations whether personal or work email, BBM™ messages, social media updates or notifications, and the ability to "peek" into the BlackBerry Hub from anywhere, so you're always only one swipe away from what matters to you.
BlackBerry® Flow, where the BlackBerry 10 experience excels by enabling features and apps to flow seamlessly together, helping you complete the task at hand effortlessly and efficiently. For example, you can tap on an attendee listed for a meeting to see their latest tweet or LinkedIn profile. Or tap the thumbnail of a picture you just took to launch the Picture editor and quickly apply a transformation or filter, then instantly share it with your contacts.
A keyboard that understands and adapts to you, that learns what words you use and how you use them, then offers them up to you so you can type faster and more accurately.
BBM (BlackBerry® Messenger), which allows you to share things with the people that matter to you in an instant. BBM in BlackBerry 10 introduces the ability to share your screen with another BlackBerry 10 contact.
BlackBerry® Balance™ technology, which elegantly separates and secures work applications and data from personal content on BlackBerry devices.
Time Shift, an astonishing camera feature that lets you capture a group shot where everyone is smiling with their eyes wide open. Story Maker, which lets you bring a collection of photos and videos together, along with music and effects, to produce an HD movie that you can instantly share.
The new BlackBerry 10 browser, which sets the industry benchmark for HTML5 support on smartphones, is incredibly fast. Scrolling or zooming is fluid and responsive. The browser includes many advanced features, supports multiple tabs, lets you browse sites privately, includes a reader mode, and integrates with the platform for easily sharing content.
BlackBerry® Remember, which combines memos, tasks and much more into a single experience. It helps you organize and manage information you have on your smartphone around projects or ideas, letting you collect content such as websites, emails, photos, documents, and other files, and then like a To-Do list, lets you create tasks, assign due dates, and track your progress. If your BlackBerry 10 smartphone is set up with a work account, your Microsoft® Outlook® Tasks will automatically be wirelessly synced with BlackBerry Remember.  If you have configured an Evernote account with your smartphone, BlackBerry Remember will sync Evernote workbooks as well.
BlackBerry® Safeguard technology that helps protect what is important to you, and the business you work for.
Built-in support for Microsoft Exchange ActiveSync® so your BlackBerry Z10 or BlackBerry Q10 smartphone can be simply connected and managed as other ActiveSync devices in a company, or enabled with BlackBerry® Enterprise Service 10 to gain secure access to work email, "behind the firewall" applications and data, and benefit from other security and enterprise mobility management features.
The BlackBerry® World™ storefront, which now includes 70,000 BlackBerry 10 apps. In addition, Facebook, Twitter, LinkedIn and Foursquare apps for BlackBerry 10 are preinstalled, and BlackBerry 10 customers will have access to leading applications from across the globe. Leading application providers including Disney, Cisco, Foursquare, Skype and Rovio have committed to the platform.
"At Foursquare, we are extremely excited to launch our new BlackBerry 10 application and to continue developing on the platform," said Dennis Crowley, Co-Founder and CEO of Foursquare. "Our team built the app just for BlackBerry 10, and the result is an amazing Foursquare Explore experience to help people around the world make the most of where they are."